"Is Hardik Patel really fasting? Reports Claim He is Gaining Weight" the headline of Swarajya raised doubts about Hardik Patel's fast. The article quoted reports by Desh Gujarat and TV9 to make this claim in the headline. The headline by fake news website Postcard News made a similar claim stating that "Few said Hardik Patel lost 20 kgs in 11 days! But medical report says he has increased his weight despite his hunger strike." Did Hardik Patel gain weight as claimed by both these websites in their headlines?
On August 25, PAAS leader Hardik Patel had initiated an indefinite fast over demands of farm loan waiver and reservation for the Patidar community. The leader agreed to be hospitalized after his health deteriorated steadily on the 14th day of fasting. On September 4, 2018, reports emerged that the Patidar leader has lost 20 Kg after 11 days of fasting. Before starting the fast, Patel weighed 78 kg and on Sep 4, his weight was measured to be about 58.3 kg. Surprisingly, the next day i.e. September 5, the medical check-up report showed a stark difference, with 8kg increase from 58 kg to around 66.4 kg.
False reading
The readings of Hardik Patel's weight were as follows:
Aug 25th – 78 kg
Sept 4th – 58.3 kg (First measurement)
Sept 4th – 65.3 kg (Second measurement, same day, different machine)
Sept 5th – 66.4 kg
Even though such a variation of 8 kg in one day should raise doubts about the accuracy of reading, social media users were joined by Swarajya and Postcard News in claiming that Hardik Patel had gained weight during his fast.
The readings point out that Patel's weight has not reduced by 20 kg as reported earlier and had instead fallen by 11.6 kg. It can by no means be concluded that he had gained weight.
A report by Desh Gujarat on September 5th clarified that anomaly in the weight was due to a false reading. The article quotes the Superintendent of Sola Civil Hospital, Dr Desai as saying that "yesterday the 58.3 i.e. the lower measurement must have been because of his wrong posture. If someone holds you or you take support of something during weighing your weight goes down drastically. This has happened with his weight."
Dr Manisha Panchal of Sola civil hospital also clarified in a press conference on September 5, 2018, about the significant discrepancies in Hardik Patel's weight from 58 to 65 kg.
She said, "Today his weight was 66.4(kg). So, yesterday's measurement, 58.3 kg might have been recorded incorrectly. The reason could be that he might not have stood properly due to the weakness in his body or possibly there might have been a technical problem in the machine in sensing. So, we took a second reading on the same day with another machine which showed his weight at 65.3 kg. There may be some variations in the measurements depending upon the machine from 500 to 700 gm. (translated)"
Misleading reporting
As a contrast to the comprehensive article by Desh Gujarat explaining the erroneous reading, a misleading tweet by TV9 quoted medical reports saying that despite fast, Hardik Patel gaining weight.
Despite fast, #HardikPatel is gaining weight , says Medical Report :https://t.co/34rwqjGpSO#Gujarat pic.twitter.com/7SPdTeSTGz

— Tv9 Gujarati (@tv9gujarati) September 5, 2018
Right-leaning websites like Swarajya, and Postcard News reported on the issue quoting both the TV9 tweet and the article from Desh Gujarat with the explanation of the "false reading" and "wrong posture" completely missing from their articles. The headline of the quoted Desh Gujarat article reads, "Hardik has not lost 20 Kg weight during fast, has lost 11.6 Kg in 12 days, wrong posture during weighing caused false reading."

The headlines of both Swarajya and Postcard News pointed instead to a weight gain. Even though text of the articles quoted Desh Gujarat saying that Patel's weight has not reduced by 20 kg as reported earlier and has instead fallen by 11.6 kg, the clarification issued by doctors about the difference being a result of the wrong posture was omitted from the articles.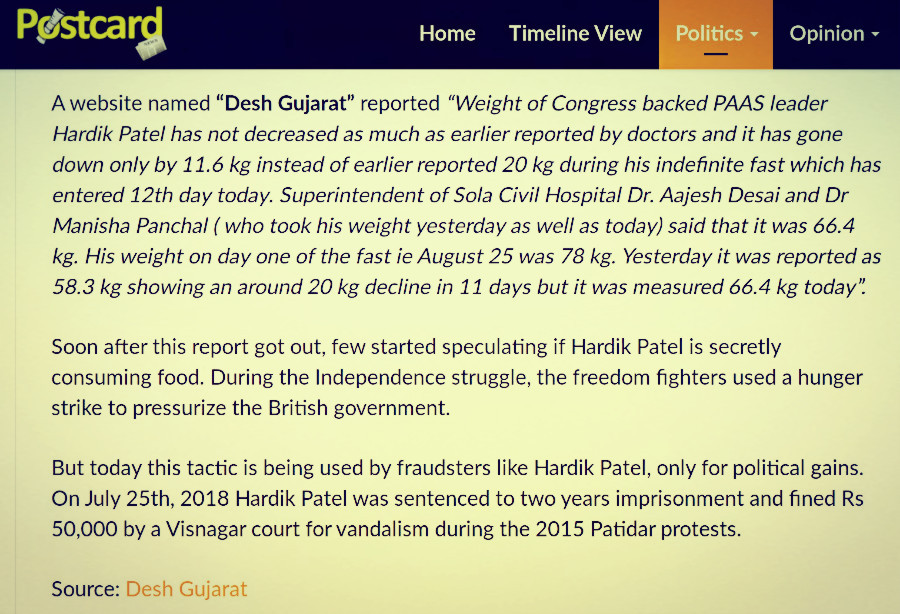 A report published by OpIndia on September 7, 2018 also stated that "Following his indefinite fast, reports have emerged that despite not having food, Hardik Patel has actually gained weight. Hardik is reportedly consuming water and fruits in his fast." Following the footsteps of Swarajya, it has also ignored mentioning the doctor's clarification quoted in another article published by Desh Gujarat.
Hardik Patel's weight had fallen from 78 kg to 66.4 kg from August 25 till September 5. In this period, there was a wrong reading of 58.3 kg on September 4th that has been used by these publications to claim an increase in his weight. It is clear that these websites have omitted the subsequent clarification issued by doctors on inconsistencies in the weight measurements and have chosen to report selectively.
Donate to Alt News!
Independent journalism that speaks truth to power and is free of corporate and political control is possible only when people start contributing towards the same. Please consider donating towards this endeavour to fight fake news and misinformation.