A video depicting individuals in police uniform being assaulted is circulating widely on social media. The video is being shared with the claim that the incident occurred in Rajasthan and the persons behind the assault are from the Muslim community.
X user @gajendr1807085 shared the above-mentioned video on November 6 with a caption in Kannada that can be translated as: "This is an incident by jihadists in a village in Kota district of Rajasthan. There is a Congress government in Rajasthan. Look, the police are begging for their lives from the jihadists. What will be the situation of ordinary Hindus? It will not be surprising if these scenes are seen in Karnataka in the coming days.". (Archive)
ಇದು ರಾಜಸ್ಥಾನದ ಕೋಟಾ ಜಿಲ್ಲೆಯ ಹಳ್ಳಿಯೊಂದರಲ್ಲಿ ಜಿಹಾದಿಗಳಿಂದ ನಡೆದ ಘಟನೆ. ರಾಜಸ್ಥಾನದಲ್ಲಿ ಕಾಂಗ್ರೆಸ್ ಸರ್ಕಾರವಿದೆ. ನೋಡಿ ಪೊಲೀಸರೇ ಜಿಹಾದಿಗಳಿಂದ ಪ್ರಾಣಭಿಕ್ಷೆ ಬೇಡುತ್ತಿದ್ದಾರೆ. ಇನ್ನು ಸಾಮಾನ್ಯ ಹಿಂದುಗಳ ಪರಿಸ್ಥಿತಿ ಏನಾಗಬಹುದು. ಈ ದೃಶ್ಯಗಳು ಮುಂದಿನ ದಿನಗಳಲ್ಲಿ ಕರ್ನಾಟಕದಲ್ಲಿ ಕಂಡು ಬಂದರೆ ಆಶ್ಚರ್ಯವಿಲ್ಲ. . pic.twitter.com/fOAF2dvyIp

— gajendra singh (@gajendr1807085) November 6, 2023
Alt News received multiple requests on its WhatsApp helpline (7600011160) to fact-check the above-mentioned video.
This slideshow requires JavaScript.
Fact Check
We broke down the video into several key-frames and ran a reverse image search on one of them. This led us to several news reports in Bengali about the incident. We came across a report by Sanbad Pratidin which carried a screengrab from the viral video. The report dates back to April of this year.
The title of the report can be translated to: "Kaliaganj: Police hiding under a plank in Kaliaganj, pulled out and beaten up by mad mob, viral video".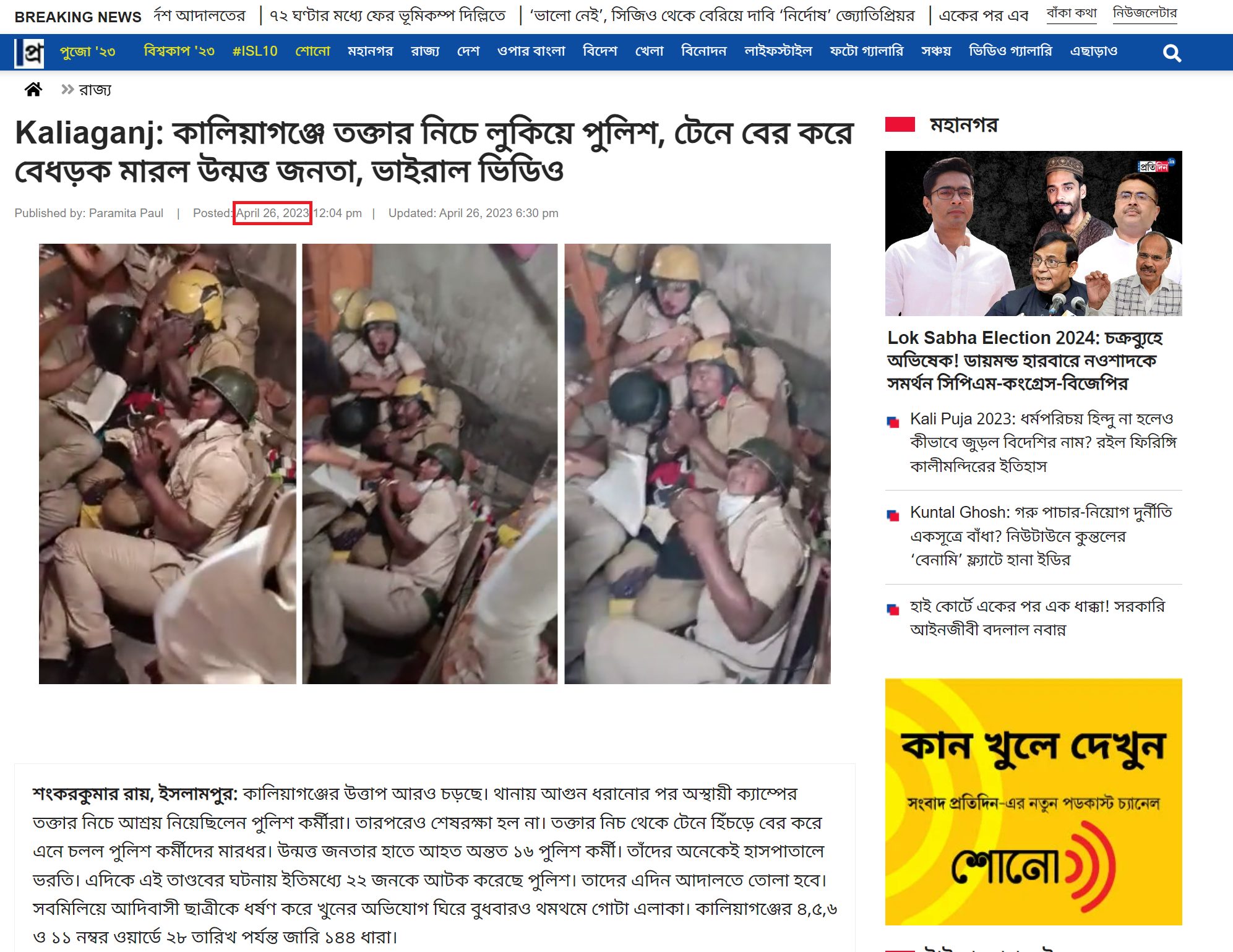 Taking a cue from the above, we ran a relevant keyword search that led us to more news reports on the matter from April 2023. As per a report by India Today, a mob set fire to a police station and attacked policemen after a video of policemen dragging the body of a minor tribal girl through the street had come to light. The girl had been allegedly raped and murdered. A few days later, Raiganj PD SP Sana Akhtar suspended four assistant sub inspectors (ASIs) for dragging the girl's body through the street.
Initial reports mentioned that the victim knew the accused identified as Javed Akhtar. The Calcutta High Court directed the formation of a SIT which were given the liberty to conduct a second autopsy if deemed necessary. Till now, two persons have been arrested in relation to the minor's alleged rape and murder. 33 have been arrested for causing arson.
Trinamool Congress leader Kunal Ghosh had tweeted the same video on April 26, 2023.
Therefore, the claim that the incident is from Rajasthan or is communal in nature is false. The video is from Kaliaganj in West Bengal's Uttar Dinajpur district and the incident occurred in April 2023. Locals went on the rampage at a police station and assaulted cops over their handling of an alleged rape-murder case.
Donate to Alt News!
Independent journalism that speaks truth to power and is free of corporate and political control is possible only when people start contributing towards the same. Please consider donating towards this endeavour to fight fake news and misinformation.