On June 10, Chairperson of MP State Women's Commission Shobha Oza tweeted, "MP government's decision to put women on the duty of liquor sale is a shameful decision that goes against women's dignity, safety and honour." (archive link)

(Translated from: मध्यप्रदेश सरकार द्वारा शराब की बिक्री के लिए महिलाओं को ड्यूटी पर लगाने का शर्मनाक फ़ैसला नारी की अस्मिता, सुरक्षा और उसके सम्मान के खिलाफ है।)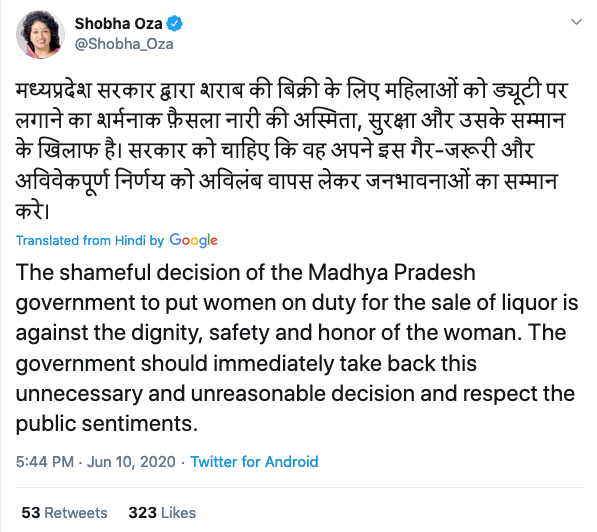 The tweet was posted in the backdrop of the Madhya Pradesh government's move to run liquor stores after around 70% of contractors in the state refused to open their shops fearing poor sales due to the economic slowdown caused by the coronavirus outbreak. The state excise department is supervising the process of opening and running the shops.
MP Congress tweeted an image of a woman officer in a khaki uniform at a liquor store and wrote, "This picture brings shame. The Shivraj government, eager to sell liquor, has now shown its disgusting and sick thinking towards our sisters and daughters by making women sit at liquor shops." This tweet has been retweeted over 2,700 times. (archive link)
(Translated from: यह तस्वीर लज्जित करती है, शराब बेचने को आतुर शिवराज सरकार ने अब महिलाओं को शराब की दुकानों पर बिठाकर हमारी बहन-बेटियों के प्रति अपनी घृणित और कुत्सित सोच का प्रदर्शन किया है।)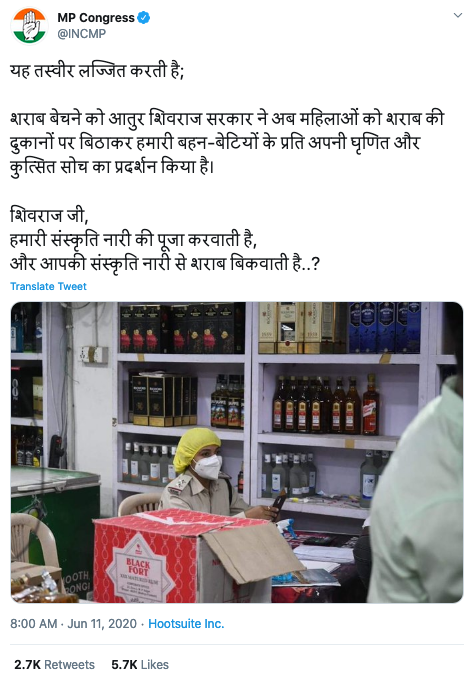 On June 12, Congress MLA Arif Masood protested by offering milk packets at a liquor store in Bhopal. He posted a few images of this protest on his Facebook page and wrote, "As a protest against making daughters sell alcohol, MLA Arif Masood distributed milk packets."
(Translated from: #बेटियों से शराब बिकवाने के विरोध में शराब की दूकान पर विधायक आरिफ मसूद ने बाटें #दूध के पैकेट !) (archive link)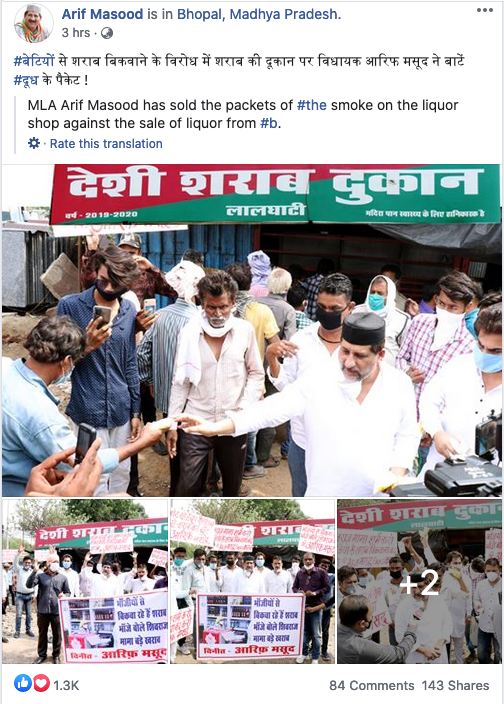 Congress member Arun Yadav tweeted an image of a government order that listed people who were assigned duty at liquor stores. Yadav wrote, "First female policemen sold liquor in MP and now teachers will sell liquor." (Translated from: मप्र में पहले महिला पुलिसकर्मियों ने बेंची शराब और अब शिक्षक बेचेंगे शराब) (archive link)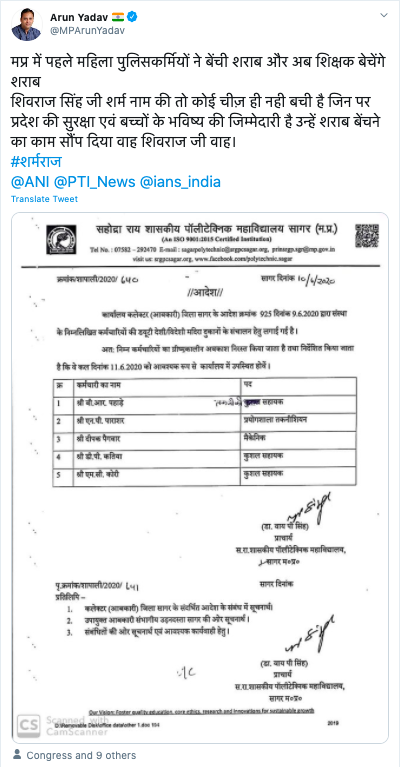 Along with the viral image of female cop at a liquor store, two government orders (one without a date and other dated June 9) issued by the excise department went viral on WhatsApp. Both the documents look identical and they list the names of liquor stores that are expected to function, the team members responsible for its operations and their designations. The team members, which include women, have not been assigned sales duty as per the order.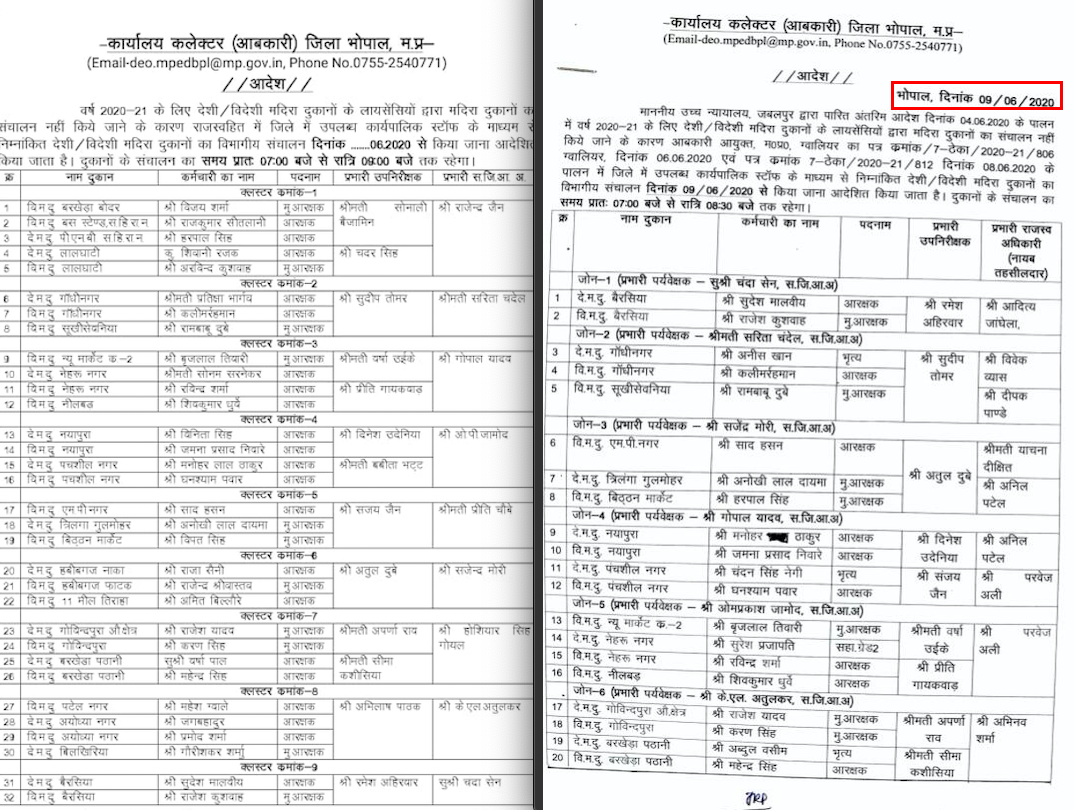 On June 12, Deccan Herald published a news report also claiming that the MP government has engaged women in the sale of liquor. (archive link)
Fact-check
In a video report by Patrika the female officer can be seen engaged in administrative work. The description of the video reads, "Female excise officer is getting the counting done. Shops might open in Bhopal today. (आबकारी महिला अधिकारी करवा रही काउंटिंग भोपाल में आज शाम खुल सकती हैं दुकान.)"
शराब की दुकान खोलने की तैयारी

दुकान की साफ सफाई शुरू

आबकारी महिला अधिकारी करवा रही काउंटिंग
भोपाल में आज शाम खुल सकती हैं दुकान

Posted by Patrika Bhopal on Tuesday, 9 June 2020
Alt News was able to connect with the female excise officer. She works at Bhopal Excise Control Room but requested that her identity is not disclosed. The officer connected us with Atul Dubey, Deputy Controller, Bhopal Excise Control Room.
"It is incorrect to say that the woman officer was involved in the selling of liquor. Excise officers were assigned duties at liquor stores due to the fact that the majority of contractors have surrendered their tenders. All women involved in the duty had a role of supervision. That's the fundamental duty of an excise office irrespective of their gender," Dubey told us. He clarified that the government order that mentions the date is authentic but the other is not. "Once the tender issue is settled excise officers will not have to work at liquor stores," he added.
We were unable to independently verify the authenticity of the government notice without a date. However, it's pertinent to note that both documents look identical and a report by TV9 Bharatvarsh included the carried the undated order.
We found another image of the same officer and noticed that in both the cases she does not seem to be involved in the sale of liquor. In the viral image (left), the officer is on the desk, possibly doing some paperwork, and in the other image (right) she is standing away from the counter while a man in civilian clothes is selling the liquor bottles.

"It is very unfortunate that the woman excise officer is being unnecessarily propagated as a woman selling liquor in shops. One has to understand that irrespective of gender, our officers are equally trained to work on the field. The officer seen in the viral image has served the nation for over a decade now. Women officers are often assigned raid duties and in the investigation of organised crimes. At times women officers have to work where there aren't any toilets. No one raises concerns on such issues," said Dubey.
The claim by MP State Women's Commission Shobha Oza and Congress party that the MP government is making women sell liquor is not only misleading but also sexist.
After the controversy over female excise officers at liquor shops, MP State Excise Department addressed a letter to various district collectors on June 12, instructing that only men are assigned the roles of salespersons (विक्रयकर्ता) and watchmen (चोकीदार).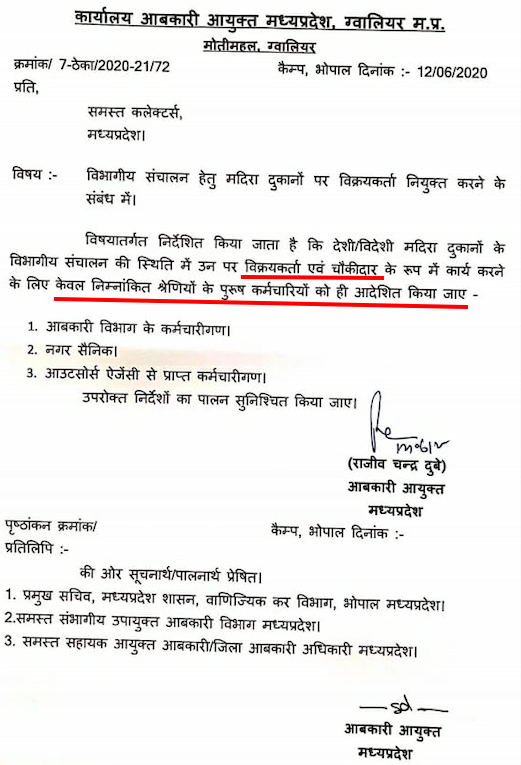 Donate to Alt News!
Independent journalism that speaks truth to power and is free of corporate and political control is possible only when people start contributing towards the same. Please consider donating towards this endeavour to fight fake news and misinformation.