A WhatsApp message is being circulated with four horrifying videos of a mob beating up four alleged women child abductors who are stranded in a rickshaw. As the text claims, they have been caught abducting children from Gandhinagar, Gujarat.
Text: "ભાઈ ઓ વાડજ બસ સ્ટેન્ડ જોડે થી નાના છોકરાઓ ઉપાડી જતી 4 મહિલા ઓ પકડવામાં આવી છે …ગાંધીનગર સેક્ટર 24માંથી બાળકો નું અપહરણ કરતાં પકડાઇ ગયેલ છેં. (Brothers, a gang of four women child abductors has been caught near Vadaj bus stand. They have been caught abducting children from Gandhinagar Sector-24. -translated)".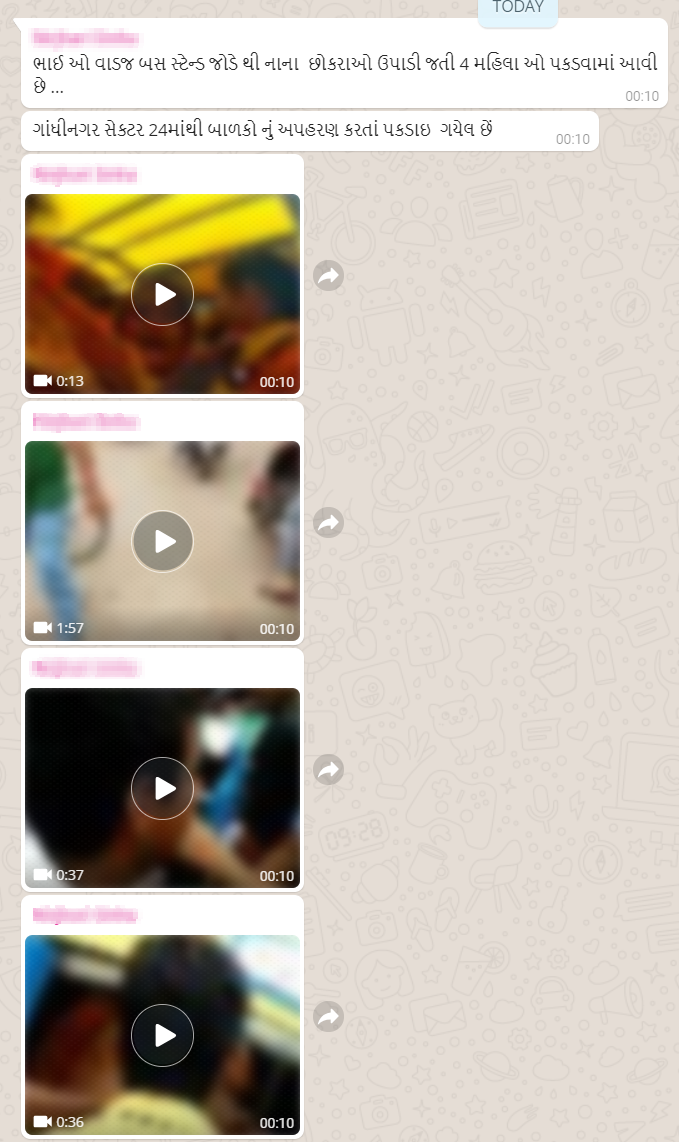 The four videos which have been circulated along with the rumour have been combined and posted below.
The above video is not of child kidnappers as claimed on social media. In fact, Times of India has also uploaded this video on its website, stating that this is the incident wherein a 40 year old woman was lynched on suspicion in Ahmedabad. It may be reiterated that these are simply rumours that were circulating on social media, and there is no truth to these claims.
An article published by Indian Express on June 27, 2018, reported, "A 40-year-old woman beggar was lynched by a mob on the suspicion of being a child lifter in Vadaj area of Ahmedabad on Tuesday afternoon". It further stated the victim, Shanta Devi was attacked by a mob of 40 to 50 people when she was traveling from Sardarnagar to Juna Wadaj area in an autorickshaw with her sister-in-law and two other relatives. The report added that rumours of child lifters in the area is said to have triggered the lynching.
A part of the above message, "ગાંધીનગર સેક્ટર 24માંથી બાળકો નું અપહરણ કરતાં પકડાઇ ગયેલ છેં. (They have been caught abducting children from Gandhinagar sector-24. -translated)" has been shared by many Facebook accounts with different images allegedly of a gang of child abductors.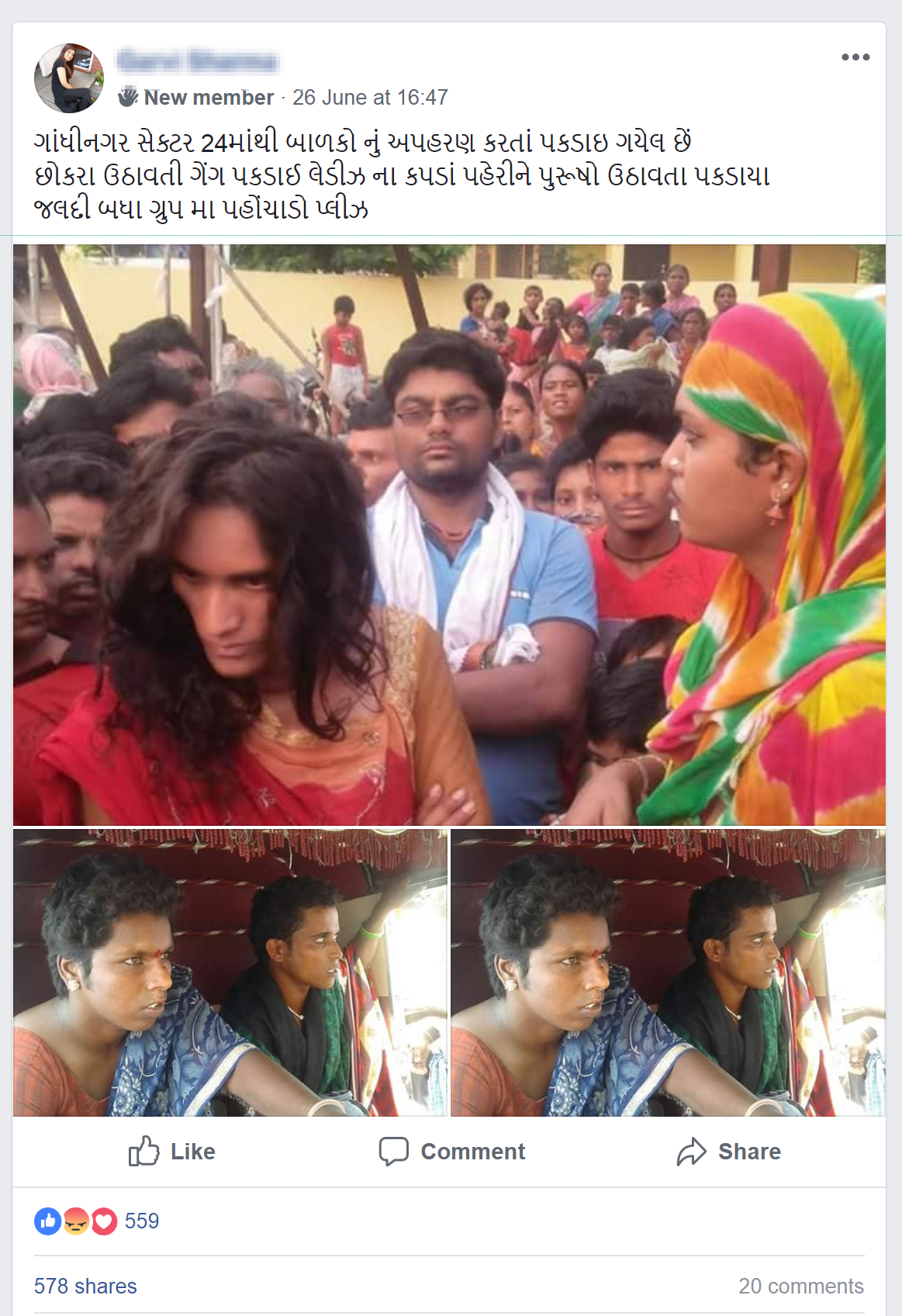 The above post from an account on the Facebook page, 'એક કરોડ ગુજરાતીઓનું Facebook ગ્રુપ(1 ગુજરાતી બીજા 100 Gujarati ને જોડે) (One crore Gujaratis Facebook group(1 Gujarati add other 100 Gujaratis -translated) has been shared more than 570 times.
Child abduction rumours rampant across India
Earlier this month, Alt News had debunked a claim of a child abduction gang active in Kutch district. While rumours of child abduction are rife over the past month, the same set of images are used to spread such rumours in state after state.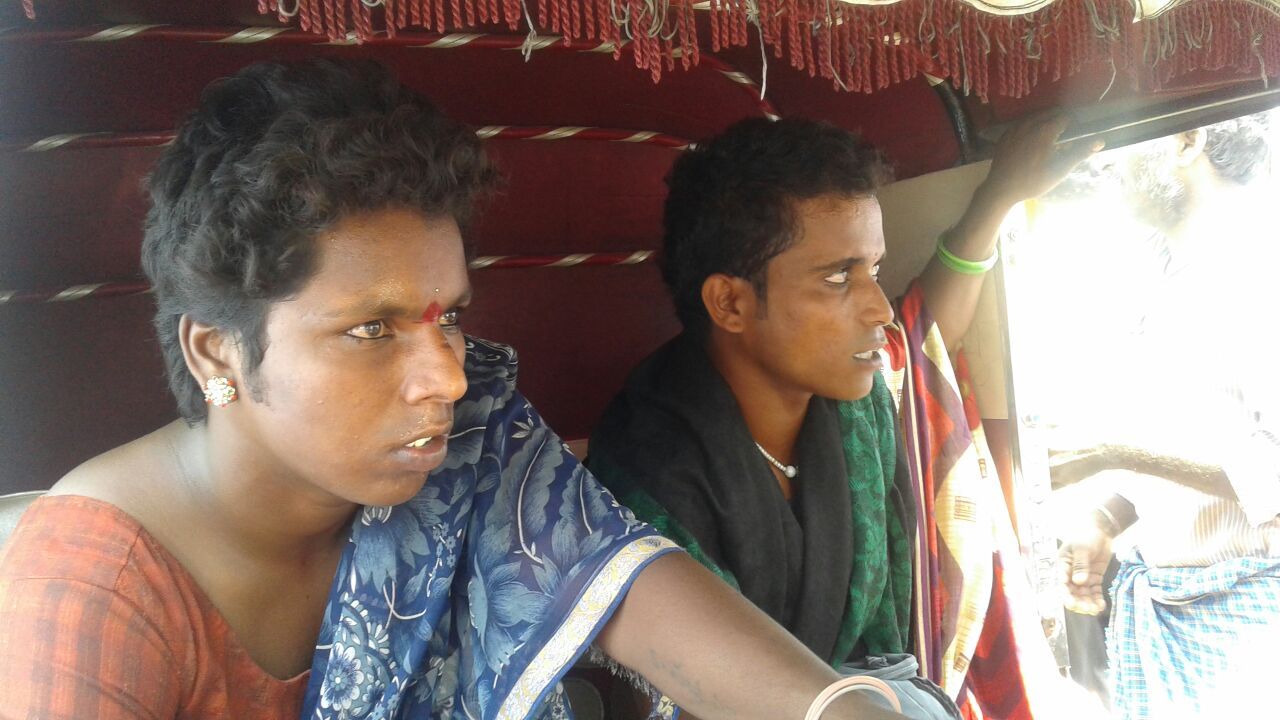 The above image which has been used in this latest post was found in an article published on May 20, 2018, where it had been reported by a Telugu publication that this is part of a set of photographs circulating on WhatsApp with the claim that these are child kidnappers. This is one of the photographs which recurrently appear in relation to the child-abduction claims floating on WhatsApp and social media platforms.
Child kidnapping rumours are currently widespread across Gujarat. A series of such incidents has been reported from the state which too has fallen prey to this rumour frenzy witnessed in recent times. There is an urgent need to take effective steps to end this menace before more lives are endangered.
Donate to Alt News!
Independent journalism that speaks truth to power and is free of corporate and political control is possible only when people start contributing towards the same. Please consider donating towards this endeavour to fight fake news and misinformation.