After the results of the recently-concluded gram panchayat elections in Uttar Pradesh, News18 UP Uttarakhand broadcasted a video of a group celebrating the victory of an elected pradhan (head) in UP's Bahraich. The channel claimed that 'Pakistan zindabad' slogans were raised at the rally. Anchor Aparna Moazzam even went on to say, "Bahraich is in India. Victory is for pradhan in Bahraich. Then why so much love for Pakistan?" The procession was taken out to celebrate the victory of Haji Abdul Kalim in the Kewalpur gram sabha elections.
News18 published an article on the same which was amplified on Twitter and Facebook.
This slideshow requires JavaScript.
Dainik Jagran had also published an article with a similar narrative but it was later taken down. A cached version can be accessed. "Pakistan zindabad slogans echoed in Bahraich near the Nepal border, video viral on internet media (बहराइच में नेपाल सीमा पर गूंजा पाकिस्तान जिंदाबाद का नारा, वीडियो इंटरनेट मीडिया पर वायरल)," read its headline.
It is noteworthy that Dainik Jagran is a Hindi daily by the Jagran Prakashan Limited which also owns the IFCN certified fact-checking portal Vishwas News under MMI Online Limited. According to Vishwas News's About Us page, MMI Online is the digital platform of Jagran Prakashan Limited. Breaking Tube, an online portal that on several occasions has amplified misinformation, also published a report on the video with the same claim.
'Haji Saab zindabad' slogans raised
Alt News found that the supporters of Haji Abdul Kalim were not raising 'Pakistan zindabad' slogans but 'Haji Saab Zindabad, and this is clearly audible if one carefully listens to the chants. A slow-motion video has been attached below where 'Haji Saab' is audible even more clearly.
Amar Ujala had reported on May 5, 2021, that supporters of Haji Abdul Kalim took out a procession to celebrate his victory in the panchayat elections. The report also stated that a video of the rally has given rise to rumours on social media. The police has registered a case against the winning candidate and 100 unidentified people for violating COVID protocol and taking out a procession.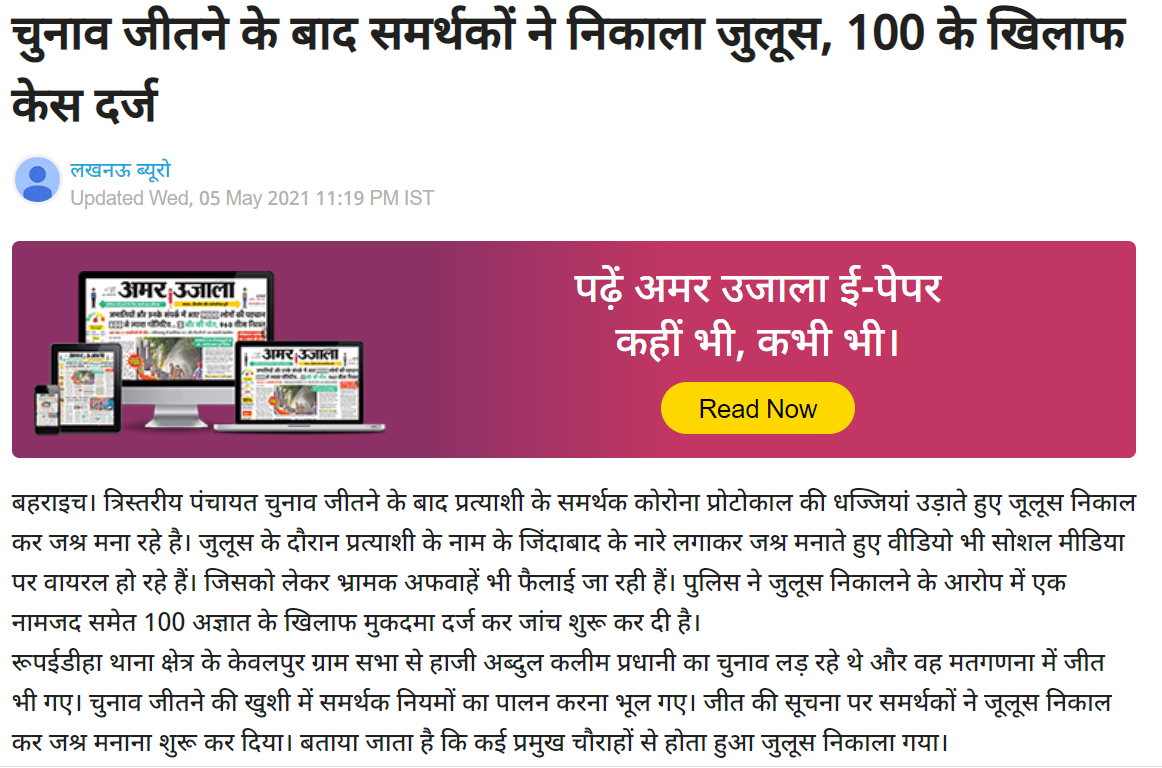 Bahraich police has also put out a tweet rubbishing the claims that Pakistan zindabad slogans were raised at the procession. "The truth is that in the victory procession, the supporters of the newly-elected pradhan only raised slogans of 'Haji Saab zindabad' NOT Pakistan zindabad. This is clear upon closely listening to the audio of the viral video clip," the police statement said.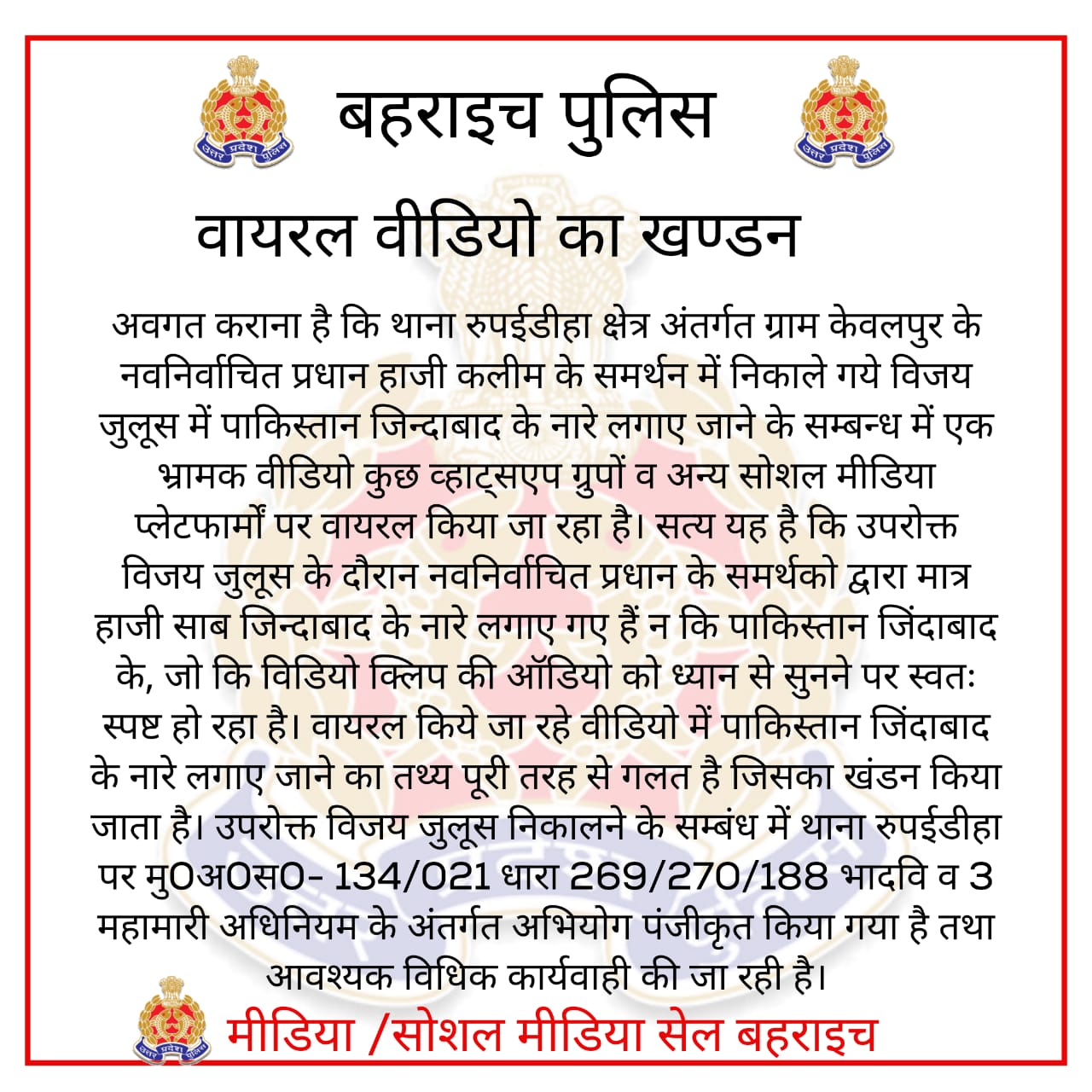 Alt News reached out to Haji Abdul Rahim, the brother of Haji Abdul Kalim. He said, "All that is being spread is false. As soon as the results came out, I was leaving from there, then supporters started raising Haji Saab zindabad slogans. We didn't take out any procession. If it were the case, we would have gone out everywhere. As soon as the counting of the votes concluded, I came home and the supporters present at the location followed me. My brother reached home in the evening, till then he was present at the party office."
News18 UP Uttarakhand and Dainik Jagran published misreports on the procession taken out in support of Haji Abdul Kalim with the false claim that his supporters raised 'Pakistan zindabad' slogans. News18 is yet to take down its report.
Donate to Alt News!
Independent journalism that speaks truth to power and is free of corporate and political control is possible only when people start contributing towards the same. Please consider donating towards this endeavour to fight fake news and misinformation.