Ever since Bollywood actor Irrfan Khan tweeted that he has been diagnosed with a rare disease, rumour mills have been working overtime to speculate about his health. Khan had requested his fans not to speculate as he will himself share the story once the further investigations come up with a conclusive diagnosis. Social media did exactly the opposite of what Khan requested and at least one mainstream media joined in to fuel speculation about his health. What was so far a social media rumor was circulated further by NewsX by adding disclaimers like, "it is rumoured", "if latest reports are to be believed" and "we don't confirm any such news".
— Irrfan (@irrfank) March 5, 2018
Social media rumor
Soon after Khan's tweet, a screenshot has been doing the rounds on Whatsapp. Posted like a news item without giving the link or the source, the screenshot diagnoses Khan with a deadly cancer.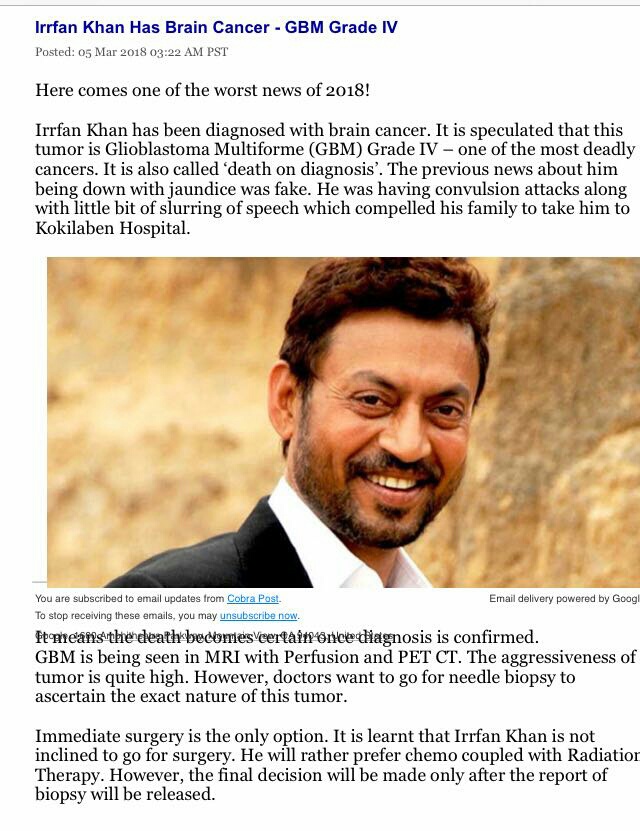 NewsX Version 1
NewsX initially published a story with the headline "Unconfirmed reports suggest Irrfan Khan has brain cancer; fans shocked, prayers pour in from all over the world". On the lines of the Whatsapp screenshot, the article went on to diagnose the cancer as Glioblastoma Multiforme (GBM) Grade IV, also called 'death on diagnosis'. Adding the rider, "If the latest reports are to be believed" the news site stated that "Irrfan had been having convulsion attacks along with slurring of speech due which he had to be admitted into the Hospital immediately."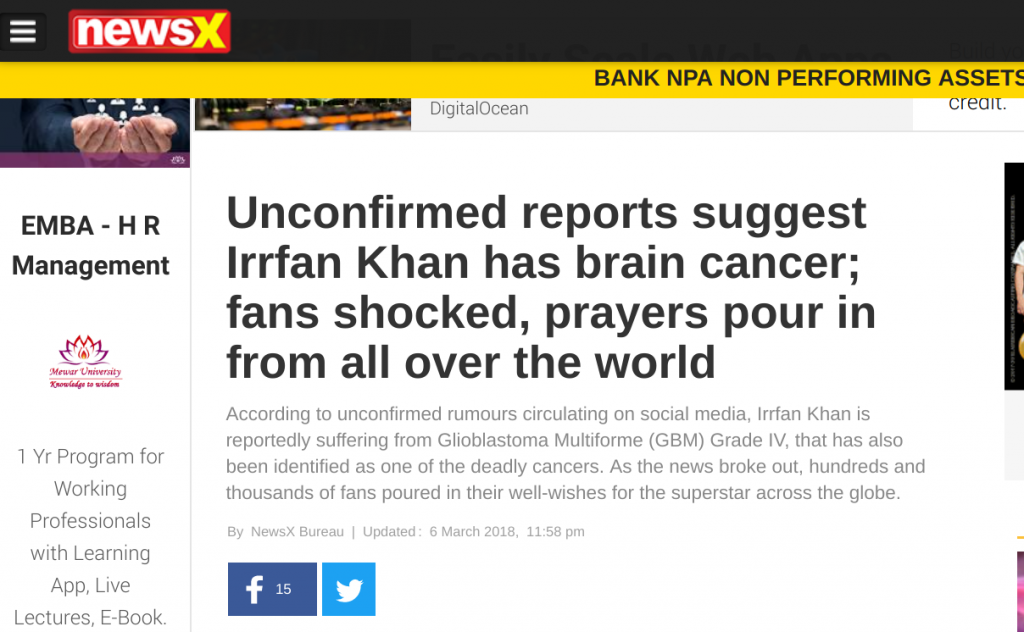 NewsX Version 2
The second version of the NewsX story added additional details of Khan being admitted to Kokilaben Hospital under a new headline, "Irrfan Khan is rumoured to have been diagnosed with Brain Cancer; admitted in Kokilaben Hospital."
Taking words circulating on a WhatsApp rumor, the news site added, "The tumor has been identified as 'death on diagnosis' as death becomes certain once the diagnosis is confirmed. The aggressiveness of the tumor is believed to be very high. However, the doctors need to go for a needle biopsy to ascertain the exact nature of the tumour. According to latest reports, Irrfan Khan will be going through a chemo coupled with Radiation Therapy. The final decision will only be made after the reports of biopsy are finally out."
At the end of the article, it added "NewsX has no confirmed medical reports but the latest reports circulating on the internet suggest the same."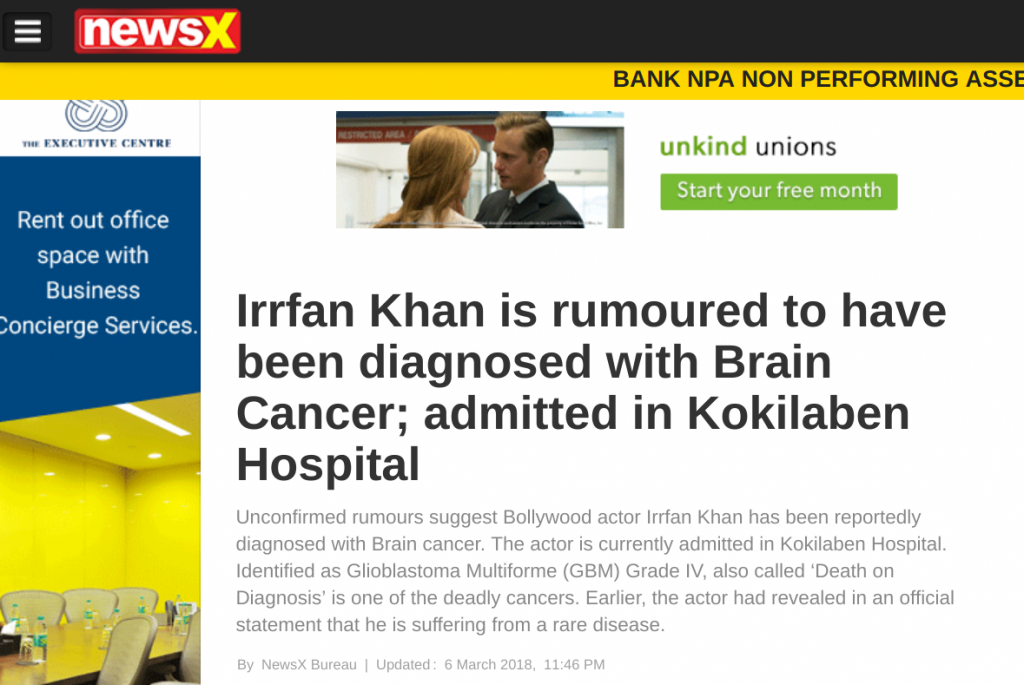 NewsX Version 3
After it emerged that news about Irrfan Khan's health was untrue, NewsX amended its story one more time. The latest headline of the News X story chose to stick closer to the fact from Irrfan Khan's tweet, stating that "Irrfan Khan reveals he has a rare disease"
This time NewsX story shared the screenshot of the social media rumor stating that "There are some unconfirmed claims on the internet which are floating around. One of such screenshots is given below, we don't confirm any such news and we wish Irrfan Khan a speedy recovery."
Apart from NewsX, several Hindi publications have also carried the unverified news about 'cancer' and 'death on diagnosis'. Jansatta, a prominent Hindi publication reported that Irrfan Khan is suffering from a serious illness and has been admitted to Kokilaben Hospital. The article quoted the report of a publication called 'Bollywood Life' for this news.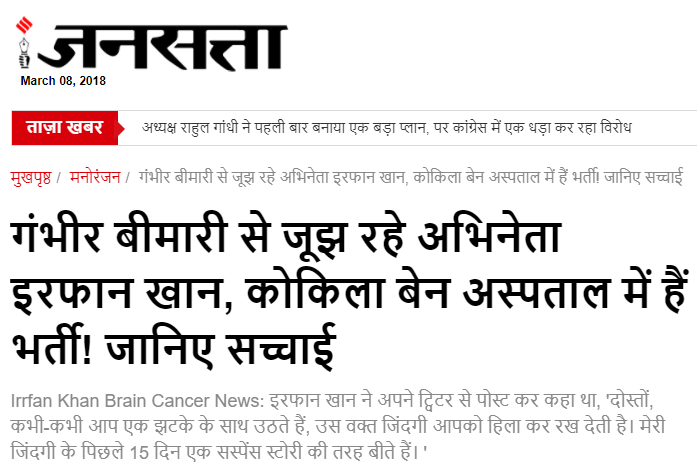 Catch News Hindi reported that Irrfan Khan had been admitted to the hospital due to serious illness.
As regards the situation regarding Khan's health, officials at Kokilaben Hospital have confirmed to PTI that Khan is not admitted there. Khan's team also refuted that he is admitted in a hospital and declined to comment if he had cancer.
Komal Nahta, a film trade analyst tweeted that Khan is in Delhi and news relating to his hospitalisation is fake.
Although IrrfanKhan is unwell, all malicious news being spread about him and his condition since an hour or two are untrue. Likewise, all other horrendous news relating to his hospitalisation are fake. By God's grace, Irrfan is in Delhi and that's the only truth.

— Komal Nahta (@KomalNahta) March 6, 2018
The rumor mongering about Irrfan Khan's health comes at a time when Indian media is already under fire for its over the top coverage of Sridevi's death. Khan's request asking his fans not to speculate about his health has fallen on deaf ears. Social media as usual took the lead in rumor-mongering but it is unfortunate to see a section of mainstream media join in as well.
Donate to Alt News!
Independent journalism that speaks truth to power and is free of corporate and political control is possible only when people start contributing towards the same. Please consider donating towards this endeavour to fight fake news and misinformation.