Multiple mainstream media outlets recently carried the news that a 21/22-year-old man had married a 52-year-old woman. The 'reports' did not have any detail about the newlyweds but had a video that, the reports said, was viral on social media.
The video posted by Aaj Tak on its Twitter handle garnered 45500 views, 695 likes, and 128 retweets.
52 साल की महिला को दिल दे बैठा 21 साल का लड़का. सोशल मीडिया पर वीडियो हुआ वायरल.#ATDigital #ViralVideo #Shadi #ShockingVideo pic.twitter.com/cYFE9pNAdO

— AajTak (@aajtak) December 14, 2022
Many Indian news outlets including ABP News, Zee News, NDTV, TV9 Bharatvarsh, Times Now, News24, Zee Rajasthan, TV9 Telugu Zee News Tamil One India, Asianet News, Lokmat, LatesTly, Sach Tak (Website owned by Manish Kashyap), Lakshay Media and others have reported on the viral video.
This slideshow requires JavaScript.
Times Now Navabharat tweeted and posted on Facebook saying "Viral Video: 21 साल का दूल्हा, 52 साल की दुल्हन!" On Facebook, it has 10000 views. The video was also uploaded on the Times Now Navbharat YouTube channel. It garnered 5,000 views.
Viral Video: 21 साल का दूल्हा, 52 साल की दुल्हन!

सब्सक्राइब करें #TimesNowNavbharat👉https://t.co/ogFsKf9YX1#TimesNowNavbharatOriginals #TNNOriginals #ShadiVideo #ViralVideo pic.twitter.com/P7SORHoN4v

— Times Now Navbharat (@TNNavbharat) December 13, 2022
Aaj Tak shared this video on December 14 on Facebook with a text embedded in the video that said, "Age is no bar when it comes to relationships". It garnered 441000 views, 10000 likes, 35,00 comments, and 977 shares. The video posted by Aaj Tak on Instagram has 702000 views and 66000 likes.
This slideshow requires JavaScript.
Aaj Tak news anchor Shubhankar Mishra also shared it claiming a 21-year-old boy married 52-year-old woman.
21 साल के लड़के ने रचाया 52 साल की महिला से ब्याह।

– 3 साल से Live In Relationship में रह रहें हैं दोनों।
– लड़का कह रहा कि प्यार में सिर्फ़ दिल देखते हैं।
– लड़की कह रही कि इन पर भरोसा है। pic.twitter.com/BZgvEXaxix

— Shubhankar Mishra (@shubhankrmishra) December 15, 2022
Fact Check
On doing a key-word search on YouTube, we found the same video on many channels. One channel named 'All in one NEWs' with 10.5 lakh subscribers had given credit for the video to Instagram user @techparesh. We found the same video on @techparesh's Instagram timeline posted 2 weeks ago. It has 16.8 million views. Almost all the videos on this user's account are related to marriage/relationships.
We also noticed that the man in the viral video, who is said to be 22-year-old, appears in many other videos with different stories of relationships on the same @techparesh Instagram account. In another video posted by @techparesh, he acts as the boyfriend of two girls.
View this post on Instagram
Besides, in a video uploaded on September 14, 2022, the same man is seen with another girl of around the same age. The video is about a boy refusing to marry a girl.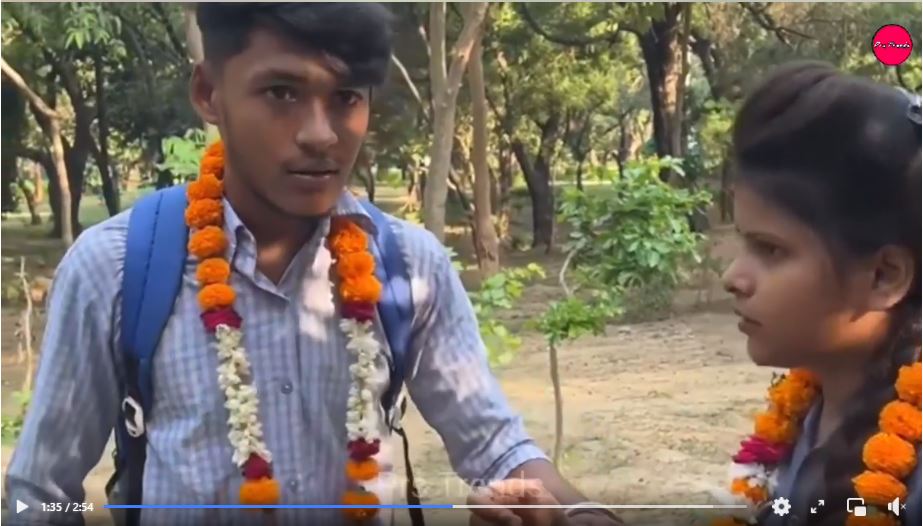 Not only that, the 52-year-old woman in the viral video, too, appears in different videos with different relationship stories. In a video on the same Instagram account, she can be seen claiming to have been married to another man who also claims to be 22 while the woman is 52.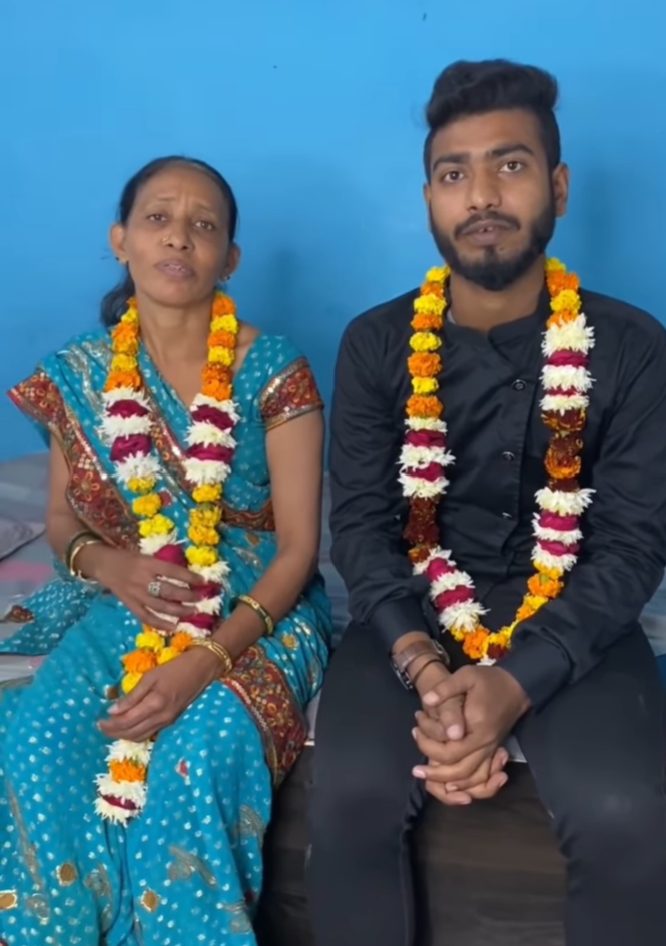 Conclusion
Hence, it is clear the a scripted video posted on an Instagram channel is being falsely reported as a marriage between a 22-year-old man and a 52-year-old woman by different media organizations. Both the man and the woman are actors in a dramatized piece.
Vipul Kumar is a freelance Journalist and a fact checker.
Donate to Alt News!
Independent journalism that speaks truth to power and is free of corporate and political control is possible only when people start contributing towards the same. Please consider donating towards this endeavour to fight fake news and misinformation.