A piece of news that was widely reported in the media in the first week of April claimed that a Harvard study hailed the Yogi Adityanath government in Uttar Pradesh for handling the migrant crisis more effectively than other states.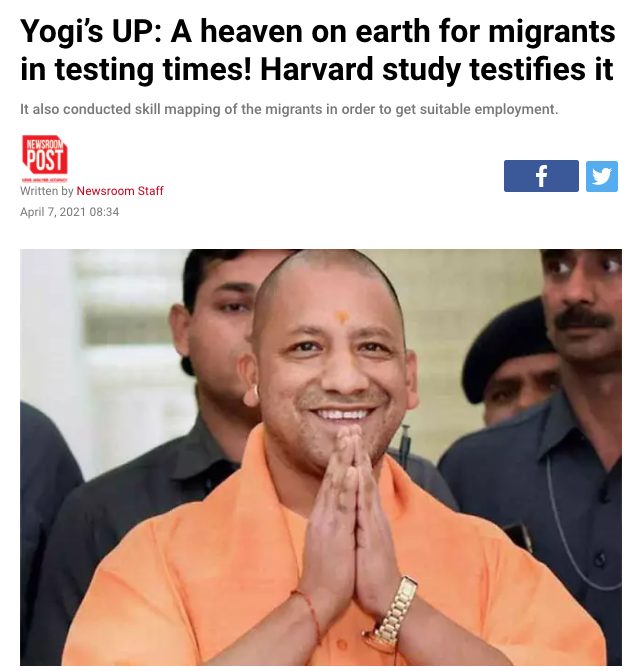 News Nation consulting editor Deepak Chaurasia wrote, "Harvard University salutes CM Yogi Adiyanath for COVID-19 restrictions and recommends the world to replicate."
हार्वर्ड यूनिवर्सिटी का कोविड प्रबंधन पर CM योगी आदित्यनाथ को सलाम, @myogiadityanath से विश्व को सीखने की सलाह।

— Deepak Chaurasia (@DChaurasia2312) April 9, 2021
Times Now, Hindustan Times, Asianet News, IANS, Jagran, One India, The Free Press Journal, MensXP, Tatva, Newsroom Post, My Nation, Swarajya and Shortpedia were among the media outlets that carried the story.
This slideshow requires JavaScript.
TV9 Bharatvarsh and The News uploaded video reports on their YouTube channels.
Right-wing propaganda outlet OpIndia also published an article on the 'Harvard study'.
Fact-check
The study in question is titled 'COVID-19 & the migrant crisis resolution: A report on Uttar Pradesh'. This was published by the Institute For Competitiveness (IFC) and not Harvard University. Furthermore, the inference that the study draws has also been misrepresented in media reports.
Study not prepared by Harvard University
The report in question was published by the Institute For Competitiveness (IFC). The cover page of the report has two logos – IFC and Microeconomics of Competitiveness, an affiliate network of Harvard Business School. MOC is essentially a Harvard course on competitiveness and economic development. It was developed by Professor Michael Porter and the staff and affiliates of the Institute for Strategy and Competitiveness (ISC).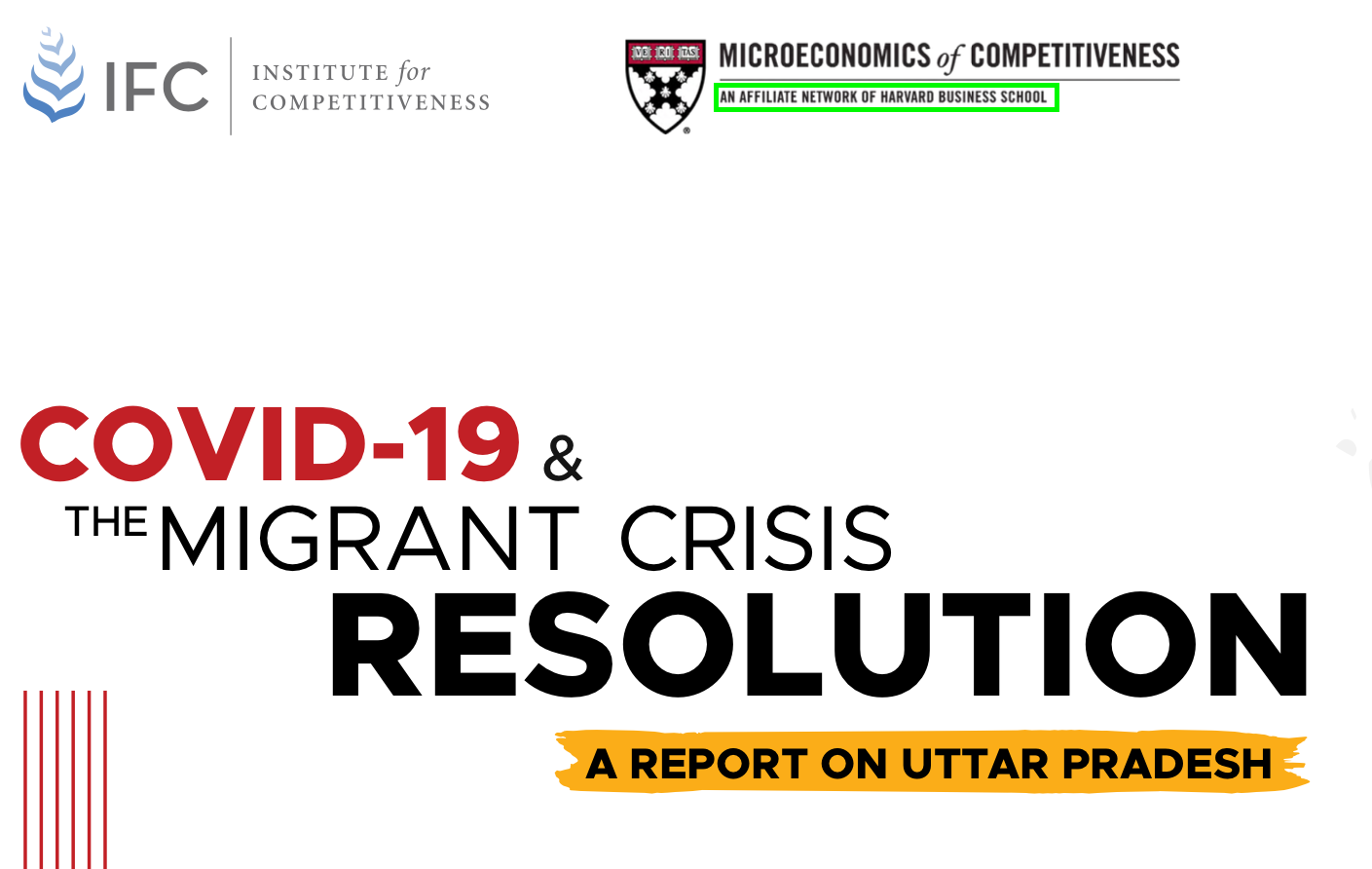 ISC is a nonprofit research, education, and policy organization based at Harvard Business School in Boston, Massachusetts. As per the 2021 prospectus, "The vision of the MOC Affiliate Network was to create local capacity to understand, teach, and upgrade competitiveness through a highly scalable structure: The Institute for Strategy and Competitiveness (ISC) at Harvard Business School (HBS) developed the curriculum, teaching materials, and a platform for disseminating these materials around the world. The network enables faculty at affiliated universities to teach the MOC course quickly and without costly course development efforts of their own."
The prospectus lists IFC (highlighted in red) as a MOC affiliate institution. There about 120 affiliate institutes across the world out of which four (highlighted in green) are from India.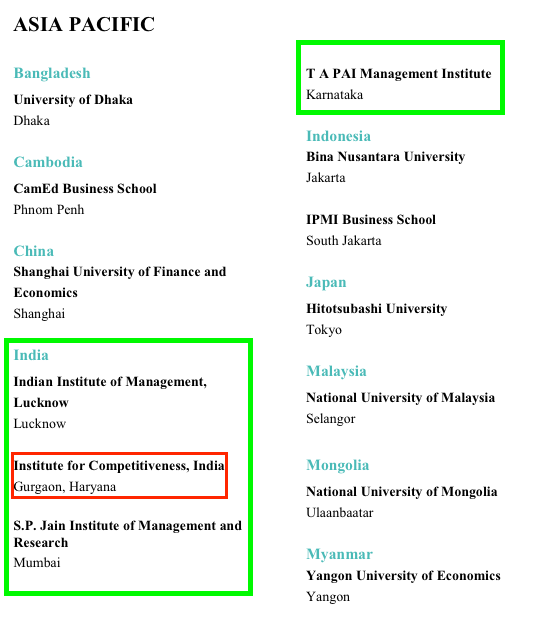 According to IFC's website, it is "the Indian knot in the global network" of the Institute for Strategy and Competitiveness (ISC) at Harvard Business School. The readers should note that IFC hasn't referred to itself as a part of Harvard Business School. Additionally, the report in question is neither available on the website of ISC nor HBS website.
Smriti Iyer, an alumnus of Harvard Kennedy School, told Alt News, "To the best of my knowledge there is no such thing as a 'Harvard study'. There are studies by institutions/ professors/ centres associated or housed at Harvard. In most cases, it's made clear that the study is attributable to the authors and not the university. In order to create legitimacy, they are often referred to as Harvard studies, which is misleading."
Katelyn B. Ahern, Competitiveness & Economic Development Program Manager at ISC, responded to Alt News's queries via email. "It is not accurate to refer to a study by a MOC affiliate as a Harvard study," she wrote.
As far as the usage of the MOC logo is concerned, Ahern stated that affiliates are allowed to use the logo for internal network purposes, but "Harvard" (alone or as part of another name) or any logos, seals, insignia, shields or other words, names, symbols or devices that identify Harvard or any Harvard school, unit, division or affiliate ("Harvard Names") for any purpose, including but not limited to use in course catalogues, advertising or promotional materials need prior written approval from Harvard to use it externally. More details about the trademark can be read on Harvard Trademark Program. Readers should note that MOC is a course at ISC, Harvard Business School. Therefore the rules mentioned by Ahern are applicable to it.

Amit Kapoor, honorary chairman at IFC, spoke with Alt News after our interaction with Ahern. He responded to our queries over an email. "It is not accurate to refer to a study by a MOC affiliate as a Harvard study," he wrote, adding, "Contrary to media reports our study doesn't conclude UP government handled the migrant crisis more effectively than other states. The document is not a comparative statement on the handling of the crisis by different states. It is documentation pertaining to the effort of the Uttar Pradesh government and extracting insights from the same."
On page 70 of the report, the conclusion states, "Although the Uttar Pradesh government has taken steps to build economic opportunities for them closer to home using existing schemes as well as by signing new MoUs, it is important to develop a long-term employment generation plan."
Our final question to Kapoor and Ahern was if IFC's usage of the logo on the coverage of the study 'COVID19 & the migrant crisis resolution: A report on Uttar Pradesh' breaches the Harvard Trademark Program? Ahern hasn't responded to the question. However, Kapoor wrote that it does not breach the trademark program. "The document was for internal consumption and was not intended to be made public. In addition, as you note, the study/document was not projected as a Harvard study anywhere in the document, rather as a work of the Institute for Competitiveness. The interpretation was unexpected. The logo from the report will be removed to correct the interpretation and to not project anything wrong," he said.
WhatsApp message forwarded by UP state officials presented as news report
An Uttar Pradesh-based journalist informed Alt News that a WhatsApp message was circulated on a group exclusively for media professionals. State officials had shared a message in the form of a press note and a link to the said study.
The title of the message – 'A heaven on Earth for migrants in testing times' – is the exact headline used by Newsroom Post.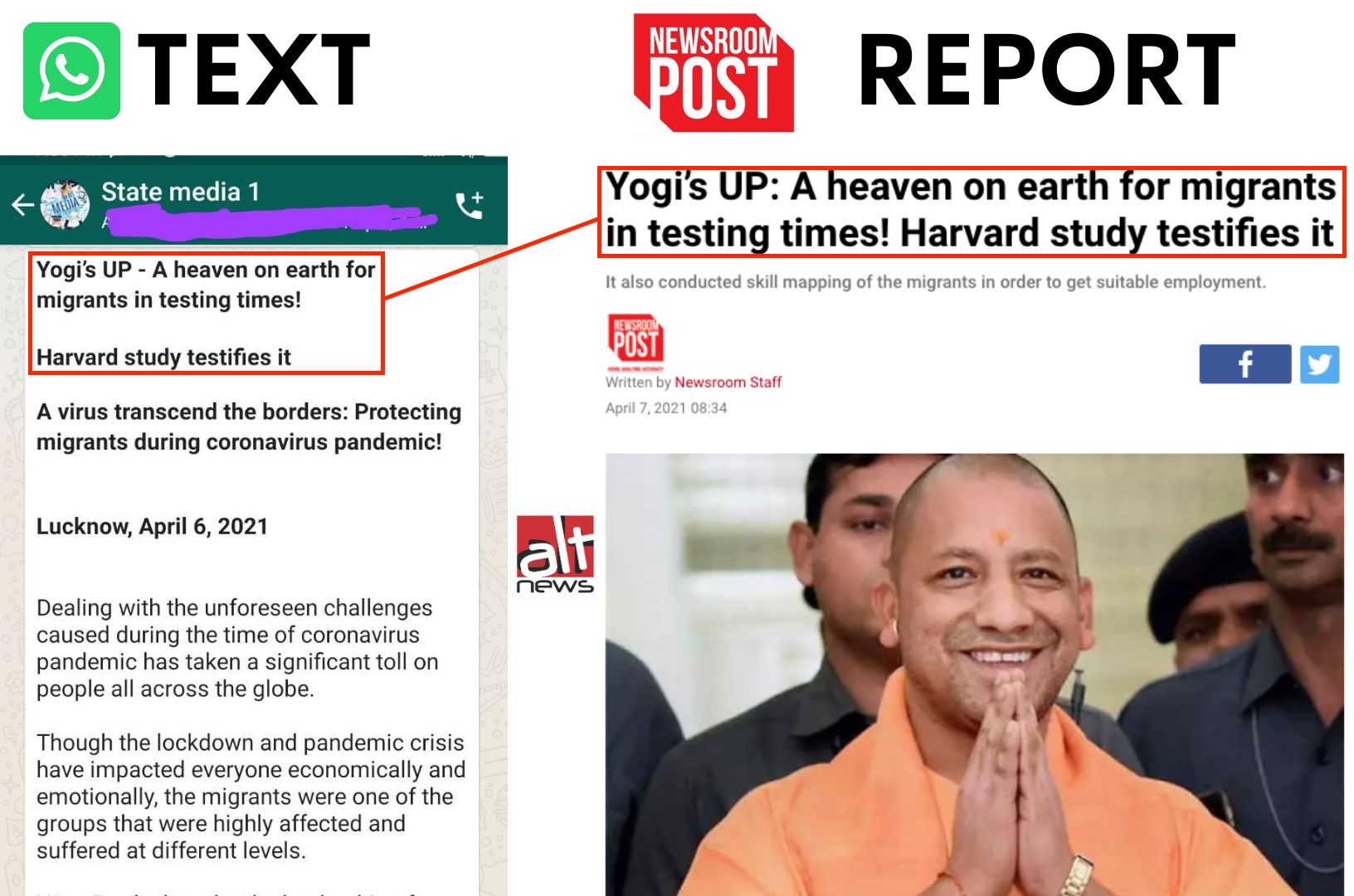 Thus, a study by IFC was falsely dubbed as a Harvard study by the UP government and media. Furthermore, Amit Kapoor, honorary chairman at IFC, told Alt News that MOC's logo will be removed from the report.
Alt News had earlier reported another misreport circulated in a similar manner. In the first week of April, a section of the media claimed that Johns Hopkins University hailed Uttar Pradesh among the 'toppers' in COVID management. Dr David Peters, a professor at the Johns Hopkins Department of International Health and one of the authors of the report, refuted the claim.
BJP members amplify the misreport
Shishir Singh, director at the Department of Information and Public Relation, Government of UP shared an image of Hindustan Times print report that claimed Harvard has lauded the Yogi Adityanath government.
Harvard University study appreciates the deft handling of migrant crisis by @UPGovt under the leadership of @myogiadityanath ji. pic.twitter.com/RHpv2s3xOr

— Shishir (@ShishirGoUP) April 7, 2021
BJP Delhi spokesperson Tajinder Pal Singh Bagga shared a screenshot of a report by Tatva headlined, "World needs to learn how to manage Pandemic & Migrant crisis from CM Yogi': Harvard study lauds UP Govt". His tweet gained over 13,000 likes.
— Tajinder Pal Singh Bagga (@TajinderBagga) April 9, 2021
BJP member Major Surendra Poonia (Retd) also shared the above-mentioned screenshot. His post gained over 2,500 likes.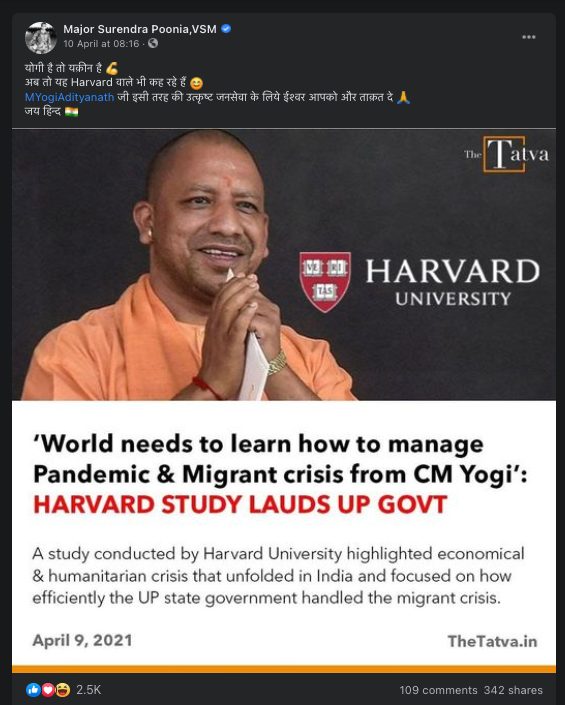 BJP member Vinit Goenka posted HT's online version of the article. He wrote, "While several migrants were left to fetch for their own in #Delhi leading to exodus due to the apathy of Aam Aadmi Party govt, CM of Uttar Pradesh Yogi Adityanath ji did a fantastic job in taking care of the migrant crisis. CM Arvind Kejriwal should learn from this."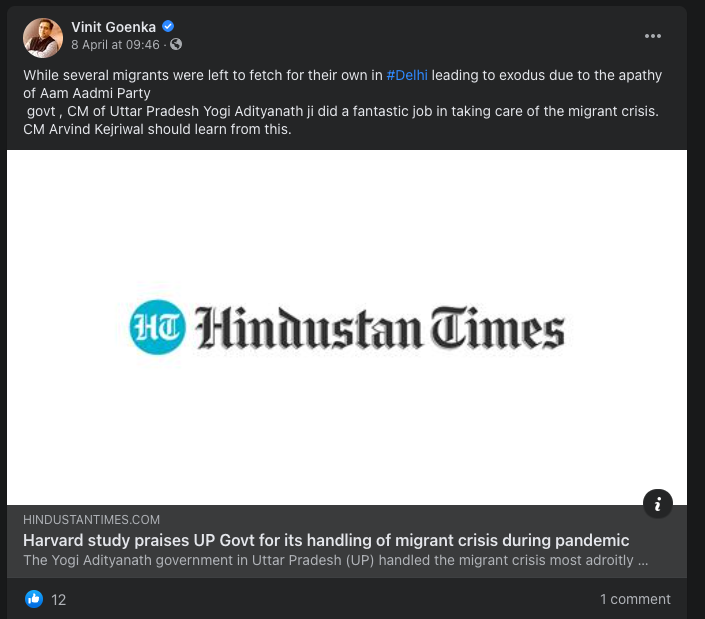 BJP supporter Dr. Richa Rajpoot also tweeted about the aforementioned Harvard study.
हार्वर्ड यूनिवर्सिटी का कोविड प्रबंधन पर CM योगी आदित्यनाथ को सलाम, कहा कोविड प्रबंधन योगी जी से विश्व को सीखने की सलाह।

एक योगी किसी भी हॉर्वर्ड वालों पर भारी है ।

— Dr. Richa Rajpoot (@doctorrichabjp) April 9, 2021
Twitter user @nehaltyagi08 and social media influencer made the claim in question and wrote, "East or West, Maharaj is the Best." This tweet gained over 2,000 retweets.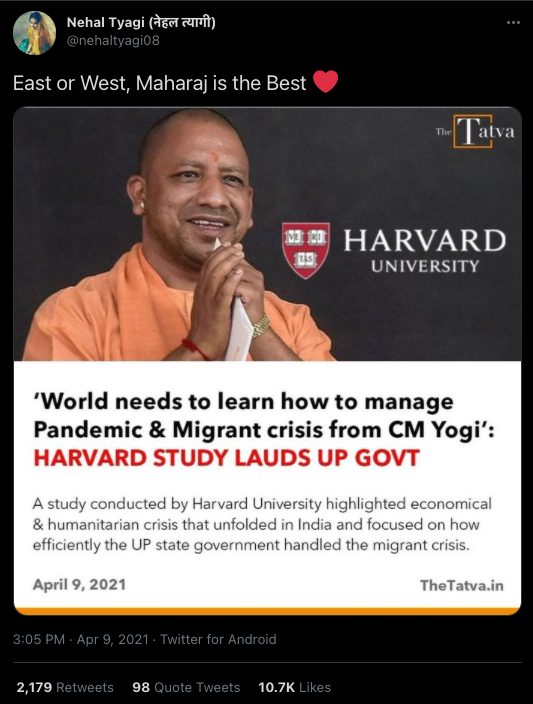 Apart from this, several pro-BJP Facebook groups and pages – Nation with NaMo, Postcard and PMO India: Report Card – further amplified the claim.
This slideshow requires JavaScript.
Donate to Alt News!
Independent journalism that speaks truth to power and is free of corporate and political control is possible only when people start contributing towards the same. Please consider donating towards this endeavour to fight fake news and misinformation.