The video posted below is floating on social media as a "miracle of nature". It's being claimed that "rain fell at one spot" in Maharashtra's Kankavli. The message circulated with the video says, "*प्रकृति का चमत्कार* गोआ से लगभग 100 किलोमीटर पहले मुंबई पुणे महा मार्ग पर स्थित महाराष्ट्र के कणकवली में आकाश के बादल फटने से सिर्फ एक छोटी सी जगह पर भारी वर्षा गिरने का ..अद्भुत दृश्य। अविश्वसनीय! (The miracle of nature. About 100 kms before Goa, in Mumbai-Pune Highway, rain fell at one spot in Maharashtra's Kankavli. Amazing scene.)
क्या आपने देखा?

गोआ से लगभग 100 किलोमीटर पहले मुंबई पुणे महा मार्ग पर स्थित महाराष्ट्र के कणकवली में आकाश के बादल फटने से सिर्फ एक छोटी सी जगह पर भारी वर्षा गिरने का ..अद्भुत दृश्य।

मन में विचार आता है कि भगवान की महिमा अपरंपार है।

इस जल का वज़न हज़ारों टन में होगा और जब तक नीचे न गिरे आसमान में बिना मोटर के तैरता है।

किसकी शक्ति से?

हम तो एक छोटे से जहाज़ को भी बिना पेट्रोल के उड़ा नहीं पाते।

लोग कहते हैं कि प्रकृति की शक्ति से।

भगवद् गीता अध्याय 9 श्लोक 10 में भगवान कहते हैं।
मयाऽध्यक्षेण प्रकृतिः सूयते सचराचरम्।
हेतुनाऽनेन कौन्तेय जगद्विपरिवर्तते।

ये भौतिक प्रकृति मेरी शक्तियों में से एक है तथा मेरी अध्यक्षता में कार्य करती है।

आपका सेवक
अक्रूर दास।

Posted by Bhagavad-gita on Friday, 9 August 2019
The clip was also viral earlier in April, shared with a Telugu text that said, "నిన్న టోగో లోని దక్షిణాఫ్రికా దగ్గర ఆకాశం నుంచి భూమ్మీదకు ఒకే ప్రదేశంలో బిందెలోనుంచి నీళ్లు పోసినట్టు ధారా పడింది. ఆ జల పాతాన్ని భూదేవి నోరు తెరచి (నీళ్లు పక్కకు వెళ్లకుండా )తాగింది. ఆ అద్భుత దృశ్యాన్ని మీరు ప్రత్యేక్షంగా చూడవచ్చును. పరమాత్ముడు ఉన్నాడు అనడానికి ఇంతకంటే నిదర్శనం ఏం కావాలి . (Yesterday in South Africa's Togo, water came from sky like pouring from a steel pot. And Earth drank that water without letting it sprinkle on the sides. You can see this live, do you need any evidence to prove God?)"
నిన్న టోగో లోని దక్షిణాఫ్రికా దగ్గర ఆకాశం నుంచి భూమ్మీదకు ఒకే ప్రదేశంలో బిందెలోనుంచి నీళ్లు పోసినట్టు ధారా పడింది. ఆ జల పాతాన్ని భూదేవి నోరు తెరచి (నీళ్లు పక్కకు వెళ్లకుండా )తాగింది. ఆ అద్భుత దృశ్యాన్ని మీరు ప్రత్యేక్షంగా చూడవచ్చును. పరమాత్ముడు ఉన్నాడు అనడానికి ఇంతకంటే నిదర్శనం ఏం కావాలి.

Posted by Deepak Reddy Sunkara on Wednesday, 24 April 2019
It was also shared in English.
In Togo Water fell from the sky only at one place. Mother Earth swallowed entire water fall without allowing it to go sideways.Do you still want a proof that God exists.

Posted by Anand Sharma Kongbrailatpam on Thursday, 25 April 2019
Not magical rainfall
If one notices carefully, the water can be seen erupting from a hole in the ground and not falling from the sky.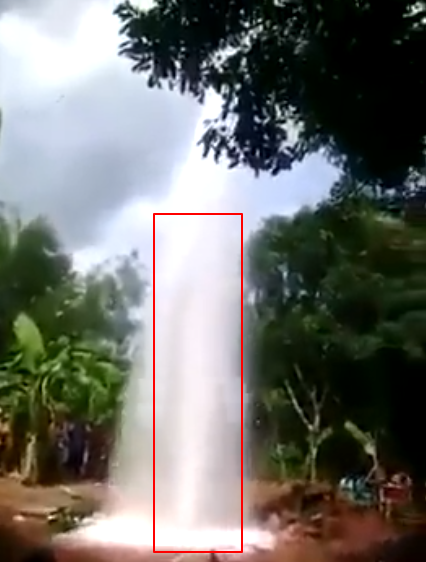 The water might have been mistaken for rainfall as at several points in the footage, its peak was hidden by nearby trees. However, at other places in the video, the peak can be seen separate from the sky and the clouds. The source of water in the ground is also clearly visible.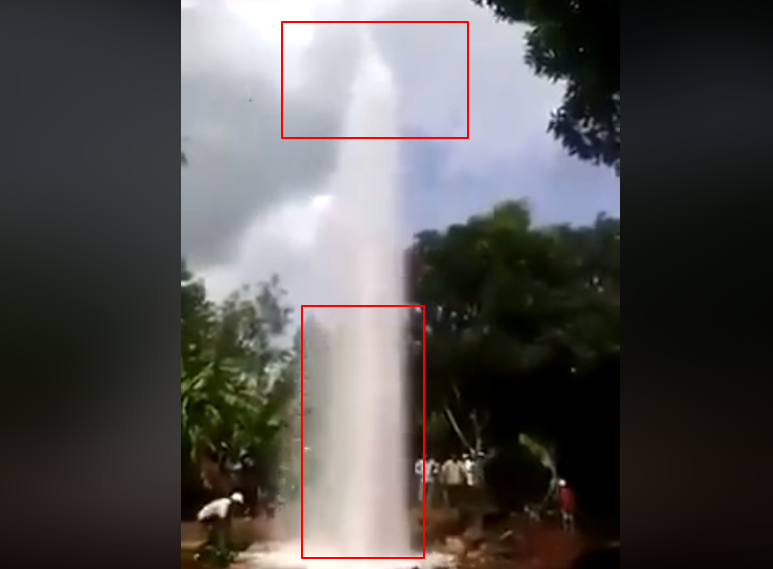 American fact-checking website Snopes had debunked this video in 2016. While it is currently viral as an incident that occurred in Maharashtra, Snopes had found that the same clip was also viral with the location as Indonesia, China, and Vietnam.
We found an identical video on Youtube, where it was described as – "sources of water, well digging."
Donate to Alt News!
Independent journalism that speaks truth to power and is free of corporate and political control is possible only when people start contributing towards the same. Please consider donating towards this endeavour to fight fake news and misinformation.To make an instant donation, click on the "Donate Now" button above. For information regarding donation via Bank Transfer/Cheque/DD, click here.