On January 29, Prime Minister of the UAE and Ruler of Dubai Sheikh Mohammed bin Rashid Al Maktoum issued instructions to rename Al Menhad area and its surroundings 'Hind City'. Gulf News reported that the Hind City would cover an area of 83.9 kilometers.
Soon after, claims were made on social media that this had been done to honour Prime Minister Narendra Modi or the contributions of Indians and Hindus to humanity.
BJP MP from Uttarakhand and the party's national media in-charge Anil Baluni shared a report by Arabian Business and wrote, "Under the dynamic leadership of PM Shri @narendramodi ji India's respect and honour has increased tremendously on the world stage." He also used the hashtag #ModiHaiToMumkinHai.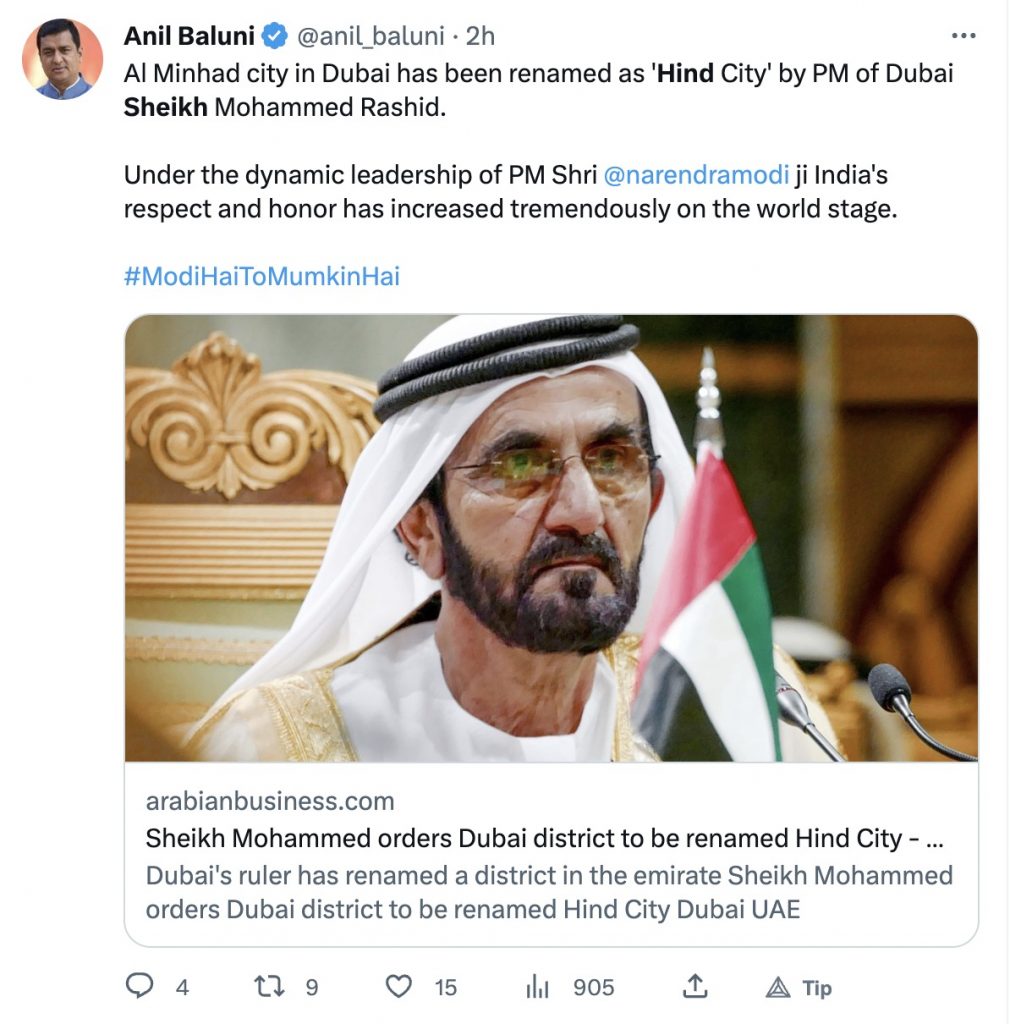 BJP national spokesperson RP Singh tweeted an image of the Sheikh and wrote, "Al Minhad and its surrounding 84 Square KM areas will now be known as "Hind City" to honour the contribution of India and Hindus towards humanity."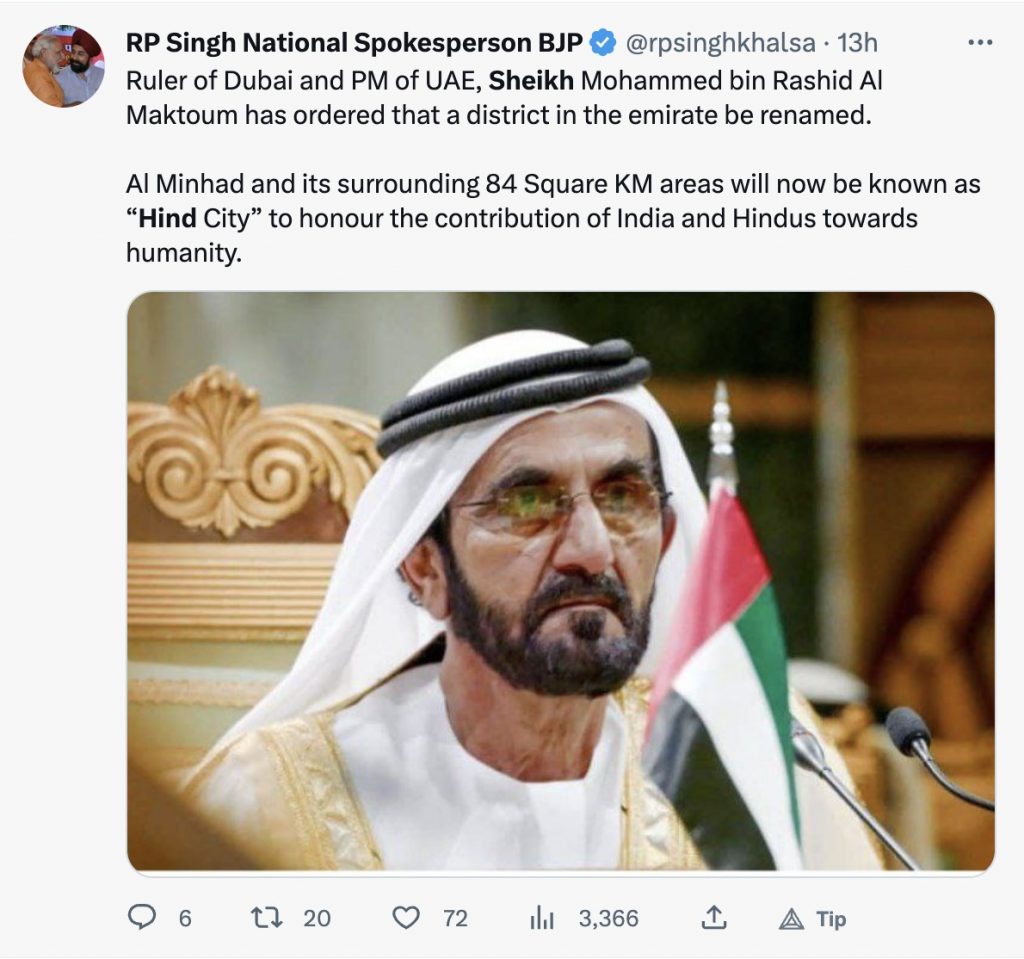 Journalist Vikram Zutshi quote-tweeted a Khaleej Times report on the renaming and wrote, "… Dubai's Sheikh Mohammed renames Al Minhad as 'Hind City' to honour the country's Indian community."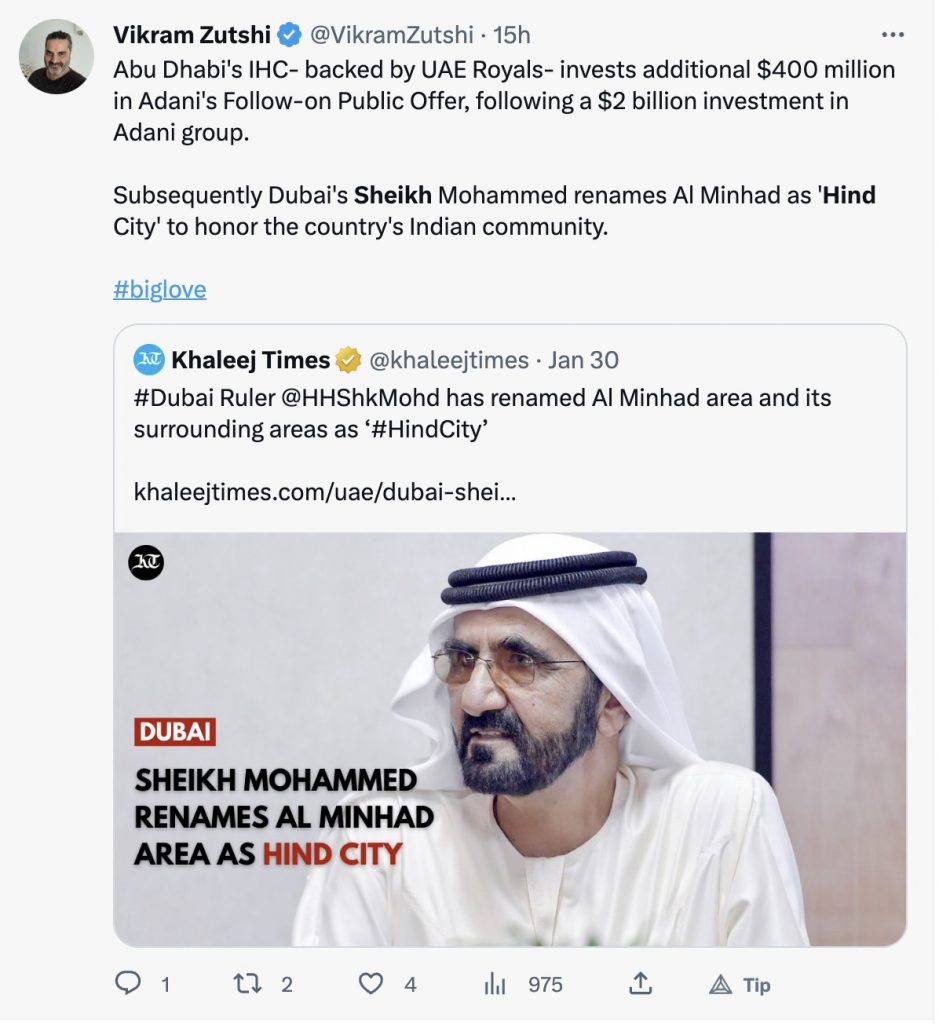 Twitter user @MeghUpdates, who has a history of sharing misinformation, also made this claim. This tweet gained over 1.2 million views after over 7,000 retweets and 34,000 likes.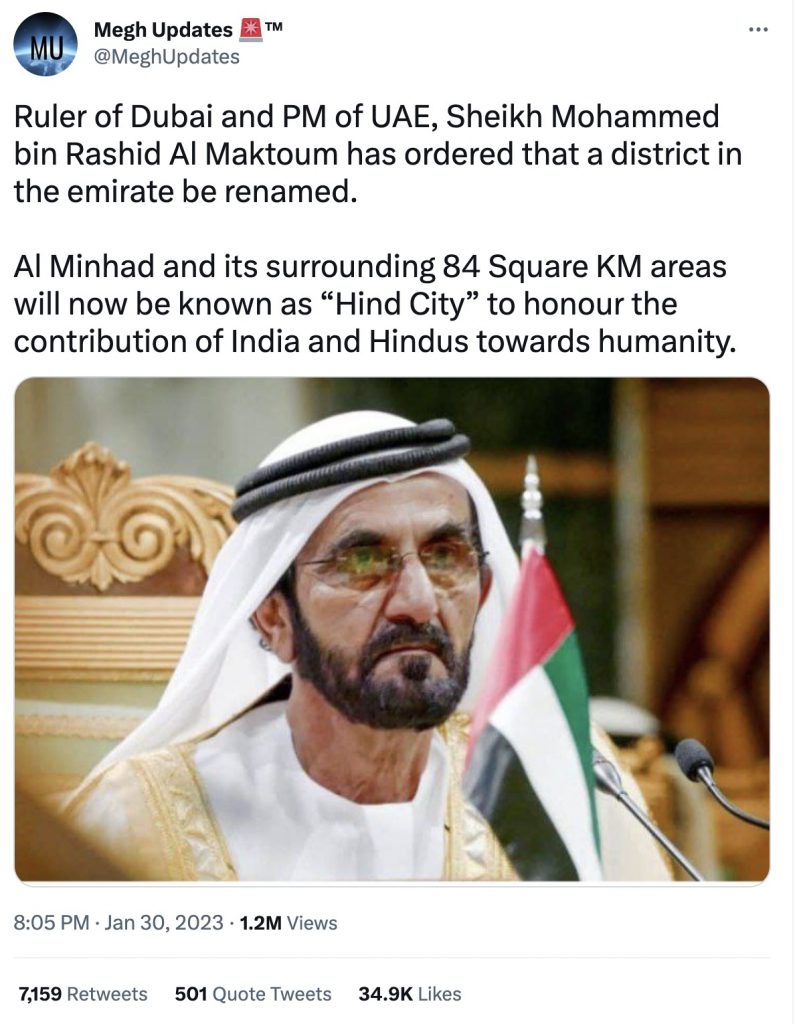 Several pro-BJP Facebook pages have shared the news with the claim that the name-change was made as an honour to Hindus. (1,2,3,4,5)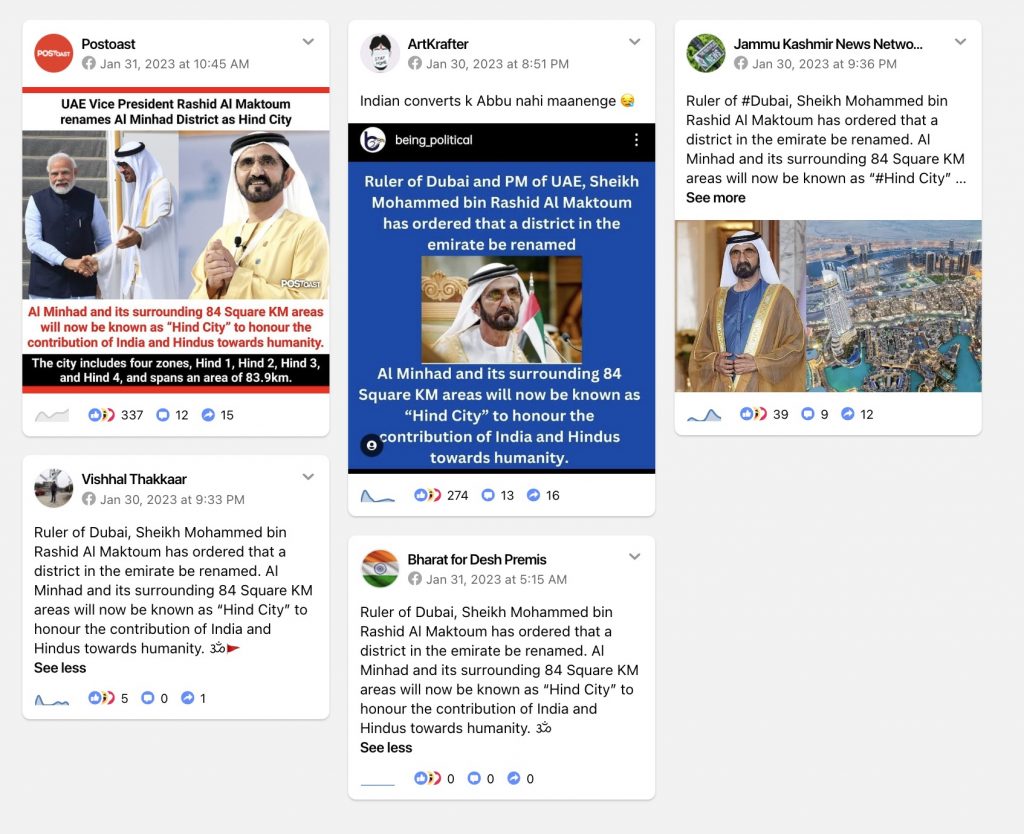 Referring to the same piece of news, WION correspondent Sidhant Sibal tweeted, "He [the PM] has renamed the place after his wife, Sheikha Hind bint Maktoum bin Juma. Hind is a common Arabic female name. Announcement of renaming by Dubai Media Office." He didn't cite any source for the theory that the city was renamed after the PM's wife.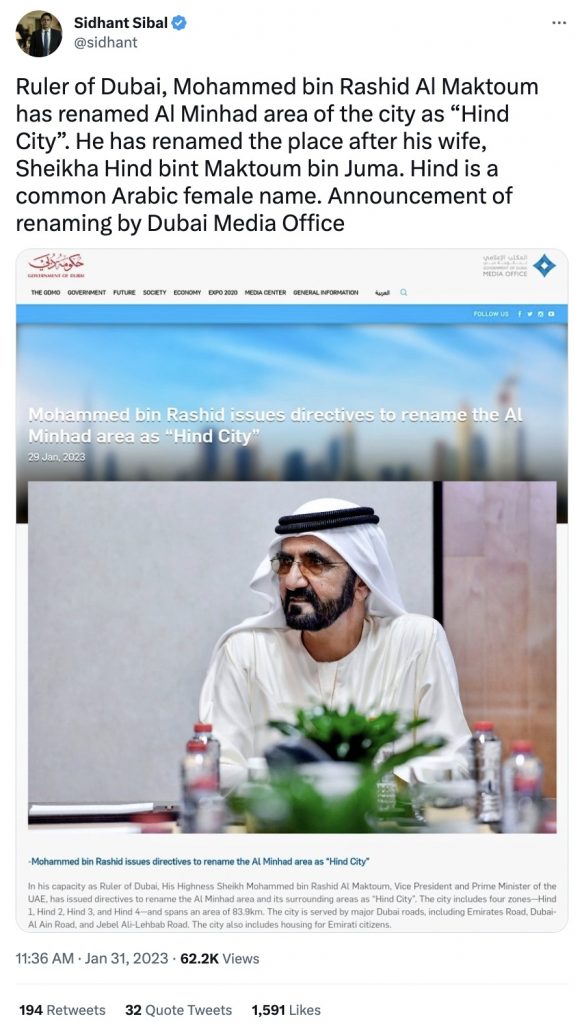 Fact Check
We noted that the Arabian Business report shared by BJP MP Anil Baluni did not mention the word 'Hindu' or 'India'. The report doesn't explain why the area was renamed. As per the report, Hind City will include four zones, Hind 1, Hind 2, Hind 3, and Hind 4, and span an area of 83.9 km. The report added, "The city also includes housing for Emirati citizens."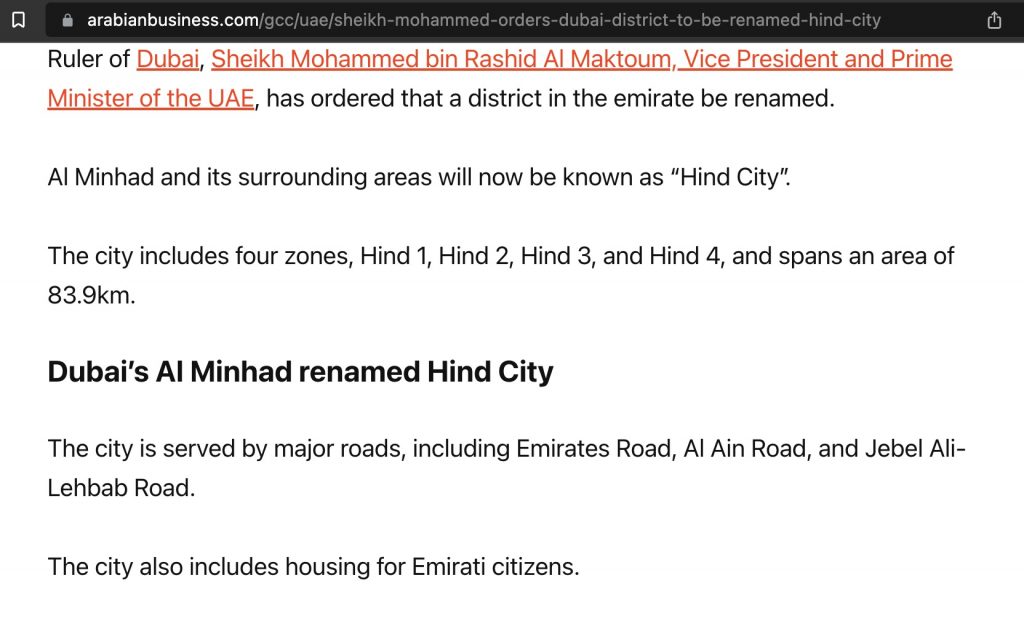 We also found that the Dubai government's Media Office published a notice and tweeted about the same on January 29. There is no mention of either Hindus/India or the Sheikh's wife.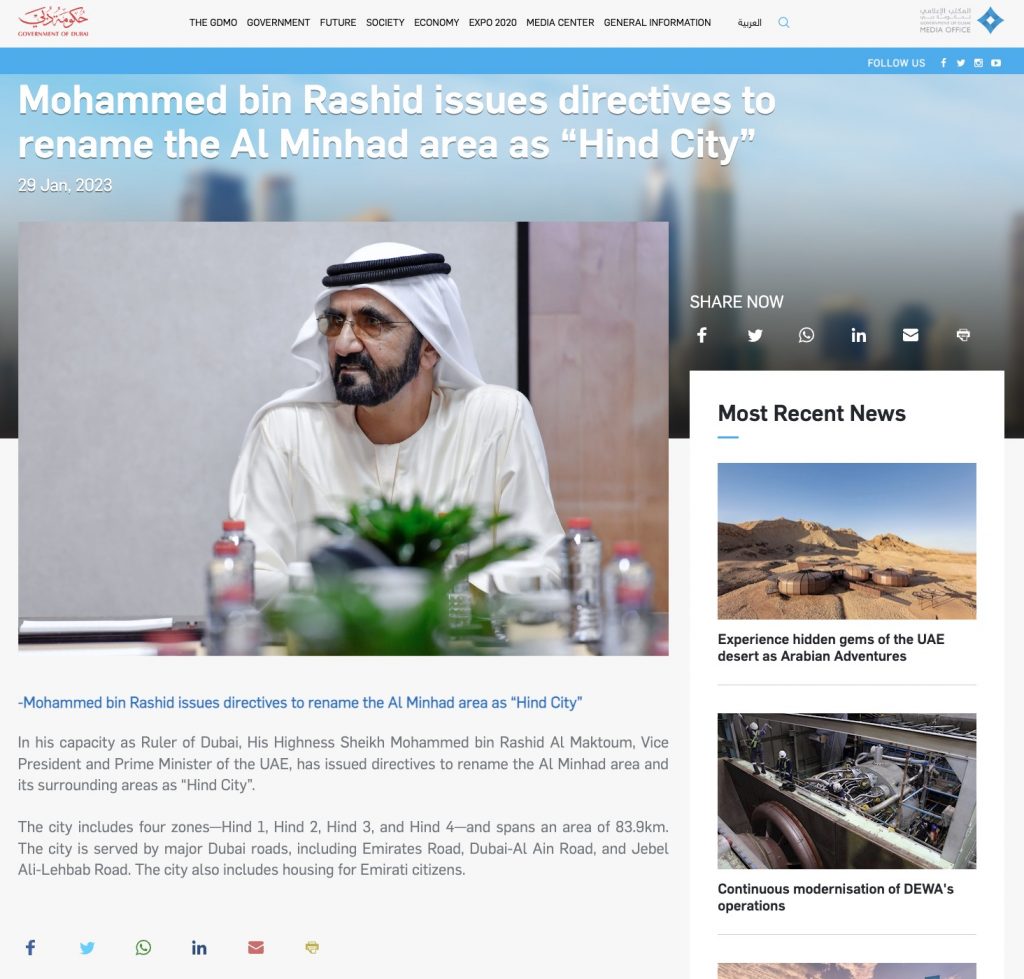 Alt News reached out to the Government of Dubai's Media Office. Over an email, they said, "Hind is an Arabic name that has its roots in the region's ancient civilization. The renaming of an area in Dubai as Hind City does not reference any country." We also asked them if the city was renamed after Sheikha Hind bint Maktoum bin Juma. This article will be updated as and when there is a response.
A Wikipedia page about Hind (name) says, "Hind is both an English surname and an Arabic female given name", and lists notable people with the name. Here's a keyword search restricting results to the domain 'gov.ae' which shows that Hind is a common name in UAE.
Besides, Dubai-based news channel Lovin Dubai had a discussion about the renaming and we noticed that there was no mention that honouring Hindus or Indians was the motivation behind the move.
Al Minhad Area Renamed To Hind City
His Highness Sheikh Mohammed bin Rashid Al Maktoum, Vice President and Prime Minister of the UAE, issued directives to rename the Al Minhad area and its surrounding vicinity as 'Hind City' #Dubai #AlMinhad #HindCity pic.twitter.com/IPPygrYlY2

— Lovin Dubai | لوڤن دبي (@lovindubai) January 31, 2023
To sum it up, several BJP leaders and supporters falsely claimed that the renaming of the Al Minhad area to 'Hind City' was done to honour Indians or Hindus.
UPDATE: Responding to a query from Alt News, a representative of the government of Dubai's media office confirmed on February 7 that the Al Minhad area was renamed Hind City indeed in honour of the PM's wife. "His Highness Sheikh Mohammed bin Rashid Al Maktoum, vice-president and prime minister of the UAE and ruler of Dubai, renamed the Al Minhad area as Hind City in honour of Sheikha Hind bint Maktoum," the media office said in a statement.
Donate to Alt News!
Independent journalism that speaks truth to power and is free of corporate and political control is possible only when people start contributing towards the same. Please consider donating towards this endeavour to fight fake news and misinformation.