A Twitter user, Prof. S. Vengugopalan tweeted a photograph of an emaciated man claiming that a Jain monk is fasting unto death to stop cow slaughter in India. It has been retweeted by many including, former Infosys CFO Mohandas Pai.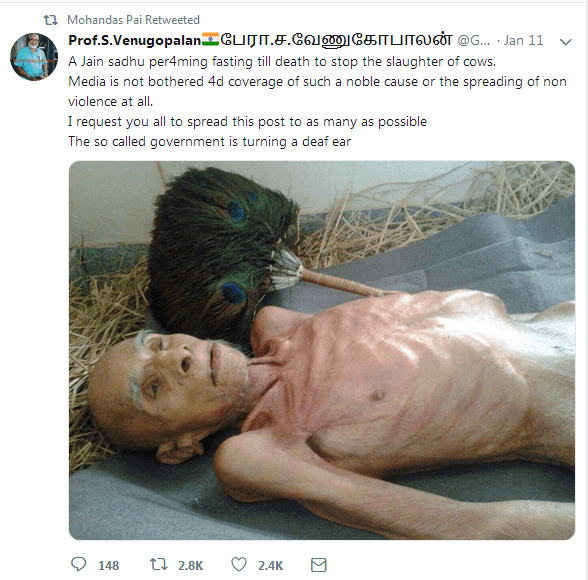 Circulating since 2015
Facebook page India Against Cow Slaughter had posted the same photograph along with two more images of emaciated monks claiming the same in February, 2015. It has been shared more than 7,500 times on Facebook.
We also found a blog post written in 2015 which was based on this Facebook post.

Fact-check
Alt News couldn't find any recent media report about a Jain monk fasting unto death against cow slaughter in India. Earlier in 2011, a Jain monk named Prabhu Sagar went on hunger strike and demanded closure of slaughter houses and was later forcibly hospitalized by the police. An article published Dainik Jagran on May 13, 2011 stated, "Jain monk Prabhu Sagar was forcibly admitted to a hospital by the police late on Wednesday night after his health deteriorated due his 16-day long strike." . However, the images of Prabhu Sagar and the person in the viral picture does not match.
Jain religious practice
The photo of the monk resembles the ancient Jain religious ritual of Sallekhana/Santhara. The ritual is considered as a fundamental component to the principle of ahimsa (Non-violence). The religious practice is a ritualistic fast unto death by gradually reducing the intake of food and liquids. It is believed that the vow of Sallekhana/Santhara is taken when all purposes of life have been served or when the body is unable to serve any purpose of life. According to a report by The Indian Express, the practice is not common in Jainism as only monks, nun and lay followers can take the vow to undertake Sallekhana/Santhara.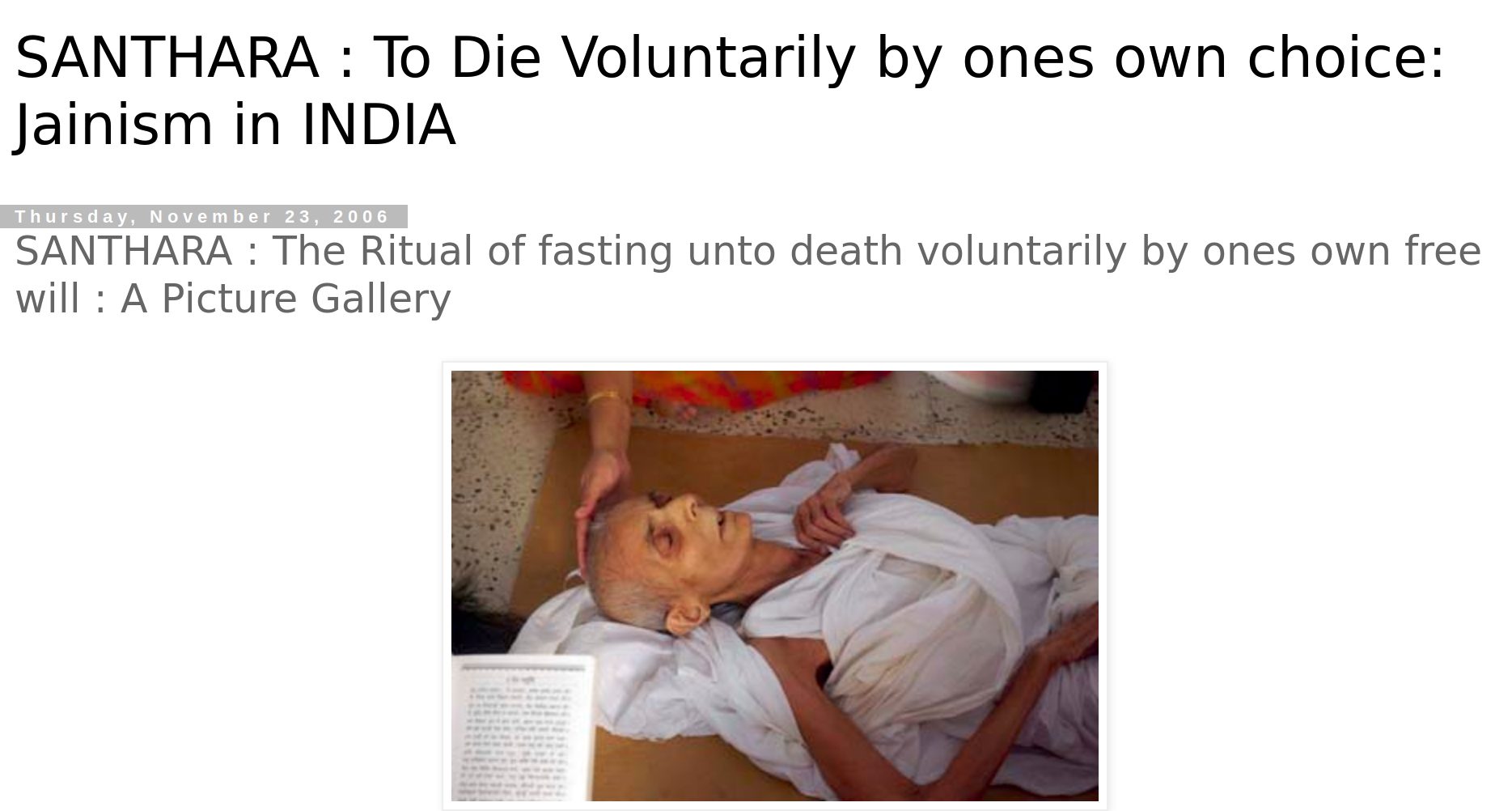 We found a video posted on YouTube about Sallekhana. In the side by side comparison posted below, on the left is of an individual fasting unto death during the ritual and on the right is the viral image of Jain monk. The peacock feathers next to the individuals also indicate their connection with Jain rituals. Peacock feathers are used by the Jain monk/nun to sweep the ground before walking on it. They dust the ground to avoid killing any life form on the ground. The similarity in different aspects of the two pictures juxtaposed below indicates that the person in the viral picture is practising the ancient Jain ritual of Sallekhana/Santhara.

False claim by media
An article published by Amar Ujala published on April 7, 2017 falsely claimed that the image belongs to a mummified monk found inside a 1000-year-old Buddha statue. However, we found that this image is unrelated to the news story reported in 2015 about a discovery of mummified monk found after scientific test of a Buddha statue.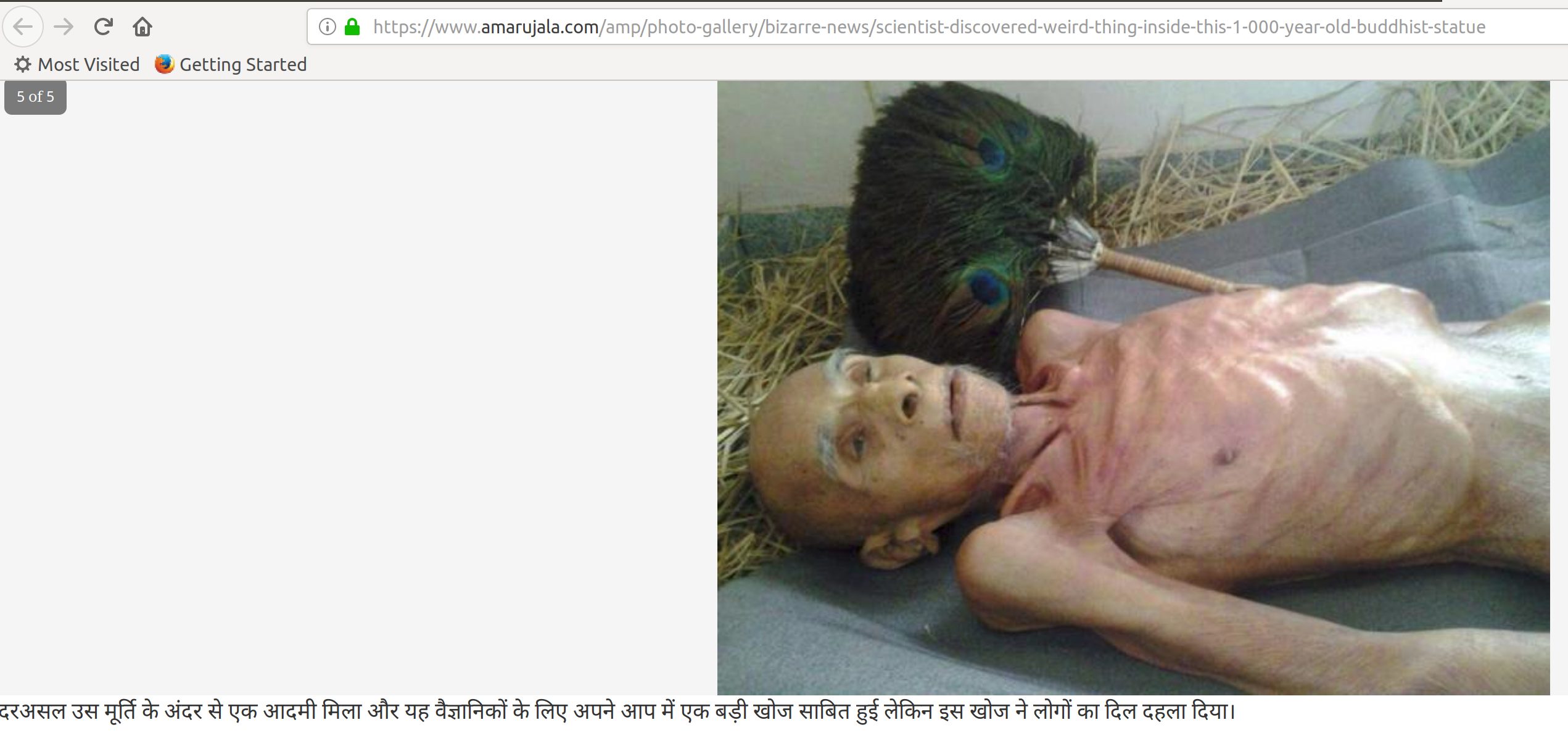 In conclusion, a picture which has been circulated for at least four years and is still being shared as an incident of a Jain monk fasting unto-death in protest against cow slaughter is actually a Jain ritual of Sallekhana/Santhara, and has no connection with cow slaughter.
Donate to Alt News!
Independent journalism that speaks truth to power and is free of corporate and political control is possible only when people start contributing towards the same. Please consider donating towards this endeavour to fight fake news and misinformation.To make an instant donation, click on the "Donate Now" button above. For information regarding donation via Bank Transfer/Cheque/DD, click here.