There is a photograph which is being widely circulated on social media. In this picture, a man is seen with his feed tied to a rope and dragged on the ground with a bike. According to the caption, the photograph is of Pakistan and the man whose body is being dragged is a Hindu who was tortured and killed for chanting 'Jai Shri Ram'.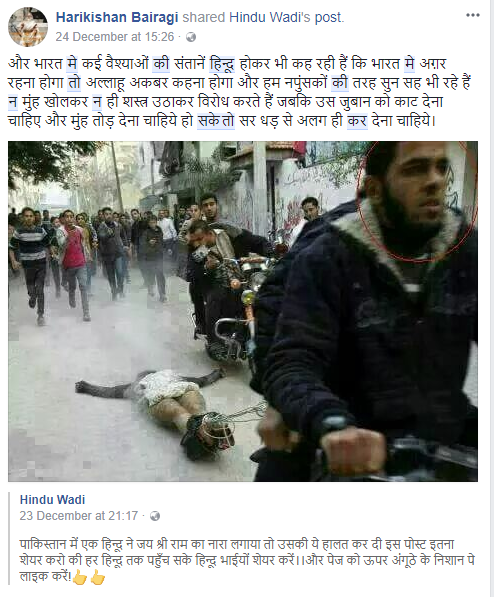 पाकिस्तान में एक हिन्दू ने जय श्री राम का नारा लगाया तो उसकी ये हालत कर दी इस पोस्ट इतना शेयर करो की हर हिन्दू तक पहुँच सके हिन्दू भाईयों शेयर करें।।और पेज को ऊपर अंगूठे के निशान पे लाइक करें!👍👍

Posted by यूपी है योगी के साथ on Wednesday, 20 December 2017
This post has been shared more than 20,000 times on the Facebook page 'UP hai Yogi ke saath'. The text along with the photograph reads "पाकिस्तान में एक हिन्दू ने जय श्री राम का नारा लगाया तो उसकी ये हालत कर दी इस पोस्ट इतना शेयर करो की हर हिन्दू तक पहुँच सके हिन्दू भाईयों शेयर करें। और पेज को ऊपर अंगूठे के निशान पे लाइक करें!👍👍" ("This is what happened to a Hindu man who raised the slogan of Jai Shri Ram in Pakistan. Share this post so much that each Hindu receives it. Press the thumb emoticon to like this page"). Other pro-Hindutva pages like 'Fauji Bhai Rambhakt' and 'Mera Bharat Mahan' too have posted this photograph. Slogans like "Jaago Hindu Jaago" (Wake up Hindus), "Pakistan Murdabad "(Death to Pakistan) and "Dekhiye Pakistan ki Haqiqat" (Look at the reality of Pakistan) were added while circulating these images.
पाकिस्तान में एक हिन्दू ने जय श्री राम का नारा लगाया तो उसकी ये हालत कर दी इस पोस्ट इतना शेयर करो की हर हिन्दू तक पहुँच सके हिन्दू भाईयों शेयर करें।।और पेज को ऊपर अंगूठे के निशान पे लाइक करें!👍👍

Posted by मेरा भारत महान on Saturday, 23 December 2017
Alt News fact checked the photograph and found that it is from Gaza in Palestine. The photograph which was taken in November 2012 shows a Palestinian dragging a dead body of a man on a motor cycle. The dead man was one of the six men who were shot by masked men in a city square for supporting Israel. Hamas, the militant Palestinian group took responsibility for the killing. In the same month Israel bombed Gaza in an operation known as 'Pillar of Defence'.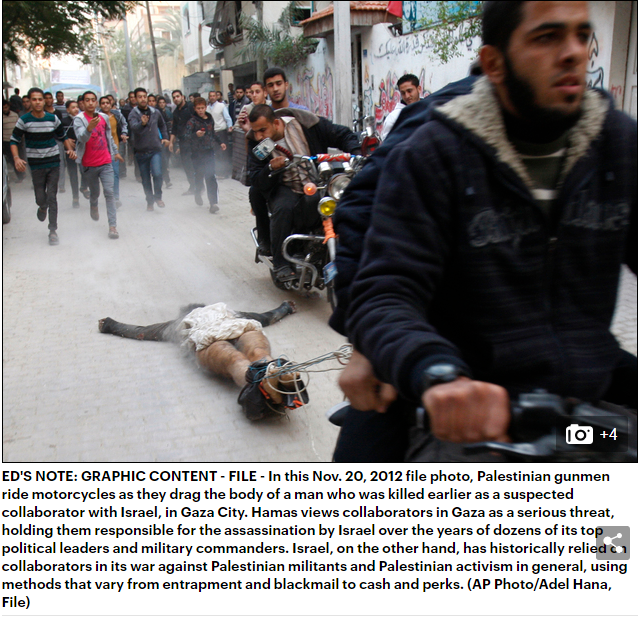 It is clear that the photograph is not from Pakistan, nor is it of any Muslim organisation or people of the Muslim community acting against Hindus. This five year old picture from Palestine is being forwarded on multiple right-wing Facebook pages with the intention of spreading and reinforcing prejudice and hate among communities. Please be cautious when such messages are received and refrain from forwarding them without due verification.
Donate to Alt News!
Independent journalism that speaks truth to power and is free of corporate and political control is possible only when people start contributing towards the same. Please consider donating towards this endeavour to fight fake news and misinformation.To make an instant donation, click on the "Donate Now" button above. For information regarding donation via Bank Transfer/Cheque/DD, click here.