गुजरात में एक मस्जिद से पकड़े गये हथियार:- आखिरकार ये मुस्लिम करना क्या चाहते हैं?? वैसे देशभर में मस्जिदों
की चेकिंग की जाए तो ऐसे ही हथियार मिलेंगे?
Translation: Weapons seized from a mosque in Gujarat:- What do these Muslims want after all? If mosques all over the country are checked, will such weapons be recovered?
The above message has been shared widely on social media platforms along with a set of photographs in which weapons, mostly swords and knives can be seen. It has been claimed that these weapons were recovered from a mosque in Gujarat.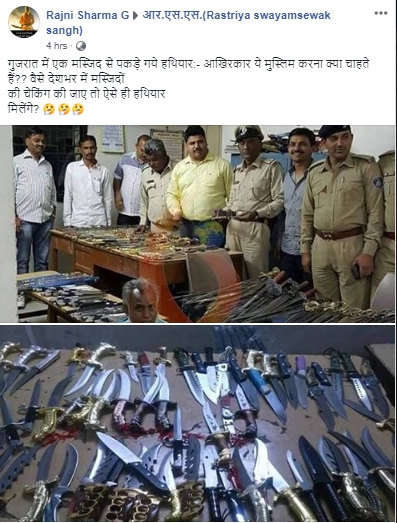 The above post is from a Facebook group, R.S.S (Rashtriya Swayamsevak Sangh). It has also been posted by several individual users on their timelines.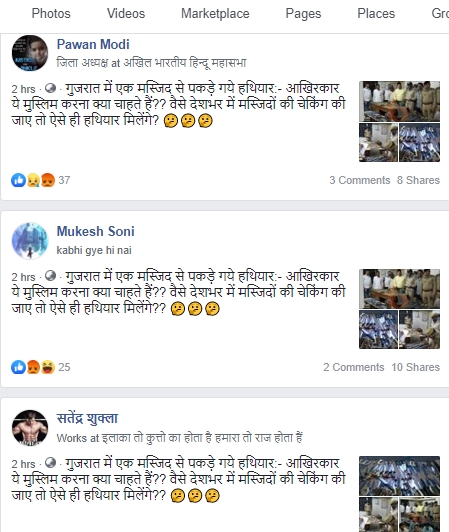 The photos with the accompanying narrative have also been shared on Twitter.
गुजरात में एक मस्जिद से पकड़े गये
हथियार:- आखिरकार ये मुस्लिम करना
क्या चाहते हैं?? वैसे देशभर में मस्जिदों
की चेकिंग की जाए तो ऐसे ही हथियार
मिलेंगे?? 🤔🤔🤔 pic.twitter.com/1czzd4R5Wn

— किरन जैन ( देशप्रेमी ) (@jainkiranjain) July 23, 2019

WHAT IS THE TRUTH?
Alt News reverse-searched one of the images on Google and came across a news report of March 2016, on a portal Gujarat Headline, according to which these weapons were seized from a store in Rajkot, Gujarat. Using relevant key words and date filter, more articles related to the incident could be accessed.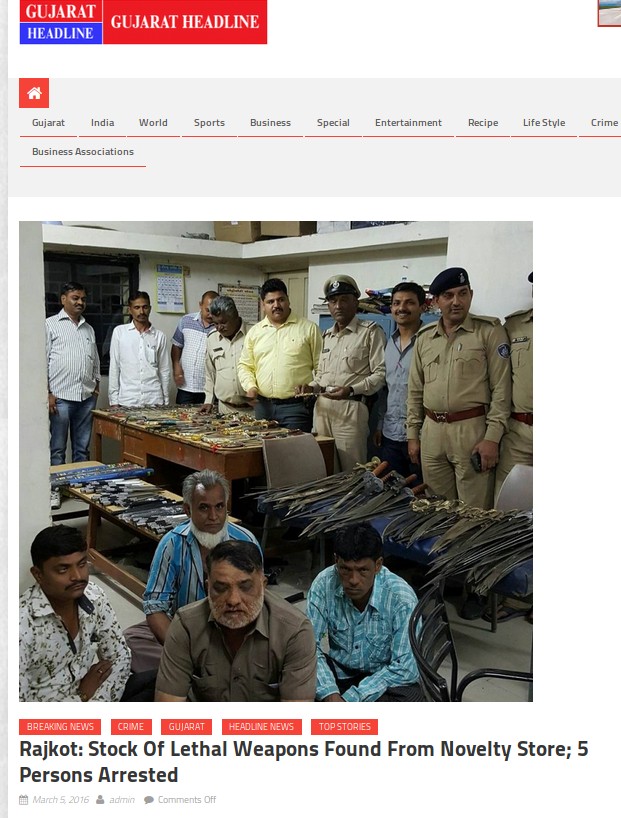 According to a Times of India report dated March 6, 2016, the Rajkot crime branch had busted an illegal arms racket being operated from a hotel on the Ahmedabad-Rajkot highway. More than 250 lethal weapons including swords and knives were seized from India Palace hotel. Five persons including the owner of the hotel were arrested in the raid. The same was reported by the Gujarati newspaper Divya Bhaskar.
CIRCULATED WITH FALSE NARRATIVE EARLIER AS WELL
The same set of photographs had been circulated on social media earlier as well. Madhu Kishwar who has often posted misinformation via her Twitter account, had falsely insinuated that the weapons had been recovered from a mosque in Rajkot.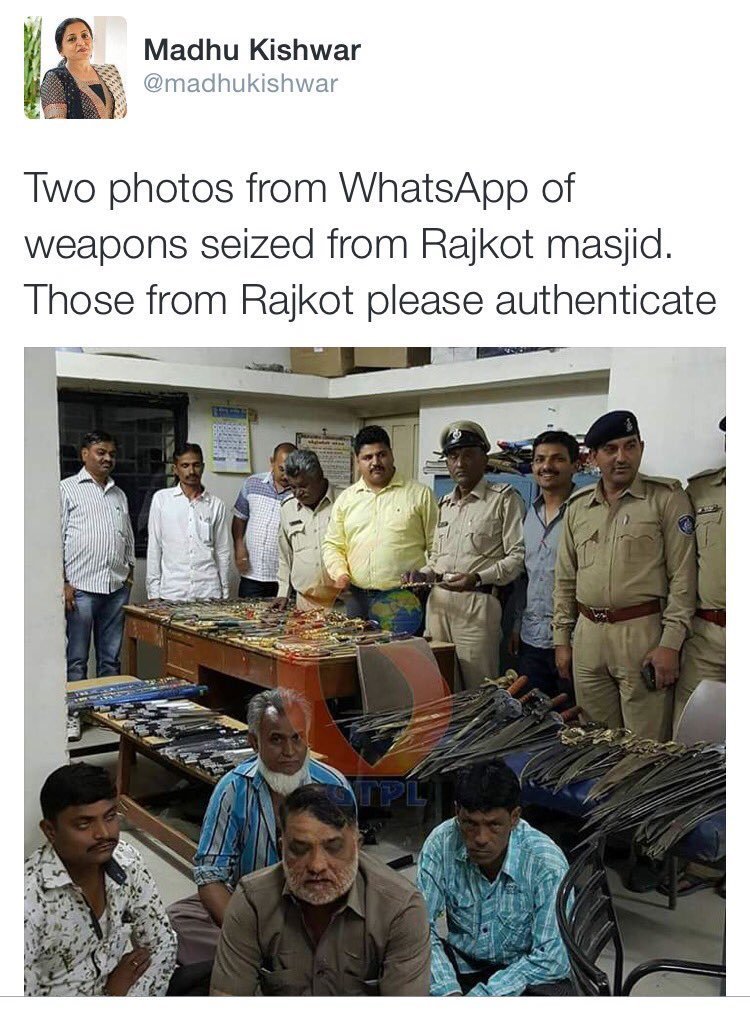 It may be noted that these photographs are not recent- they were clicked in March 2016. Moreover, the weapons were seized from a raid on a highway hotel and not from a mosque, as falsely claimed.
Donate to Alt News!
Independent journalism that speaks truth to power and is free of corporate and political control is possible only when people start contributing towards the same. Please consider donating towards this endeavour to fight fake news and misinformation.