As Russia's military offensive in Ukraine continues, a set of photos of the Ukrainian president Volodymyr Zelenskyy is widely being circulated on social media claiming that Zelenskyy has joined the frontline to defend his country.
The photos are accompanied by a Hindi caption that reads, "The President of Ukraine won the hearts of his countrymen. When the people of his nation needed him, he entered the battlefield himself wearing the uniform of the soldiers." The caption also mocks Prime Minister Narendra Modi by referring to his statement ("I ran for my life with a lot of difficulties") when his convoy was stuck on a flyover in Punjab.
The claim has been widely shared on Twitter.
यूक्रेन के राष्ट्रपति ने दिल जीत लिया अपने देश,पर मुसीबत आई तो सैनिको की वर्दी पहनकर खुद जंग के मैदान में उतरे

और एक युगांडा के PM है,जिन्हें 4-5 किसानों ने काले झंडे दिखाए तो बुलेट प्रूफ कार से न निकले और वापस जाकर बोले

"बड़ी मुश्किल से जान बचाकर भागा हूँ"#RussiaUkraineWar pic.twitter.com/aEBj4w5cH8

— Harun khan هارون خان (@iamharunkhan) February 25, 2022
A few others shared photos of Zelenskyy, praising him for refusing to leave his countrymen behind.
You may mock Zelinsky and call him a standup. You know what? Yes, he is. He is standing up to a military superpower. He has rebuffed America's offer to evacuate him even though he can hear the rumble of the approaching Russian tanks.

He who does not fear death dies only once. pic.twitter.com/zBqqVr9N9P

— Anand Ranganathan (@ARanganathan72) February 26, 2022
Respect to the Ukrainian President Volodymyr Zelenskyy
Stand for #Ukraine pic.twitter.com/Nf9WHDGGdq

— Asaad Hanna (@AsaadHannaa) February 24, 2022
"When you attack us, You will see our faces, not our backs"
~ Ukraine president ✊❤️ pic.twitter.com/p01x4s9Jpy

— Shyam Meera Singh (@ShyamMeeraSingh) February 25, 2022
These photos have also been posted on Facebook with the same claim in Hindi.
This slideshow requires JavaScript.
Old photos
We performed Google reverse image search on both the photos that were viral with Hindi claims and found them to be from April 2021. The first image can be found in a news report by Kyiv Post that gives credit to AFP for the image.
We checked for the image on Getty Images and found it there. The photo was uploaded on February 11, 2021. The photo is captioned, "Ukrainian President Volodymyr Zelensky inspects during his visit along with G7 ambassadors in Donbass, Ukraine on February 11, 2021."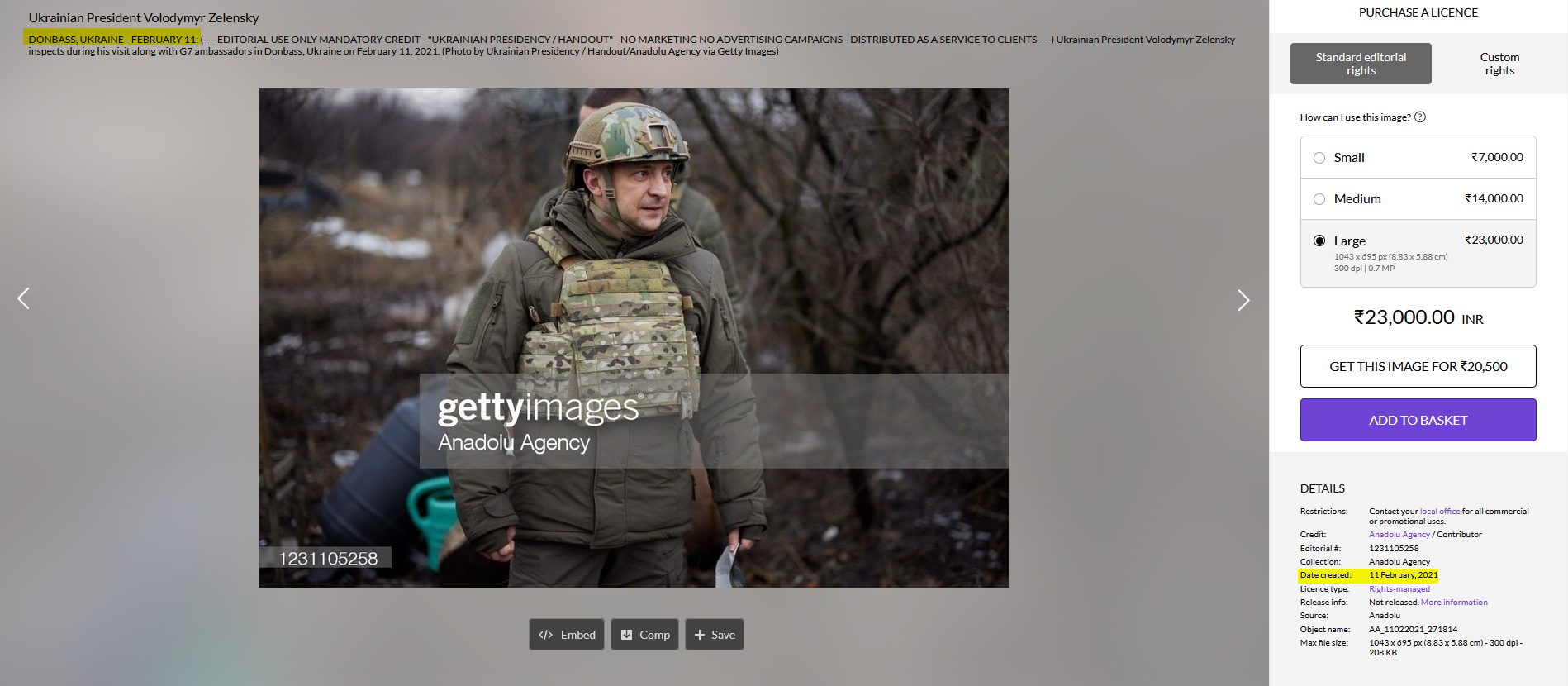 The second image can be found in a news report by Reuters published on April 21, 2021. The caption on the photo suggests that it was clicked on April 9, 2021. "Ukraine's President Volodymyr Zelenskiy visits positions of armed forces near the frontline with Russian-backed separatists in Donbass region," it reads.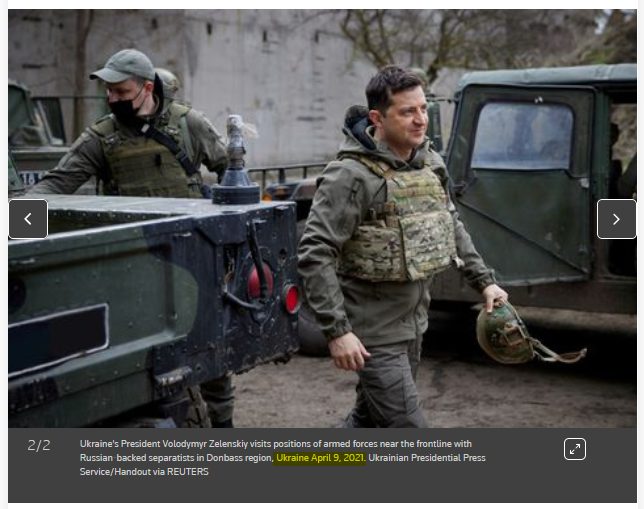 The photos tweeted by journalist @AsaadHannaa are also from 2021 taken in the month of April and December.
We found the first photo on GettyImages by doing a keyword search. It was taken in December 2021.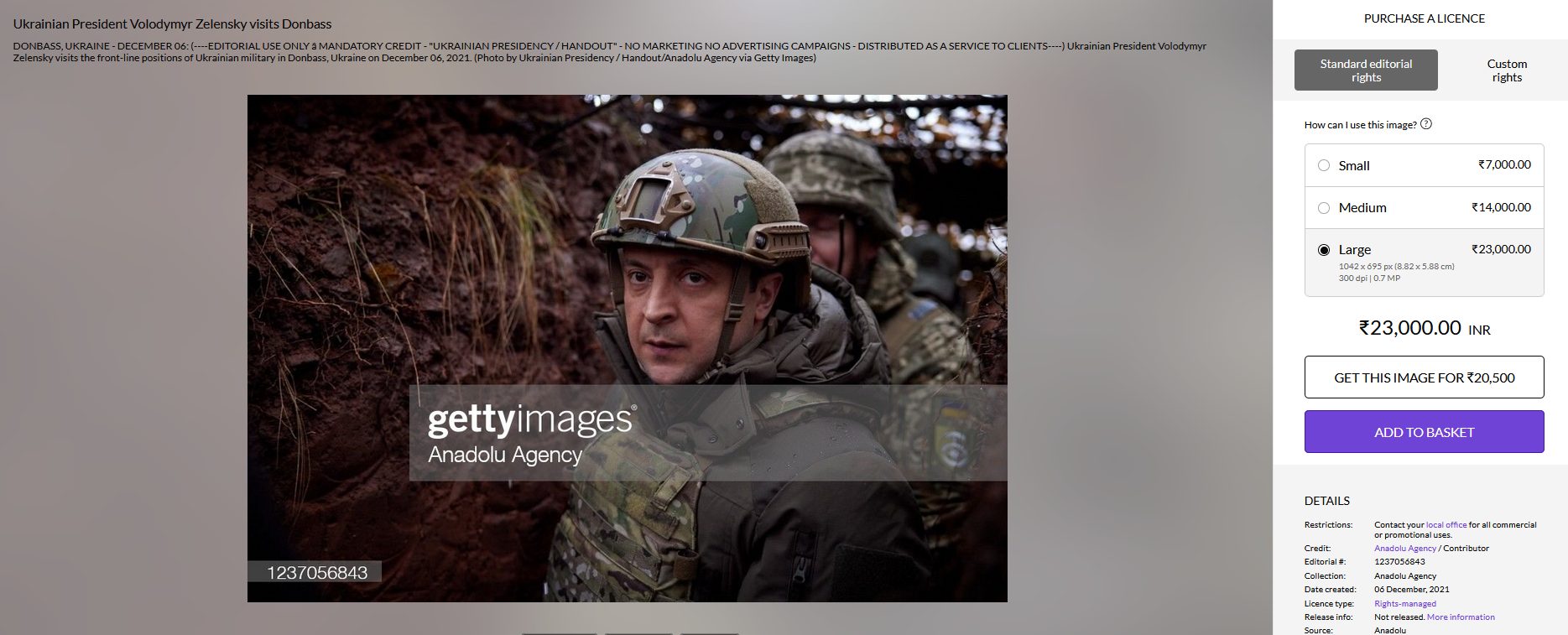 Taking the first image as a clue we performed another keyword search and found the second image on the official website of the Ministry of Defence of Ukraine. It was also clicked in December 2021.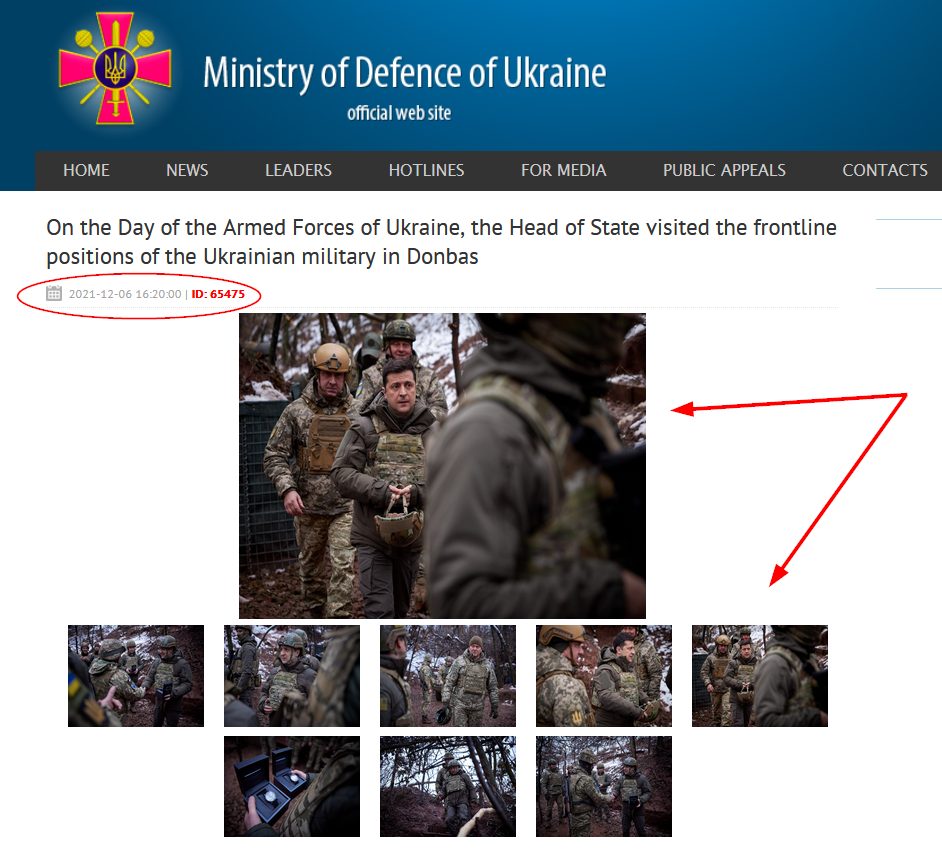 For the third image, we performed a Google reverse image search and found that it has also been clicked in 2021. The photo was clicked in the month of April when Zelenskyy had visited the frontline.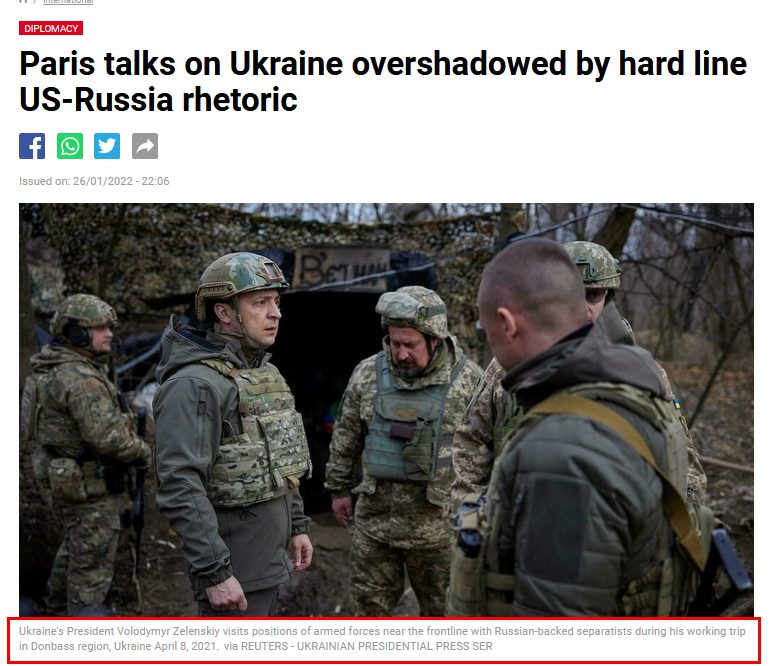 Hence, four images that are a year old were shared with a misleading claim that Ukrainian President Volodymyr Zelenskyy has joined the frontline in the ongoing Ukraine crisis.
Donate to Alt News!
Independent journalism that speaks truth to power and is free of corporate and political control is possible only when people start contributing towards the same. Please consider donating towards this endeavour to fight fake news and misinformation.