On 21st January 2018, a human chain was created in Bihar to raise awareness against social evils like dowry and child marriage in which lakhs of people participated. People from all walks of life- school children, several ministers and officials from different parts of Bihar including Chief Minister Nitish Kumar and Deputy CM Sushil Modi joined this gigantic human chain which started from Patna.
From the evening of the same day (21st January), a picture was going viral on social media claiming that "मानव श्रृंखला में सम्मलित होकर घर वापसी समय चार बच्चों की सड़क दुर्घटना में मौत। #इसकी जिम्मेवार कौन.." (Translation) "The death of four children in a road accident after the return of people from human chain. # Who is responsible for this "
#मानव_श्रृंखला में सम्मलित होकर घर वापसी समय चार #बच्चों की सड़क #दुर्घटना में मौत।
इसकी #जिम्मेवार कौन……..

Nitish Kumar #FlopShow #Bihar

Posted by Abhishek Yadav on Sunday, 21 January 2018
We found that this picture with the above message is viral on social media, especially on Facebook claiming that it is a picture of Aurangabad district in Bihar where four school children died in a road accident after returning from this human chain.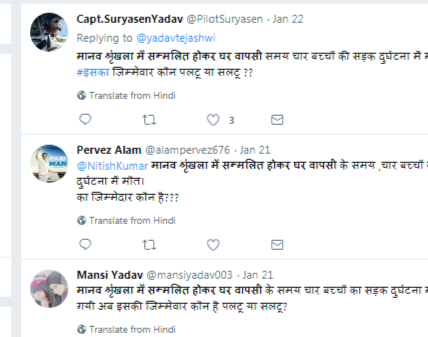 It can be seen above that the photograph has been shared more than 2 thousand times. Now the question is, did any such accident take place in Aurangabad in which the lives of these innocents were lost? And if yes, then why did mainstream media not report it? Actually, this picture is not from Bihar's Aurangabad. It is an old picture of 19 January 2017 where the horrific road accident took place in Etah, Uttar Pradesh in which more than 20 school children lost their lives. Due to dense fog, the school bus collided with a truck. There were about 50 children in that bus. Some of the children who were going to school on bicycle also died due to the crash. According to the report, due to excessive cold, the DM had issued an order to close the school, but the school administration kept the school open and the bus had more children than its capacity. This irresponsibility was also a cause of this painful accident.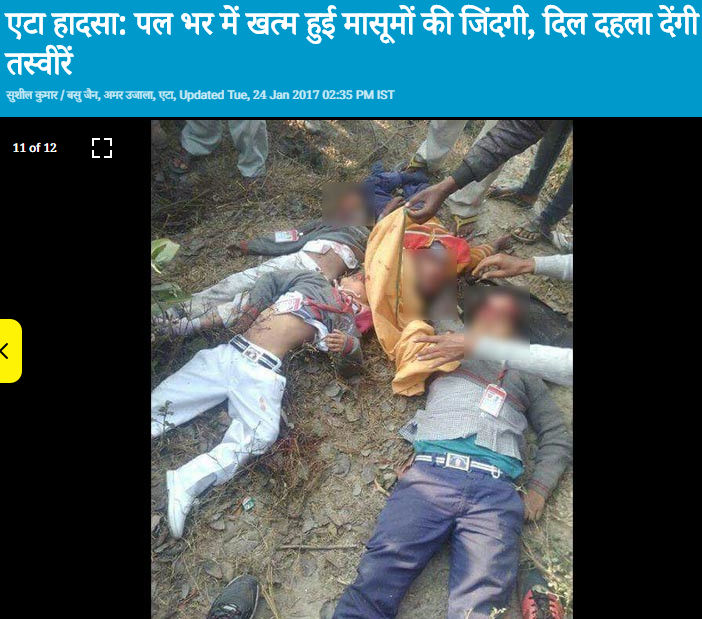 Several media institutions and daily newspapers had reported about this painful incident. The incident was very tragic and horrible, PM Modi also expressed grief over the incident.
I pray that those injured in the accident in Etah recover at the earliest.

— Narendra Modi (@narendramodi) January 19, 2017
So why is this photo being circulated now saying its from Bihar? It is the work of rumour mongers with a political purpose. Usually photographs are taken out of context, given a mischievous caption and circulated. People who receive these messages do not verify and forward them to others believing them to be true. A similar thing happened with this picture. Alt News looked up the profiles of those who are responsible for circulating this message and they appeared to be supporters of Lalu Prasad's RJD. Alt News cautions readers to be careful about such misleading news.
Donate to Alt News!
Independent journalism that speaks truth to power and is free of corporate and political control is possible only when people start contributing towards the same. Please consider donating towards this endeavour to fight fake news and misinformation.