On October 7, thousands of people rallied in protest against the recent verdict of the Supreme Court allowing entry to women into the Sabarimala temple in Kerala. On social media, this event was politicised with the claim that Kerala police had resorted to the use of force at these protests in a brazen display of heavy-handedness.
Shame on you who went to USA for cancer treatment @vijayanpinarayi how did you treat women and senior citizens protesting reg #SabrimalaVerdict? Are you a human being????? @narendramodi Throw him out.. Keralite women and men join hands and do the impossible! pic.twitter.com/4RegyId9Ye

— meena das narayan (@MeenaDasNarayan) October 9, 2018
The above tweet by journalist Meena Das Narayan targeted Kerala CM Pinarayi Vijayan, asking him how he has treated women and senior citizens protesting the Sabarimala verdict of the Supreme Court. Narayan had attached a screenshot of a tweet by a user with the handle @vocalpain. This account has now been deleted.
A set of photographs has also been shared by several users on Twitter who claim the Kerala police attacked "Hindus peacefully chanting Swamiye Ayyapa in protest of the SC #SabarimalaVerdict" and did not even spare women and children.
Police brutally attacked Hindus peacefully chanting Swamiye Ayyapa in protest of the SC #SabrimalaVerdict
They showed no mercy and were violently beat up women,children too.#SaveSabarimala #Sabarimala #Sabarimala#ReadytoWait #HinduJustice pic.twitter.com/iuSl4IO2Az

— जया 🚩🚩 (@jayapatel0793) October 7, 2018
Yet another photograph is doing the rounds on social media showing a police constable lathicharging an elderly person, claiming that this person was attacked by the police amidst the protest over the Sabarimala verdict.
80 year old devotee protesting against #SabarimalaVerdict beaten by #Marxist #Kerala #Police. @HKupdate @Kuvalayamala @mohandastg @ensine @birajanath @Prof_Hariom @keralaCastro @nach1keta @excomradekerala @jothishnair1010 #Sabarimala @Palakkadan6 @chathootti @PartyVillage017 pic.twitter.com/qWMk00SLeh

— Ramaswamy Iyer (@iyer_rn) October 8, 2018
Old, unrelated images
The photographs shared on social media do not pertain to the recent Sabarimala protests. They were clicked earlier in July 2018 when the Kerala police had cracked down on a 'KSU Secretariat march' that was led by the National Students Union of India (NSUI), the student wing of the Congress party. These photos had been tweeted from the official account of NSUI on July 4.
KSU Secretariat march was brutally attacked by Kerala police using iron nail attached lathies.
20+ leaders including state president, K M Abhijith seriously injured. pic.twitter.com/H371hUx4dT

— NSUI (@nsui) July 4, 2018
Hey Lady, Be ashamed of yourself for spreading lies. There is nothing as such happened in Kerala. The pic you shared is from a protest happened in July 2018. I have tweeted about it and attaching the screenshot of the same with date.

Tweet link👇🏻https://t.co/4JEhzeVYyq pic.twitter.com/VJaZdowvbQ

— RiJOY👨🏻‍💻 (@iamrijoy) October 9, 2018
As for the photograph showing an elderly person being assaulted with a lathi by a cop, using the reverse image search tool, Alt News came across a link to a website in Malayalam, in which this photograph was posted more than 3 years back, in March 2015. This establishes the fact that this particular photo is not of the recent Sabarimala protests that took place in Kerala.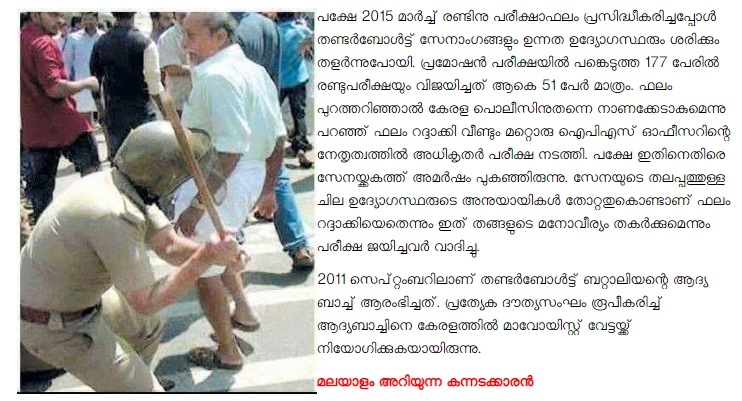 Use of unrelated images to score political brownie points on social media is a predictable and routinely used tactic by purveyors of misinformation. The protests over the verdict of the Supreme Court on the Sabarimala temple entry issue were sought to be utilized to project an 'anti-Hindu' image of the Kerala government, through the use of unrelated images.
Donate to Alt News!
Independent journalism that speaks truth to power and is free of corporate and political control is possible only when people start contributing towards the same. Please consider donating towards this endeavour to fight fake news and misinformation.