A video showing men removing pistols and magazines hidden inside cans of ghee is viral with two contrasting claims – one which targets the Muslim community and the other, Rashtriya Swayamsevak Sangh (RSS).
Claim 1:
A message viral with the video reads, "See how mullahs are bringing weapons. Had the police not caught them on time..(देखिये मुल्लें कैसे हथियार ला रहे हैं पुलिस ने इनको सही समय पे पकड़ लिया वर्ना.)"
"देखिये मुल्लें कैसे हथियार ला रहे हैं पुलिस ने इनको सही समय पे पकड़ लिया वर्ना.??"
देखिये मुल्लें कैसे हथियार ला रहे हैं पुलिस ने इनको सही समय पे पकड़ लिया वर्ना.??👇👇 pic.twitter.com/NADeSR6B76

— Aj Gohil (@aj_gohil56) February 27, 2020
The video is also viral on Facebook with the same message.
देखिये मुल्लें कैसे हथियार ला रहे हैं, पुलिस ने इनको सही समय पे पकड़ लिया वर्ना.??

Posted by K Mohan Sanghi on Wednesday, 26 February 2020
Another message reads, "Jihadi terrorists were caught in Delhi supplying illegal weapons in cans of ghee for the mass killing of Hindus and Sikhs in Delhi. (दिल्ली में हिंदुओं और सिक्खों की सामूहिक हत्याएं करने के लिए आतंकवादी जेहादी घी के डिब्बे में अवैध हथियार सप्लाई करते हुए धर दबोचे गए.)"
Claim 2:
Another message claims that these weapons were hidden by members of the RSS and Bajrang Dal. "RSS bajrandal ki sazish or harkat dekho isko shar karo Ye hai asli atank ka chehra jo log dusre samaj ko bol rahe hai wo zarur dekhle," reads the text.
This claim was shared by an individual R Malik on Facebook, drawing more than 33,000 shares.

Unrelated incident from 2019
Alt News performed a keyframe analysis using InVID and did a reverse-image search on Google. We found a Times of India report from September 27, 2019, featuring the same video.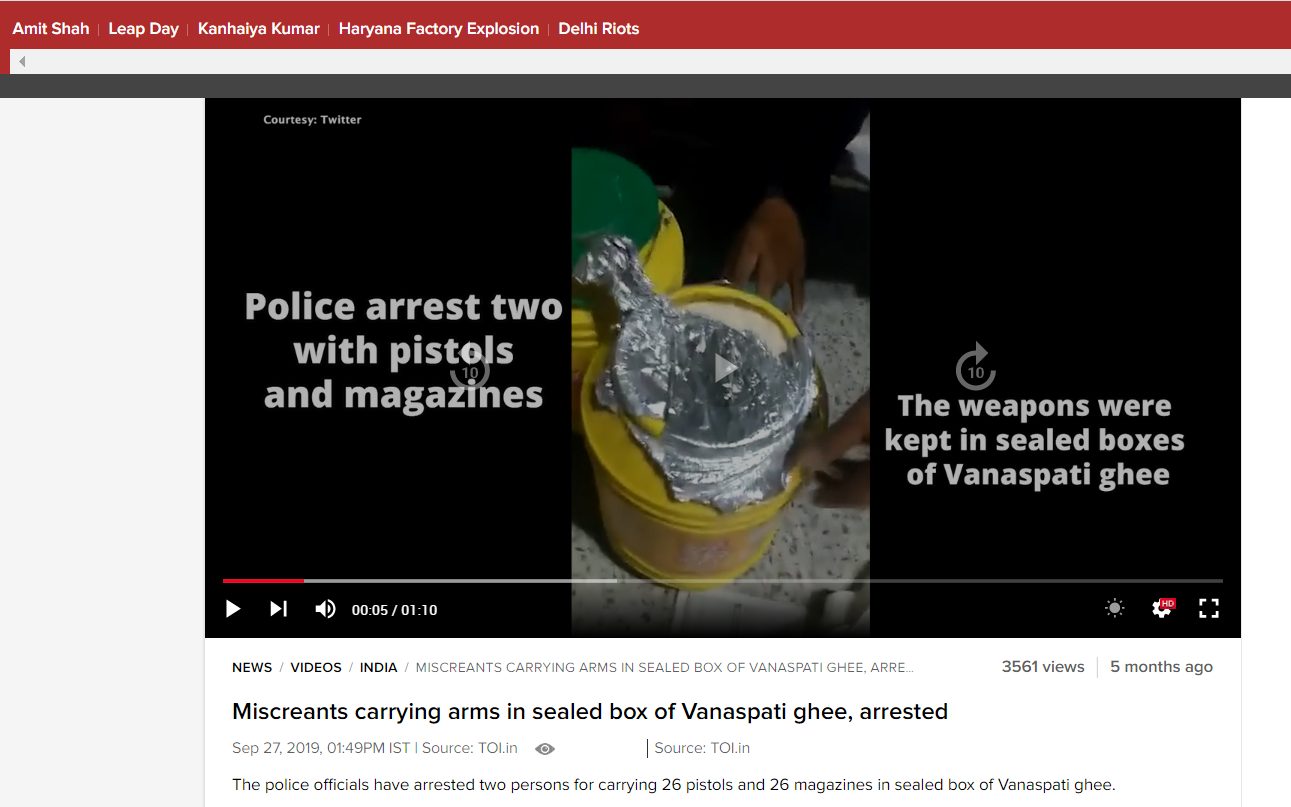 News agency ANI had also reported the incident: "Special Cell of Delhi Police has busted an interstate gang involved in illicit arms trafficking and arrested two accused Jitendra and Raj Bahadur. During the search of their vehicle, two plastic cans of Vanaspati Ghee were recovered. On opening the cans, 26 pistols with extra magazines were found concealed underneath a thick layer of Vanaspati Ghee."
In conclusion, a five-month-old incident of police officials in Delhi arresting two persons for carrying pistols and magazines in sealed cans of ghee is widely circulating with false claims amid Delhi riots.
Donate to Alt News!
Independent journalism that speaks truth to power and is free of corporate and political control is possible only when people start contributing towards the same. Please consider donating towards this endeavour to fight fake news and misinformation.