A 40-second clip comprising two videos has been shared with the claim that they are from Kashmir. The video resolutions are low and an Arabic song can be heard in the background. In absence of context, it appears that the incident is recent.
A Twitter user posted the video along with hashtags #india_is_the_terrorist_country, #help_Kashmir, #Modi_is_a_terrorist, #save_kashmir, and #free_kashmir. This video gained 18,000 views.
فعّلوا الهاشتاجات دي علي صفحاتكم.#india_is_the_terrorist_country#help_Kashmir#Modi_is_a_terrorist #save_kashmir#free_kashmir #كشمير_تباد #انقذوا_مسلمي_كشمير #الهند_تقتل_المسلمين #مقاطعة_البضائع_الهندية#كشمير_المحتلة #انقذوا_مسلمي_كشمير #help_kashmir#kashmir pic.twitter.com/fDZAtIPeUQ

— Badly Decayed Mamdouh (@Mamdohzzz) October 9, 2021
A Jordan-based Facebook user posted the video and wrote in Urdu, "India has announced a warning to all people of religions except Islam to leave Kashmir immediately in preparation for a massive military campaign against terrorism or more precisely against Islam. [translated via FB]". This gained over 1,800 shares.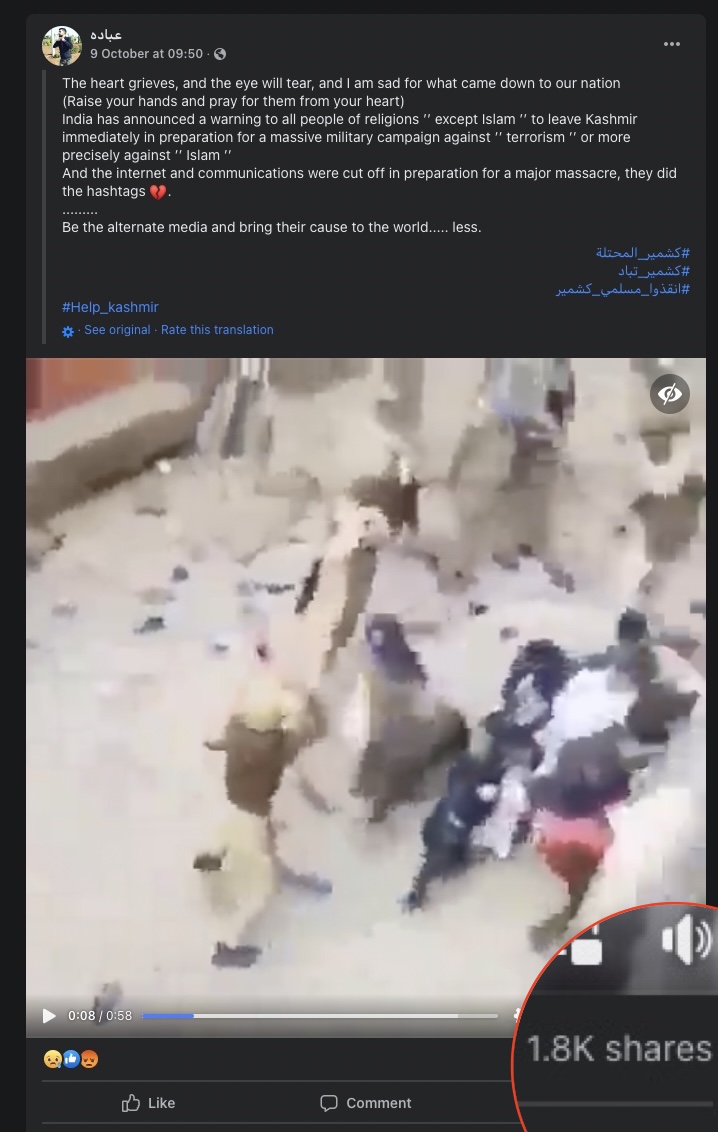 VIDEO VERIFICATION
Video 1: Police thrashing a mob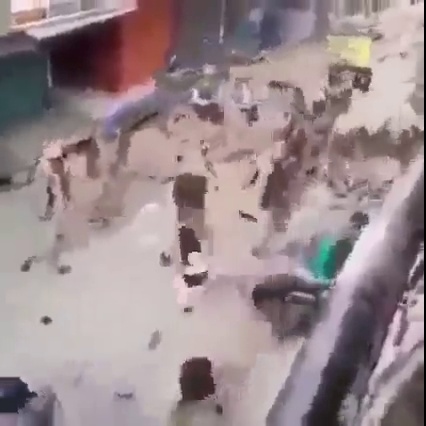 Fact-check 1: Alt News performed a reverse image search and found that this video dates back to at least 2019. It was found on YouTube, uploaded by a channel called Social Media News.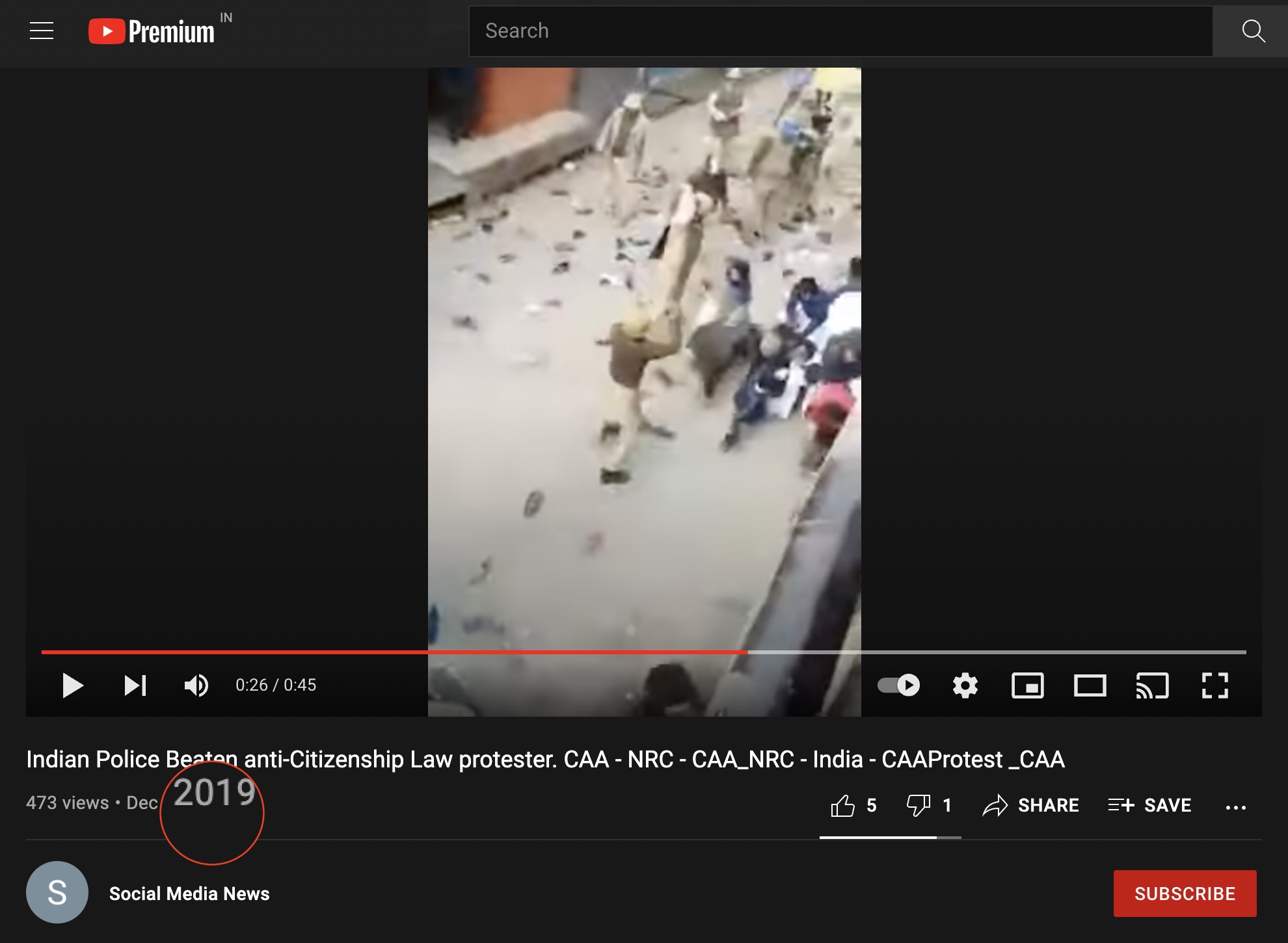 Since this video has a higher resolution, Alt News was able to identify 'Maa Vaishno Stationers' written in Hindi in the backdrop. A keyword search on Google reveals that there are multiple shops across India by the same name but many are in Gorakhpur.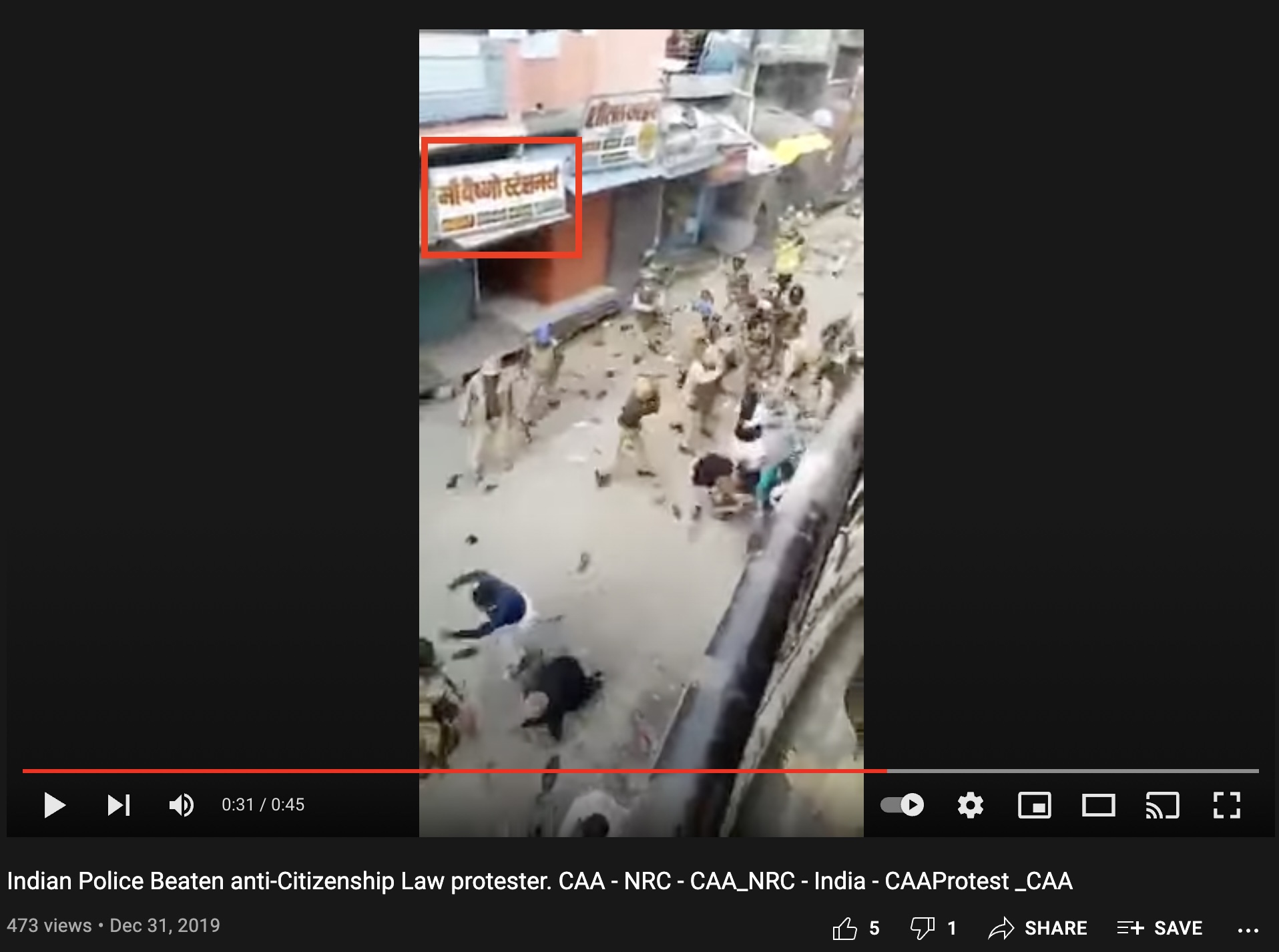 Another keyword search on Twitter revealed that in December 2019, CAA-NRC protestors and police personnel pelted stones at each other in Gorakhpur. ANI posted a video from a location that is similar to the one seen in the viral video.
Gorakhpur: Protestors & police personnel pelt stones at each other during demonstration against #CitizenshipAmendmentAct and National Register of Citizens (NRC). pic.twitter.com/cpVxuCr6Pf

— ANI UP (@ANINewsUP) December 20, 2019
Analysing both the videos we noticed an identical red and white building with blue shutters.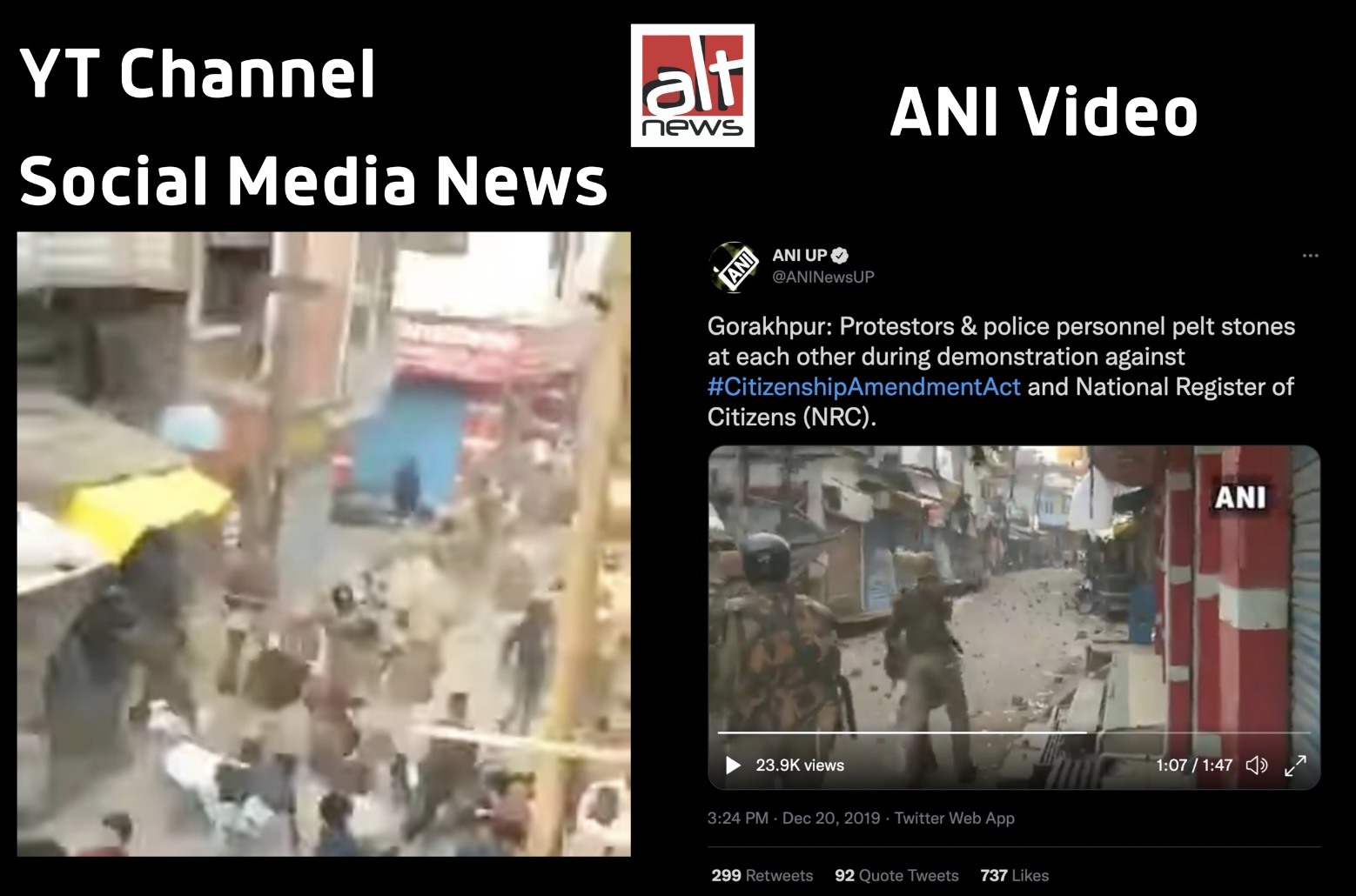 Newsmobile had geolocated Maa Vaishno Stationers to Gorakhpur's Nakas Chowk. The store's hoarding on Google Maps matches with the one in the viral video.

Video 2: Muslim man speaking into a megaphone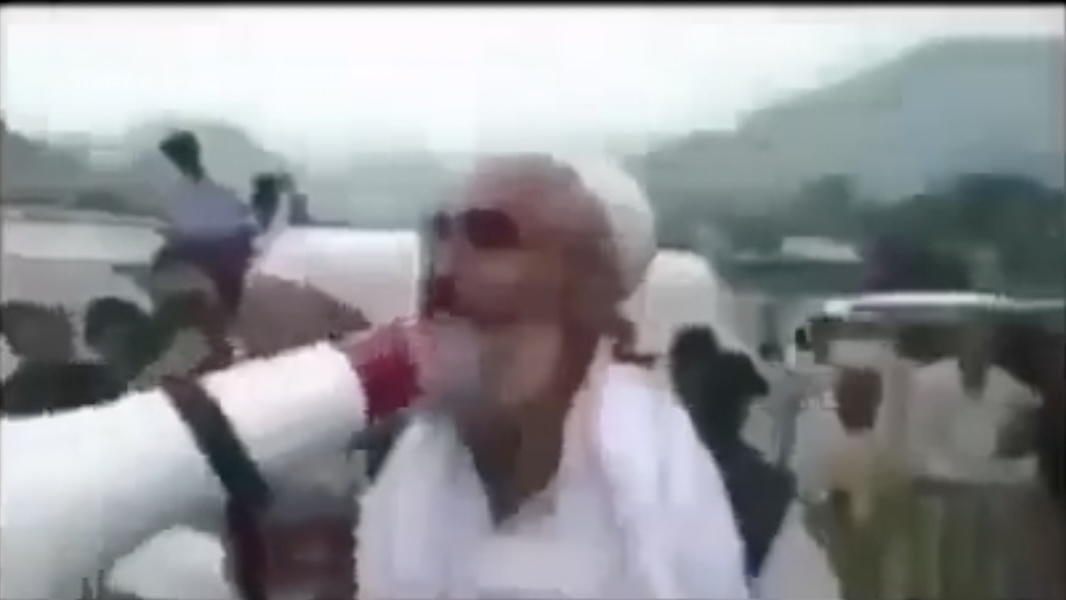 Fact-check 2: Alt News performed a reverse image search and found that this video also dates back to 2019. The one minute video was uploaded by Abdul Gaffar on YouTube.
The man who spoke into the megaphone largely spoke in Hindi/Urdu. However, he used few English phrases as well. He the beginning he said that he used to be a police officer in Kashmir. In the final seconds of the video, he makes several allegations of violence perpetrated by the Indian army. Alt News was unable to determine the location of the video and when it was shot. However, it is at least two years old.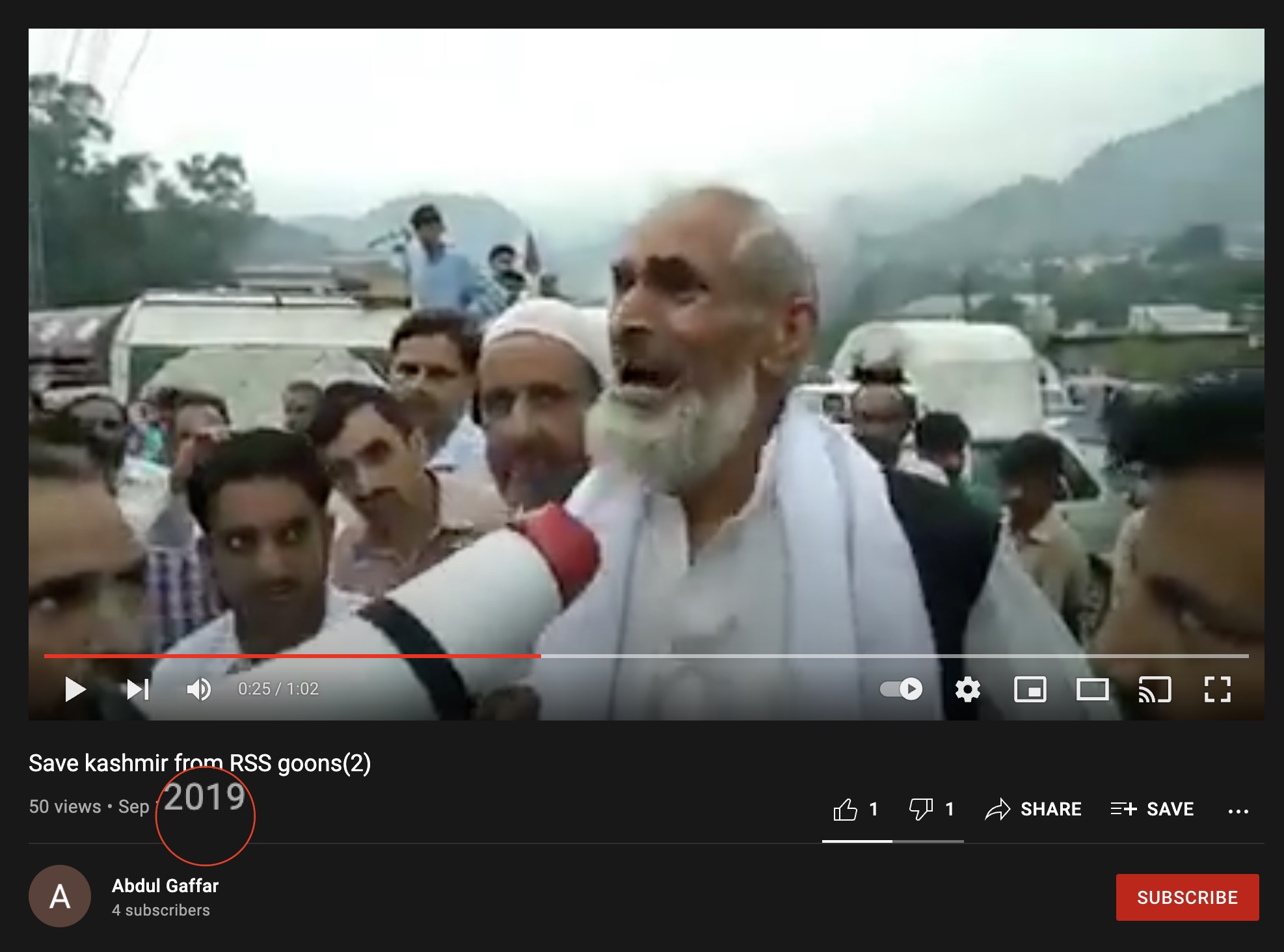 The videos have been falsely shared as Kashmir in the spate of unidentified gunmen recently killing civilians.
Donate to Alt News!
Independent journalism that speaks truth to power and is free of corporate and political control is possible only when people start contributing towards the same. Please consider donating towards this endeavour to fight fake news and misinformation.