A video of a group of men thrashing a woman is widely being circulated on social media with an Arabic caption. It has been claimed that a Muslim woman in India was lynched to death by a mob of men for "refusing to remove her hijab".
The video is viral in India amidst the Hijab ban controversy that started at a PU college in Karanataka and has spread across the nation with various Hindu outfits demanding a ban on hijab within the campuses of educational institutions.
On Twitter, the video has been shared with the hashtag #طرد_السفير_الهندي (Expell the Indian Ambassador). The tweet below is by Talal al-Kashti, director of Etijahat Studies Center in Kuwait.
#طرد_السفير_الهندي اصبح ضرورة واجبة ، بعد ضرب وقتل المسلمات بحجة رفضهن نزع الحجاب…
هذا دليل على الحقد الدفين على الاسلام والمسلمين pic.twitter.com/i5p2oz4JCS

— طلال الكشتي (@Talal_Alkashte) February 23, 2022
من يبدأ شرارة المقاطعة من الشركات بإعلان طرد عمالتهم !

أين رجال الأعمال !

ألا تنتفضون لأجل هذه المسلمة التي اجتمع عليها هؤلاء الوحوش دون رحمة !

والله وتالله لو أعلن عدد من التجار لتغير الوضع للأفضل في الهند ولخف الضغط على إخواننا#भारतीय_राजदूत_को_खदेड़ना#طرد_السفير_الهندي pic.twitter.com/6TQywe0dOL

— عبدالرحمن النصار (@alnassar_kw) February 23, 2022
Several others from Kuwait have linked the video to the ongoing hijab ban controversy in India.
#طرد_السفير_الهندي
كل هؤلاء الهندوس
بوحشيتهم واجرامهم
مجتمعون على امرأة مسلمه
لنزع حجابها وضربها بكل عنف
حتى الموت
pic.twitter.com/CKlRejCT43
يا امة الاسلام :
لمثل هذا يذوب القلبُ من كمدٍ
إن كان في القلبِ إسلامٌ وإيمانُ .

— د. خالد عبدالعزيز المرداس (@Dr_ALmrdas) February 23, 2022
The video has been shared with the same claim on Facebook. Alt News has also received requests on its official WhatsApp helpline number (+91 76000 11160) to verify the authenticity of the claim.
This slideshow requires JavaScript.
Old, unrelated video
We broke down the video into keyframes and performed a reverse image search on one of the stills using Yandex. This led us to the same video uploaded on Facebook in May 2020. As per the caption of the post, the video is from Balrampur, UP.
Upon close observation, a UP police patrol car can also be seen in the video at the 1:00 minute mark.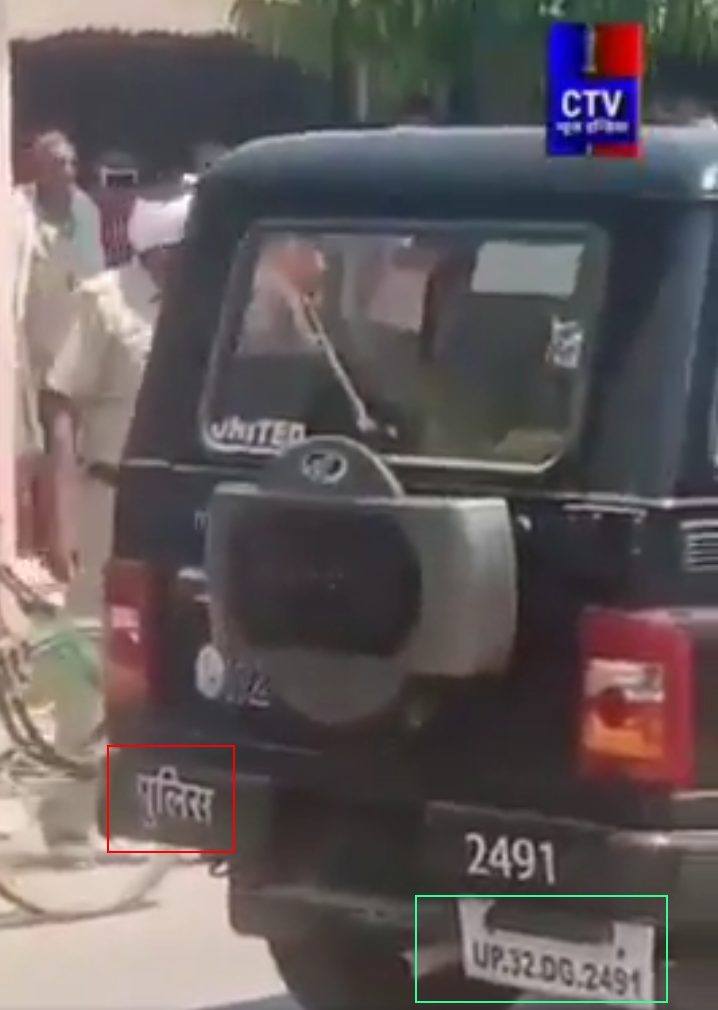 According to a news report by Amar Ujala published in May 2020, the woman (Sushila) and her husband (Ashok) had a dispute regarding the selling of their property. During this dispute, Sushila called the police after which her husband began to thrash her.
A video statement by the police is also available on Twitter.
#balrampurpolice थाना रेहरा बाजार में महिला के साथ हुई मारपीट की घटना के संबंध में तत्काल अभियोग पंजीकृत कर चार अभियुक्तों को गिरफ्तार कर लिया गया है। https://t.co/gf77mo8Fl2 pic.twitter.com/LudK5T9RqC

— BALRAMPUR POLICE (@balrampurpolice) May 23, 2020
As per the police, the woman was thrashed by the husband, her brother-in-law and others. A total of four out of six of them were arrested and police officials present at the scene who did not stop the violence were suspended. The woman did not succumb to her injuries, unlike claimed in viral posts.
Hence, a video of domestic violence due to a family dispute is circulating with the false claim that a Muslim woman was thrashed for refusing to take off her Hijab.
Donate to Alt News!
Independent journalism that speaks truth to power and is free of corporate and political control is possible only when people start contributing towards the same. Please consider donating towards this endeavour to fight fake news and misinformation.