A video of film director Mahesh Bhatt is being shared widely on social media. In the video, he begins to suddenly shout while speaking to the media. Social media users are claiming that Mahesh Bhatt got angry after the trailer of his upcoming film, 'Sadak 2', got more than 1 crore dislikes on Youtube. The film's trailer was released on August 11, 2020. It has been both directed and produced by Mahesh Bhatt. The film also stars Alia Bhatt, his younger daughter. Facebook user Raj Chaudhary posted this video on August 15 and wrote, "Look how Mahesh Bhatt has gone mad after the 1 crore dislikes on Sadak 2. This is the result of Hindu unity, do not stop friends". By the time this article was written, the video had been viewed over 9 lakh times and had garnered more than 14,000 shares. (archived link to the post)
सड़क- 2 के #10_मिलियन (1 करोड़ ) डिसलाइक 👎मिलने के बाद देखो कैसे पगला गया है महेश भट्ट 🐖🐖
😂😂
हिन्दुओं की एकता का परिणाम, रुकना नहीं है मित्रों 💪💪

Posted by Raj Choudhary on Saturday, 15 August 2020
The video is being shared with the caption, "He has gone crazy after we gave 1 crore dislikes to Sadak 2! Think about how much pain this man has given to Sushant's loved ones and he lost it once he got criticized himself! If we work together like this, we can also rid Bollywood of all its dirt! (सडक 2 को एक करोड़ डिसलाइक दिए तो पागल हो चुका है! सोचिए इस व्यक्ति ने सुशांत के परिजनों को कितना दर्द दिया है और खुद पर जरा सी आंच आई तो संतुलन खो बैठा!! अगर एसे ही एक होकर लडोगे तो आप बोलीवुड की गंदगी भी दूर कर सकते हो।)"
Twitter user @Rashtra_Sevika_ had tweeted this video on August 16 drawing over 10,000 views and 800 retweets. (link to the archived tweet)
सडक 2 को एक करोड़ डिसलाइक दिए तो पागल हो चुका है! 😂
सोचिए इस व्यक्ति ने सुशांत के परिजनों को कितना दर्द दिया है और खुद पर जरा सी आंच आई तो संतुलन खो बैठा!! अगर एसे ही एक होकर लडोगे तो आप बोलीवुड की गंदगी भी दूर कर सकते हो।#CBI4SSR #Justice4SSR #GlobaPrayers4SSR pic.twitter.com/gqMl4TVBey

— नीता दोशी। जय श्रीराम। 🚩 (@Rashtra_Sevika_) August 16, 2020
Many other users continued to share the video on Facebook and Twitter with this caption. This video is being shared with these claims on WhatsApp too.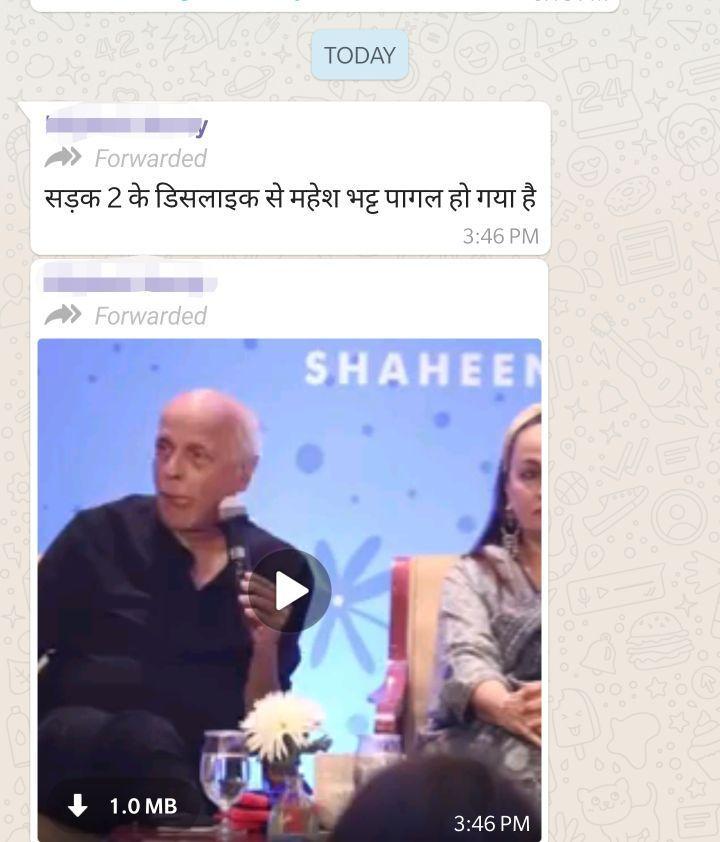 Fact-check
After doing a keyword search, we found this video had been uploaded on December 4, 2019, which means that it cannot be in connection with his upcoming film, 'Sadak 2'.
Times Group's entertainment channel ETimes had uploaded a YouTube video of Shaheen Bhatt's book launch. Shaheen is the elder daughter of Mahesh Bhatt. This 51-minute video contains clips from the viral video, which can be seen at the 46:24 mark. Shaheen Bhatt recently released a book about her experience of living with depression.
At the 43:19 mark of the video, Shaheen Bhatt got a question from an audience member. The individual asked if Bhatt could come up with any specific things that people in her life could, cannot, or should have done to help her cope with her depression. She responded by saying that there was no answer to this question because every person is different and experiences depression differently every day. Speaking of her own experience, she added that on some days, talking to other people helped her cope. And on other days, it would be difficult for her to talk to people or answer questions about how she was doing. At the same time, she emphasized the importance of having a supportive person to listen to her without judgement and getting too affected. Mahesh Bhatt also weighed in here, discussing how the ability to listen was a very significant quality in people. He added that it was very important to have someone hear you cry. It is very important that someone listened to you as you cried. At 46:23, there was a follow-up question where an audience member asked, "So you don't really want answers?" Responding to this, the director flared up, exclaiming that there were no answers in reality. He went into a passionate rant of sorts, stressing that people who claimed to have the answers were "pretenders".
This video from December 2019 is being recently shared with false claims that the director's enraged reaction was in response to the 1 crore YouTube dislikes for the trailer of his upcoming film 'Sadak 2'.
Donate to Alt News!
Independent journalism that speaks truth to power and is free of corporate and political control is possible only when people start contributing towards the same. Please consider donating towards this endeavour to fight fake news and misinformation.