Ashwini Mahajan, co-convenor of the RSS-affiliated Swadeshi Jagran Manch, recently shared a video claiming it shows Lal Krishna Advani seated inside a movie theatre to watch 'The Kashmir Files'. (Archive link)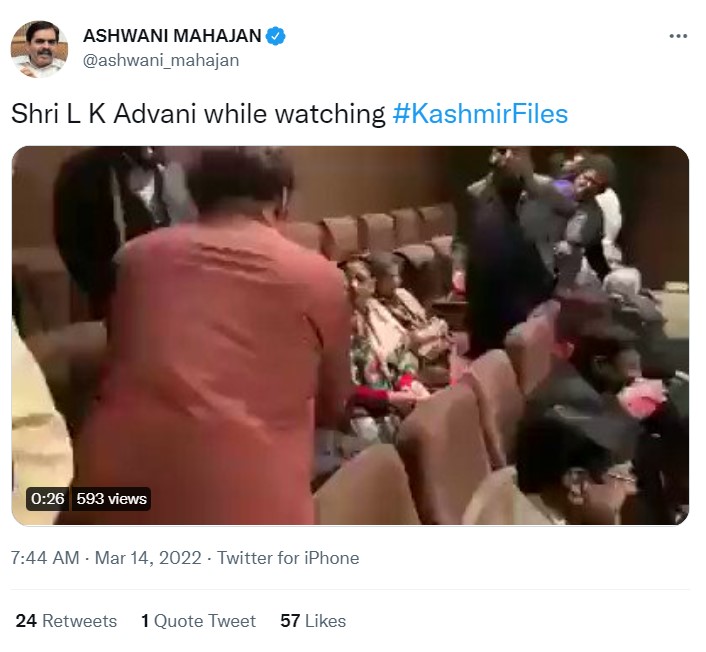 Sumit Sibhoji, a BJP leader from Aligarh, also shared the video and accompanying claim on Facebook. He wrote that the senior BJP leader began crying after watching the film.
#कश्मीरी पंडितों पर बनी फिल्म को देखकर रो पड़े भाजपा के वरिष्ठ नेता लालकृष्ण आडवाणी जी 😧😢

WE SUPPORT Narendra Modi L.k advani
#LKAdvani #lkadvani #pmo #advani #politics #politicsleader
Sumit Shibbo Ji

Posted by 𝐒𝐮𝐦𝐢𝐭 𝐒𝐡𝐢𝐛𝐛𝐨𝐣𝐢 on Saturday, March 12, 2022
In addition, Manish Grover and Rakesh Goyal of the BJP along with several others shared the video.
This slideshow requires JavaScript.
TV9 Kannada also aired the video on a broadcast about the movie.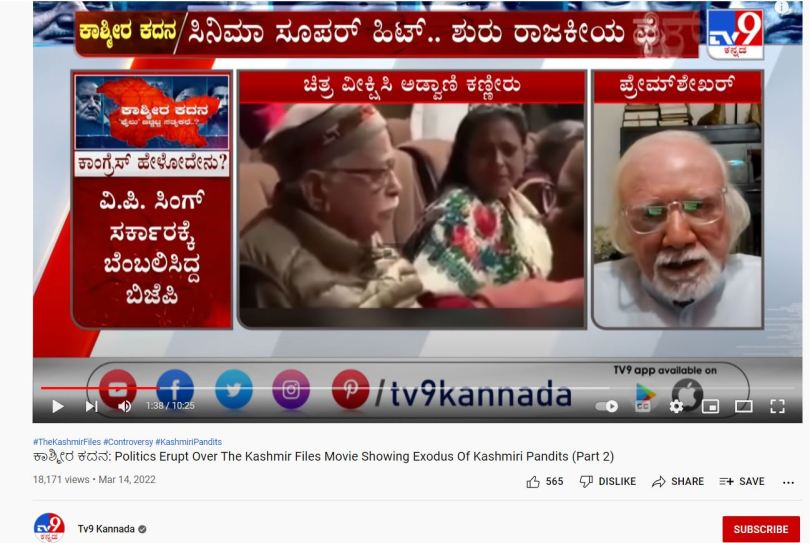 Fact-check
We noticed that some users commented that the video was two years old when Lal Krishna Advani visited a movie theatre to watch the film 'Shikara'.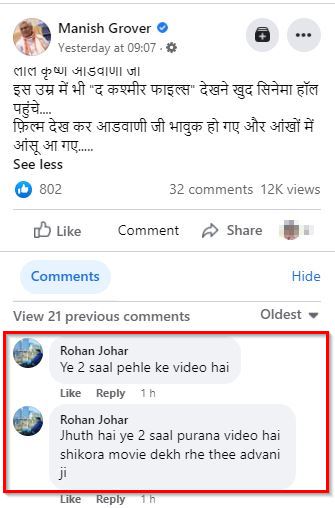 We noticed that the Twitter handle of Vidhu Vinod Chopra had also tweeted the viral clip on February 7, 2020 where Advani was attending a special screening of 'Shikara'. Vidhu Vinod Chopra is the director of the film and he can also be spotted in the video.
View this post on Instagram
On February 9, 2020, The Indian Express reported that Lal Krishna Advani got emotional after watching 'Shikara'.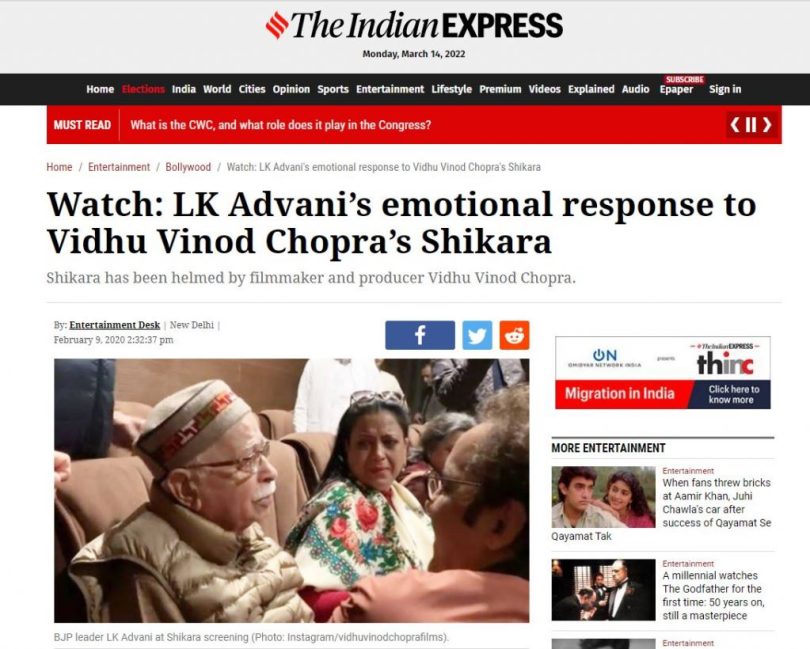 In sum, a two-year-old video of Lal Krishna Advani attending a screening of 'Shikara' was falsely circulated as his emotional response to Vivek Agnihotri's 'The Kashmir Files'.
Donate to Alt News!
Independent journalism that speaks truth to power and is free of corporate and political control is possible only when people start contributing towards the same. Please consider donating towards this endeavour to fight fake news and misinformation.