OpIndia wrote a story on June 6 claiming that a woman was allegedly raped at the Tikri border during the farmers' protest. The right-wing propaganda outlet claimed that a nurse was allegedly molested by volunteers at a medical centre run by the protestors.
Another woman alleges rape at Tikri border, nurse says she was molested by volunteers at a medical centre run for the protesters
https://t.co/bdNxEneeDn

— OpIndia.com (@OpIndia_com) June 9, 2021
This story alleged the second such incident at the Tikri border. Last month, the father of a 25-year-old woman from West Bengal registered an FIR alleging his daughter was gang-raped at the protest site. The woman had come to the border in April and her father found out about the alleged rape after she was admitted to the hospital for COVID. The woman passed away on April 30. According to Hindustan Times, the primary accused Anil Malik admitted to sexually assaulting her twice. Two other accused have been absconding.
OpIndia's story claims that less than a month after the alleged gang rape, another case of alleged molestation and rape has been reported from the protest site. The outlet based its story on a Twitter thread by one Shivani Dhillon who posted screenshots of the woman detailing her ordeal on an Instagram post.
Shocking news!!!
Molestation and rape incident reported from Tikri Border. Punjabi nursing assistant molested and raped by criminal elements in disguise as farmers. Why no one is reporting and taking note. A detailed story on the molestation & rape in this thread. Must read. pic.twitter.com/0SqULwxms1

— Shivani dhillon (@shivani_sikh) June 4, 2021
BJP media panellist Charu Pragya shared OpIndia's story.
Soon after, BJP members including spokesperson Gaurav Goel used the hashtag #दुष्कर्म_हॉटस्पॉट_आन्दोलनजीवी (misdemeanour hotspot andolanjeevi) to claim that the woman was raped and molested.
Another women volunteer at protest site told her horrific tale of molestation and rape.#दुष्कर्म_हॉटस्पॉट_आन्दोलनजीवी

— Gaurav Goel (@goelgauravbjp) June 12, 2021
Many others – BJP Delhi vice president Sunil Yadav, BJP member Narendra Kumar Chawla, BJP activist Aniket Masankar – shared a story by Dainik Jagran using the same hashtag. According to Jagran, farmer leaders did not take cognisance even after they were informed that the woman was raped.
This slideshow requires JavaScript.
BJP Delhi spokesperson Neetu Dabas shared a report by Newsroom Post that also claimed the woman was raped.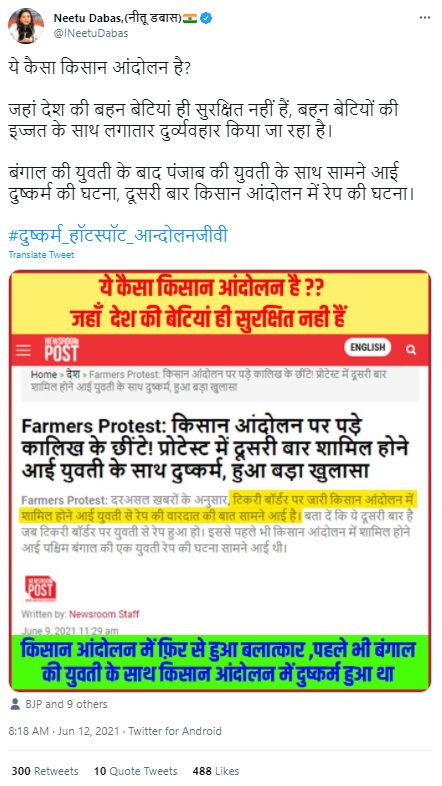 BJP supporters further amplified the claim – fake news website Postcard News founder Mahesh Vikram Hegde, fake news portal Kreately and Twitter users @MJ_007Club and @YourRishbh.
This slideshow requires JavaScript.
The Frustrated Indian also wrote an article that said that the possibility of a 'second rape' should be reason enough for the government to clear out the area.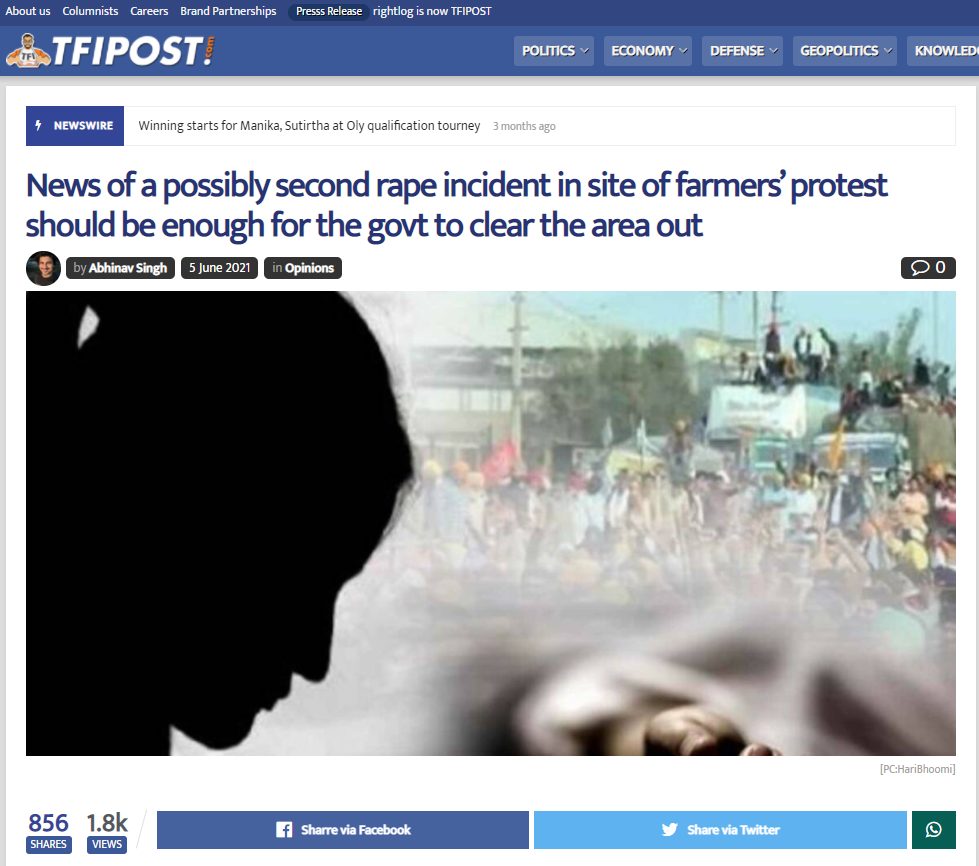 CNN News18 aired an exclusive report on June 9 reporting that the woman was molested but is yet to file a police complaint.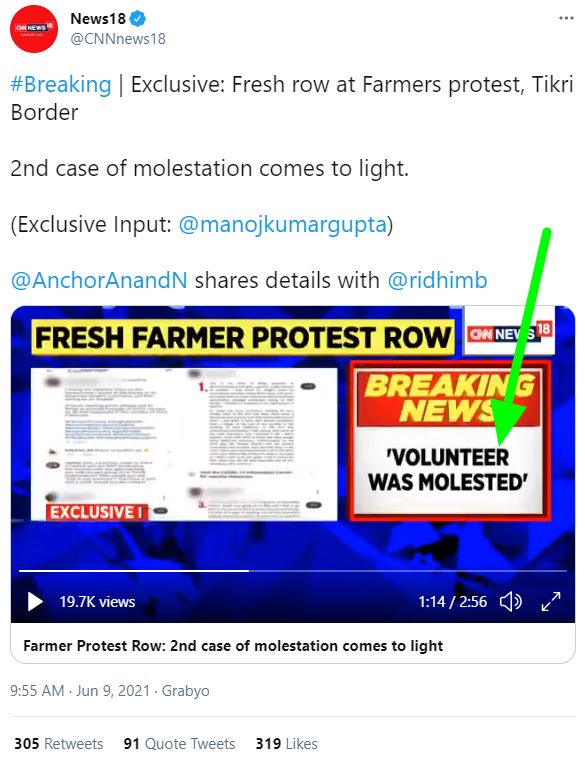 Woman refutes allegations of rape and molestation
Shivani Dhillon indeed shared the Instagram post of the woman alleging that she was harassed at the Tikri border. However, nowhere in her statement does she claim that she was raped or molested.
Her Instagram post says that she was given a room with women protestors at Pind California, which is a makeshift camp set up by US-based cardiologist Dr Swaiman Singh who has been volunteering at the protest site. "Singh leveraged his network to mobilise nearly 100 doctors to be posted at the protest sites on a rotational basis" apart from providing blankets, masks and other necessities to the protestors, Al Jazeera had reported.
The woman claimed that two volunteers of Dr Singh had harassed her on her third day at the border. She named these volunteers 'S' and 'B' in her post. The woman wrote on Instagram, "On the evening of my third day there, I was latching the door [of my room] but there was a problem with it [the latch] so S helped me…when another volunteer, let´s call him B, on seeing us together said ´Ki khichadi pakk rahi hai donan ch?' (What's going on with you two?) indecently insinuating that we were romantically/ sexually involved. I took offence to it and asked him what he meant by it. He said in his devilish laugh 'Kuch nhi, kuch nhi' I thought S would clear his confusion but he was laughing too with B, totally enjoying that his name was getting associated with mine. I felt very insulted and decided to stop them before they dared say any more bullshit about my character. I held B by his ears and also lightly slapped him on his back (not too seriously as I was aware that I was the only girl atm (at the moment) there so afraid of retaliation if they tried). While doing it, I asked him if he would say the same for his sister too? Instead of apologizing, he went into denial mode. I tried reasoning but left when I understood that he felt no shame or guilt in what he said/ did. Unfortunately for me, I had forgotten something…and I had to go back to my room to fetch it which meant I had to take the help of S again in latching. He did help and while walking down the corridor, B again met us, and this time he looked at S only and started singing a suggestive Punjabi song to him. Both were also giggling and I felt extremely uncomfortable as I knew that song was to tease me. I asked him why was he doing that again to which he said that he was only talking to S and it was a ´boys' thing. I literally did textbook things (things we are taught to do when we are in a situation [such] as these) telling him that I was like his elder sister, why he would say such things about me in such a degrading manner? But it fell on his deaf ears, and he kept repeating on top of his voice that it was [just] banter between boys. No apology whatsoever of course [sic]." Screenshots of her post have been attached below. Alt News is not hyperlinking the post to protect the woman's identity.
This slideshow requires JavaScript.
"I wasn't physically abused. They verbally harassed me which amounts to sexual harassment. They were eve-teasing," the woman told Alt News. "When I told Dr Singh about what had happened, he did not take any action. His response was very disappointing. He told me that this isn't America so he cannot guarantee my safety. He told me he will take me to the Singhu border which never happened. I was in the presence of my harassers for two days which aggravated my pain so I left for home." The alleged incident had taken place in April.
The woman said she was a regular at the protest site because she strongly supports the farmers' cause. But had stopped visiting since the incident took place.
"I wanted to share my story to make the protest site safer for women," she said. "But it was picked up by the right-wing. They distorted facts and exaggerated what had happened. I was verbally harassed and eve-teased but they falsely claimed that I was molested and raped. There was no physical assault. These [right-wing] outlets were trying to confront me but I did not want to entertain them since I don't consider them journalists. So they decided to post my story without my consent. OpIndia cited tweets made by some 'Shivani'. They don't even know that I'm neither a nurse nor a doctor. I do not have a medical background. I had gone there in the capacity of a volunteer."
The woman told us that she was inspired by Dr Swaiman Singh's work and was volunteering at his camp to take care of the elderly. "I used to check their BP, sugar and give a basic physical examination which we also do at home. If there was anything serious, we would call the doctors. You don't need a medical background for this."
She has sent a legal notice to News18 for reporting that she was molested at the protest site and for revealing her identity. The notice seeks an apology from the channel and also says, "Cease and desist from reporting content that violates My Client's right to privacy, remove all said content from all media including but not limited to digital, print and social media and issue a corrigendum clarifying the correct facts."
This slideshow requires JavaScript.
She later also sent a legal notice to OpIndia.
This slideshow requires JavaScript.
Journalist Sandeep Singh had also spoken to the woman and uploaded a video of her clarifying what had happened.
A woman alleged that she was sexually harassed at the Tikri border. OpIndia, TFI and BJP supporters falsely claimed that she was allegedly raped. The woman has clarified that there was no physical assault and her Instagram post was only meant for raising awareness. She has sent legal notices to OpIndia and News18 for falsely equating her ordeal with the gang rape of the 25-year-old woman from West Bengal.
Donate to Alt News!
Independent journalism that speaks truth to power and is free of corporate and political control is possible only when people start contributing towards the same. Please consider donating towards this endeavour to fight fake news and misinformation.