An image of Delhi Chief Minister Arvind Kejriwal putting on an anti-pollution mask on a school boy has been shared on social media. Deputy CM Manish Sisodia can also be spotted in the picture. Several BJP supporters have pointed out that Kejriwal and Sisodia aren't wearing masks.
BJP spokesperson Harish Khurana wrote, "Making a child wear mask, but what about you and Sisodia? The things you do for a photoshoot, Kejriwal ji. That's why we call you self-promoting CM." Multiple Twitter users have copy-pasted this text implying that the AAP leaders have not followed COVID protocol.
(Translated from: बच्चे को तो मास्क पहना रहे हो लेकिन ख़ुद का और अपने @msisodia का मास्क कहा है। फ़ोटो ओप के लिए लिए क्या क्या करते हो @ArvindKejriwal जी। तभी तो हम कहते है विज्ञापन वाला @CMODelhi)
बच्चे को तो मास्क पहना रहे हो लेकिन ख़ुद का और अपने @msisodia का मास्क कहा है।

फ़ोटो ओप के लिए लिए क्या क्या करते हो @ArvindKejriwal जी।

तभी तो हम कहते है विज्ञापन वाला @CMODelhi । pic.twitter.com/1JE1cC9thW

— Harish Khurana (@HarishKhuranna) April 4, 2021
Former Nagpur mayor and BJP member Sandip Joshi also tweeted this image.
तीन बगैर मास्क के विद्वान बच्चे को मास्क लगना सिखा रहे हैं. pic.twitter.com/97w7p4RB0P

— Sandip Joshi (@SandipJoshiNGP) April 5, 2021
Several Facebook users have posted the picture as well including another BJP spokesperson Virender Babbar.
बच्चे को तो मास्क पहना रहे हो लेकिन ख़ुद का और अपने Manish Sisodia जी का मास्क कहा है।

फ़ोटो शूट के लिए क्या क्या करते हो Arvind Kejriwal जी।

तभी तो हम कहते है विज्ञापन वाला ।

Posted by Virender Babbar on Sunday, 4 April 2021
The posts below gained high engagement. (1, 2, 3 and 4)
This slideshow requires JavaScript.
Fact-check
The image dates back to 2019. It was published by the Press Trust of India and since then republished by several media outlets.
According to a November 2019 India TV report, the image shows CM Kejriwal with Deputy CM and Education Minister Sisodia offering an anti-pollution mask to a student at Rajkiya Pratibha Vikas Vidyalaya, New Delhi.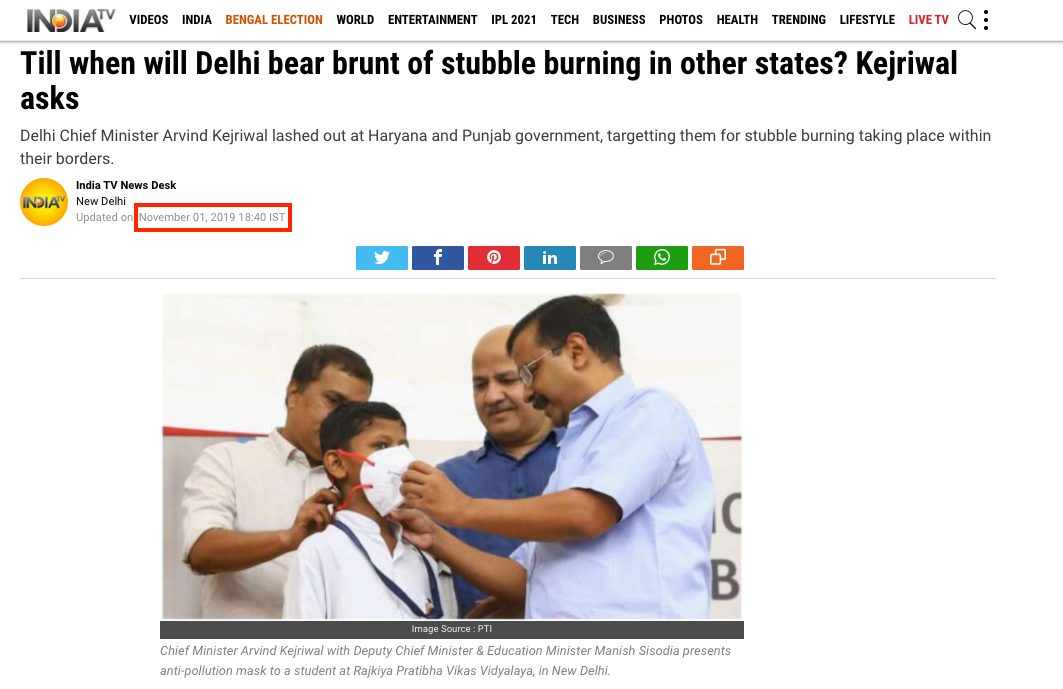 The picture was also tweeted by ANI on November 1, 2019.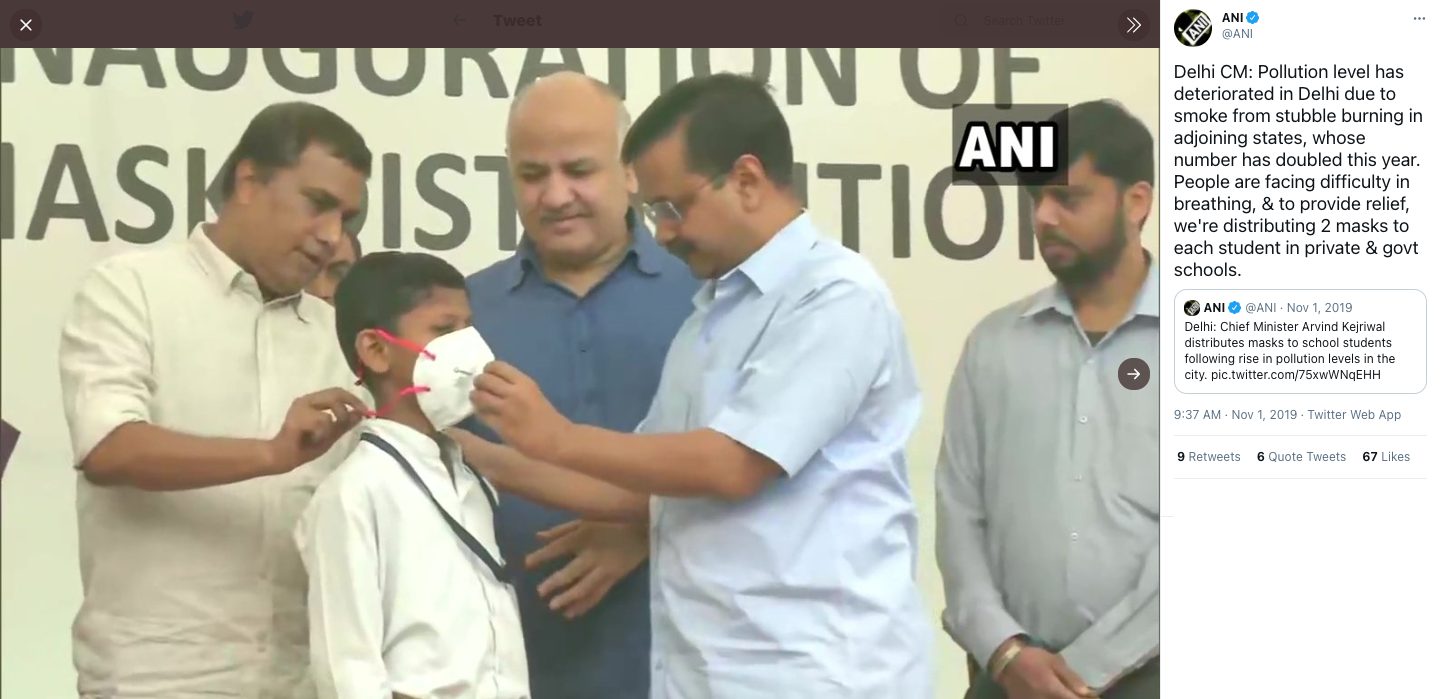 BJP spokespersons alluded that the Delhi CM and Deputy CM are not adhering to COVID-19 norms amid rising cases. But the first case of COVID-19 in India was reported in January 2020. The photograph predates the pandemic.
Donate to Alt News!
Independent journalism that speaks truth to power and is free of corporate and political control is possible only when people start contributing towards the same. Please consider donating towards this endeavour to fight fake news and misinformation.