On November 26, Dainik Jagran, Dainik Bhaskar, Amar Ujala and Jansatta on the basis of a video ran a story which claimed that 'Pakistan Zindabad' slogans were raised at an AIMIM rally in Ghaziabad, UP. The video of the rally subsequently went viral. In the clip now widely circulating on social media, bike borne AIMIM cadres are seen raising slogans which according to Jansatta and Amar Ujala sounded like 'Pakistan Zindabad'. Amar Ujala went to the extent of asking viewers to identify the people participating in the rally and intimate the police regarding the same.
This is horrifying as this is not happening in pakistan, its India and the constituency of Owaisi.

Posted by Ajit Kumar Doval on Sunday, November 26, 2017
The Dainik Bhaskar headline read "गाज‍ियाबाद में AIMIM कैंड‍िडेट की रैली में लगा 'पाक‍िस्तान ज‍िंदाबाद' के नारे, VIDEO वायरल" ('Pakistan Zindabad' slogans raised at AIMIM candidate rally in Ghaziabad, video viral") while Jagran carried the story with a similar title ("गाजियाबाद में AIMIM प्रत्याशी की रैली में पाकिस्तान जिंदाबाद के नारे" ).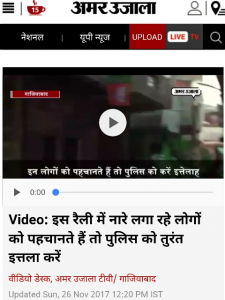 To confirm the veracity of the story, Alt News spoke to the SHO of the Sahibabad division, Ghaziabad who said no pro-Pakistan slogans were raised at the rally. "I heard the audio of the clip. No such slogans were raised. The cadres were raising slogans in favour of the local AIMIM candidate Haji Shahid. However, investigation is currently on", he added.
Alt News also spoke to the Ghaziabad unit chief of the AIMIM, Parvez Pasha who confirmed that the chants were in support of Haji Shahid, the candidate. Shahid himself in a conversation with Alt News confirmed that the cadres had also raised slogans of 'Haji Zeeshan Zindabad'. Haji Zeeshan is a shopkeeper in the area where the rally was passing by. Enthusiastic MIM supporters raised slogans of 'Haji Zeeshan Zindabad' which could be heard as Haji Shan Zindabad'. This slogan was deliberately misconstrued as 'Pakistan Zindabad'. Moreover, it can be clearly seen in the video that the bike borne cadres were carrying the tricolour and the flag of the AIMIM. The inflammatory article was subsequently removed by Amar Ujala from their website. However, rest of the publications have kept the story intact.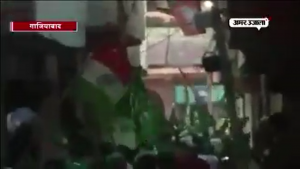 This news comes only a day after mischievous reports emerged claiming that 'Hafiz Saeed Zindabad' slogans were raised at Lakhimpur Kheri in UP. Alt News had debunked the rumour, which can be read here.
A deliberate attempt was made to foment tension and hatred on the basis of a video which was not even doctored. Was this a calculated strategy by nefarious elements to keep the communal pot boiling in view of the just concluded civic polls in the state?
Donate to Alt News!
Independent journalism that speaks truth to power and is free of corporate and political control is possible only when people start contributing towards the same. Please consider donating towards this endeavour to fight fake news and misinformation.