Recently, Congress leader and erstwhile Wayanad MP Rahul Gandhi was disqualified from the Lok Sabha after he had been convicted by the chief judicial magistrate's court in Surat in a 2019 case over Rahul's remarks on the 'Modi surname'.
The move was widely criticized by the Congress party which also accused the Narendra Modi government of 'killing democracy'. Various opposition leaders too came out in support of Gandhi, with some calling it a 'black day' for democracy.

In the context of the Congress leader's disqualification, a photograph of Rahul Gandhi tearing a piece of paper is circulating on social media. It is being claimed that in 2013, when the Manmohan Singh-led government brought an ordinance to negate a Supreme Court order on the disqualification of convicted MPs and MLAs, Rahul Gandhi criticized the move and publicly tore up the ordinance.
Rishi Bagree, who has a history of amplifying political misinformation, shared the photograph and wrote, "It's a decision based on Supreme Court judgement passed in 2013. Manmohan Singh wanted to bring an ordinance against this but Rahul Gandhi had torn that paper!" (Archive.)
This picture from 2013 will haunt Rahul Gandhi forever pic.twitter.com/CkX8vbtpop

— Rishi Bagree (@rishibagree) March 24, 2023
Shashank Shekhar Jha, a Supreme Court lawyer, tweeted the same photograph with a summary of the events. (Archive.)
2013:
No one who is convicted for two or more years of jail can be elected to Parliament and Assembly
– Supreme Court

Manmohan Singh govt brought ordinance to overturn it.@RahulGandhi tore the Ordinance publicly.

2023: Rahul Gandhi is ordered 2 years of jail. pic.twitter.com/YRdA2RJ4UV

— Shashank Shekhar Jha (@shashank_ssj) March 23, 2023
Dilip Mandal, the former managing editor of India Today Hindi Magazine, tweeted a thread on the matter and used the same photograph. (Archive.)
History has come a full circle for Rahul Gandhi as his opposition to an ordinance in 2013 led to the disqualification of Lalu Yadav. Now, Rahul Gandhi faces disqualification under the same act, as Lalu Yadav's fate echoes in his own. ☹️🧵⬇️ pic.twitter.com/ra0NctPqa8

— Dilip Mandal (@Profdilipmandal) March 23, 2023
YouTube-based news outlet Editorji posted a video report where they said Rahul Gandhi had publicly torn a copy of the ordinance in 2013.
Fact check
Alt News found that several news reports mentioned that at a press conference in September 2013, Rahul Gandhi had torn an ordinance which protected leaders from disqualification. Live Mint, for example, wrote, "During a public media interaction, Gandhi tore the ordinance publicly and had said, "I will tell you what my opinion on the ordinance is. It's complete nonsense and it's my personal opinion. It should be torn up and thrown out." (Archive)
Taking note of this, we performed a keyword search on YouTube and came across a 3-minute clip uploaded by Indian National Congress on September 27, 2013. The title of this clip says, "Rahul Gandhi: Stop the ordinance that saves criminal politicians – September 27, 2013".
Below we have provided a transcript of the clip:
Rahul Gandhi: I called up Maken ji (referring to Congress leader Ajay Maken) and I asked him what is going on. What are you doing? I had some work with him and he said that I'm here with the press, meet the press and I said kya baat-chit ho rahi hai? So he said well Ordinance ke bare main baat-chit ho rahi hai. So I said what? and he sort of gave me the explanation. He gave me the line… Right? the political line that everybody will give you, the Congress will give you; the BJP will give you; everybody will give it to you. I will tell you what my opinion of the ordinance is. My opinion on the ordinance is that it's complete nonsense and that it should be torn up and thrown out. That's my opinion, my personal opinion on the ordinance. I will repeat it for you, my opinion on the ordinance is that it should be torn up and thrown away. Okay, the arguments that are being made and I've heard the arguments in my organization. The argument that is being made is that we need to do this. Internally, I'm telling you what is happening internally… We need to do this because of political considerations… Everybody does this; the Congress Party does this; the BJP does this; the Janata Dal does this; the Samajwadi does this; everybody does this. And there's a time to stop this nonsense. And I really feel that it's about time they put it in the parties, mine and all others… Stop making these type of compromises. Because if we want to actually fight corruption in this country, whether it's us the Congress party or the BJP, we cannot continue making these small compromises because when we make these small compromises we compromise everything… So that's my position on the ordinance. Thank you."
He adds, "I am not interested in what any Opposition leader says, I am interested in what the Congress party is doing. I am interested in what our government is doing and I feel… personally feel that what our government has done as far as this ordinance is concerned is wrong. Thank you."
The only reference to the ordinance being torn in this clip is when Rahul Gandhi says "it should be torn up and thrown out". He does not actually tear the ordinance in the meeting.
We then checked a report by The Times of India, which was published the very next day after this presser. TOI wrote that Rahul Gandhi on that day intervened and sealed the fate of the "contentious legislation", embarrassing then PM Manmohan Singh hours before his meeting with Barack Obama in Washington DC.
The report also mentioned that Gandhi had written to the PM to express his displeasure over the ordinance. It says that "Rahul had taken care to be respectful in his letter to the PM, his rebuke at the press meet didn't take away from the perception that the criticism had undermined Singh's authority".
There is a reference to Rahul Gandhi allegedly tearing the ordinance to shreds, but the phrase is used in a metaphorical sense, rather than literal.


Alt News also found a CNN IBN clip uploaded on YouTube which summarises the event with timestamps of Rahul arriving and leaving. In this entire clip, we do not see Gandhi physically tearing the ordinance. All the references to him "tearing" the ordinance are metaphorical. A Times Now clip from 2013 also does not show anything related to him physically tearing the ordinance copy.
Unrelated Photo
The viral photo of Rahul Gandhi tearing a piece of paper is from 2012. We performed a keyword search on Google and the first result was an NDTV report titled "In dramatic flourish, Rahul Gandhi rips up paper at rally".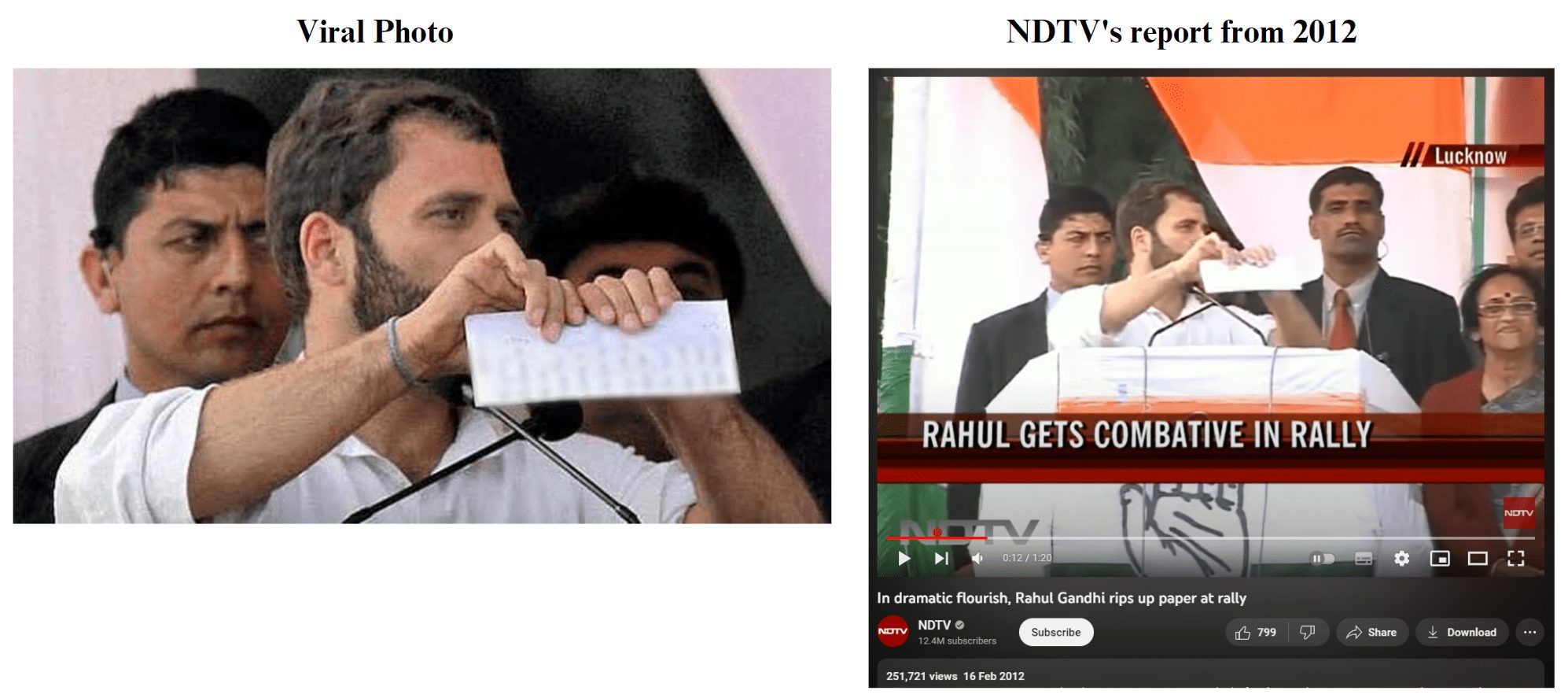 A Twitter user shared a close-up of the list on the platform the same day. (Archive.)
Rahul Gandhi's truth list which he rips in rally pic.twitter.com/fEGMgw3t

— Ankush Pandey (@ankushraj29) February 16, 2012
To summarize, the photograph of Rahul Gandhi tearing a piece of paper is from a rally in 2012 and has nothing to do with the ordinance brought by the Manmohan Singh government in 2013. In fact, the claim that Rahul Gandhi tore a copy of the ordinance in a press conference is also a case of media misreport. He did vociferously slam the ordinance, and according to reports, his objection led to it being withdrawn even after it was cleared by the Union Cabinet, but he did not physically tear up a copy of the ordinance.
Donate to Alt News!
Independent journalism that speaks truth to power and is free of corporate and political control is possible only when people start contributing towards the same. Please consider donating towards this endeavour to fight fake news and misinformation.