After the Taliban claimed victory over opposition forces in Panjshir Valley, Afghanistan, Republic TV aired an 'exclusive' video accessed from Hasti TV alleging it shows the Pakistani Air Force attacks in the Valley. Since the Taliban's claim that Panjshir was seized, several Indian news outlets reported Pakistan's support to the Islamist extremist outfit against resistance forces.
The same video was also used by Times Now Navbharat and Zee Hindustan. The former has taken it down.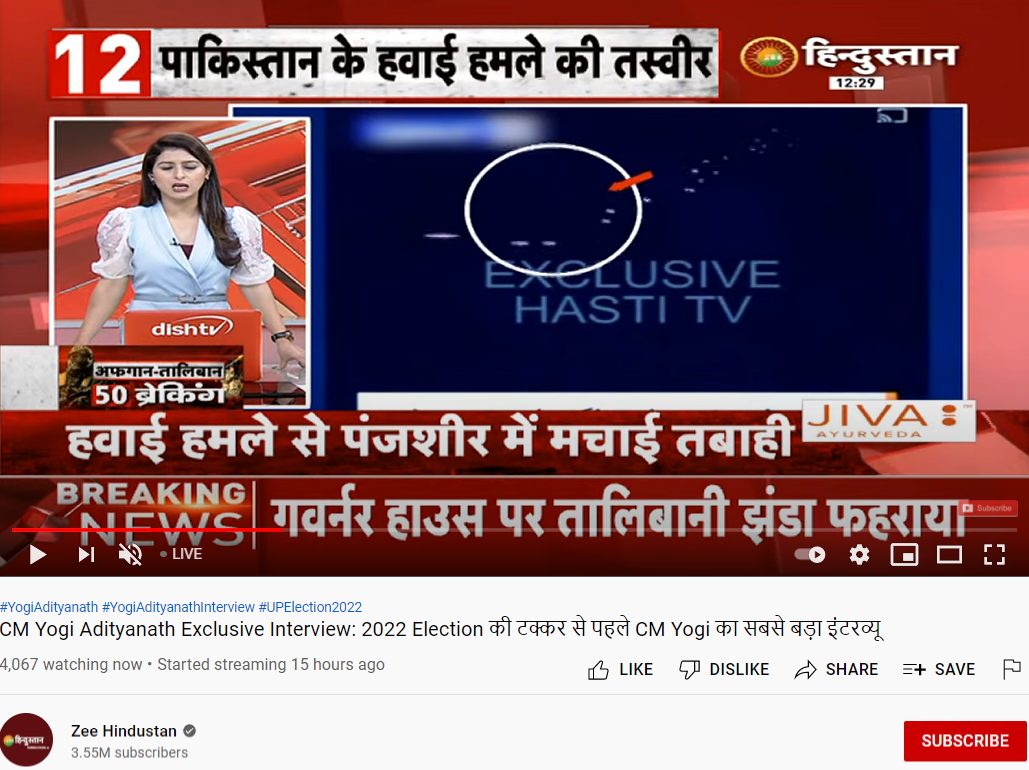 Another similar footage was aired by TV9 Bharatvarsh (5:30 minutes onward in the broadcast below) as 'proof' of Pakistan's involvement in the Panjshir conflict.
रात भर बम की बरसात..जंगी 'खान' का पर्दाफाश#FullandFinal | #Pakistan | #TalibanIslamistTerror | #AfghanistanCrisis | #PanjshirValley | @GeneralKKSinha | @viperross | @aniltrigunayat | @SumitDefence | @nishantchat pic.twitter.com/HjgwVCIKDd

— TV9 Bharatvarsh (@TV9Bharatvarsh) September 6, 2021
Footage of ARMA-3 video game
The video shared by Hasti TV was tweeted by Faran Jeffery (@Natsecjeff) who identifies as a counter-terrorism expert. He first sarcastically wrote that the clip shows the Pakistani air force targeting rebels in Panjshir and later clarified that the footage is from a video game.
Fun fact:

The video is from a video game and is currently being shared by pro-resistance accounts as proof of claims that Pakistani drones are attacking Panjshir. I thought I should have some fun. Let's see how many idiots here share this video with a straight face. 🤣 pic.twitter.com/lxDDJxqZzP

— FJ (@Natsecjeff) September 6, 2021
Jeffery has been flagging misinformation about 'Pakistani attack' in Panjshir and tweeted a video followed immediately by a 'fun fact' and many channels fell for his initial tweet.
The clip aired by Republic TV is from the video game ARMA 3 and can be watched onward 1:38 minutes in the link below. Republic later took down its broadcast from its social media channels.
The footage aired by TV9 Bharatvarsh was also broadcast by the channel last year as visuals of a MiG 25 being shot down by Armenia using the Shilka Air Defence System. This too is a clip from ARMA 3.
Since the Taliban's takeover in Afghanistan, Indian mainstream media has been rife with misinformation. Alt News has been tracking the numerous misreports that can be read here.
Donate to Alt News!
Independent journalism that speaks truth to power and is free of corporate and political control is possible only when people start contributing towards the same. Please consider donating towards this endeavour to fight fake news and misinformation.