Hindutva ideologue Vinayak Damodar Savarkar's grandson Ranjit Savarkar on Monday, March 27, said he would file an FIR against Congress leader Rahul Gandhi if the latter did not apologize for his comment, "My name is not Savarkar, my name is Gandhi. Gandhis don't apologize to anyone".
The Congress leader had made the remark at a press conference on March 25 when asked if he would apologize for the statement that led to his disqualification from the Lok Sabha.
Against this backdrop, some Twitter users have claimed that Rahul Gandhi deleted all his tweets on VD Savarkar after the backlash from the latter's grandson.
Sheetal Chopra, who describes herself as an RSS volunteer and 'Modibhakt' in her bio, took a jibe at Rahul Gandhi while making the claim. (Archive)
Darpok Fattu Rahul Gandhi deletes all the tweets on Veer Savarkar

His shortest journey from " Daro Mat "to "Daro Mat aayega tho Modi hi"

🤣🤣🤣 pic.twitter.com/mXQprm0PXD

— Sheetal Chopra 🇮🇳 (@SheetalPronamo) March 28, 2023
Amit Athir, a social media activist according to his bio, made the same claim while replying to a tweet by Congress spokesperson Supriya Shrinate, and wrote that Rahul was scared of the threat of an FIR against him. (Archive)
डर गए राहुल गांधी !!

वीर सावरकर पर किए गए सभी ट्वीट किया डिलीट।

राहुल गांधी ने FIR के डर से डिलीट किया ट्वीट।

वीर सावरकर के पोते रणजीत सावरकर ने राहुल द्वारा माफी न मांगने पर FIR करने की कही है बात। pic.twitter.com/2OvCsRNJPV

— Amit Ahir (@AmitAhir_) March 28, 2023
Users Ashok Srivastav (a journalist with DD News) and Subir H Chaudhuri quote-tweeted entrepreneur Jagdish Bhatia and made the same claim. Chaudhuri said Rahul had deleted the tweets on the advice of Sharad Pawar.
This slideshow requires JavaScript.
Several other Right Wing users made the same claim but later almost all of them deleted their tweets. Archived links to their tweets are, however, available.
Among them are Supreme Court lawyer Shashank Shekhar Jha and entrepreneur Arun Pudur, both of whom frequently share misinformation on social media, Amitabh Chaudhary, Twitter handles MeghUpdates and Know the nation, entrepreneur-cum-journalist Pradeep Bhandari, and Prajwal Busta, who describes herself as BJP's Himachal spokesperson. Arun Pudur even claimed that all UPA parties had agreed to not speak against Savarkar anymore. Screenshots of their now-deleted tweets can be seen below:
This slideshow requires JavaScript.
Fact Check
Alt News found an archive of Rahul Gandhi's Twitter timeline as of March 25, 2023. The total number of tweets shown here is 6,782, and the last tweet here is the following:
मैंने प्रधानमंत्री की आखों में डर देखा है – वो डरते हैं अडानी पर संसद में मेरे अगले भाषण से।

सीधा सवाल है – शेल कंपनियों द्वारा अडानी समूह में लगाया गया ₹20,000 करोड़ का विदेशी पैसा किसका है?

ये सारा नाटक इसी सवाल से ध्यान भटकाने के लिए है।

— Rahul Gandhi (@RahulGandhi) March 25, 2023
Then we noted that live count of tweets on Rahul Gandhi's Twitter account. It stands at 6,786.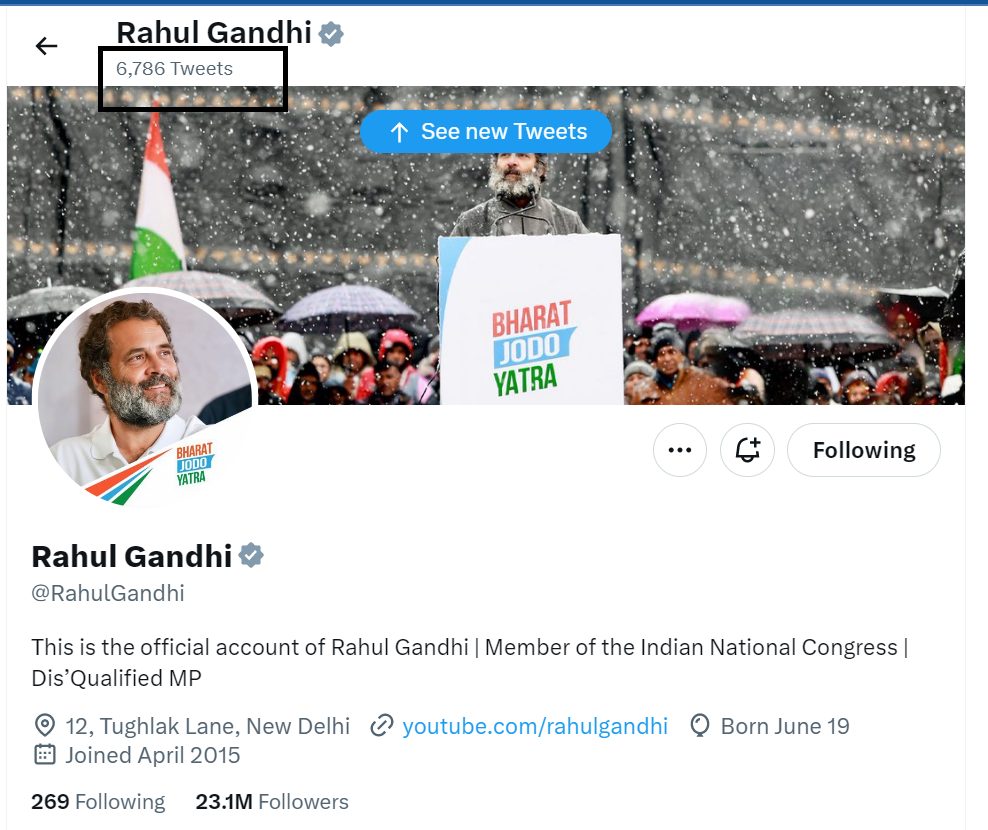 So, four tweets have been added. Scrolling down the timeline, we could find the our tweets. These four tweets can be seen in the following gallery, starting from the latest:
This slideshow requires JavaScript.
Had Rahul Gandhi deleted any tweet in this period, the numbers would not add up.
Next, Alt News checked the details of Rahul Gandhi's Twitter activities on the Social Blade website and found that between March 27 (the day Ranjit Savarkar spoke about the FIR) and March 29 (the day of this story being written) Rahul Gandhi's total tweet count had gone up by one (01). From 6,785 on March 26, it went up to 6,786 on March 27. In other words, he had tweeted only once within this time frame, and that was on March 27. (See highlighted part)
Rahul Gandhi's Twitter timeline corroborates this. On March 27, he tweeted about the controversy regarding Gautam Adani.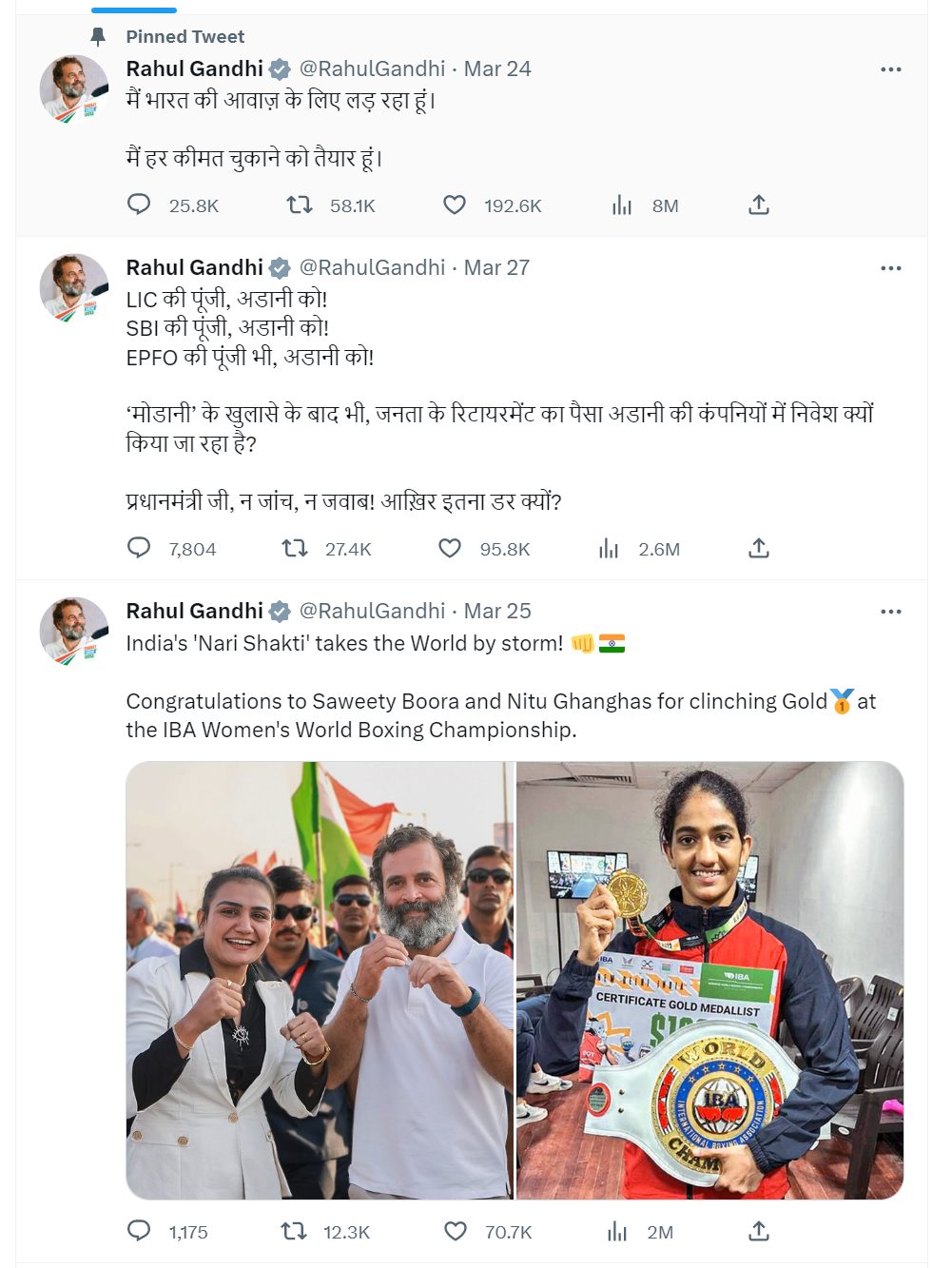 Had Rahul Gandhi deleted any tweet on or after March 27, it would have reflected on the Social Blade statistics, i.e., the total number of tweets would have gone down. One might argue that the Congress leader deleted X number of tweets and tweeted X+1 times and hence Social Blade data shows an increase of one in the total number of tweets. However, Rahul's Twitter timeline clearly shows that is not the case.
While going through Rahul Gandhi's Twitter timeline, we noted that on November 15, 2022, Rahul had tweeted snippets of a speech delivered by him where he spoke about Savarkar and Birsa Munda. The thumbnail of the video had an image of Savarkar. The tweet is still there on the Congress leader's timeline.
वीर मातृभूमि पर अपने शीश चढ़ाते हैं,
और कायर ग़ुलामी में सर झुकाते हैं। pic.twitter.com/qa5BDGYYox

— Rahul Gandhi (@RahulGandhi) November 15, 2022
To sum up, the claim by Right Wing Twitter users that Rahul Gandhi deleted tweets on VD Savarkar after the threat of an FIR from Ranjit Savarkar on March 27 is false. There is enough digital evidence to prove that he did not.
NOTE: The story was updated on March 30 after we found that Rahul Gandhi had in 2022 tweeted a video where he was speaking on Savarkar. The thumbnail had the Hindutva ideologue's photo, though his name was not mentioned in the tweet text. The tweet is still there in his timeline. Earlier, we had said that Rahul Gandhi never tweeted on VD Savarkar.
Donate to Alt News!
Independent journalism that speaks truth to power and is free of corporate and political control is possible only when people start contributing towards the same. Please consider donating towards this endeavour to fight fake news and misinformation.