Photos of a massive medical facility have been shared with the claim that it is the second-largest COVID-19 care centre in India set up by the RSS. The claim adds that this is a 6000-bed COVID-19 hospital in Indore with four oxygen plants. Harshvardhan Muppavarapu posted shared the claim (archived link). It was also posted by BJP supporter Arun Pudur.
Second Largest #COVID19 Care Center in India.
Rashtriya Swayamsevak Sangh (RSS) has built a 6000-bed covid care center and 4 oxygen plants in 45 acres of land in Indore. Kudos to their efforts. pic.twitter.com/yOiCnPSmJl

— Harshavardhan Muppavarapu (@vardhan08) April 24, 2021
Tagging the RSS, BJP Delhi vice president Rajan Tewari tweeted the photos.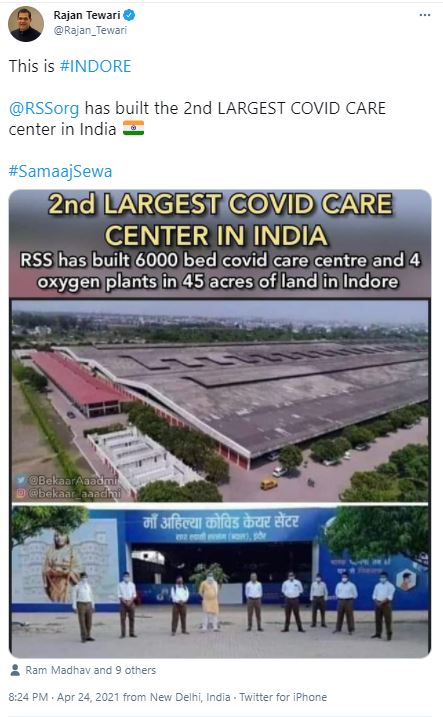 Another such post by Twitter user @MeghUpdates received more than 2,900 retweets (archived link). A number of other users including @EconomistSanghi, @doctorrichabjp, @KaaliaSholay posted similar tweets.
We received several requests to investigate the claim on the Alt News official mobile application.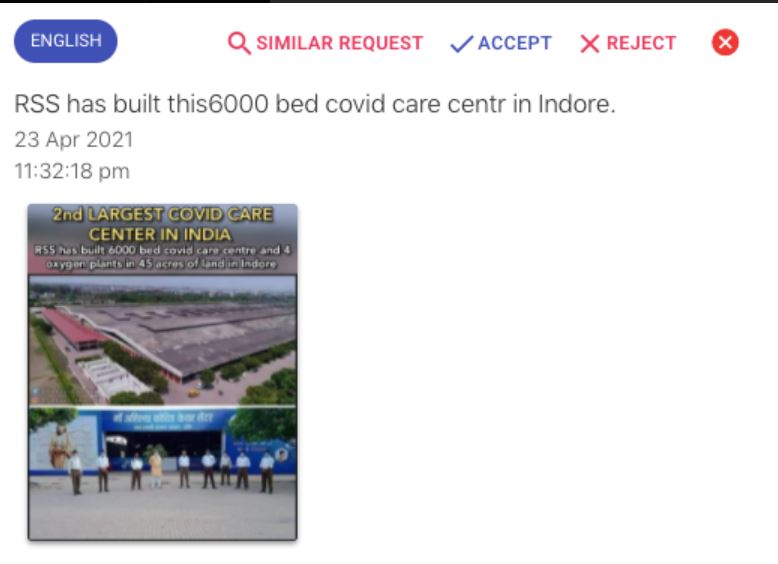 Fact-check
According to an ANI report dated April 22, Madhya Pradesh's largest COVID-19 care centre was built in Indore. It was originally operationalized with 600 beds, which will be increased to 6,000. The Radha Soami Satsang Beas ground in Indore was converted into the Maa Ahilya COVID care centre. This report also includes BJP MLA Tulsi Silavat's statement expressing thanks to the Radha Soami Satsang Beas on behalf of the Chief Minister. "In the first phase, 600 beds are made available. The RSS workers are also volunteering. Many industrialists and businessmen from Indore have donated money and instruments for this care centre. I am thankful to them," he said.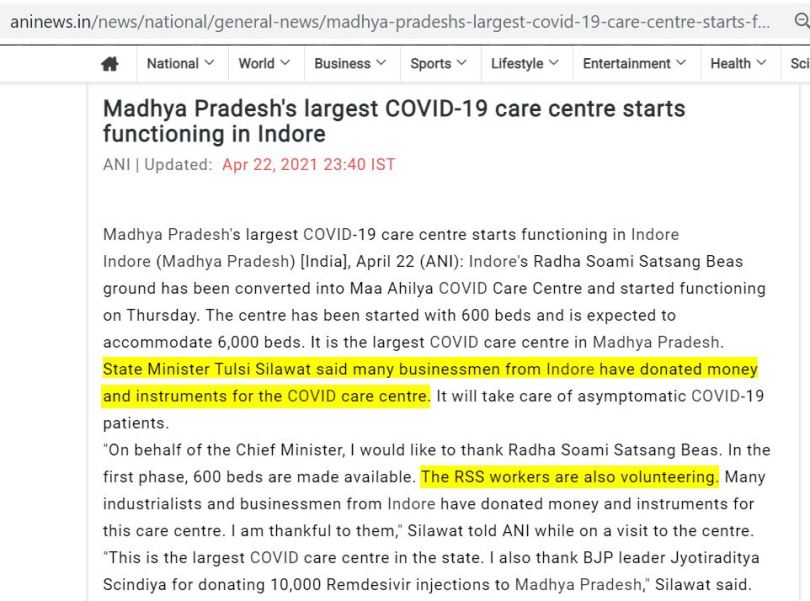 News18, NDTV, and Amar Ujala also carried stories on the centre. However, none of these stories mentions that the hospital has been built by the RSS. One News18 report read, "RSS workers will also be present at the centre to provide services and take care of patients. CCTV cameras have been installed throughout the campus for the safety and monitoring of patients."
According to Amar Ujala, "Radha Soami Satsang Beas, known across the country for its unique acts of public service, has set up the second-largest COVID-19 facility in Indore, Madhya Pradesh. Named the Maa Ahilya COVID Care Centre, it has been set up through public support."
Alt News reached out to Dr Nishant Khare, a member of the COVID-19 Advisory Committee of Madhya Pradesh, who denied the claims being made on social media. "The Maa Ahilya COVID Care Centre was built on the Radha Soami Satsang Beas campus. The master plan involves setting up 6,000 beds. We have arranged 600 beds in the first phase. We will increase the number of beds in batches of 600. On April 29, another 600 will be arranged under Phase 2. And this will be done at an interval of 5 days. The administration provided the basic facilities, with the district administration taking ownership of the same. The Madhya Pradesh government has been responsible for administering medical facilities and arranging medical staff. The Radha Soami Satsang Beas is a major contributor. The Radha Soami Satsang Sansthan has been taking care of the food and water arrangements for all. Apart from this, we have received widespread social support. In fact, this has been so huge that the government's contribution has come down to 20%. Beds, tent houses, and cooling logs have been arranged with the help of locals. Other essential items such as patient kits, all daily-use items were also procured with their assistance. We received 120 oxygen concentrators as donations, the government did not need to buy them. All of this is being run extremely well with the help of the district administration and the community. The social media claim about RSS running the centre is completely false. It has been built with government and social support. The Bar Association and Real Estate Association have also donated funds for it. Everyone has contributed one thing or another to this facility. If I think of a single organization that has contributed majorly, it has to be the Radha Soami Satsang Beas. The RSS and Seva Bharati have deployed their volunteers here. 75 volunteers from the RSS and Seva Bharti work here every day. They manage the security arrangements and provide support to workers in the Radha Swami Satsang who cook. So, the Sangh's contribution has been in the form of the volunteers it has provided", he said.
Therefore, the largest COVID-19 facility in Madhya Pradesh was built with the support of the local community. Pictures of this centre were circulated with the false claim that it was set up by the RSS.
A photo of Al Bayt Stadium in Qatar was also falsely shared as the COVID centre built in Madhya Pradesh.
FAKE NEWS
The establishment in the below image is of Al Bayt Stadium is a football stadium in Qatar, intended to be used for matches in the 2022 FIFA World Cup.
Yes there is a new COVID care unit in indore with 600 bed capacity which can be enhanced to 6200.
NOT THE SAME. pic.twitter.com/AVUbaWQ9jQ

— Elina|എലിന🌹 (@LawyerInBaking) April 29, 2021
Indore Collector had tweeted the photograph of the COVID centre on April 18.
इंदौर में खंडवा रोड स्थित #राधास्वामी परिसर में #कोविड_केयर_सेंटर आकार ले रहा है। इसके प्रारंभ होने से हम अधिक मज़बूत संसाधनों के साथ कोविड के मरीज़ों का उपचार कर सकेंगे। @UNICEFIndia @MoHFW_INDIA pic.twitter.com/iZCvOLPfVI

— Collector Indore (@IndoreCollector) April 18, 2021
Donate to Alt News!
Independent journalism that speaks truth to power and is free of corporate and political control is possible only when people start contributing towards the same. Please consider donating towards this endeavour to fight fake news and misinformation.