रानू मंडल ने अयोध्या मे चर्च के लिए जगह मांगी..आपको नहीं लगता ये स्टेशन पर भीख मांगती ही ठीक थी..?? ये तो सिर पर बैठ गई..! (Ranu Mondal calls for land for church in Ayodhya..Don't you think she was better off begging at the station? She now sits on our head!- translation).
This message has been shared extensively on social media. Ranu Mondal, who shot to fame after a video of her singing at a railway station went viral, has supposedly demanded land for a church in Ayodhya, if Facebook and Twitter users are to be believed.
रानू मंडल ने अयोध्या मे चर्च के लिए जगह मांगी..🙄
आपको नहीं लगता ये स्टेशन पर भीख मांगती ही ठीक थी..?? ये तो सिर पर बैठ गई….!

— ANUJ BAJPAI (@Real_Anuj) November 12, 2019
The above tweet by a user Anuj Bajpai has been retweeted over 1400 times. The message with the same text has gone viral on Facebook with several users posting it.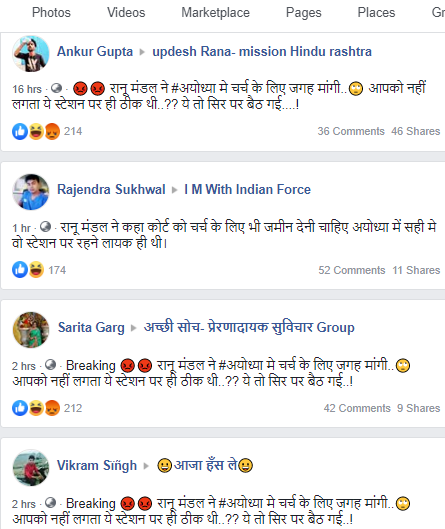 The claim was also quote-tweeted by Madhu Kishwar who asked, "How come missionaries did not discover her while she was living on railway platform?"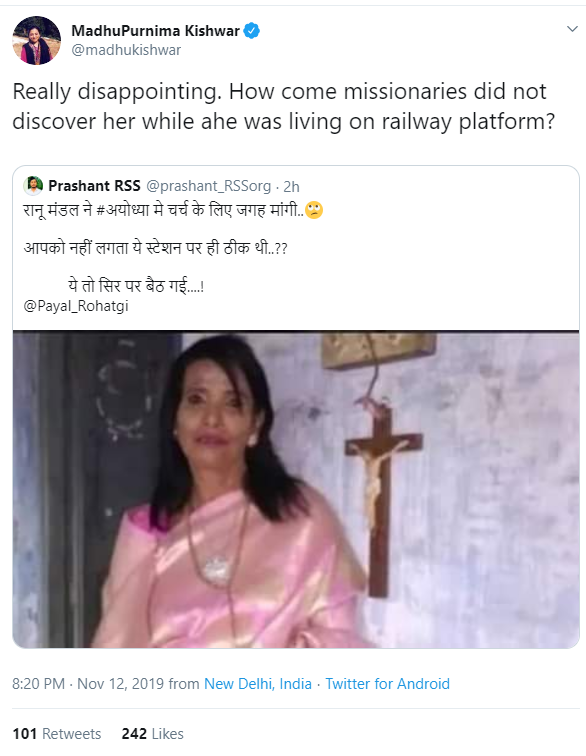 FACT-CHECK
Alt News could not find a single news report which stated that the singer has publicly made a statement calling for a church to come up in Ayodhya. What it found instead was a write-up on The Fauxy, that too posted along with a tweet with the identical text.
Breaking News..😡😡
रानू मंडल ने #अयोध्या मे चर्च के लिए जगह मांगी..🙄 आपको नहीं लगता ये स्टेशन पर ही ठीक थी..?? ये तो सिर पर बैठ गई….!https://t.co/k5m9mIrMoC

— डा.सीमा (@seematri6) November 11, 2019
The Fauxy deals with satire. The About Us section of the website states, "The Fauxy is a media company that connects with young, intelligent and diverse audiences that are shaping our future. Through fearless journalism (LOL), thought-provoking comedy, and high-impact storytelling we aim to start a conversation around subjects that are usually viewed as a taboo for today's youth."
The write-up on Ranu Mondal on The Fauxy states, "Supreme Court of India gave a historic judgement on Ayodhya dispute. Of both the parties – Hindus and Muslims – some welcomed the verdict and some are not satisfied. While all this, another major community of India i.e. Christians, felt left out. Therefore, some Christian organisations came together and requested the new prominent figure among Christians, Ranu Mondal, to speak on their behalf. Ranu Mondal decided to file a claim demanding some land in Ayodhya to be dedicated for Christians as well so that they can build a grand Church. She said that this will be a display of true secularism of India if Supreme Court allots some land to Christians."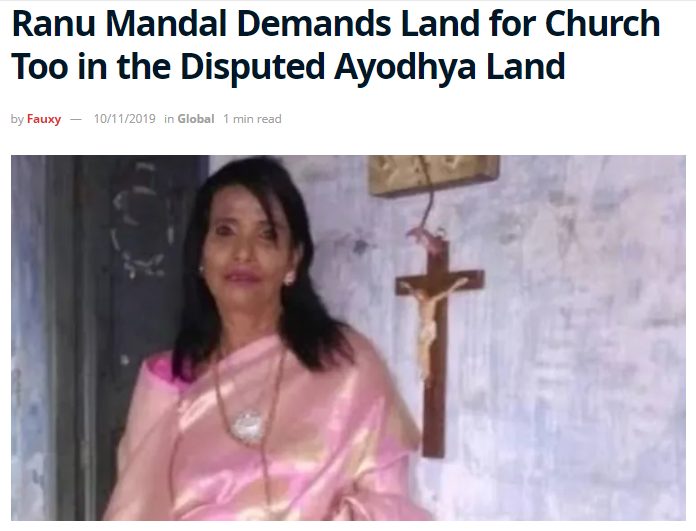 A satirical piece on singer Ranu Mondal wherein she calls for a church to be built in Ayodhya has been shared by several social media users as real.
[Update: Madhu Kishwar's tweet about the singer has been added to this report.]
Donate to Alt News!
Independent journalism that speaks truth to power and is free of corporate and political control is possible only when people start contributing towards the same. Please consider donating towards this endeavour to fight fake news and misinformation.