"नरेंद्र मोदी के दोबारा प्रधानमंत्री बनने की खुशी में *मेक इन इंडिया* के तहत 2 करोड़ों युवाओं को *मुफ्त लैपटॉप* देने का ऐलान किया है, अभी तक 30 लाख युवा सफलतापूर्वक आवेदन कर चुके हैं अब आपकी बारी है अंतिम तिथि से पहले अपना आवेदन जल्द से जल्द सबमिट कर (In the wake of becoming the Prime Minister for a second time, Narendra Modi has announced that he will give free laptops to two crore youth under the 'Make in India' initiative.  So far, 30 lakh youth, have successfully applied for this scheme. It's your turn now to apply before the last date. You submit yours as soon as possible -translated)" – This message was circulated on social media after Narendra Modi was elected as the Prime Minister for a second term. The message claimed that under the 'Make in India' scheme, PM Modi will distribute free laptops to two crore youth. According to the post circulating on social media, 30 lakh youth have been benefitted by the scheme so far. The message ends with a link – ' modi-laptop.saarkari-yojna.in' – where users can register for the scheme.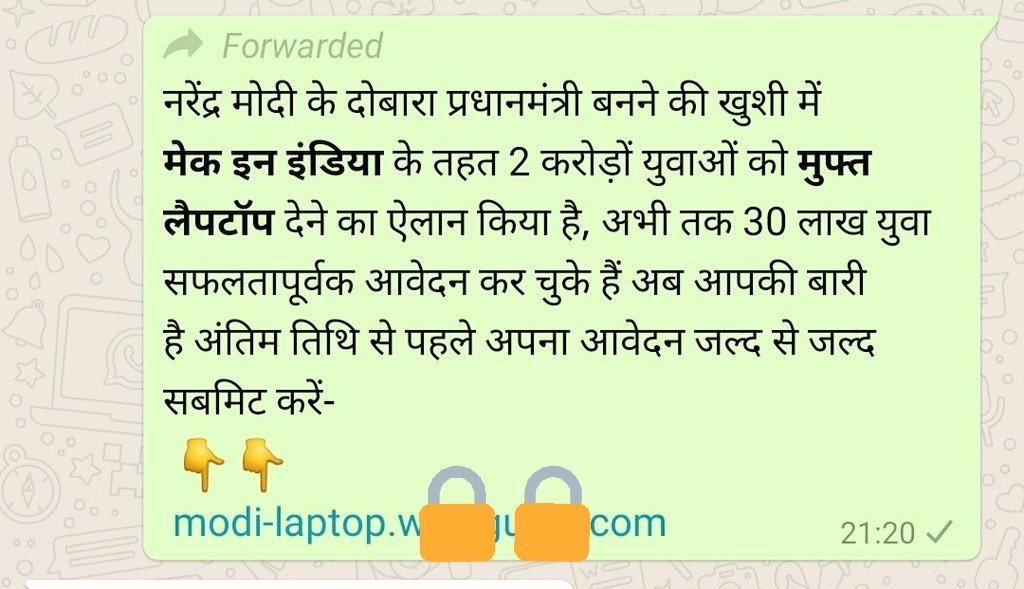 It has been massively shared on WhatsApp, masquerading as a government initiative.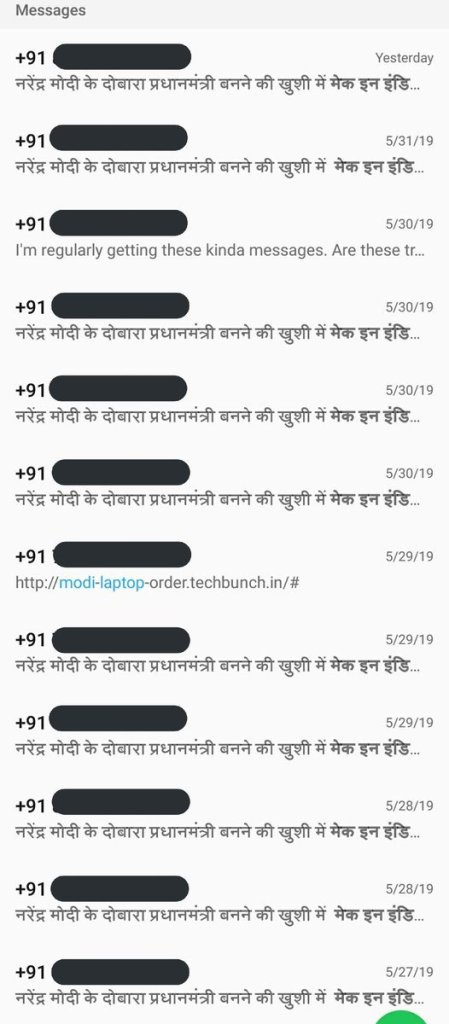 Individual users on Facebook and Twitter have also circulated the same message.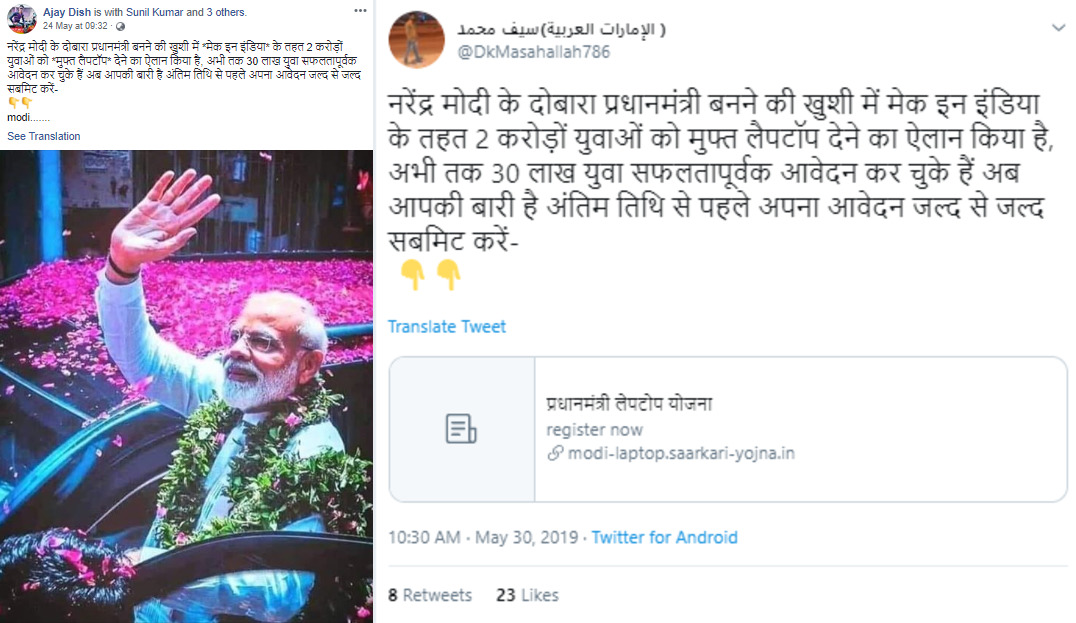 Not government website
The makers of the website attempted to make it resemble a government website, which is evident because of the use of the words "sarkari yojana". All URLs of government websites, however, end with '.gov' or '.nic' domain, while the URL of the viral website ended with '.com' and '.in'.
Official government websites use '.gov' while those affiliated to the government use '.nic'.

Online scamming business
Social media claim that two crore youth were given free laptops is false as no official government website validates the announcement. The police's investigation of the viral message tracked the website to Rajasthan thereby arresting the perpetrator Rakesh Jagir. According to the police, Jagir graduated this year with a post-graduation degree from IIT Kanpur. He purchased the website on May 23 after the election results were declared. He aimed to make money off the scheme and gather users' personal data.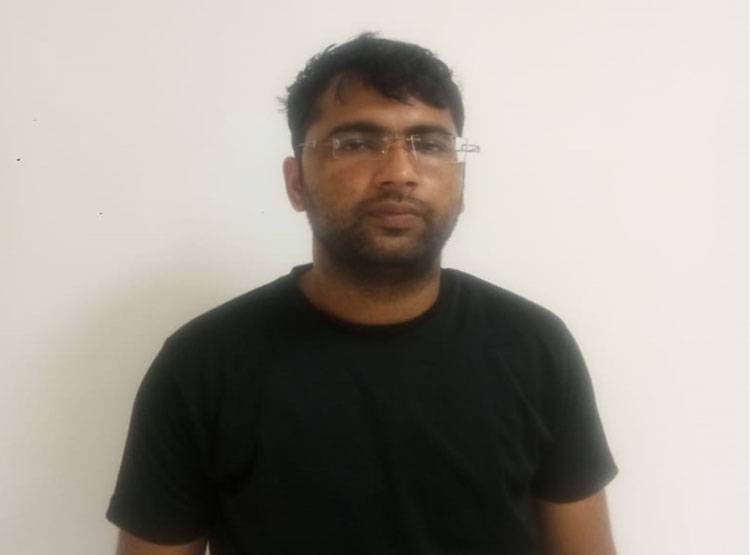 This misinformation was earlier debunked by other media organisations like BBC Hindi, Dainik Bhaskar and Aaj Tak that also found other such scam websites like modi-laptop.wish-karo-yar.tk and solor-panel.sarkaari-yojana.in.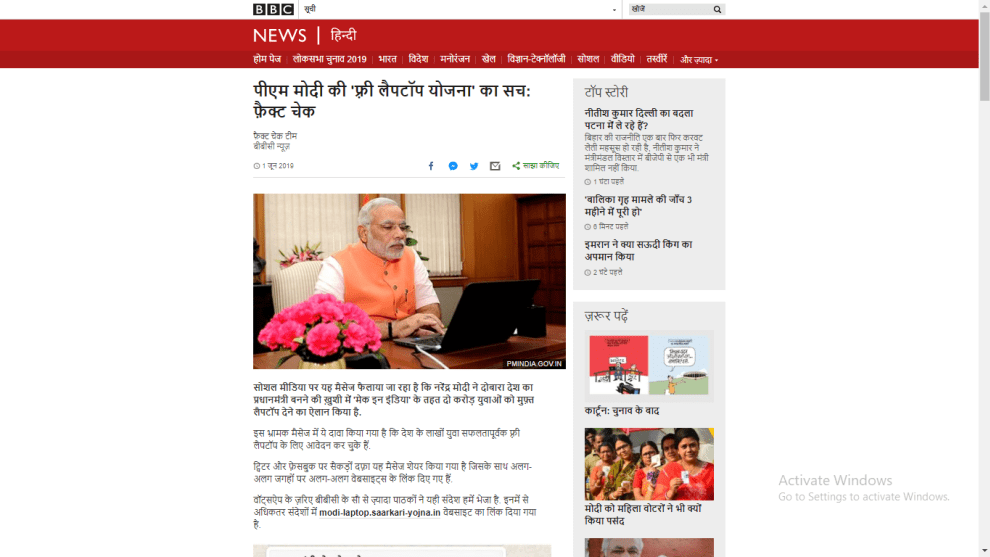 Accessing the link of the message opens up a page that carries the Prime Minister's photograph in the background. After filling the necessary information, the link redirects users to a form where the following questions are asked – "Have you used this scheme before?"; "Will you inform your friends about the scheme?" Users are subsequently asked to forward the message on WhatsApp to 10 other friends.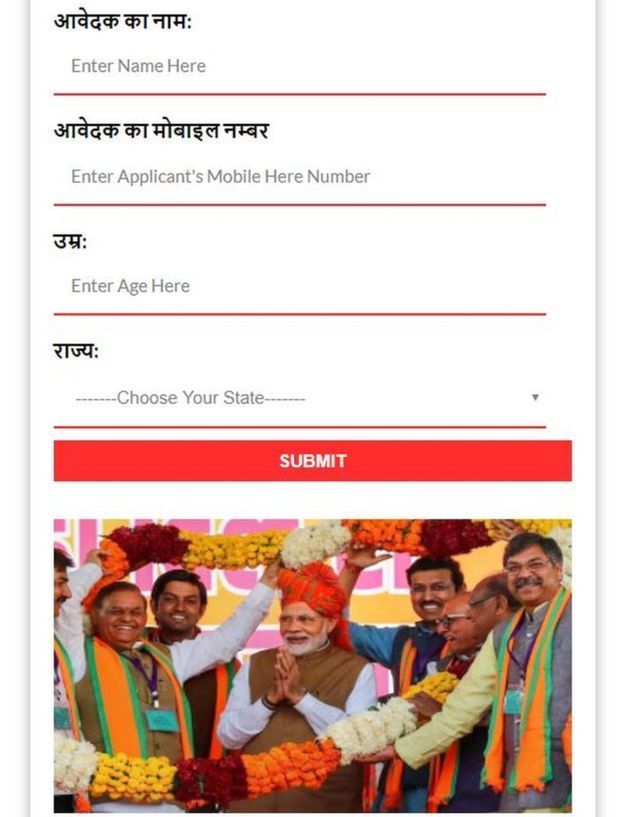 Recently, other such false messages were also viral on social media, including one related to the Pradhan Mantri Ayushman Bharat Yojana where it was claimed, "13 से 70 साल के 10 करोड़ लोगो को 5 लाख रुपये का निःशुल्क बीमा दिया जा रहा है। (10 crore people within the age of 13 to 70 will be given free insurance.)" The attached link asks users for personal information.
*प्रधानमंत्री आयुष्मान भारत योजना*

13 से 70 साल के 10 करोड़ लोगो को 5 लाख रुपये का निःशुल्क बीमा दिया जा रहा है।
*आवेदन करने की अंतिम तिथि 07 जून 2019 है*

Please opem link

*अभी आवेदन करें*👇👇https://t.co/9u3NlNiIIm

Regards
RaviRanahttps://t.co/PjORxJ8jHO

— Ravi Rana (@raviranabjp) June 2, 2019
Alt News has debunked other fake websites in the past years as well – scam websites con readers with offers of free bicycles and helmets; fake websites offer money to people in the name of the government. A scheme to gather personal information and make money through advertisements, such online scams can be recognised at first glance by carefully observing the URL.
Donate to Alt News!
Independent journalism that speaks truth to power and is free of corporate and political control is possible only when people start contributing towards the same. Please consider donating towards this endeavour to fight fake news and misinformation.To make an instant donation, click on the "Donate Now" button above. For information regarding donation via Bank Transfer/Cheque/DD, click here.