A video has gone viral which apparently shows two men marrying the same woman at the same time. Twitter Blue subscriber Mohammad Tanvir shared the video with a caption in Hindi that translates to, 'Two men applied vermilion on the same woman and also tied the Mangalsutra on her one by one. In this way the two married the same woman.'
दो लड़कों ने एक लड़की की मांग में सिंदूर भरा,
और बारी बारी से मंगलसूत्र भी बांधा।

इस तरह दो लड़कों ने एक ही लड़की से शादी कर ली।

इसकी पुष्टि @SureshChavhanke करेगा। pic.twitter.com/j3iX3vCsDT

— Mohammad Tanvir تنوير (@TanveerPost) March 17, 2023
DNA Hindi's official Twitter account tweeted a screenshots of the viral video while sharing a full article on it.
स्कूल में दो लड़कों से था प्यार, लड़की ने एक साथ दोनों से रचा ली शादी, जानें क्या है पूरा मामला #Viral #Wedding https://t.co/GKB1vSuVxc

— DNA Hindi (@DnaHindi) March 16, 2023
The headline of their article says, 'OMG: Loved two boys in school, married both, unique wedding photo viral'. In the story they have been described as 'a triple couple'. Towards the end of the story, the writer says, "यह वीडियो प्रैंक वीडियो भी हो सकता है." (This might be a prank video.)

News 18 Hindi also published an article on this viral video. It's titled, '2 men took turns marrying a woman, both tied mangalsutra on her, great example of sharing is caring'. Here also, it is mentioned towards the end that it might be a 'created content'. (Archive)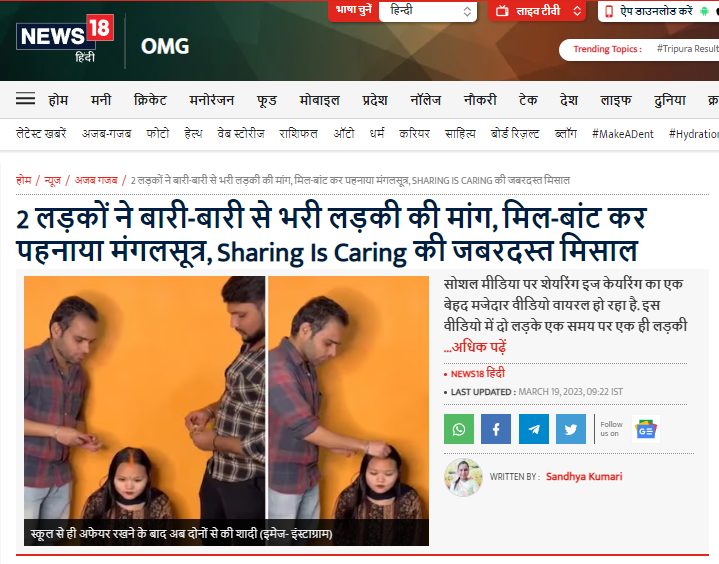 Tv9 Bharatvarsh also ran a report in Hindi. The headline says, 'Two boyfriends in school, the girl married both of them together; video viral'.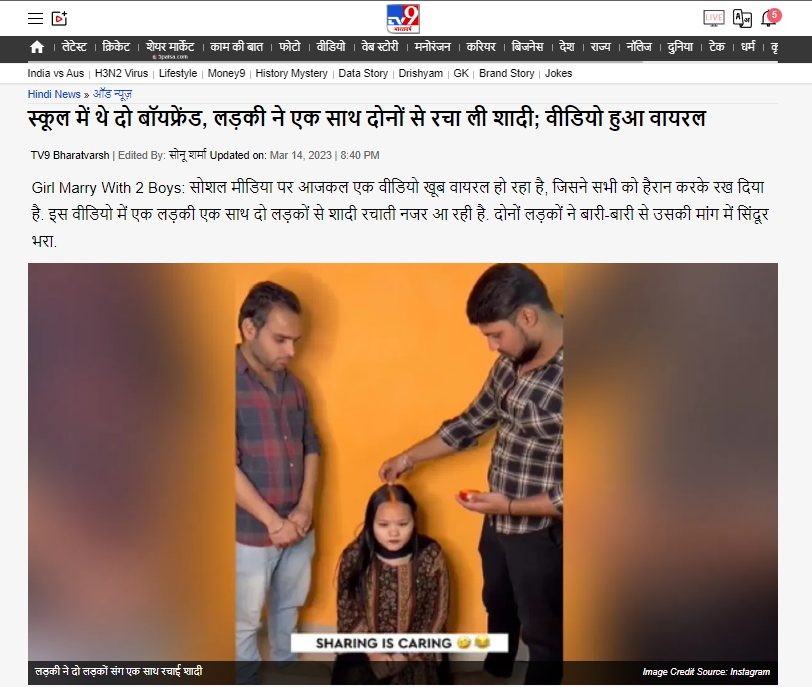 The official YouTube channel of News 18 UP Uttarakhand also shared a short video report on this incident.
Twitter Blue subscriber @Delhiite_ also tweeted screenshots from the viral video while sharing a link of the aforementioned article. He later deleted it.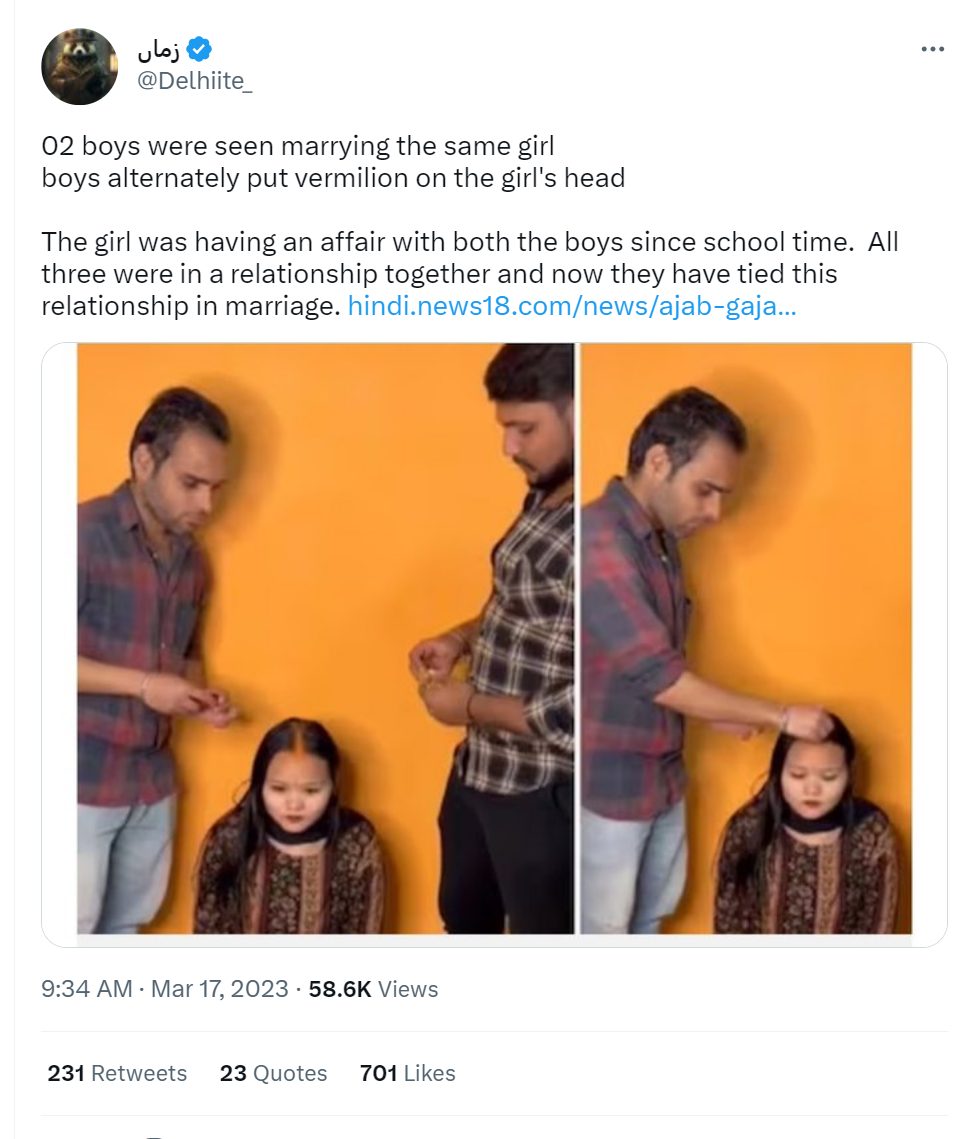 Fact Check
Using a keyword search on Facebook, Alt News came across the original video posted by a handle under the name of 'Tukka'. The page describes itself as a content creator. The 'Intro' of the page says, 'Tukka is a based on entertainment with clean and family content.'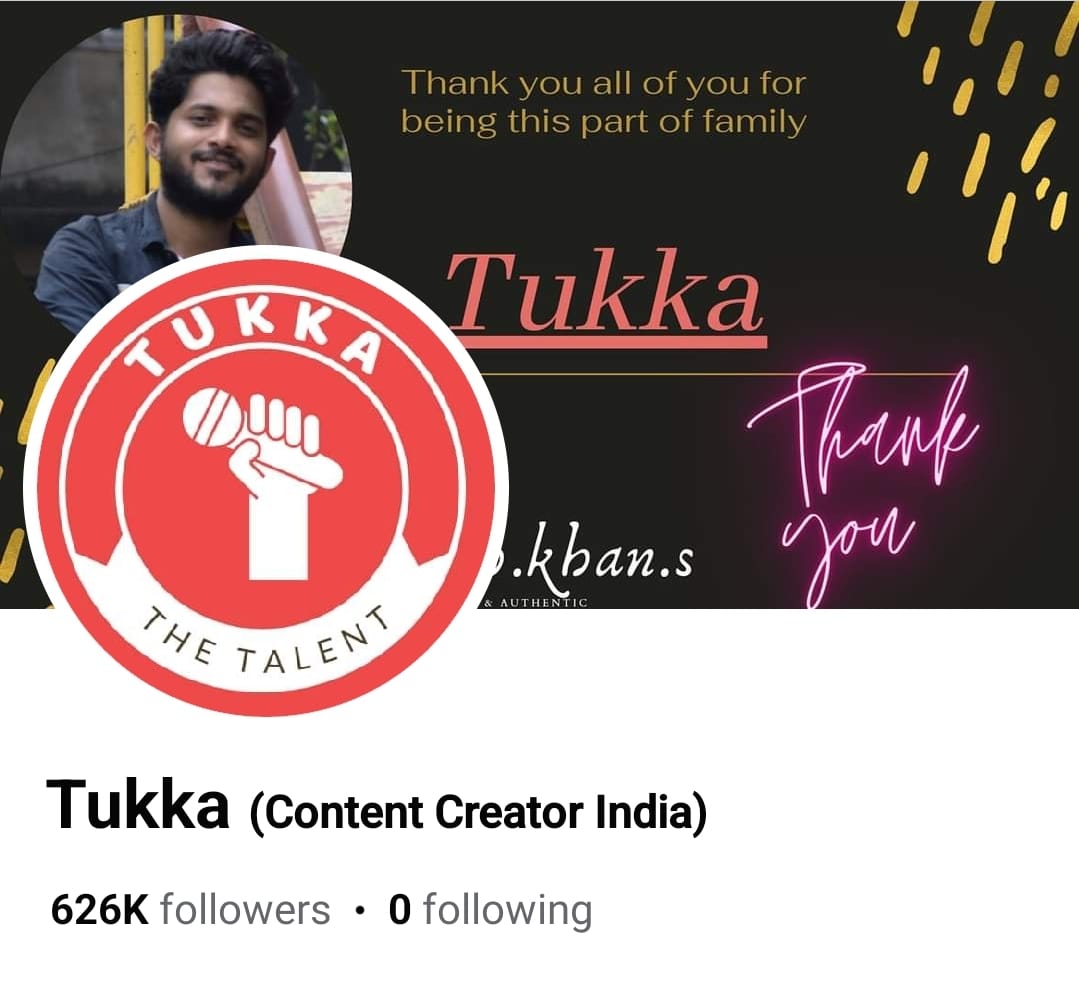 The page has over 6 lakh followers. It frequently posts scripted videos.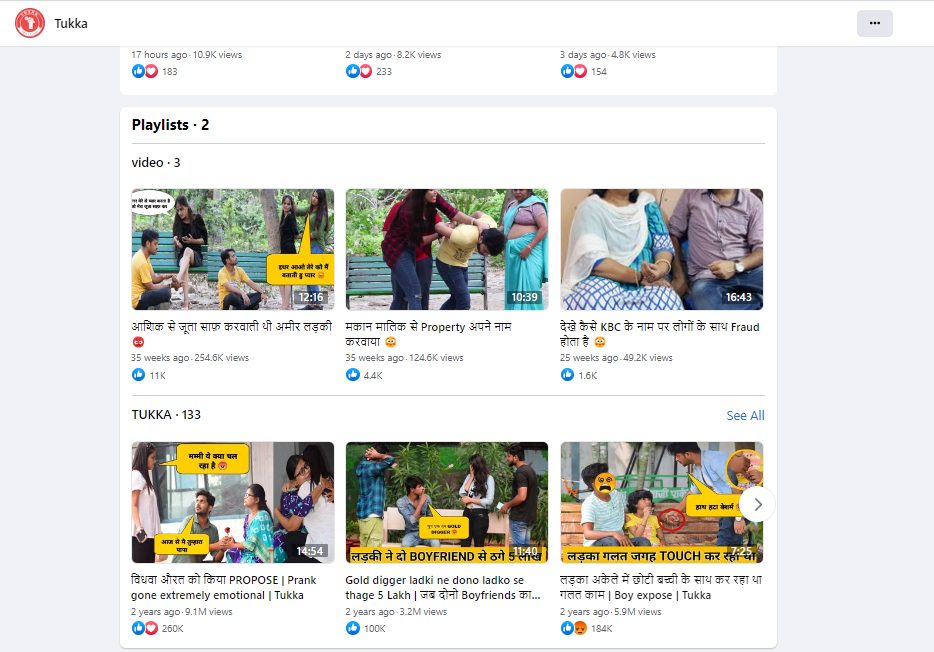 The video in question was posted on November 10, 2022.
दो भाई ने की एक लड़की से शादी
.
.
.
.
✔️Important Notice- permission has been taken from all the people Shown in this video to make a video and made for entertainment purpose only.

Posted by Tukka on Thursday, 10 November 2022
A disclaimer appears at the very end of the video for less than 2 seconds. It says, 'The video is produced under TUKKA PRODUCTION and is purely made for entertainment purposes only…'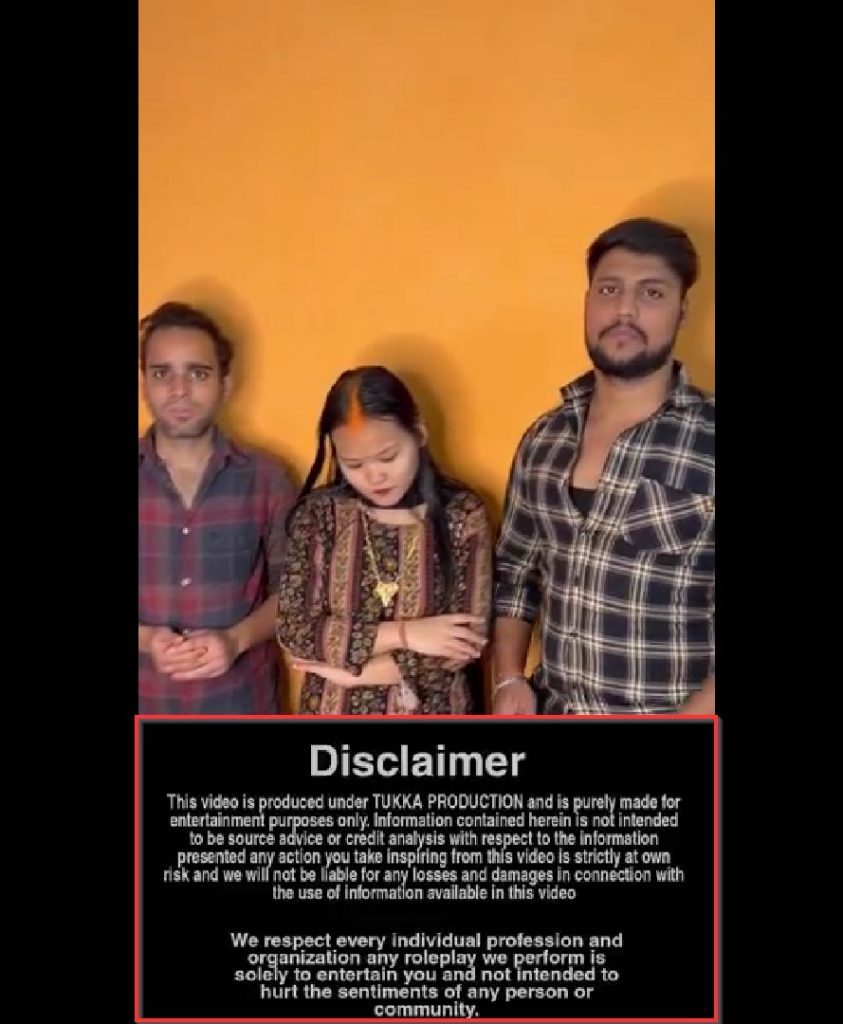 To sum up, the video that has been making the rounds on social media apparently showing two men marrying a woman is actually a scripted video posted on a Facebook page on November 10, 2022. Media outlets like DNA Hindi and News 18 Hindi wrote reports on the video and gave their readers the impression that it was an actual case of two men marrying the same woman at the same time.
Donate to Alt News!
Independent journalism that speaks truth to power and is free of corporate and political control is possible only when people start contributing towards the same. Please consider donating towards this endeavour to fight fake news and misinformation.