A video of a man being thrown to the ground and tortured by a few men wearing police uniforms is being shared on social media as a recent incident. In the video, one of the police officers can be seen pinning the man to the ground with his right foot and holding a gun to his face. Another police officer and a man in plain clothes torture him by removing his nails.
Twitter user IrAm (@The_Iram__) shared the above-mentioned video on August 6 with a caption in Hindi that can be translated as: "Don't know where this video is from, but strict action should be taken against these savage policemen. The government has filled everyone with so much hatred that people have come down to brutality 😢😢" The user later deleted the tweet but it had already received over 38,000 views and had been retweeted over 1,700 times by then. (Archive)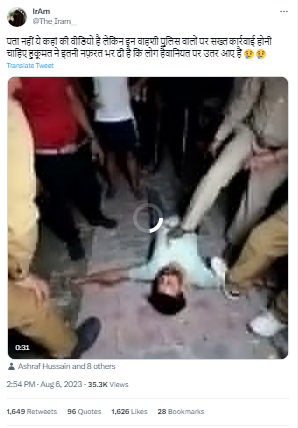 Alt News also received several requests on its WhatsApp helpline for checking the authenticity of this video.
This slideshow requires JavaScript.
Fact Check
After breaking down the video into several key-frames, we ran a reverse image search on one of them. This led us to a YouTube channel called Vipin Pandey Entertainment Production. We found the viral video on this channel in the form of a YouTube short. It was uploaded on July 28 with the caption: "Coming soon video So please support my youtube channel".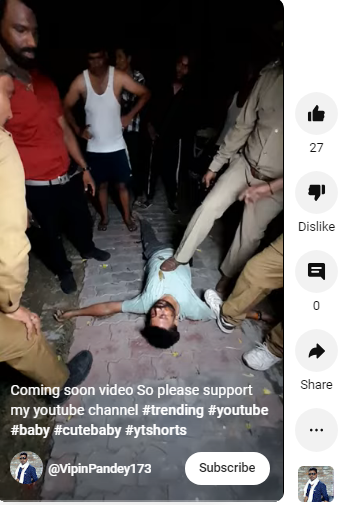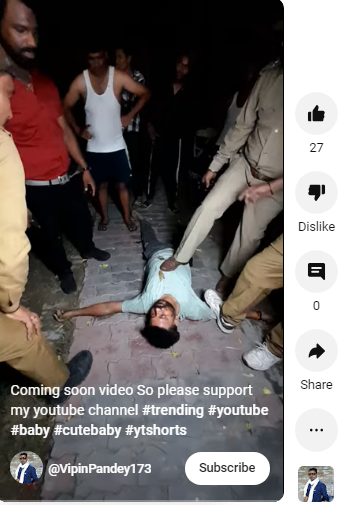 On examining the contents produced by the channel further, we found that the YouTube channel produced short 'movies' performed by actors. On July 31, a video was published by the channel that featured the same people as seen in the viral video. Before this 'movie' begins, a poster with the name of the short film and the name of the actors and crew members involved is shown. Following this a text appears on the screen in Hindi that says, "This story is inspired by true events". It then further displays the name of the production house, actors, story writer, DoP and director/producer.
The description box for the YouTube video also has the names of the actors and the crew members and a text in Hindi that can be translated as: "Delhi Sakshi murder: How 16-year-old Sakshi was killed after being stabbed with a knife and hit with a rock in Delhi's Shahbad Dairy area: Through this video, we are trying to spread the message that the parents should try to be close to their kids so that they feel free to share everything with them".
All our above findings prove that this video isn't of a real incident of police brutality but a scripted short film performed by professional actors.
This slideshow requires JavaScript.
We also came across the Facebook profile of the director/producer of the short film, Vipin Pandey. We noticed that his bio said 'Artist' and he shared the related YouTube video on his Facebook profile with the hashtag 'video creator'. He also shared a reel from the same video with a caption in Hindi that said: "My short movie 'dosti ki saza' video is out, please like, subscribe and comment. I'll share the link".
This slideshow requires JavaScript.
Therefore, the claim that this viral video shows a case of police brutality is false. The video is scripted and performed by actors.
Donate to Alt News!
Independent journalism that speaks truth to power and is free of corporate and political control is possible only when people start contributing towards the same. Please consider donating towards this endeavour to fight fake news and misinformation.