A viral claim on social media suggests that a 400-year-old Shiva statue in Pratapgarh, Gondia district in Maharashtra was desecrated by members of the Muslim community. One of the firsts to float the claim was Twitter user @craziestlazy (archive).
But today afternoon I got news by local media that the Statue of lord Shiva vandalised by peaceful.
Actually peaceful not broke the Statue they broke social harmony, trust and all in one go.
This is a lesson for us all that they teach us is "Fuck Ganga Jamuni Tehzjeeb".🙏
3/3 pic.twitter.com/lXqS6MYmMv

— Ā̷̢̅̈͆̉̔̚bhyuday HMP (@craziestlazy) July 26, 2019
A slightly altered message in Hindi claims that the incident took place in Morgaon – "हिंदुओ के पवित्र सावन महीने में महाराष्ट्र के मोरगांव में महादेवकी प्राचीन मंदिरमें तोड़फोड़ की गई और महादेवकी मूर्ति को आग लगा दी गयी। Narendra Modi क्या सिर्फ हिन्दू पर ही अत्याचार होगा? कभी प्रसादमें ज़हर मिला कर कभी मंदिर, मूर्तियों पर हमला करके? कहा गए #IntoleranceGang (During the auspicious month of savan Mahadev's ancient temple was vandalised and Mahadev's statue was ignited. Narendra Modi, will only Hindus be tortured? Sometimes by mixing poison in prasad and sometimes vandalising statues and temples? Where is the #IntoleranceGang.)"
A similar message circulated in Kannada also claims that the incident took place in Morgaon – "ಮಹಾರಾಷ್ಟ್ರದ ಮೊರ್ಗಾವ್ ಎಂಬ ಪ್ರದೇಶದಲ್ಲಿ ಇರುವ ಹಿಂದೂಗಳ ಪ್ರಾಚೀನ ಧಾರ್ಮಿಕ ಸ್ಥಳದಲ್ಲಿರುವ ಶಿವನ ದೇವಾಲಯವನ್ನು ಧ್ವಂಸ ಮಾಡಿ, ಅಲ್ಲಿದ್ದ ಮೂರ್ತಿಗೆ ಬೆಂಕಿ ಹಚ್ಚಲಾಗಿದೆ..! ಹಿಂದೂಗಳೇ ನಾವು ಈಗಲೂ ಎಚ್ಚೆತ್ತುಕೊಳ್ಳದಿದ್ದರೆ ಮುಂದೆ ಬಹುದೊಡ್ಡ ಅನಾಹುತ ಕಾದಿದೆ..!"
What is the truth?
A keyword search on Google led Alt News to a PTI report republished by The Week. According to this article, initial investigation by the police suggests that a Shiva idol installed on a hill in Arjuni Morgaon tehsil in Gondia district was found damaged, possibly by lightning. This explains the burn marks on the top of the idol. It is inconceivable that people climbed a 15-feet towering structure to burn its crest instead of its foundation.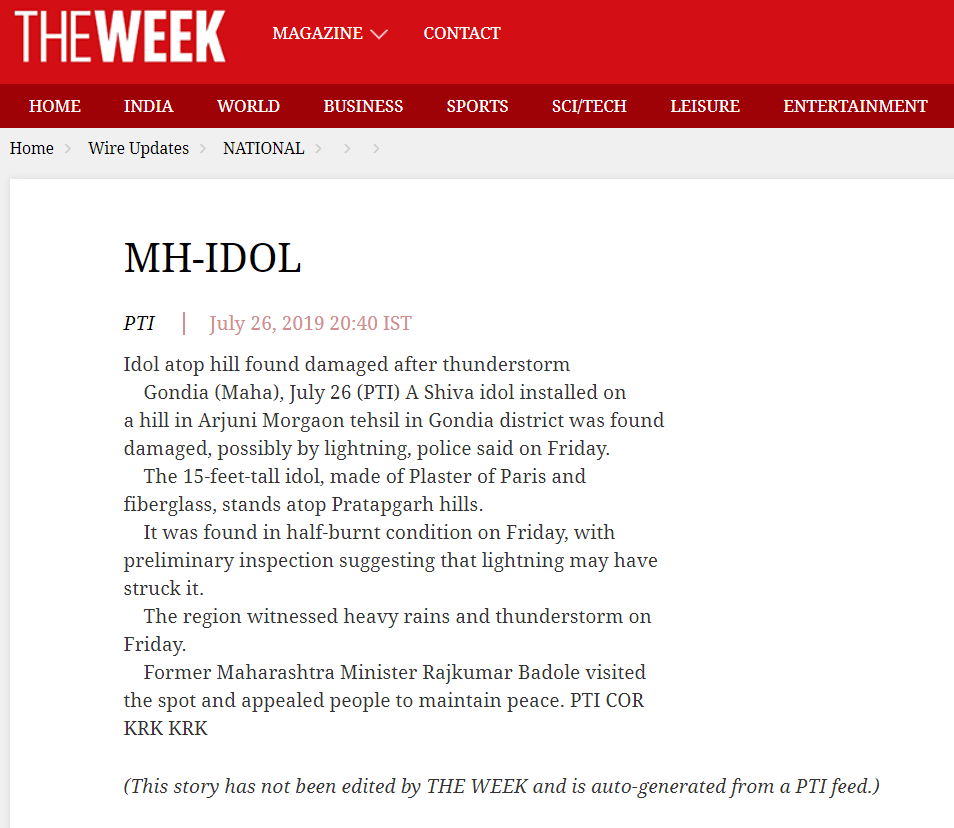 Alt News contacted Arjuni Morgaon police station and was told that the structure was damaged in a possible thunderstorm. "The initial inspection suggests that the damage was caused by a lightning strike. We have sent the spoils to Nagpur for further investigation," said the police. When asked if there have been reports of vandalism, specifically by miscreants belonging to the Muslim community, the police said that nothing of the sort has come up in their investigation.
A Shiva statue damaged by a possible lightning strike is being made out to be a case of vandalism with several social media users falsely accusing members of the Muslim community.
Donate to Alt News!
Independent journalism that speaks truth to power and is free of corporate and political control is possible only when people start contributing towards the same. Please consider donating towards this endeavour to fight fake news and misinformation.