On September 6, Times Now reported that China has thrown open the Pangong Tso Lake to international tourists and domestic tourists as well. "The videos of opening Pangong Tso Lake to the international tourists on the Chinese side are being disseminated by China itself. The move seems like a PR exercise to gather more attention to their side," claimed Times Now with the anchor asserting, "These are the visuals that we have acquired."
India and China have been embroiled in cross-border skirmishes which aggravated after 20 Indian army men were martyred in Galwan Valley on June 15. People's Liberation Army's (PLA) western theatre command (WAC) claimed that China had to take "countermeasures" after Indian border troops fired warning shots on September 7 near the Shenpao mountain region near the south bank of Pangong Tso, reported Hindustan Times. The Indian army has dismissed the allegations.
Visuals of '3 idiots' shooting point
China has indeed released a video of the lake on the Chinese side. This was also tweeted by a journalist of the state-controlled broadcaster CGTN.
🇨🇳Actually, #PangongTso in #China is open to tourists at home and abroad for quite a long time.
The lake is near Chinese national highway, a good place for self-driving travel. We have a resort on the lake there. 😆 pic.twitter.com/ZbaWDUw1gk

— Shen Shiwei沈诗伟 (@shen_shiwei) September 8, 2020
But funnily enough, Times Now aired scenes of the '3 Idiots' shooting point at Pangong Lake to report on the development. Bollywood film '3 idiots' released in 2009 leading to a surge in Ladakh tourism. On the Indian side of the Pangong Lake is a '3 idiots' shooting point built to attract tourists. Times Now aired these visuals as China "throwing open" Pangong Lake for domestic and international tourists. According to The Indian Express, the lake is 135-km long, out of which about 45 km-long western portion is under Indian control while the rest is controlled by the Chinese.
Alt News has juxtaposed screenshots of the Times Now broadcast with a publicly available YouTube video of the '3 idiots' shooting point at Pangong Lake. As evident, yellow bike and chair used in the film can be spotted here. A poster of the movie can also be seen.
This slideshow requires JavaScript.
The '3 idiots' spot has several yellow coloured bikes which, according to The Hindu, can be rented by tourists.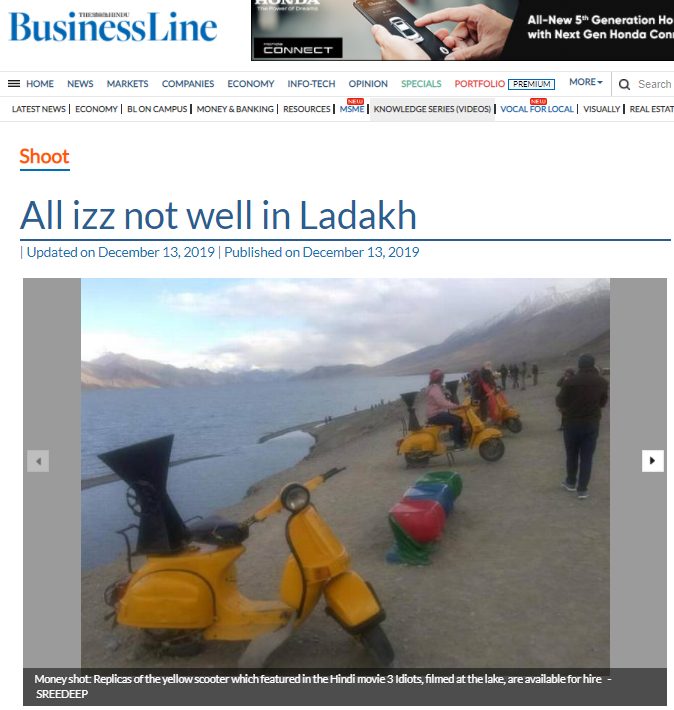 The one with a conical object attached to it was used by actor Kareen Kapoor in the film. A similar scooter is also visible in the video broadcast by Times Now.
This slideshow requires JavaScript.
To sum it up, while there have been reports of the Chinese side of the Pangong Lake opening up for tourists, Times Now aired visuals of the '3 idiots' shooting point on the Indian side to report on the news.
[Update: Times Now took down is broadcast 'China throws open Pangong Tso Lake for international tourists amid border tensions with India' after this fact-check was published. A downloaded video of the same has been added to the report.]
Donate to Alt News!
Independent journalism that speaks truth to power and is free of corporate and political control is possible only when people start contributing towards the same. Please consider donating towards this endeavour to fight fake news and misinformation.