Imagine waking up to the news in a national newspaper that you are missing and this could somehow be linked to another person who has joined a terrorist group. A geologist and his family had to go through this ordeal after a Times of India story named him with the headline "Roommate of AMU PhD student who joined Hizbul also missing." A day after the news broke out that PhD scholar at Aligarh Muslim University Mannan Bashir Wani had allegedly joined terrorist group Hijbul Mujahideen, Times of India reported that his roommate too has been missing. Quoting Aligarh SSP, Rajesh Pandey, the paper claimed that a preliminary enquiry has revealed the roommate who was also from Baramulla is missing since July 2017. The same story was also carried by ABP News, Firstpost, NewsX and the web portal OpIndia quoting Times of India without any independent verification.
After reports appeared in Free Press Kashmir about the story of the missing roommate being fake, Alt News managed to make contact with him and found that he is not "missing". He confirmed to Alt News that he had completed his MSc from Aligarh Muslim University in 2015 and enrolled in the PhD program. He did not complete the program and left the University in 2016. Since then he has been working as a geologist with a mining firm in Nagpur.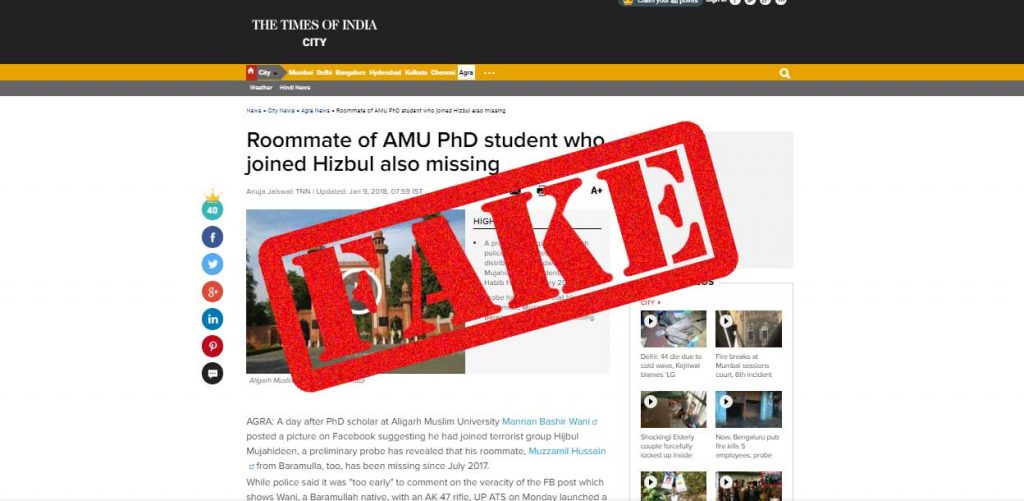 In a call to Free Press Kashmir, the gentleman stated that "I am very disturbed since I saw this report. I have a career and a life here and this news report has put me in danger. This journalist never called or spoke to me before doing this report. I don't know how they are claiming that I am missing and what they mean by it."
Baramulla Police has also confirmed in a tweet that the reports carried by a section of media about a missing boy from Baramulla are false.
The report carried by section of media about Baramulla boy Muzamil Husain going missing from AMU is incorrect and is hereby refuted.The boy has been working as Assistant Geologist in MECL Nagpur,Mahrashtra since October,2016.

— Baramulla Police (@BaramullaPolice) January 9, 2018
AMU also put out a statement on its website, "AMU categorically states that the information carried by a section of media is misrepresentation of facts, which can create a great deal of misunderstanding." In the statement, Prof Abu Talib (Chairperson, Department of Geology, AMU) reiterated Baramulla police's version.
SP Atul Srivastava of Aligarh has claimed that he had never said the student was missing. He told Indian Express ''I only told reporters that he is not in Aligarh. Today, it got cleared that he is working in a company." Indian Express also quoted the roommate's brother as saying, "My brother left AMU more than 16 months ago, soon after he was employed as a geologist in a company, and started working there after police verification. My brother had intimated his professor and guide about his leaving, as well as joining the company."
At the time of writing this piece, even after confirmation from Baramulla Police and the roommate himself, there is no apology or retraction from Times of India. The story is still available on its website though it has been edited to remove the name of the person. Firstpost and ABP have deleted their stories. OpIndia has replaced the original story with one saying that kin claim that the missing roommate is not missing. NewsX has not yet deleted its tweet and story. This piece of lazy journalism by Times of India has put an innocent individual and his career at risk. He and his family are now frantically making calls to the publications, informing them that he is not missing and requesting for his name to be removed from their stories. Yet again, we see media sensationalizing an unverified news and shying away from apologizing or retracting when called out.
Donate to Alt News!
Independent journalism that speaks truth to power and is free of corporate and political control is possible only when people start contributing towards the same. Please consider donating towards this endeavour to fight fake news and misinformation.