Sagarika Ghose's new book, "Indira – India's Most Powerful Prime Minister" had 50 reviews on July 3rd, 44 of which were negative one-star ratings. There is nothing unusual if a book attracts negative ratings but there is a small problem in this case – The book will only be available on Amazon from July 4th. An army of trolls has descended on Amazon India to leave a customer review for a book whose first copy is yet to be delivered by Amazon. Yes, we are witnessing another concerted troll attack on a book by liberal author who is seen as critical of the government.
Trolls headed to Amazon to rate the book as soon as the Sagarika Ghose tweeted about it.
With my new book, "Indira, India's most powerful prime minister ". In bookstores. On Amazon from July 4 pic.twitter.com/oJlZyrFYGU

— Sagarika Ghose (@sagarikaghose) July 2, 2017
Below is a screenshot of the Amazon customer reviews page on July 3rd, one day before Amazon starts delivering the book.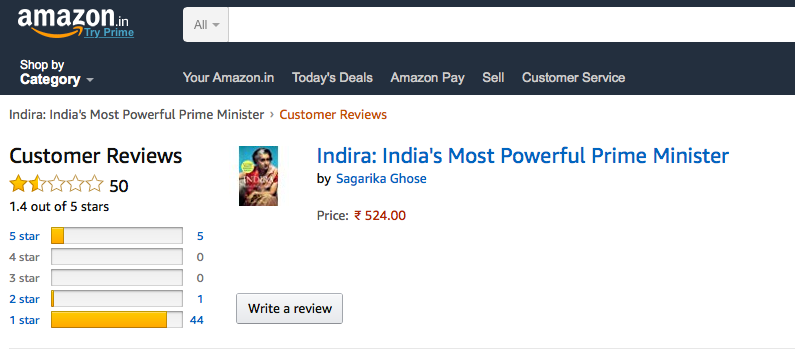 If we analyse these ratings further, we see that out of the 50 ratings, only one is a verified purchase on Amazon. In line with the pattern seen in the case of books by journalists seen as critical of the government, 49 out of these 50 reviews were made by those without a verified purchase made on Amazon. Of these 49 ratings, 44 are one-star, one is a two-star and four are five-star. Even the one verified purchase which rated the book as 5-star has done so before Amazon started the actual delivery.
While the book was available in the bookstores, as seen from the comments below, it seems unlikely that many of the reviewers had bothered to read it, let alone buy a copy.
"Worst book" –
"Pathetic"
"Don't waste your money, better feed some poor"
"Can't give zero rating and hence one-star"
"Book full of Crappy Imagination, Want my Money back with compensation for Mental Harassment"
"Don't buy, it is horrible Congress propaganda"
Funnily, one reviewer wanted his money back even though he has not purchased the book on Amazon. The troll brigade is clearly not listening to the author's appeal to wait for the book to be delivered before rating it.
Idiot troll army attacks my Indira book within mins of Amazon announcement. Sirs, book takes at least a day to deliver, at least read it!

— Sagarika Ghose (@sagarikaghose) July 3, 2017
There was a clear pattern in the negative reviews:
Many of reviewers had no other book review on Amazon. This is their sole book review and that too without purchasing the book from Amazon.
Many of those who have rated books in the past, have also given one-star ratings to books by other authors like Rana Ayyub, Barkha Dutt and Swati Chaturvedi
The rating is often accompanied by just one negative sentence and not a genuine critique of the book.
Many of the comments are directed at the author and her perceived political views rather than the book itself.
"The Ministry of Utmost Happiness" – yet another target for trolls
Not surprisingly, the same pattern can be seen in the ratings for Arundhati Roy's "The Ministry of Utmost Happiness". Out 145 customer reviews, 59 represent verified purchases. The unverified ones accounted for most of the one-star ratings, pointing to a clear attempt to manipulate the ratings of the book. 54 out of the 55 one-star ratings come from those who have not made a verified purchase of the book from Amazon.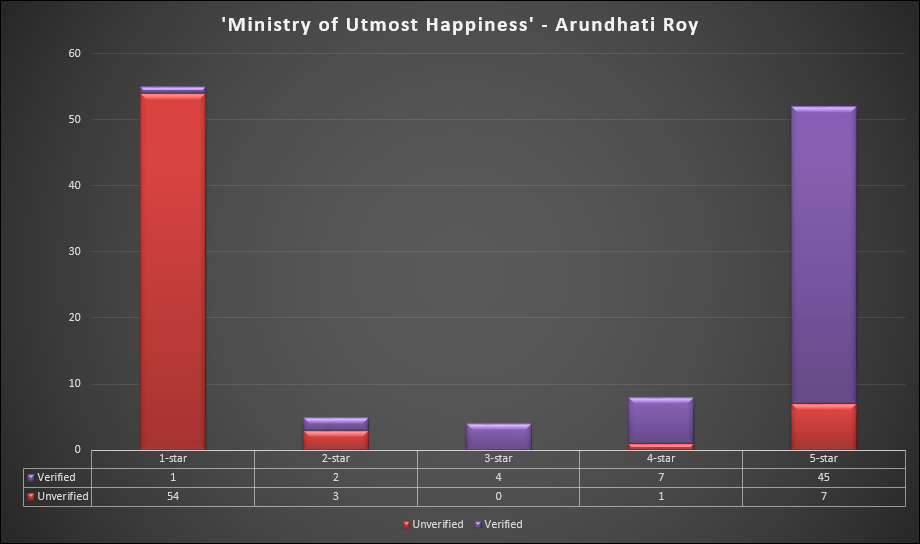 Trolls may be disappointed to know that their attempts to downrate the much awaited book of a Booker prize winner stand wasted. Amazon has provided a glorious review of Roy's book which includes highly positive comments of international press.
The case of "NDTV Frauds" – Reversing the trend
Those who thought that the troll brigade only downrates books are in for a surprise. Reviews of a book by the name of "NDTV Frauds" by Sree Iyer shows the opposite. Scores of people have given the book a 5-star rating without making an actual purchase on Amazon.
Out of 174 reviews, only 37 are verified purchases from Amazon. A total of 137 people have rated the book without making a purchase, out of which 110 have given it a 5-star rating. The rating is accompanied by comments attacking NDTV and commending the author for "exposing" it.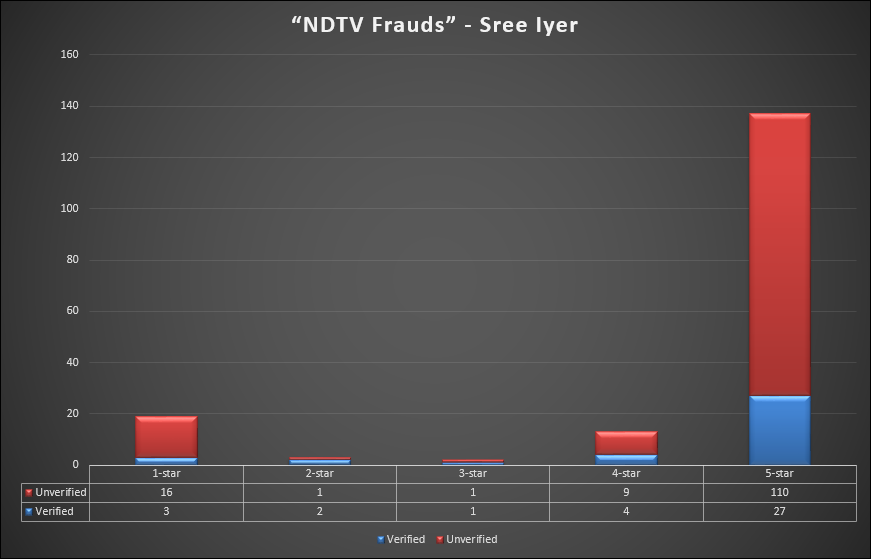 Such organised manipulation of ratings is nothing short of an attempt to sabotage. Liberal voices, seen as critical of the BJP government have always been targets of abuse on social media. It is not surprising that this abuse has spilled on to e-commerce platforms with a clear objective to downrate books and dissuade people from purchasing it. NDTV, Sagarika Ghose and Arundhati Roy are all favourite punching bags for trolls and what we have seen above is nothing short of a deliberate concerted attack. It is time Amazon India finds a way around this issue to protect authors from such organised mob attacks.
Read Part 1 of this story about how book ratings are being sabotaged in an organised fashion here.
Donate to Alt News!
Independent journalism that speaks truth to power and is free of corporate and political control is possible only when people start contributing towards the same. Please consider donating towards this endeavour to fight fake news and misinformation.