On January 29, TV9 Bharatvarsh broadcasted a special report called 'The M factor'. In the opening remarks, anchor Samir Abbas stated that this report conducts a ground test in Western UP's Bijnor district to understand which party is attracting Muslim votes. Just a day prior to this report, Chief Minister Yogi Adityanath had conducted a door-to-door campaign in Bijnor.
BJP's National Spokesperson Sambit Patra tweeted a 47-second clip from this broadcast. It showed a woman endorsing the Bharatiya Janata Party (BJP) and CM Adityanath. It was also posted by BJP Uttar Pradesh on Twitter. The video from these two accounts has gained over 2 lakh views cumulatively. The woman in the video has been identified as "Noorpur's Muslim voter". Noorpur is a city in Bijnor.
सबका साथ, सबका विकास, सबका विश्वास..

इसीलिए उत्तर प्रदेश का जन-जन कहे एक बार फिर योगी सरकार। pic.twitter.com/hJglpCUeoQ

— Sambit Patra (@sambitswaraj) January 29, 2022
गौर से सुनो विपक्षियों…

यूपी की बेटी ने बातया कि सुरक्षा चाहिए तो भाजपा चाहिए…#यूपी_मांगे_बीजेपी pic.twitter.com/UfvXt6jmAC

— BJP Uttar Pradesh (@BJP4UP) January 29, 2022
TV9 interviewed 11 Muslim individuals in the vox pop, out of which 10 expressed support for the BJP. TV9's Managing Editor Sant Prasad Rai quote-tweeted Patra's tweet. In a gleeful tweet, he wrote that the video is "massively viral" and lauded reporter Shree Nivash for presenting an "actual report".
@TV9Bharatvarsh के शो #विनिंगफैक्टर की ये क्लिप ज़बरदस्त वायरल है।अब @sambitswaraj ने भी इसे ट्वीट किया है। Well done @shreenivash2001 जिन्होंने पूरे यूपी की ख़ाक छानी है और हर फ़ैक्टर की एक्चुअल रिपोर्ट भेजी है। https://t.co/eyodzggP1e

— Sant Prasad Rai (@santprai) January 29, 2022
Propaganda as news?
Vox pop is a form of journalism where a reporter conducts short interviews with the public to present popular opinion. It is derived from the Latin phrase Vox populi which translates to "voice of the people" in English. One of the key features of vox pop is that the interviews are with ordinary members of the public and they aren't rehearsed. The idea is to get the opinions of people at random to present the "majority" opinion.
However, as it turns out, a large number of the people supporting the BJP in TV9's vox pop were existing members, workers and supporters of the BJP.
Alt News watched the entire broadcast and identified people associated with the BJP.
At the 8:45 mark, one Alisha Siddiqui was interviewed about the upcoming elections in UP. She said, "I feel that this time Yogi ji will be elected…" TV9 has identified her as "Noorpur's Muslim voter".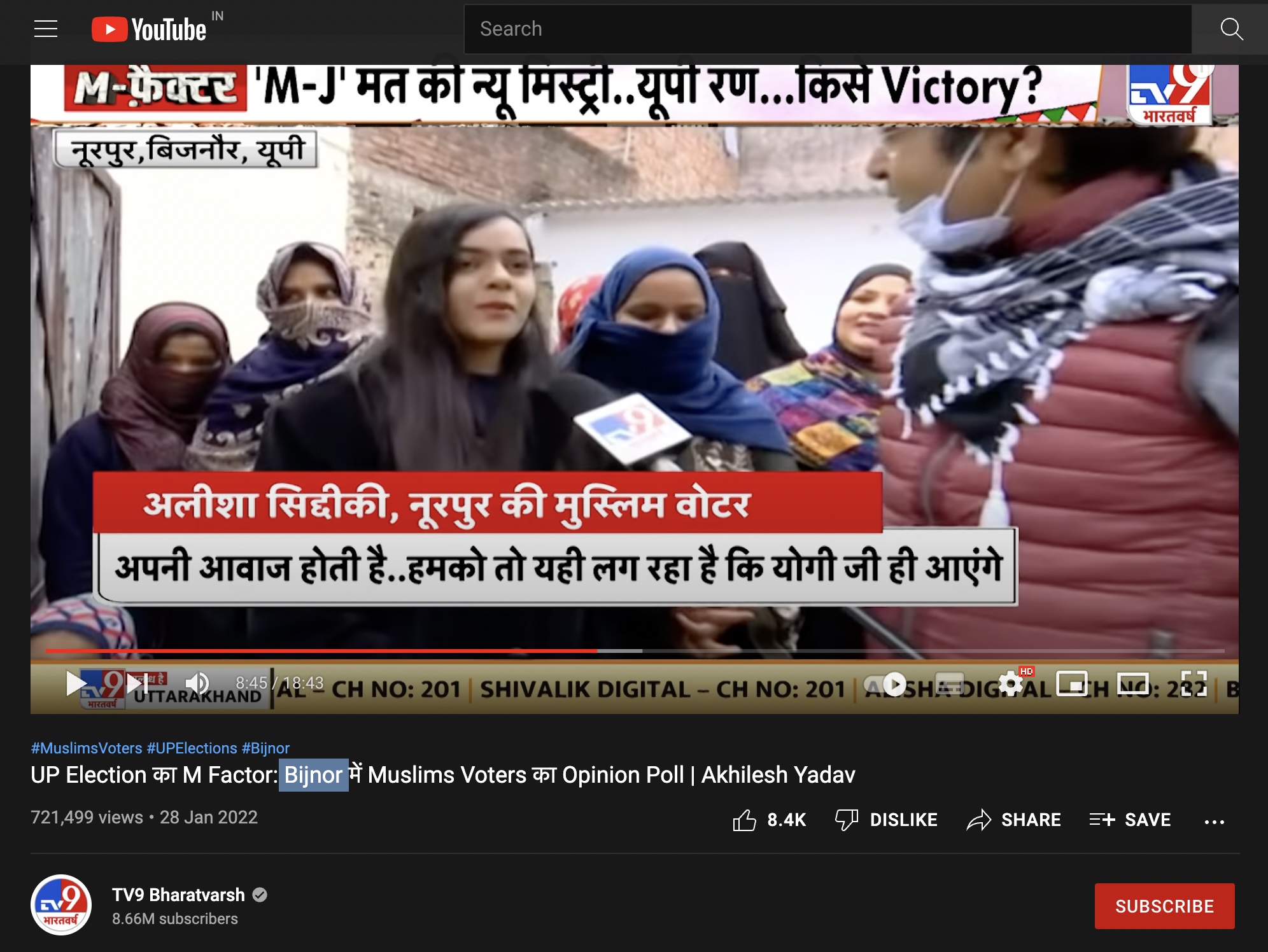 However, searching her name on Facebook and rummaging her profile reveals that she is a member of the BJP. We found a poster of the BJP created on the occasion of Parakram Diwas (Netaji Subhas Chandra Bose Jayanti) that carries Siddiqui's photograph. There are many other images on her profile that establish she is a BJP member. (1 and 2)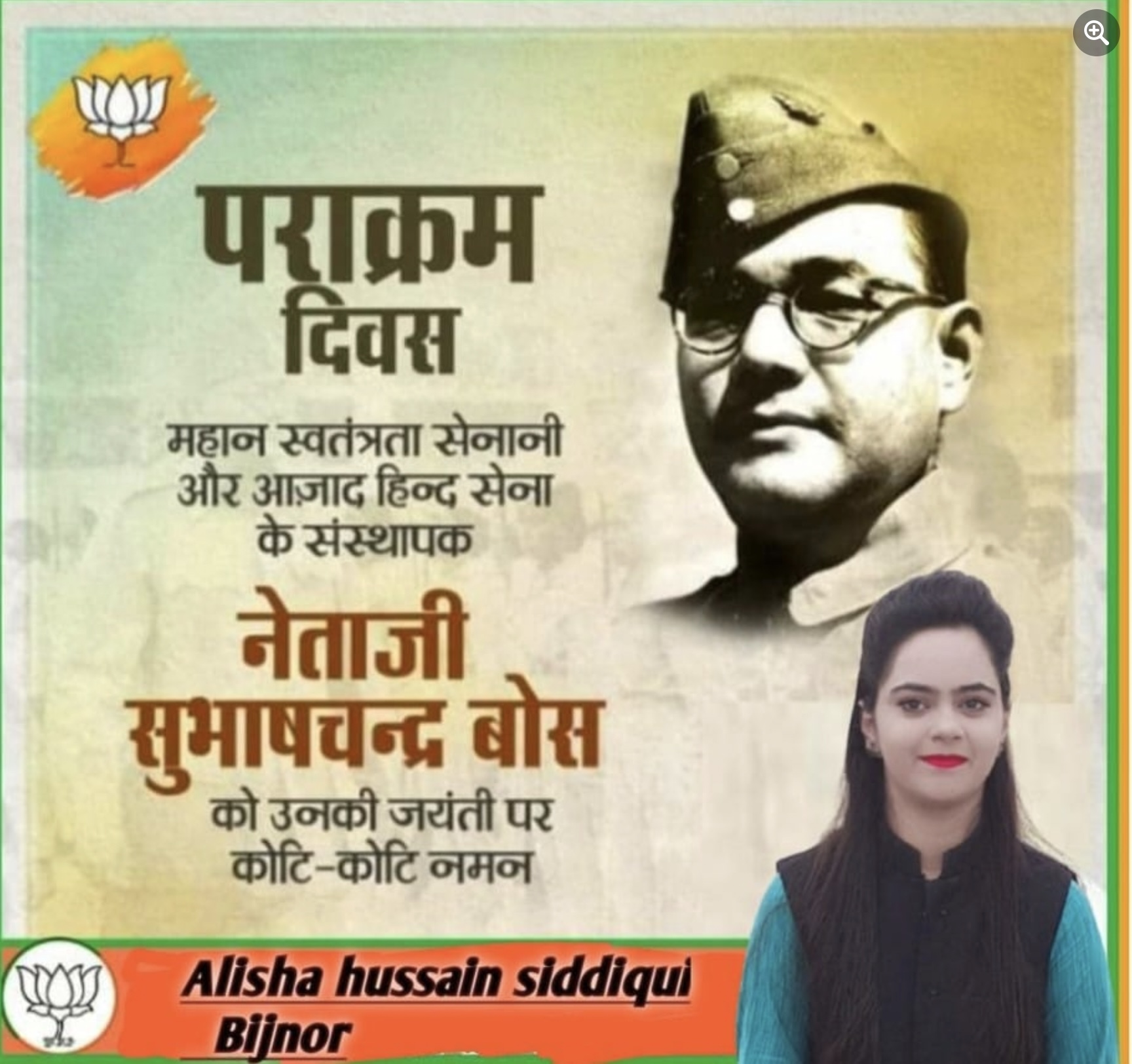 At the 7:05 mark, an unnamed man is also introduced as a "Muslim voter from Noorpur". He named BJP's Bijnor-based leader CP Singh when the reporter asked, "Who is the one to turn hatred to love?" After the man mentioned Singh, the reporter asked, "Who is CP Singh?" The Muslim man said, "He is our MLA… BJP's candidate." The reporter then asked the man multiple times, "Are you from BJP?" to which the man responded – "Yes".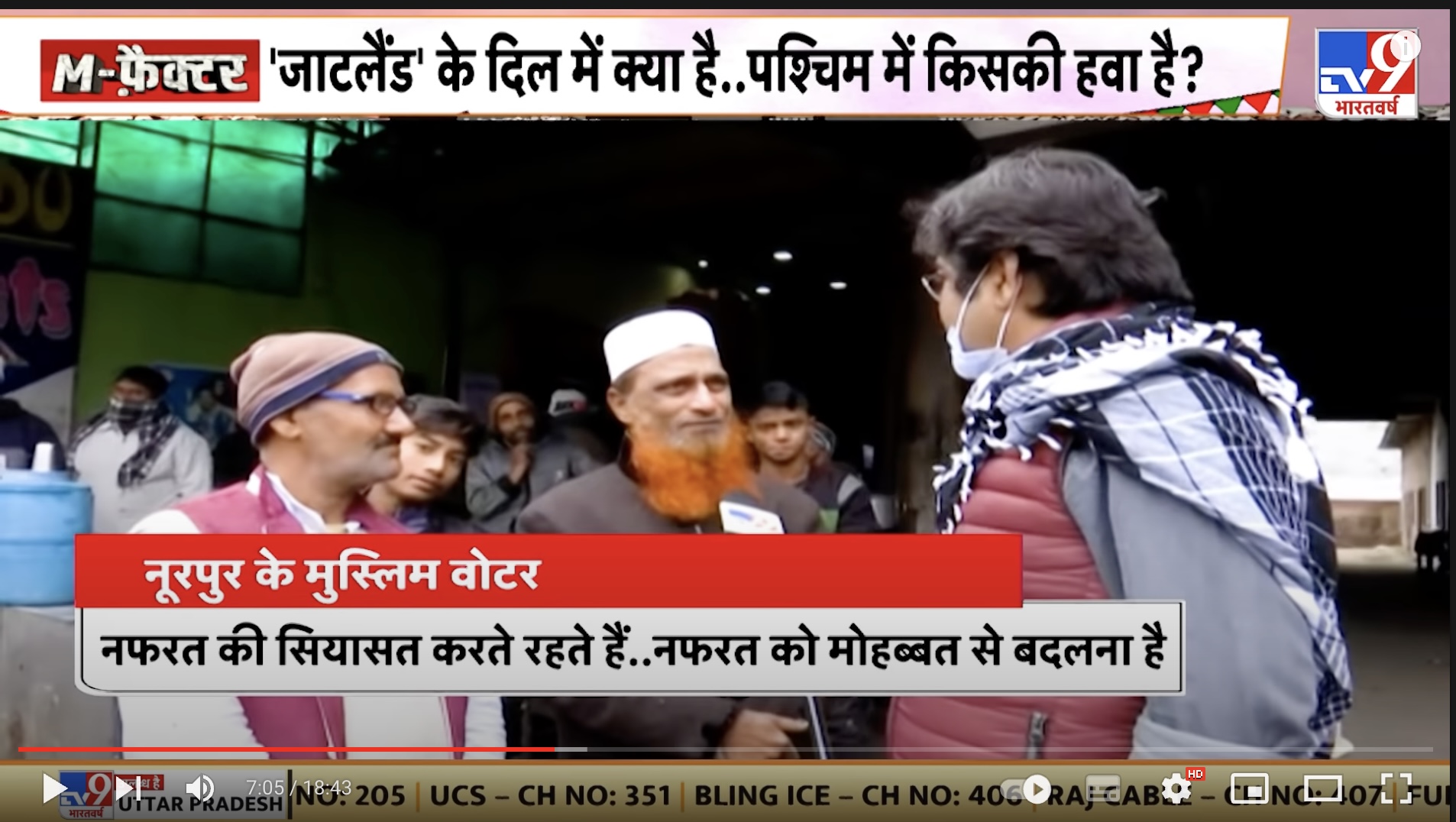 Alt News spoke with regional journalist Narendra Pratap who identified several others in TV9's broadcast.
At the 14:36 mark, one Amjad Ali Ansari was interviewed. Pratap informed us that Ansari is BJP's district leader representing minorities.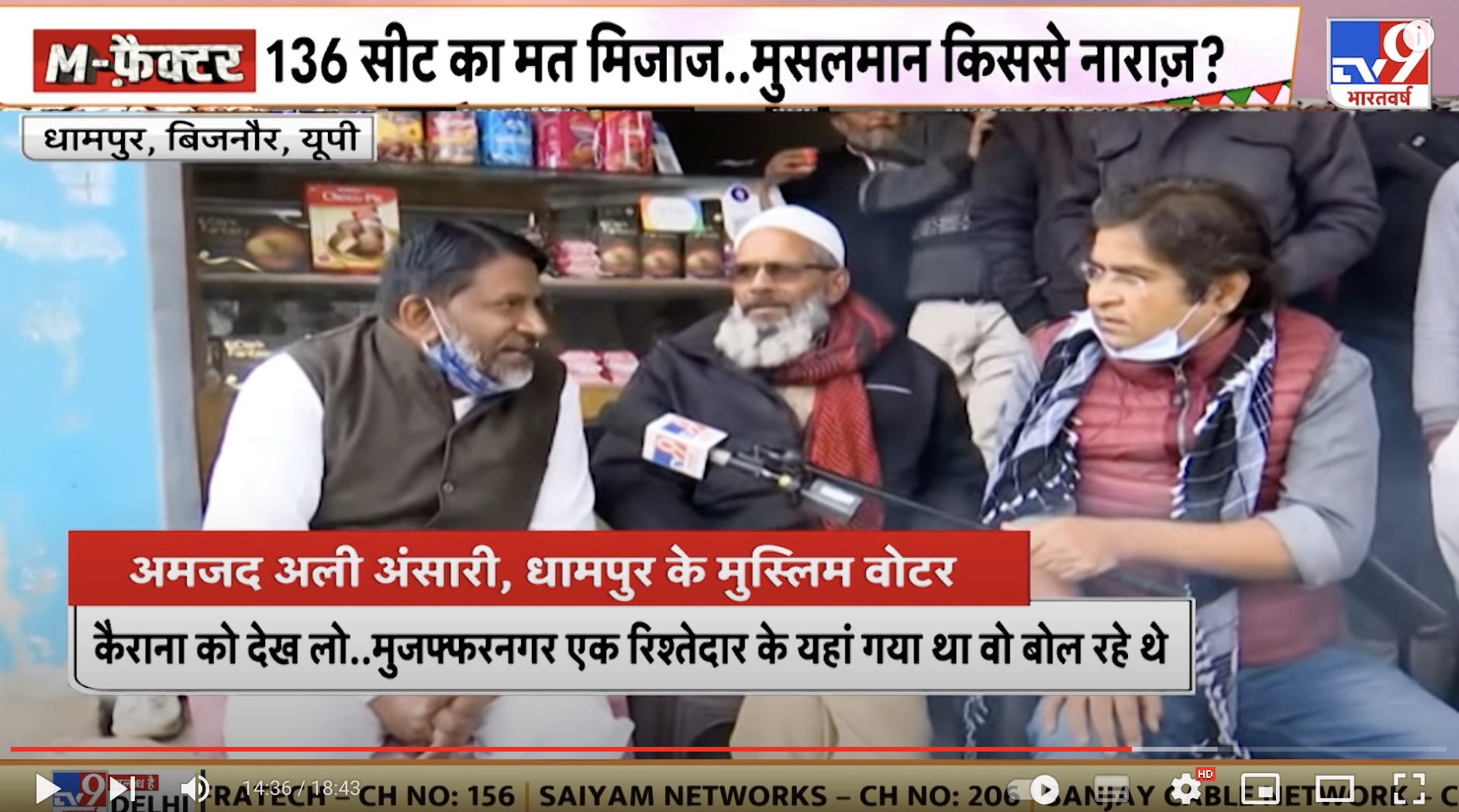 Pratap also shared a political poster of the BJP that has Amjad Ali Ansari's image.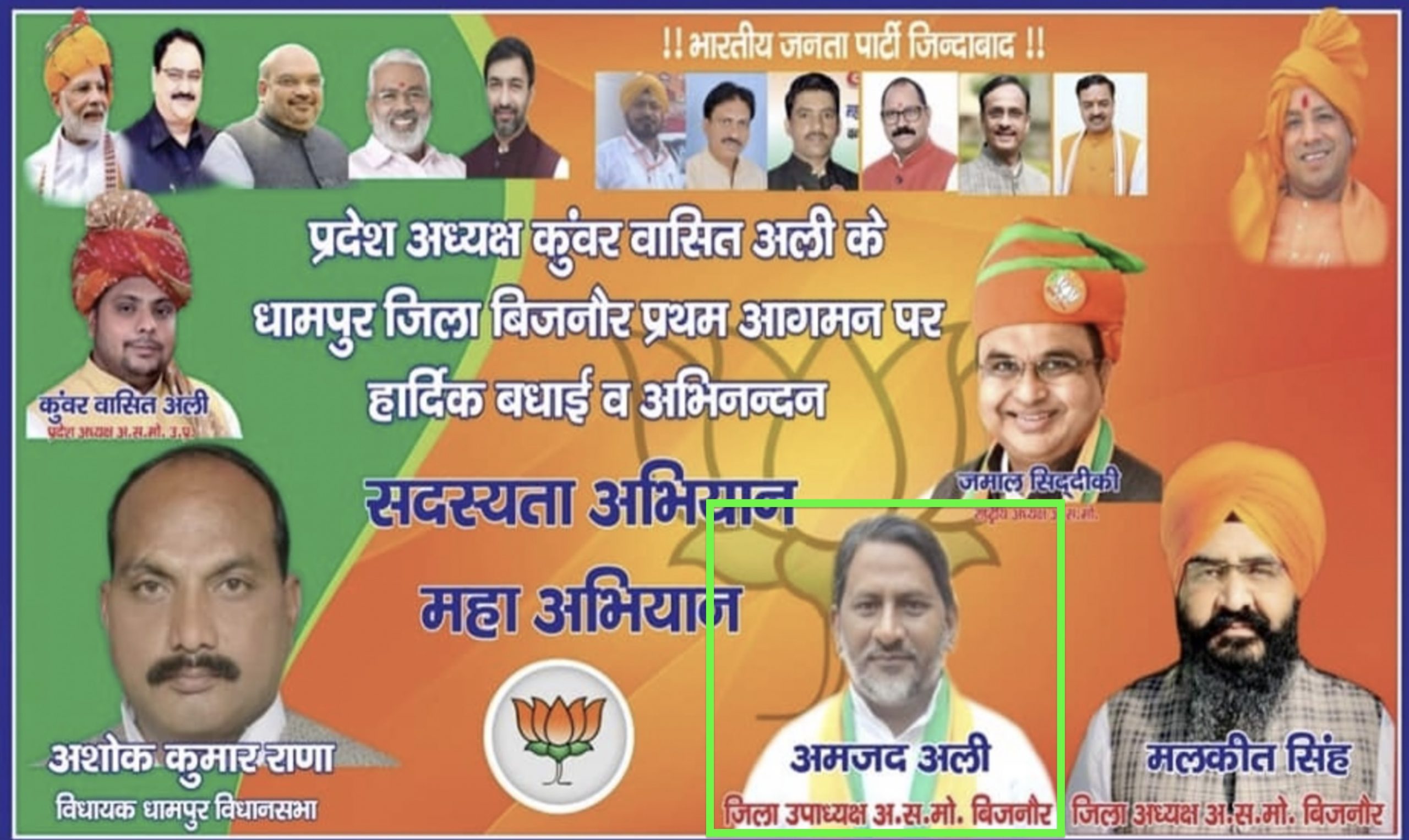 At 16:12, a "Muslim voter" from Dharampur was interviewed. Unlike most interviewees, TV9 didn't mention this person's name.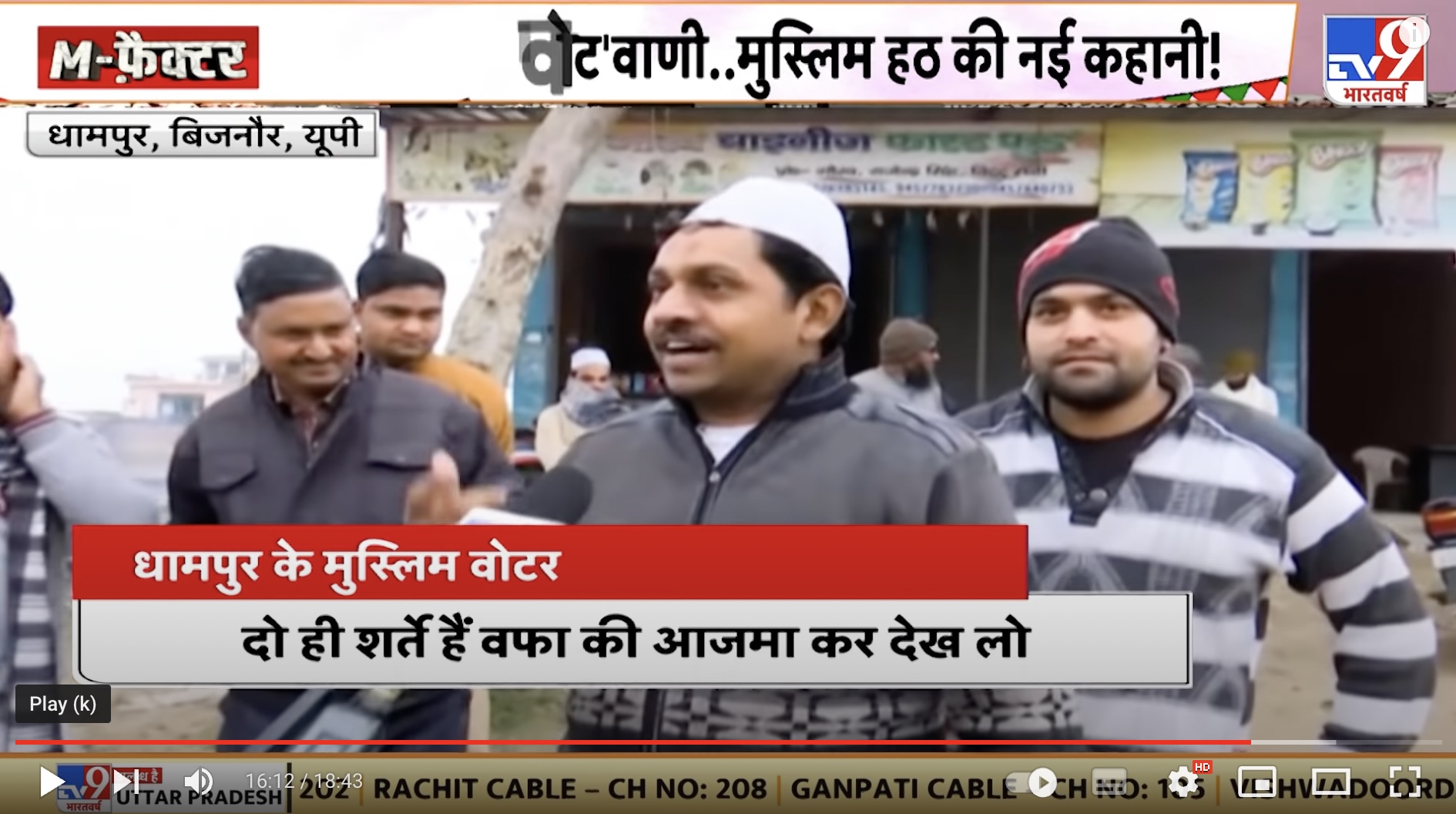 Pratap revealed that this man is Javed Multani. He also shared an image of him on a BJP poster. In the poster below, Multani is the man on the right while BJP's Dhampur MLA Ashoke Rana is on the left.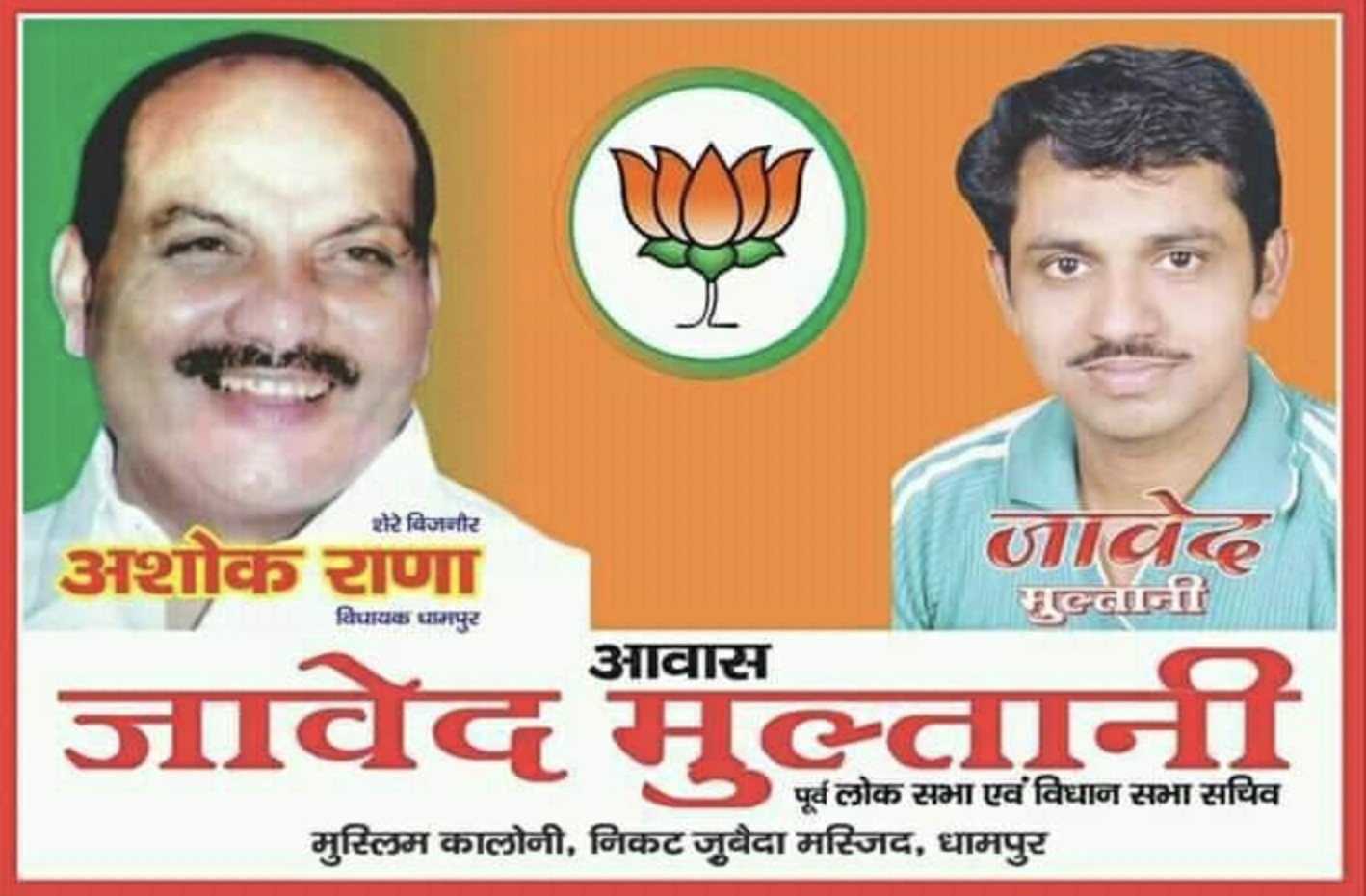 Upon performing a keyword search on Facebook, we found Multani's profile with the same poster as the display picture.

In addition to this, Pratap also shared a selfie clicked by Multani with CM Adityanath.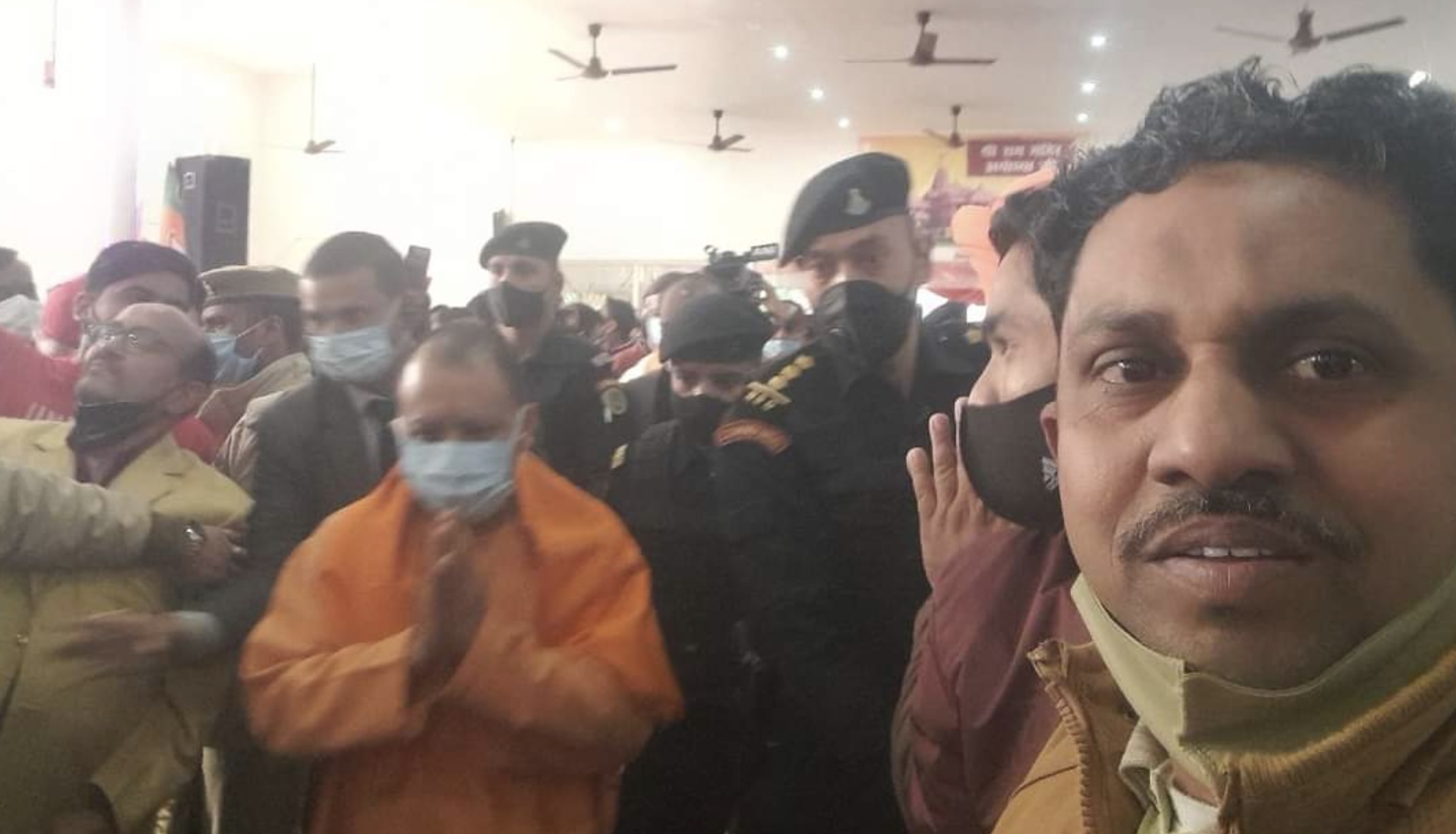 At the 17:18 mark, one Daud Ali was interviewed who was identified by Pratap as a personal bodyguard of BJP MLA Ashoke Rana. Alt News spoke with Rana who refuted this claim and said, "Daud Ali and I are associates for a long time. He is present at all BJP-related meetings."
We also spoke with Ali who informed us, "Most people in the interview are associated with the BJP in some capacity."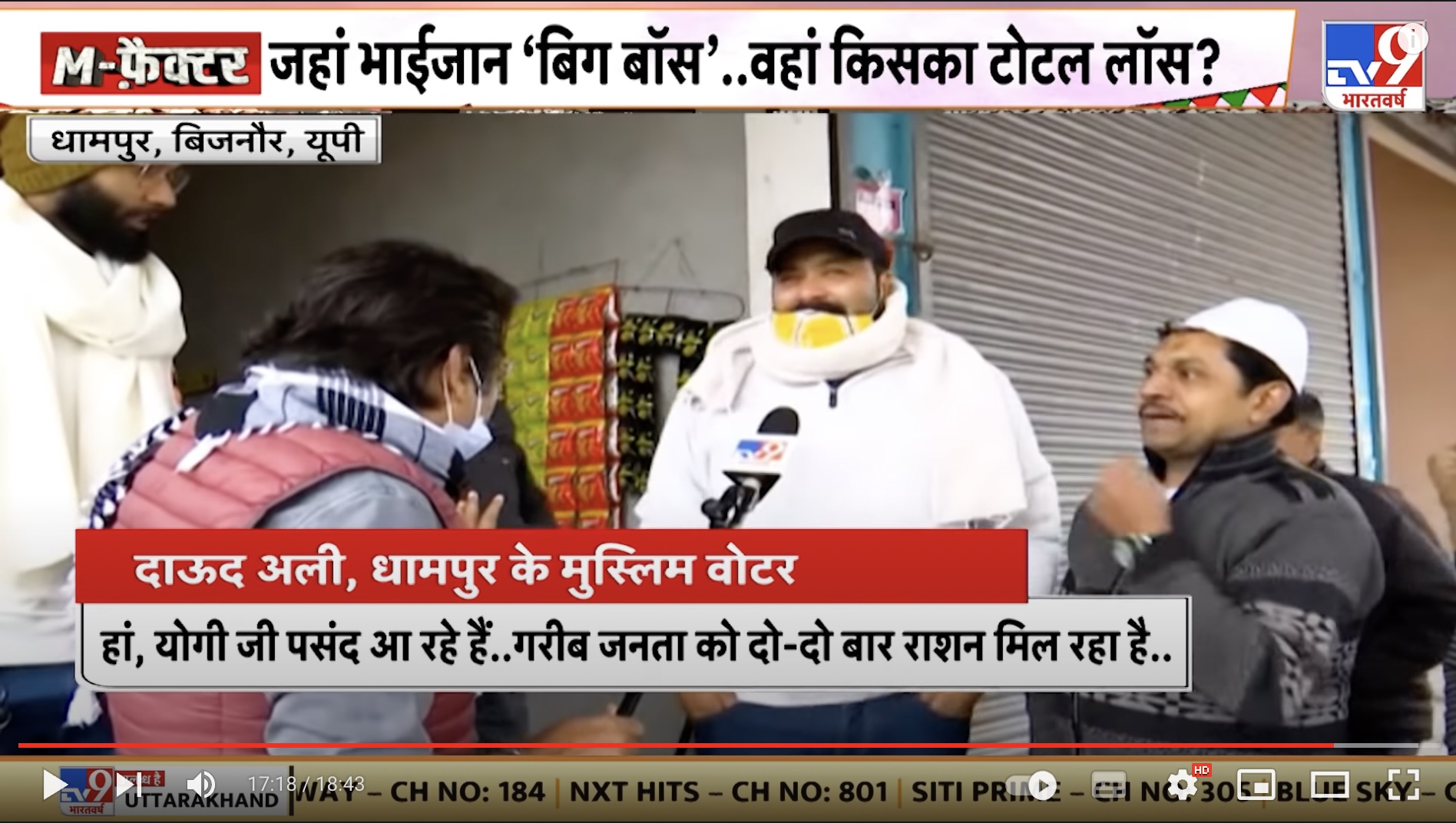 At the 13:56 mark, right before BJP district minority leader Amjad Ali Ansari was interviewed, TV9 aired a bite by Nazakat Hussian. Ansari told Alt News that Hussain is a BJP worker but he doesn't hold an official post in the party.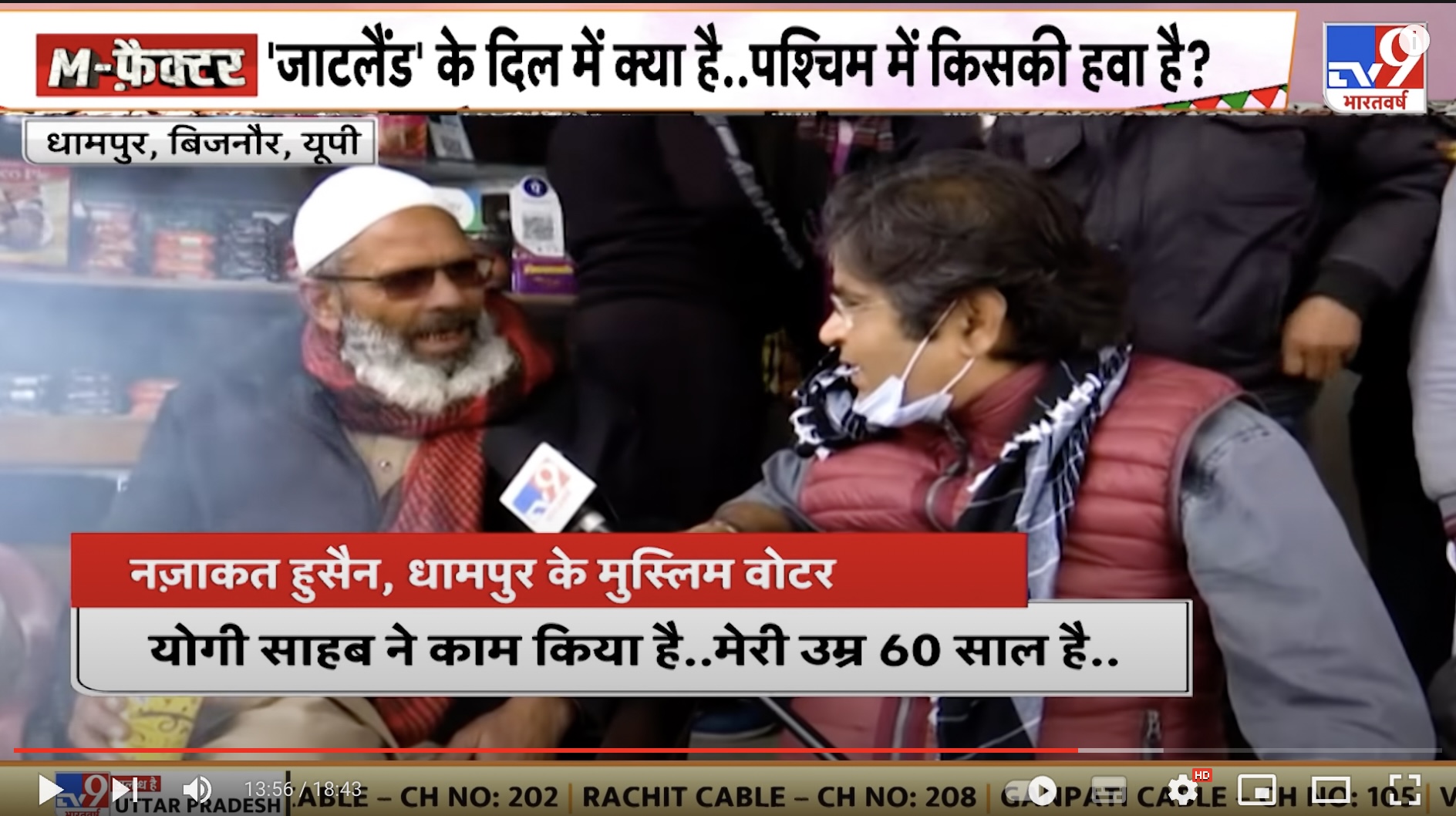 At the 15:17 mark, Mohammed Mubin was interviewed. Ansari told Alt News that Mubin is also associated with the BJP but does not hold an official post.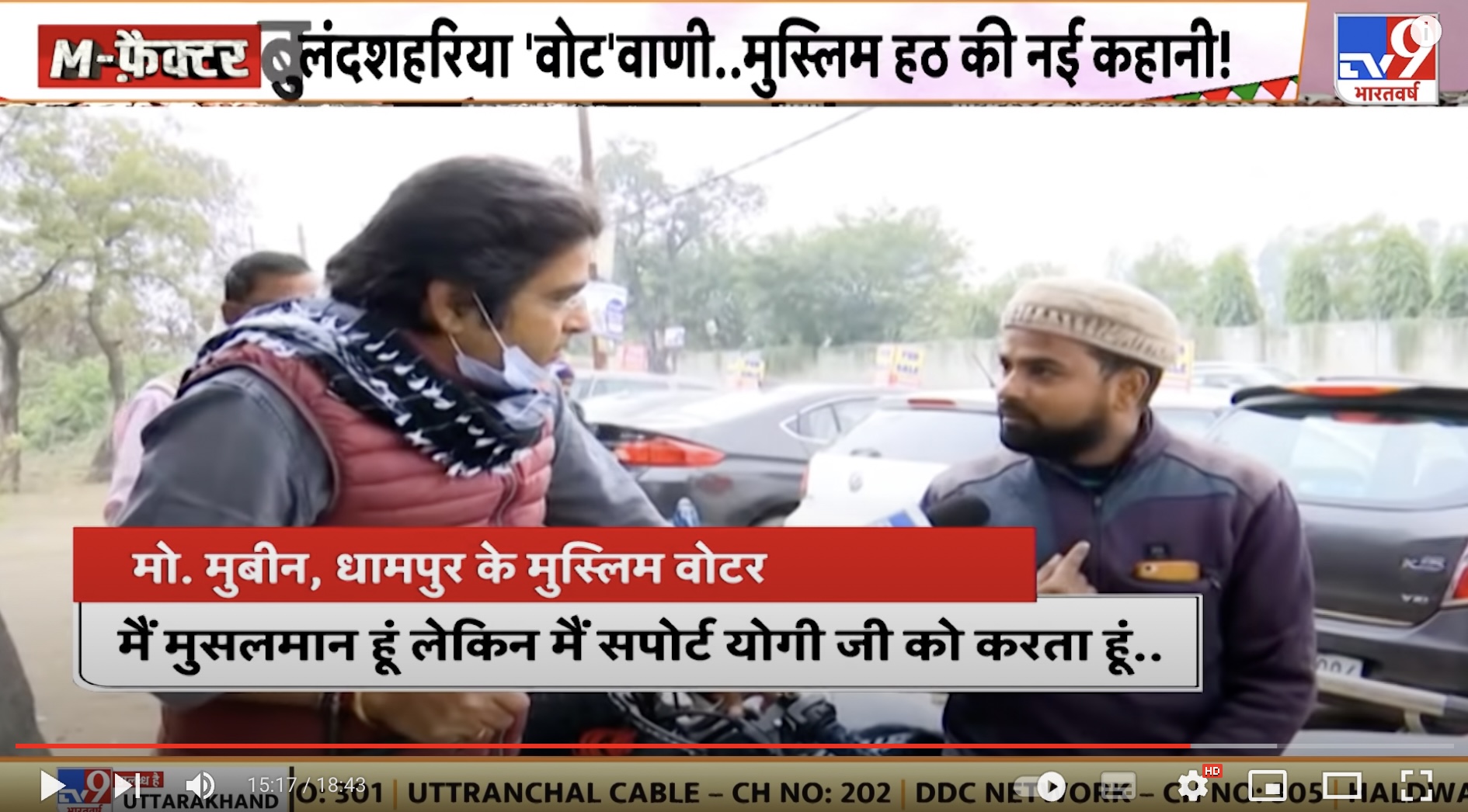 Three more Muslim men were interviewed by TV9 during the broadcast but we were unable to identify them. However, at least seven out of the 11 "Muslim voters" interviewed by the channel are members or workers of the BJP. TV Bharatvarsh presented them as ordinary "Muslim voices" supporting the BJP ahead of Uttar Pradesh polls.
Alt News has reached out to TV9 Bharatvarsh for a statement. The article will be updated if the channel responds.
Donate to Alt News!
Independent journalism that speaks truth to power and is free of corporate and political control is possible only when people start contributing towards the same. Please consider donating towards this endeavour to fight fake news and misinformation.