"सूरत हाइवे पर नाजायेक वसुली करनें वालें पुलिस कर्मियों का पिटाई का विडियो जरुर देखें और आगे शेर करे ये पुलिस वाला इतनी हद करता था कि जिसके पास पुरा कगजात होते हुए भी पैसा लेता था अब ये हाल देखिए इसका ( Must watch and share this video of policemen beaten for collecting illegal fines in Surat. He used to fine people, even if they had all the documents. Now see his condition -translated)"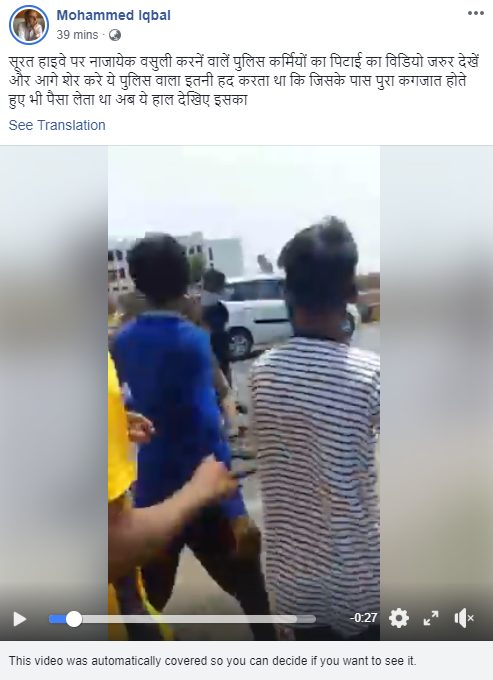 Facebook user Mohammed Iqbal posted this video with the above text claiming that policemen in Surat were beaten up for illegally penalising drivers for traffic violations. A few more individuals on Facebook shared the video with the identical narrative.

Same video, another narrative
Many other Facebook users have shared the video with a similar narrative claiming that this incident took place in Roorkee, Uttarakhand. "रुड़की में गैरकानूनी वसूली करते हुए पकड़े गए पुलिस वाले ठुकाई हुई जबरदस्त", reads the text.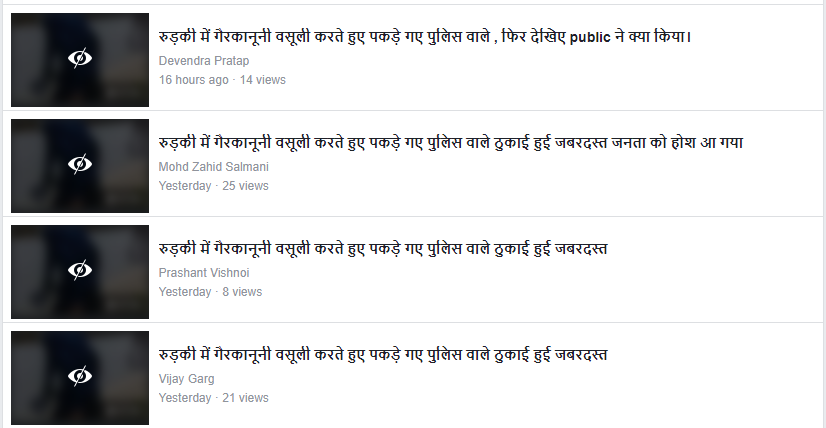 Circulating since July
A Twitter handle @NehalAhAnsari posted the same video with a message, "आ गए अच्छे दिन? यह कानून व्यवस्था? देखो दोस्तों बेचारी? सब विडियो देखिए? (Have the good days arrived? This is the law and order? See the helpless, friends? everyone see the video -translated").
आ गए अच्छे दिन?
यह कानून व्यवस्था?
देखो दोस्तों बेचारी?
सब विडियो देखिए?#मोदीहैतोमुमकिनहै pic.twitter.com/hV4p8xucuC

— बे रोजगार 🌹Nehal Ah Ansari 🌹#INC 🇮🇳 (@NehalAhAnsari6) July 18, 2019
Five-month-old incident from Surat, Gujarat
After a closer look at the video, Alt News found that the boys involved in the brawl were wearing t-shirts with imprints of "Government boys hostel Vankal".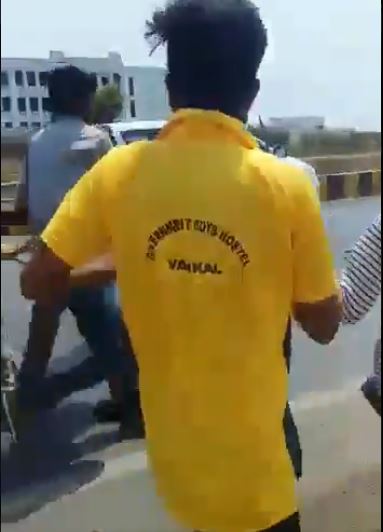 With a keyword search on Google, we were able to find several reports by Gujarati media outlets. Students of government boys hostel located in Vankal village of Mangrol tehsil in Surat district were protesting against alleged police atrocity which took place in the hostel premises.
The students of the hostel had alleged that policemen had beaten-up the boys, who were playing cricket inside their hostel compound. "On Sunday, the students had resorted to a road blockade on the Vankal-Zankhvav state highway and chanted slogans against the police officials with a demand for their transfer. Based on the information, police had reached the spot where the police were cornered by the students and stones were pelted at the police vehicle (translated)", stated the report published by a leading Gujarati daily Gujarat Samachar on April 14, 2019. You can see another video of the same incident but from a different time-frame here.
Donate to Alt News!
Independent journalism that speaks truth to power and is free of corporate and political control is possible only when people start contributing towards the same. Please consider donating towards this endeavour to fight fake news and misinformation.To make an instant donation, click on the "Donate Now" button above. For information regarding donation via Bank Transfer/Cheque/DD, click here.