As Russia's aggression in Ukraine continues to unfold, videos made by Indian students trapped in Ukraine emerge on social media, requesting the Indian government to help them evacuate the region. One such video is of Vaishali Yadav, who is allegedly an Indian medical student stuck in Ukraine. Vaishali claims in a video that several Indian students are holed up in a flat due to bombings outside and efforts to evacuate have been futile as flights to Ukraine were cancelled. She says that the students are hoping that the Indian government helps them.
Multiple pro-BJP propaganda handles shared her video on Twitter claiming that Vaishali was "pretending" to be a student in Ukraine but is actually in India. The claims suggest that she was detained from Hardoi by UP police and has admitted to making the video at the behest of her father Mahendra Yadav, a Samajwadi Party leader.
Vaishali Yadav, Who shot a video, claiming she is a Medical Student stuck in Ukraine without any Help from Indian govt, detained from Hardoi by UP Police.
After getting caught maligning India's image, She says I did on my Father Mahender Yadav's behest who is a Samajwadi Leader. pic.twitter.com/ByTJXOpj66

— Megh Updâtes 🚨 (@MeghBuIletin) March 2, 2022
The claim has been shared on Twitter by various BJP leaders such as Neetu Singh, Naveen Kumar Jindal, Sunil Yadav, Dr Richa Rajpoot, Anil Kumar and others.
This slideshow requires JavaScript.
The claim is also viral on Facebook.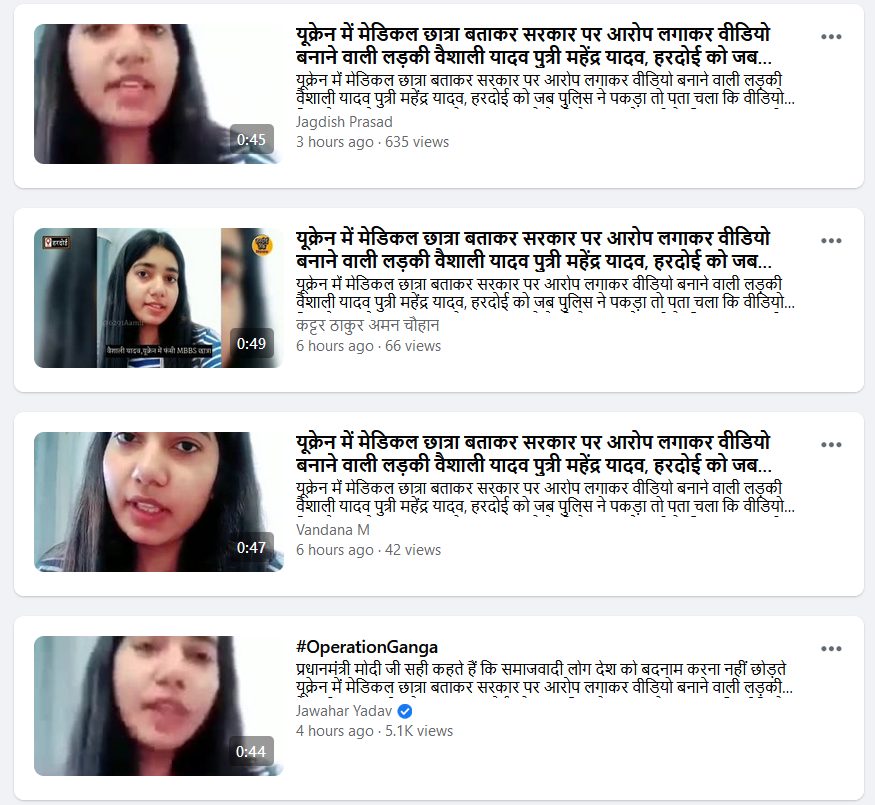 Fact-check
We performed a keyword search on Google and came across a statement by Hardoi SP Rajesh Dwivedi uploaded by a Facebook page called Khanzar Sutra. Dwivedi debunked the claim of Vaishali's arrest and said that she is currently in Romania. Vaishali had created the video seeking help from the government and the claim that she was detained or arrested in UP is false.
झूठा निकला यूक्रेन में फंसी हरदोई की वैशाली यादव की गिरफ्तारी का मामला

हरदोई के तेरा पुरसौली गांव की प्रधान वैशाली यादव यूक्रेन में एमबीबीएस कर रही है जिन्होंने एक वीडियो जारी कर अपनी बात कुछ समय पहले बताई थी । आज सुबह बिहार के सीतामढ़ी के बीजेपी विधायक अनिल कुमार ने ट्वीट कर ये सनसनी मचा दी कि वैशाली यादव ने फर्जी वीडियो जारी कर अफवाह फैलाई थी ताकि सरकार बदनाम हो जाये इसके चलते वैशाली यादव को गिरफ्तार कर लिया गया है , इस ट्वीट से राजनीति गरमा गई थी , खंजर सूत्र डॉट कॉम ने जब पड़ताल की तो वैशाली ने बताया कि वो अभी रोमानिया में है और सुरक्षित है । हरदोई के एसपी राजेश द्विवेदी ने भी बताया कि हरदोई पुलिस ने ऐसी कोई कार्यवाई नही की है । खंजर पड़ताल से ये सिद्ध हुआ कि अधूरा ज्ञान खतरनाक होता है और बिहार वाले बीजेपी विधायक ने अपने अधूरे ज्ञान के चलते एक ज्वलंत समस्या जिसमे पूरा विश्व उलझा है इस वक़्त, का मज़ाक टाइप का ही उड़ा दिया और अपनी राजनीति की रोटियां सेंकने की फिराक में ना केवल यूक्रेन से निकलकर रोमानिया में शरण ली हुई वैशाली और हरदोई में उसके परिजनों को परेशान किया बल्कि सरकार के लिए भी एक तरह की असहज स्थिति पैदा कर दी ।

#राजनीति
#ukraine
#BJP4IND
#Hardoi #khanzarsutra

Posted by Khanzar Sutra on Wednesday, 2 March 2022
Taking the Facebook page's help, we got in touch with Mahendra Yadav, who is the father of the young woman and an SP leader. Speaking to Alt News, Mahendra Yadav said, "This is a conspiracy of the BJP. My daughter was trapped in Ukraine when she made the video. Now she has moved out of there and is in Romania. Fake information is being shared on social media. Vaishali has released another video in which she is herself informing that the claim is false." Mahendra Yadav also shared with us Vaishali's contact.
We got in touch with Vaishali via WhatsApp. She said, "Leaders of opposition parties can do anything to defame my father and SP. I am happy that all these claims have been proved to be wrong and I am going back home safely and with dignity."
Vaishali also sent us a video where she clarifies that she shot the viral video in Ukraine. She is currently in Romania and expects to be back in India soon. In the video, Vaishali has also urged people to not politicise every issue and be empathetic to those who are trapped in dire circumstances.
We asked Vaishali to share proof that the viral video was created on February 24. She shared with us a screenshot of the video's metadata. Dainik Jagran had published a report on her appeal that same day.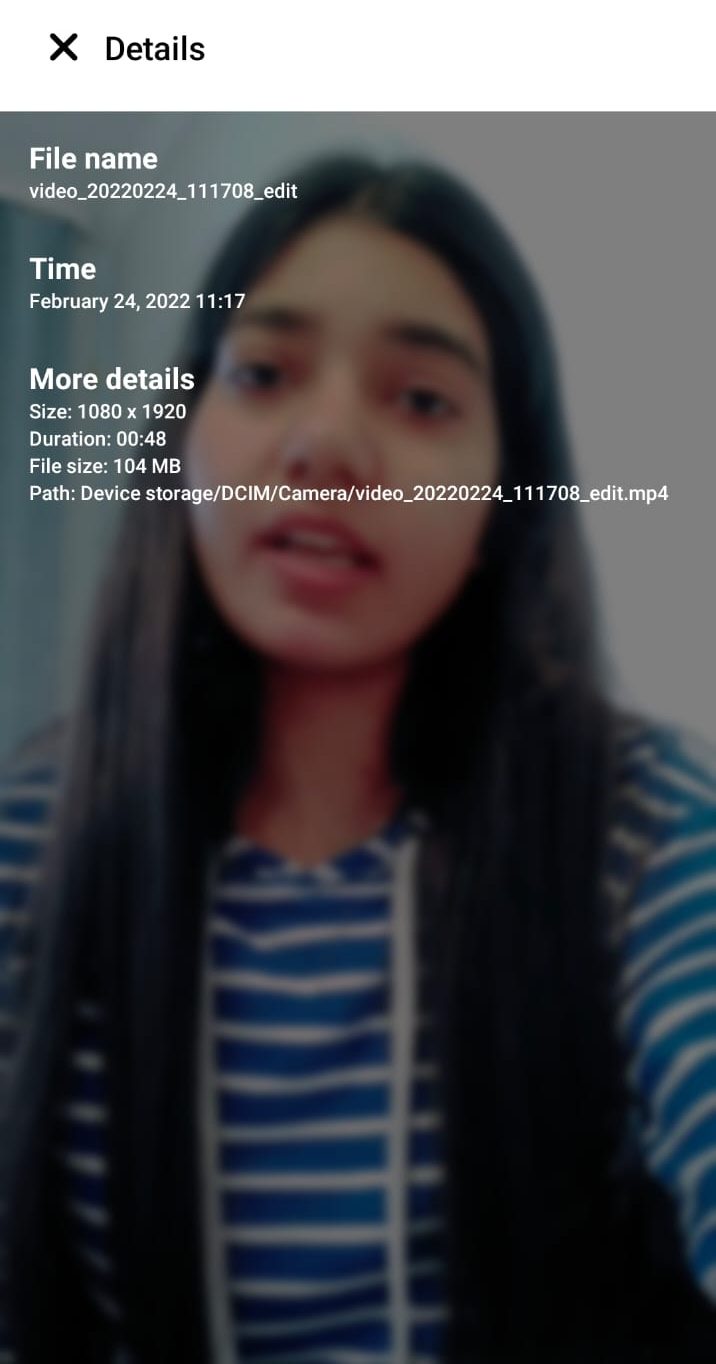 We also asked Vaishali to share her live location on WhatsApp, which confirmed that she is indeed in Romania.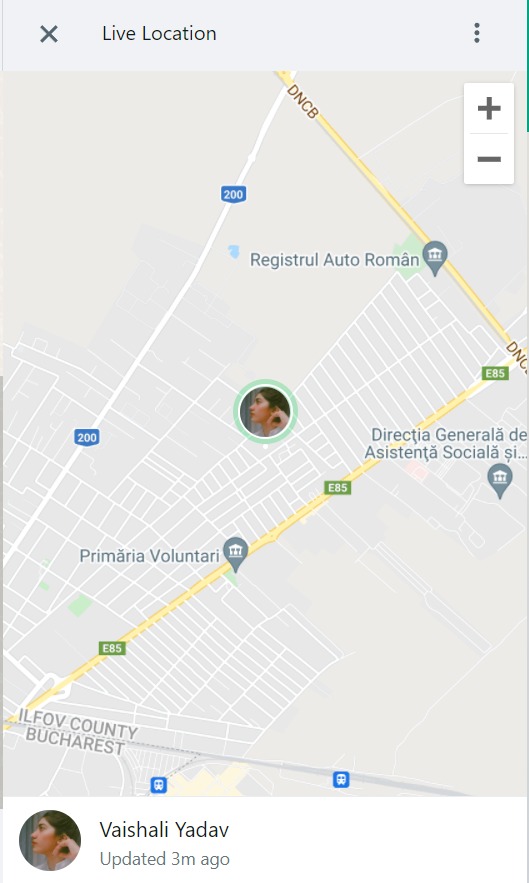 A regional news portal UttarPradesh.ORG also reported that claims of Vaishali's arrest are false.
Hence, a video of Vaishali Yadav, a medical student who was stuck in Ukraine, was shared with the false claim that she had created the video at her father's behest in order to defame India. Her father is a Samajwadi Party leader.
Donate to Alt News!
Independent journalism that speaks truth to power and is free of corporate and political control is possible only when people start contributing towards the same. Please consider donating towards this endeavour to fight fake news and misinformation.