A video of policemen apprehending a man and removing his Sikh turban is circulating on social media in the context of anti-CAA protests. It is being claimed that the man was a Muslim impersonating as a member of the Sikh community. On Facebook, the clip drew over 6,000 views from a fan page of BJP MLA T Raja Singh – 'Tiger Raja Singh Fan Club'. The message reads, "Muslim Using fake sikh sardar face to show that sikh are against #CAA Fake propaganda"
Muslim Using fake sikh sardar face to show that sikh are against #CAA Fake propaganda

Posted by Tiger Raja Singh Fan Club on Wednesday, 25 December 2019
Union minister Giriaj Singh retweeted the same video shared by another user with a Hindi caption.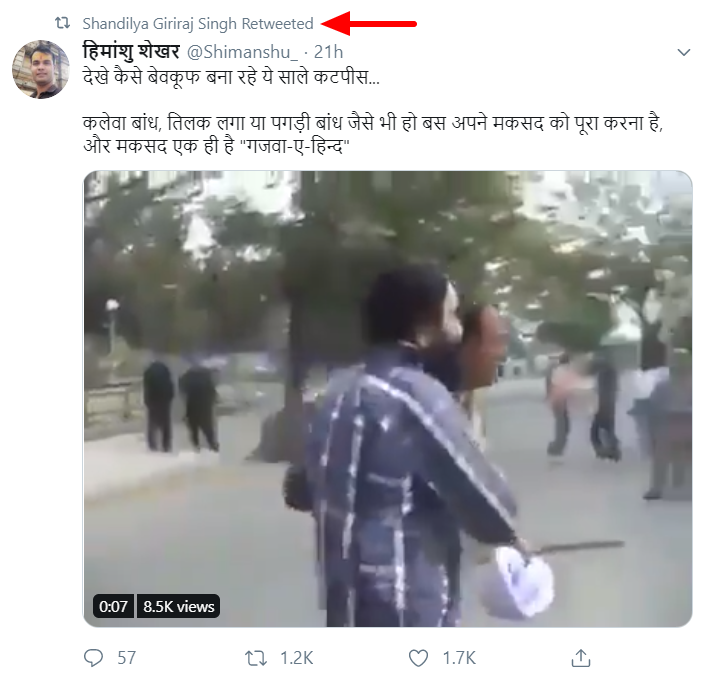 One Sandeep Muttagi shared the clip on Facebook (archive) with the caption – "Muslim Using fake sikh sardar face to show that sikh are against #CAA Fake propaganda." Muttagi describes himself as BJP co-convenor Malkajgiri, Telangana on Twitter. He has now taken down the clip.
OLD VIDEO, FALSE CLAIM
A keyword search on Google – 'police removes Sikh turban' – led us to the incident reported in 2011. According to sikhnet.com, "A Sikh youth, participating in a peaceful sit-in staged by retrenched rural veterinary pharmacists and employees, was pulled aside by police officials and his Turban was forcibly removed without cause."  The incident took place on March 28, 2011, near PCA Stadium, Mohali, Panjab.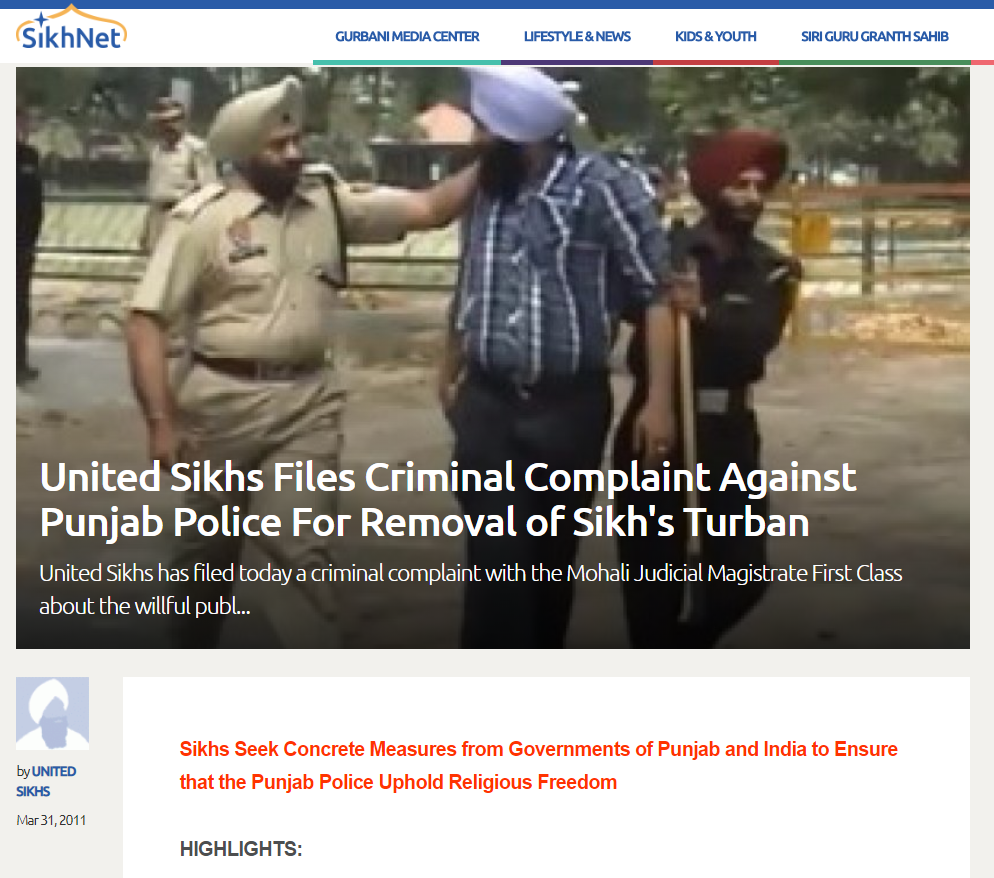 Non-profit organisation United Sikhs filed a criminal complaint before the Mohali Judicial Magistrate against Punjab police for removing a Sikh youth's turban. They also wrote letters to the then Prime Minister, CJI, NHRC, among others.
The last week of March 2011 saw protests by retrenched rural veterinary pharmacists in Mohali to demand regularization of their jobs. The agitation turned violent on March 28 when protestors violated prohibitory orders and gathered near PCA stadium. "Several vehicles were damaged as the police resorted to canecharge, firing teargas shells and using water cannons to disperse the stone-pelting mob," reported The Indian Express. 
The same video of a cop apprehending a Sikh youth and removing his turban was uploaded on YouTube on March 29, 2011.
VIDEO VIRAL WITH FALSE CLAIM
That the clip represents an incident that took place during anti-CAA protests where a Muslim man masqueraded as a Sikh person is viral on social media. Author Ratan Sharda had quote-tweeted a tweet where the video was shared. He wrote, "#OMG #Tequiah plumbs new depths! Call to #Khalistanis to embrace these Islamist fellows defaming Sikhs." The original tweet is now deleted.
The video has also been shared with a Hindi caption that says, "Muslim protest in Sikh's clothing so that they can tell fools come, brothers, your community is also with us. They use Ambedkar just like this because their population is low now. History is witness to the fact that they destroy the ones closes to them."
[Translated from Hindi – मुसलमान सिख के कपड़ों में प्रदर्शन करते ताकी बेवकूफों को बता सकें कि आ जाओ भाइयों तुम्हारी जाती भी हमारे साथ है, बिल्कुल ऐसे ही वो अम्बेडकर का उपयोग करते हैं,क्योंकि अभी उनकी जनसंख्या कम है, इतिहास गवाह है जो इनके करीब होता है पहले उसे ही निपटा देते हैं।]
मुसलमान सिख के कपड़ों में प्रदर्शन करते ताकी बेवकूफों को बता सकें कि आ जाओ भाइयों तुम्हारी जाती भी हमारे साथ है,
बिल्कुल ऐसे ही वो अम्बेडकर का उपयोग करते हैं,क्योंकि अभी उनकी जनसंख्या कम है, इतिहास गवाह है जो इनके करीब होता है पहले उसे ही निपटा देते हैं। pic.twitter.com/LkZmQncNdA

— Raja Babu (@trolldevendra) December 26, 2019
It is in fact viral on the social networking platform.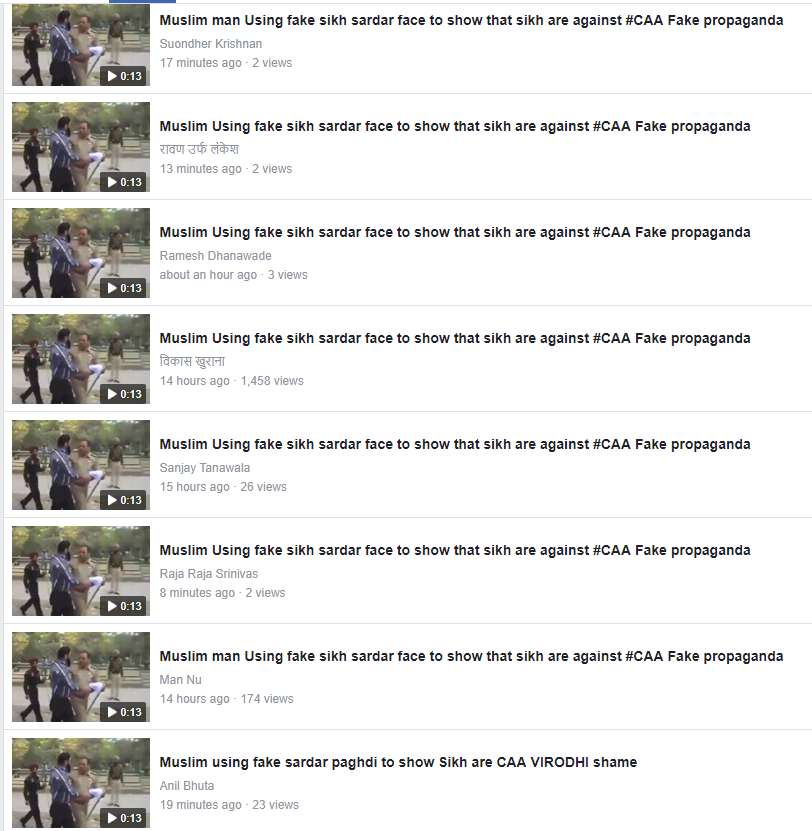 The same clip has also been shared on Twitter. Below is a tweet by @cGalgalE2.
Muslim Using fake sikh sardar face to show that sikh are against #CAA Fake propaganda. pic.twitter.com/m49yZNXYNH

— चंद्रशेखर (@cGalgalE2) December 26, 2019
Another user @Afraoo7 also shared it.
Muslim Using fake sikh sardar face to show that sikh are against #CAA Fake propaganda… pic.twitter.com/h2UL0aH9jv

— आफरीन फातिमा 🛡️ (@Afraoo7) December 26, 2019
The video has also found its way to WhatsApp.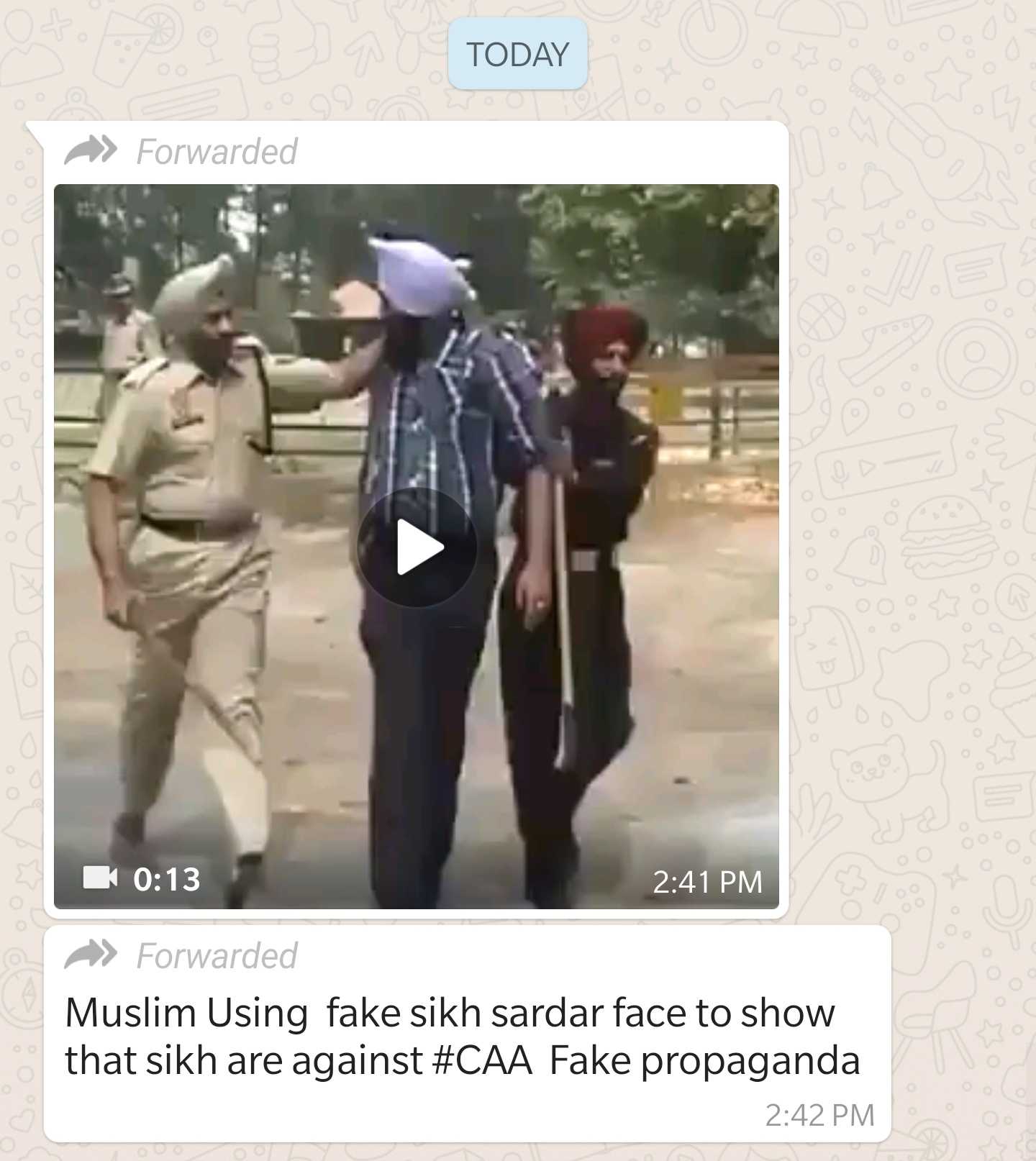 It may be reiterated that the video was shot in 2011 in Mohali after rural veterinary pharmacists were retrenched. The man whose turban was removed is a member of the Sikh community. The video is now viral with the false claim that a Muslim man impersonated as a Sikh during protests against the Citizenship Amendment Act.
[Update: A screenshot of Union minister Giriraj Singh's retweet has been added to this report.]
Donate to Alt News!
Independent journalism that speaks truth to power and is free of corporate and political control is possible only when people start contributing towards the same. Please consider donating towards this endeavour to fight fake news and misinformation.To make an instant donation, click on the "Donate Now" button above. For information regarding donation via Bank Transfer/Cheque/DD, click here.