A video of a policeman chanting 'Jai Shri Ram' in the presence of a group of men carrying saffron flags has been shared on social media with the claim that the video is from Tripura. The state has been witnessing violence targeting the Muslim community, sparked by attacks on Hindus in Bangladesh. Shops and properties owned by Muslims have also been vandalised and set on fire in Tripura.
The viral video has been shared to portray Tripura police aiding Hindu mobs in targeting Muslims.
The video has been shared by several Twitter users.
सुना था #पुलिस लोगो की मदद करने के लिए होती है,
अब समझ मे आया के पिछले 6 दिनो से #त्रिपुरा जल क्यूं रहा है,#Save_tirpura#SaveTripuraMuslims #TripuraMuslimsUnderAttack @Tripura_Police @UNICEF @UN @UNHumanRights pic.twitter.com/IkaThAnyYF

— Saad Ahmad (@SaadAhm28170337) October 29, 2021
Alt News has also received requests on its WhatsApp helpline number to verify the video.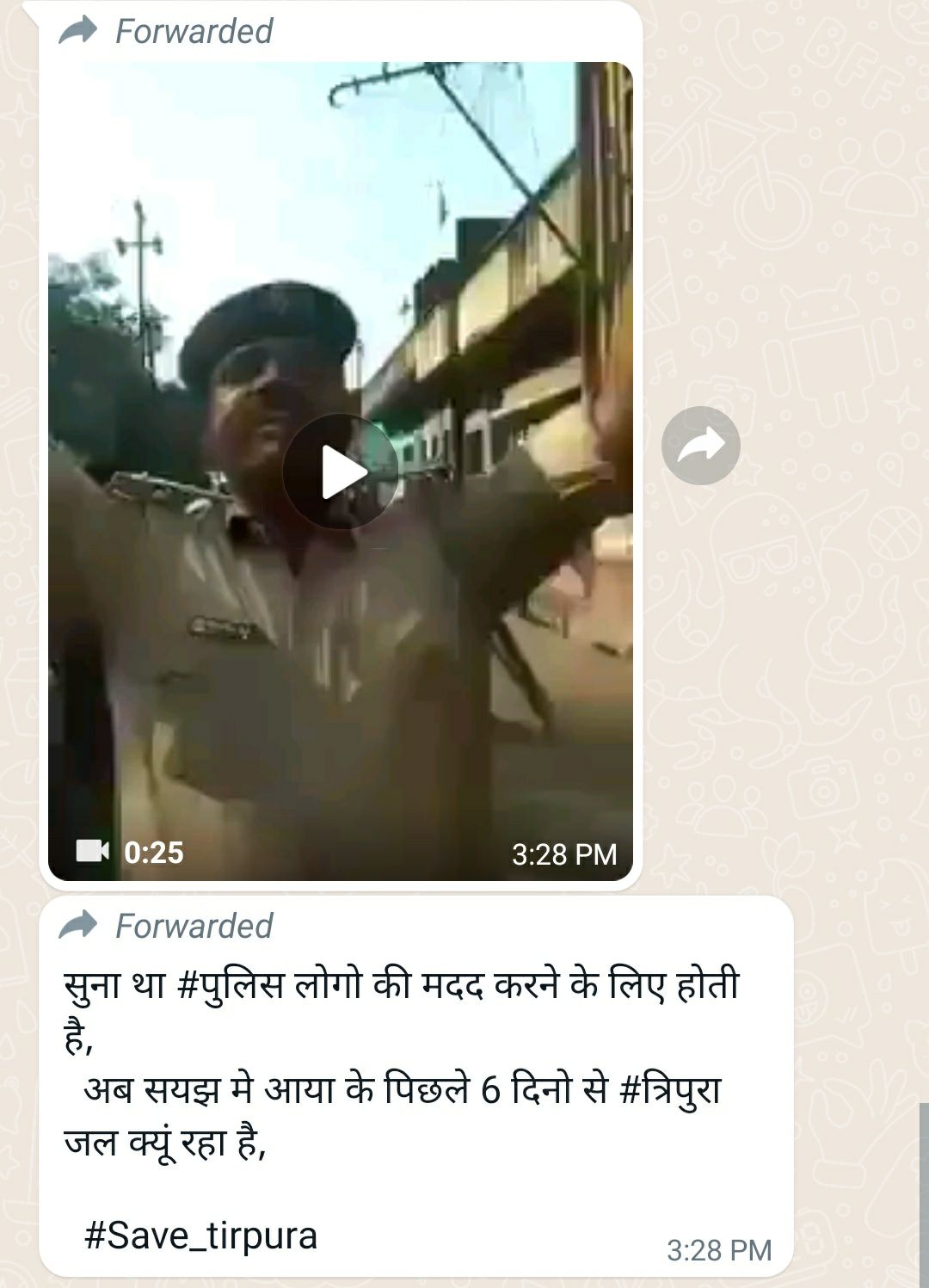 Old, unrelated video
A keyword search on Facebook led us to a video report of Patna Live uploaded on March 30, 2018. The caption of the video states that the police took part in a Ram Navami procession in Rosera, Samastipur.
According to Patna Live's report on the video, the police was criticised for partaking in the procession as Section 144 had been imposed in Rosera after clashes erupted between two groups. The video was shot on March 27, 2018, during Navratri. The author of the story, Kuldeep Bharadwaj, also shared the video on his Facebook profile. Alt News has reached out to him. This article will be updated in case he responds.
It is noteworthy that violent clashes had erupted during Ram Navami celebrations in parts of Bihar and West Bengal in 2018. Two BJP leaders were arrested from Samastipur for their alleged role in violence in Rosera town. According to an article in The Indian Express, "Communal tension again gripped Rosera town in Samastipur three days after communal clashes on Monday night. More than 60 persons, including policemen, were injured and dozens of shops and vehicles were torched in Rosera during the clashes." Internet services were suspended and the police were deployed to keep an eye on the situation. Members of two communities clashed after a mosque was vandalised in Rosera and a group of people attempted to hoist a saffron flag atop a minaret of the mosque. The incident took place a day after a slipper was allegedly thrown at a Ram Navami procession. The violence first erupted in Bhagalpur on March 17 after "workers from the Bharatiya Janata Party (BJP), the Rashtriya Swayamsevak Sangh (RSS) and the Bajrang Dal took out an unauthorised procession led by Union Minister Ashwini Choubey's son Arijit Shashwat to mark 'Vikram Samvat' – a Hindu new year". The procession passed through dozens of Muslim-dominated areas. Loud music and provocative sloganeering allegedly sparked the violence.
A video from 2018 has been falsely shared as policemen in Tripura supporting Hindu mobs to target Muslims. According to Patna Live, the video was shot in Bihar's Samastipur in the midst of violent clashes that took place during Ram Navami celebrations.