In the last week of November, it was reported that a Mathura-based right-wing group Akhil Bharat Hindu Mahasabha threatened to install a Krishna idol at the Shahi Idgah on December 6, coinciding with the anniversary of the demolition of the Babri Masjid. The group called off its plans after police warned of strict action.
In the backdrop of this, a video of an angry mob carrying saffron flags and breaking police barricades has gone viral. It is claimed that the video is from Mathura.
Multiple Twitter users have shared it.
आज मथुरा का दृश्य कान्हा 🚩🚩🚩
गरज रहे हनुमान गगन में, काशी की बारी है!
बन गया मंदिर अवधपुरी में, अब मथुरा की तैयारी है!🚩 #सपा_का_खदेड़ा_होबे pic.twitter.com/Nt2Lca1OPE

— Ravi Sharma🇮🇳 (@BjpRaviSharma4u) December 6, 2021
Facebook page मन की बात ツ with over 35,000 followers posted this video with the same claim. It has gained over 10,000 views.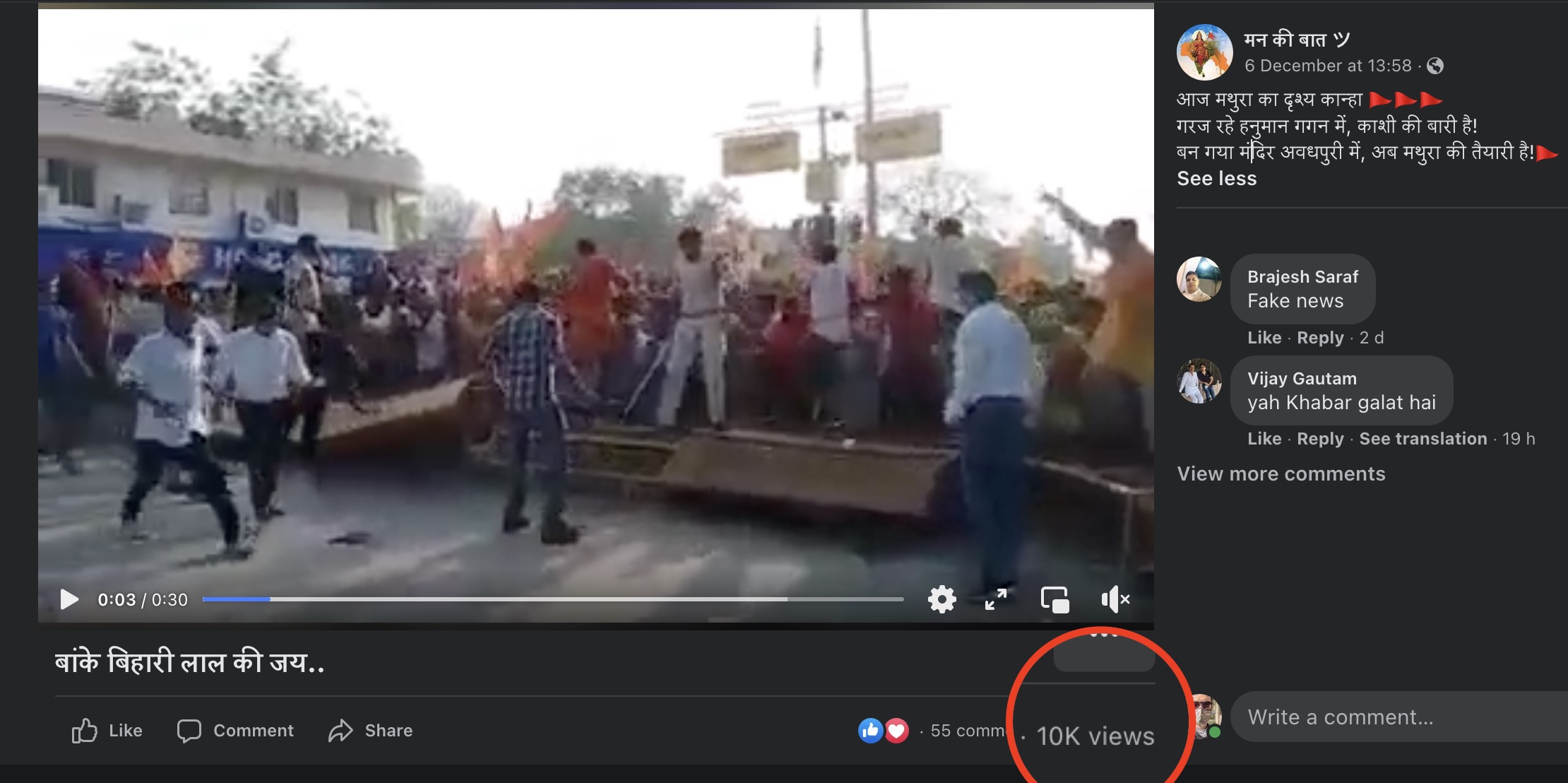 BJP spokesperson Rambabu Dwivedi posted this video with the same claim on a video aggregating platform called public.app. The video gained over 75,000 views.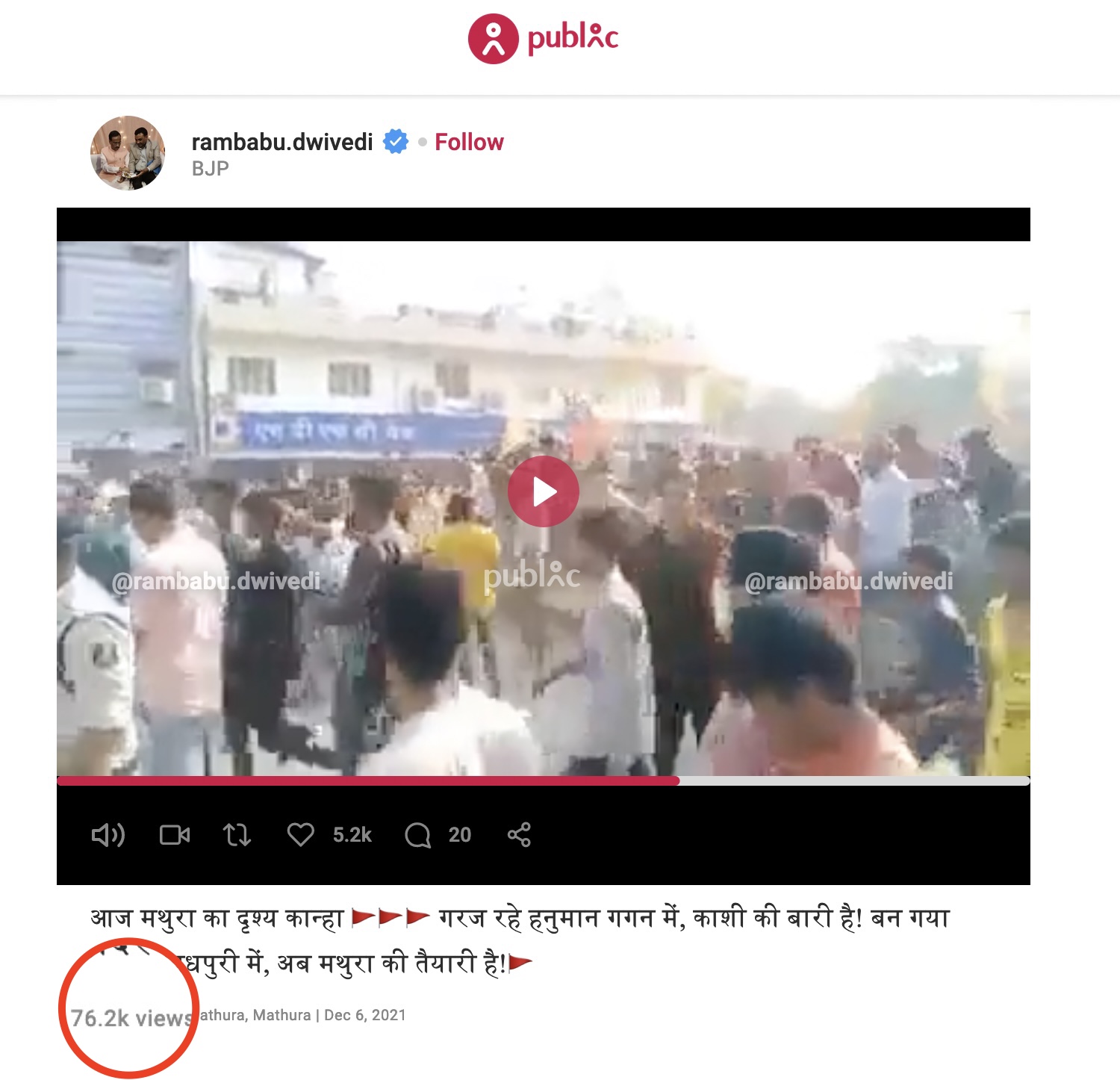 Using CrowdTangle, a social media monitoring tool, we found several Facebook pages and groups shared the video.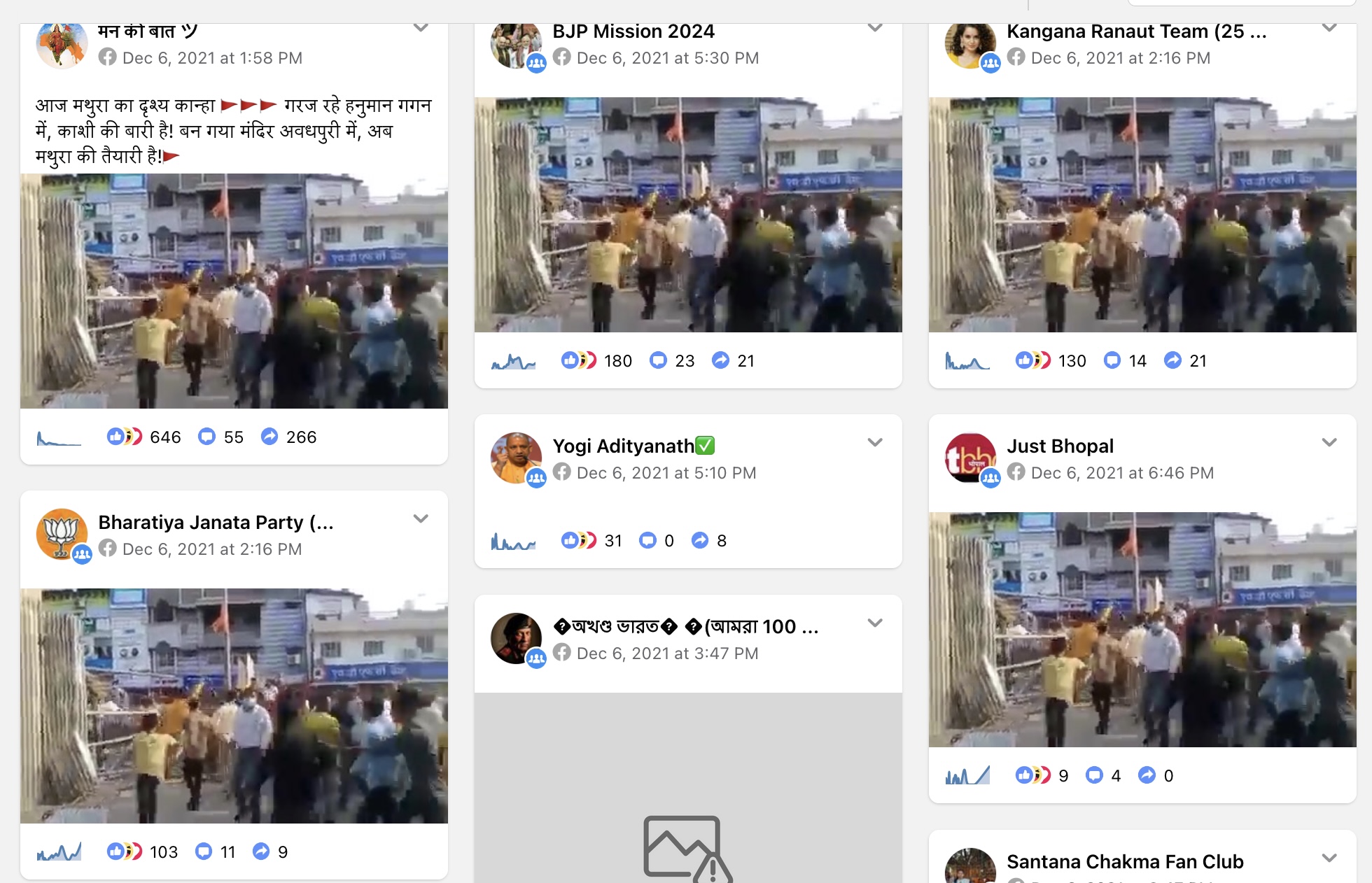 Video from Chhattisgarh
Alt News contacted Mathura SP Martand Prakash Singh. He said, "No such incident has taken place in Mathura. We identified social media user Deepak (alias Deepu) who shared the video. His Facebook account has been blocked. While we cannot confirm where the video is from, the investigation suggests it is from Chhattisgarh."
"A case has been registered against the person who posted this misleading video. Legal action is being taken," Mathura police wrote on Twitter.
इस वीडियो का सम्बन्ध जनपद मथुरा से नहीं है, जिस व्यक्ति द्वारा इस भ्रामक वीडियो को पोस्ट किया गया है उसके विरूद्ध मुकदमा पंजीकृत किया गया है । वैधानिक कार्यवाही की जा रही है । कृपया अफवाह न फेलायें । शांति व्यवस्था बनाये रखने में सहयोग करें ।

— MATHURA POLICE (@mathurapolice) December 8, 2021
It's worth noting that in the first frame of the viral video an HDFC bank board can be spotted.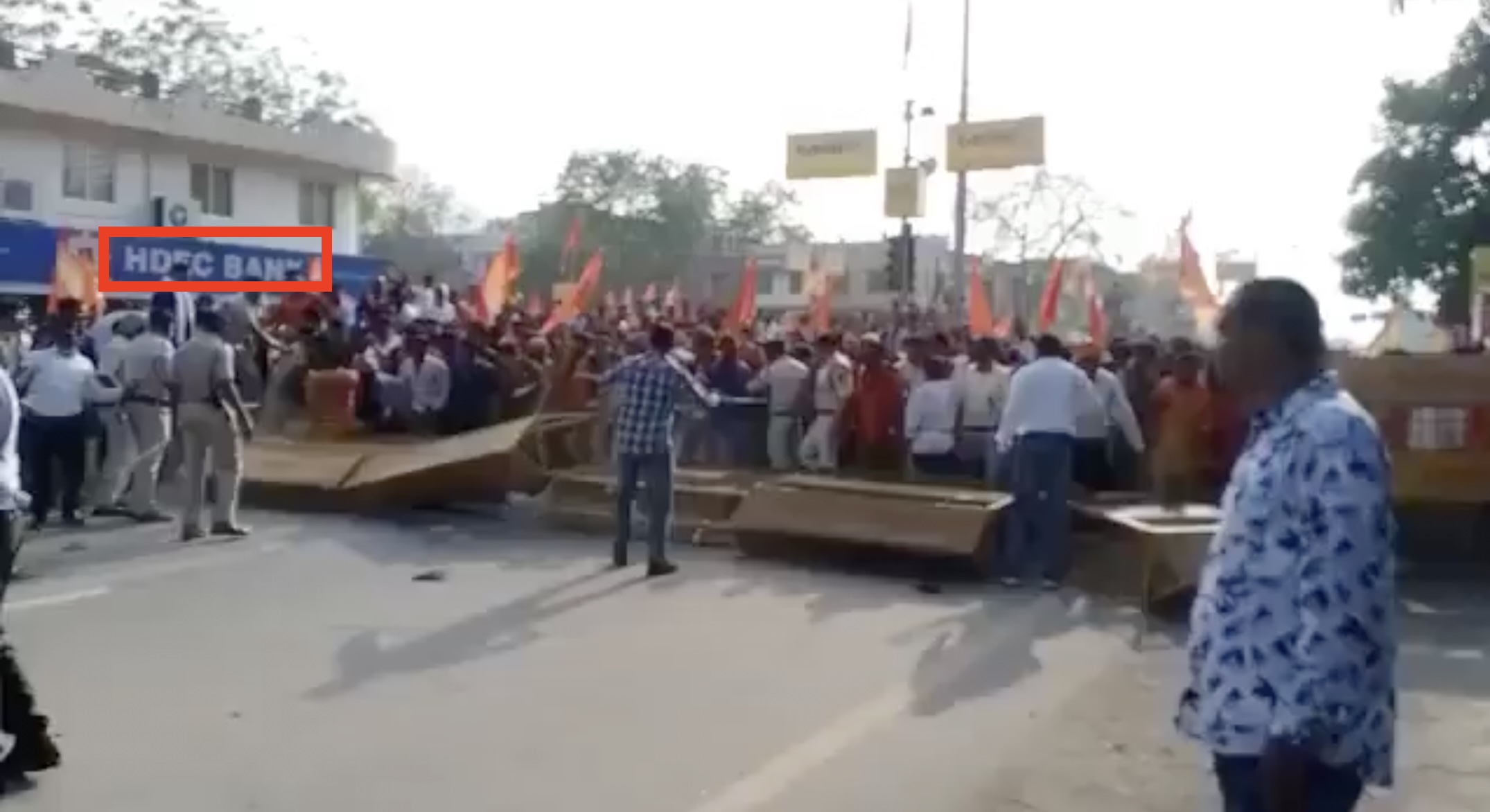 Using this as a clue, Alt News performed a keyword search (छत्तीसगढ़ हिन्दू hdfc) on Facebook.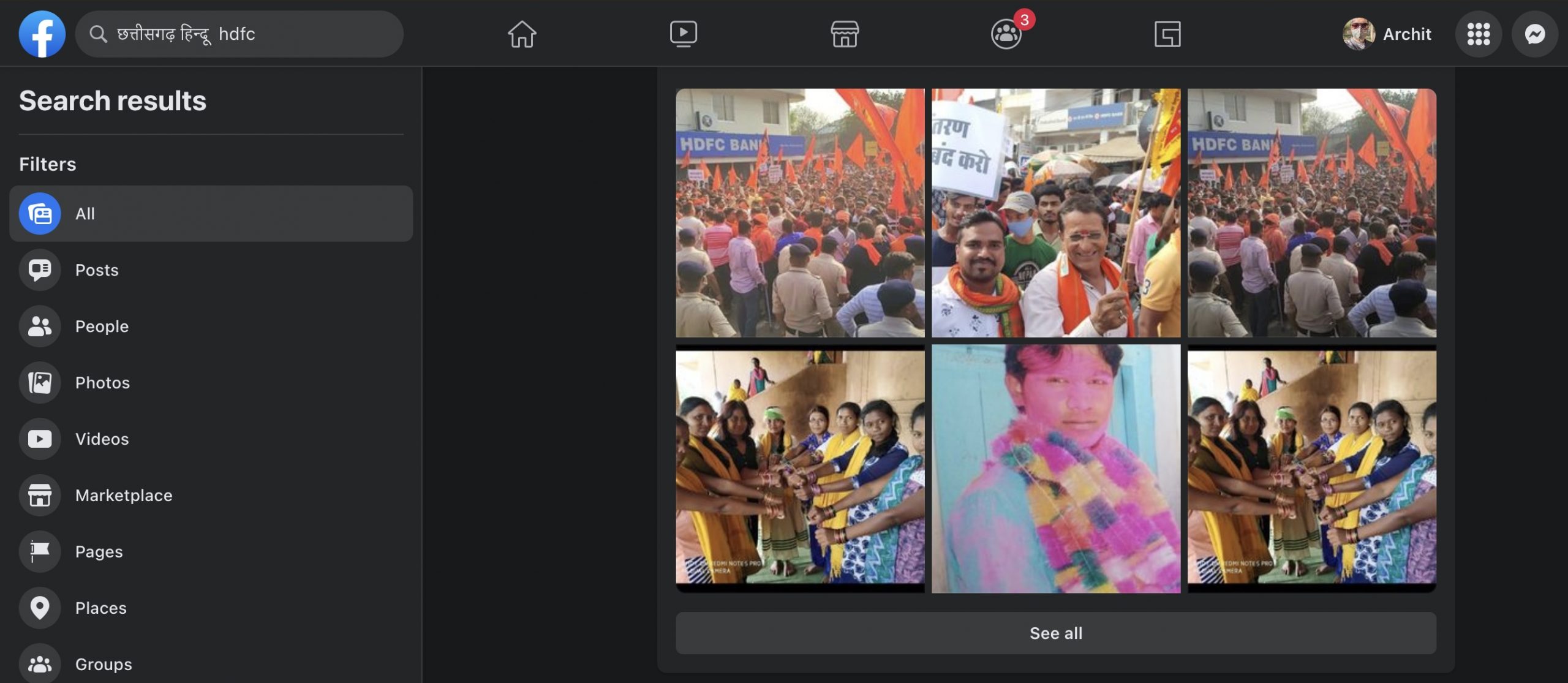 This led us to three images (1, 2, 3) of a mob that appears strikingly close to the mob in the viral video. One of the users who shared the video is Sujit Singh IV and his bio states that he is a Bharatiya Janata Yuva Morcha member. In this image, we can see the HDFC bank branch in Chhattisgarh's Korba district. The rally was organised to protest the alleged insult of the saffron flag.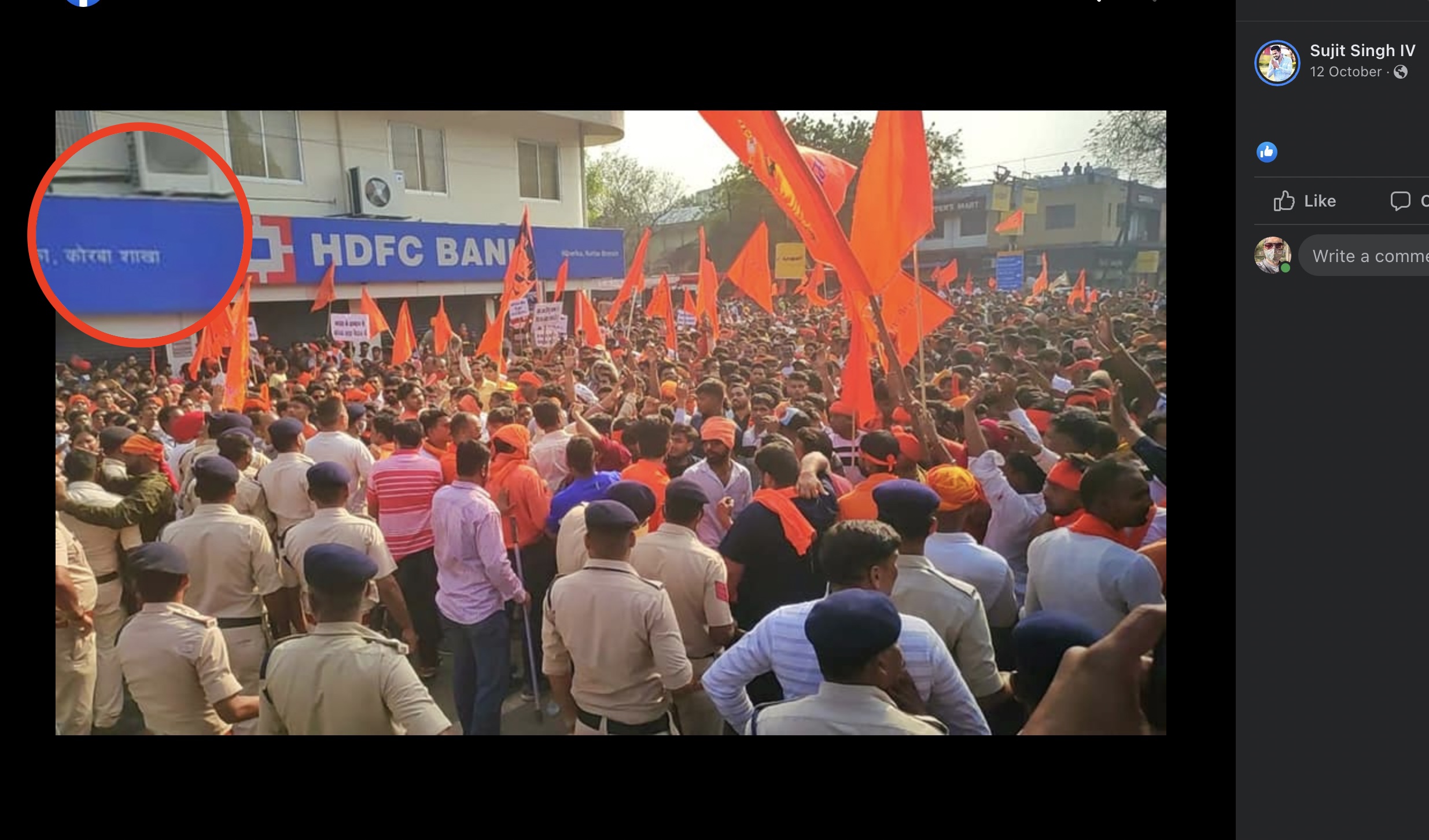 A video from Chhattisgarh's Korba dating back to at least October 12 was shared as a recent video from Mathura.
Donate to Alt News!
Independent journalism that speaks truth to power and is free of corporate and political control is possible only when people start contributing towards the same. Please consider donating towards this endeavour to fight fake news and misinformation.