Social media is rife with the video of a man levitating in the air with the viral claim that this can only be possible with the power of Yoga. Vijay Bharat News, A Karnataka-based media outlet, wrote an article titled "The young man showed by flying in the sky on the power of Yoga Vidya, due to which even the scientist was surprised", which claimed that the man was able to fly in the sky using Yoga powers.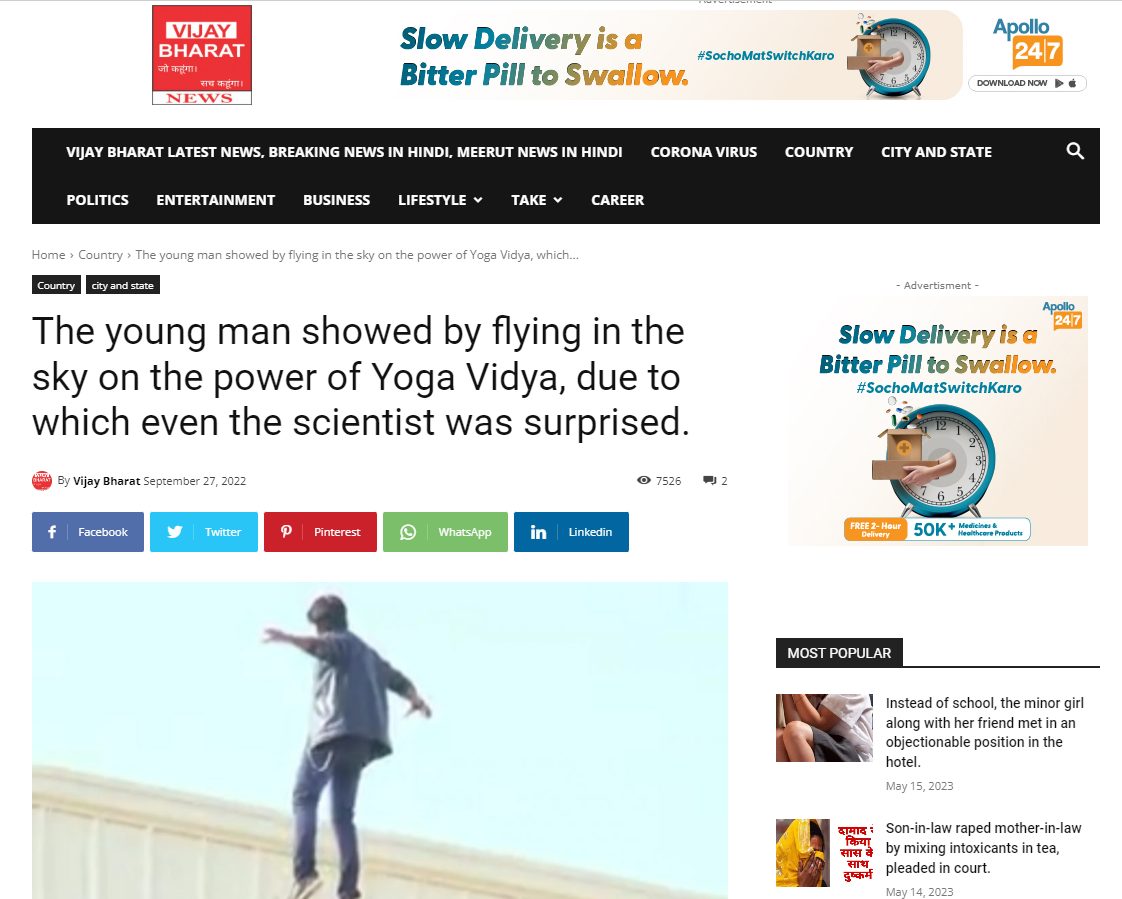 A Twitter user named 'Satish Nanda (Son of Odisha)' also posted the viral video with the caption, "This boy is from Tamil Nadu, he has shown flying in the sky with the power of #yoga. Scientists are surprised to see that.@bnn_bharat". (Archive)
This boy is from Tamil Nadu, he has shown flying in the sky with the power of #yoga. Scientists are surprised to see that. @bnn_bharat pic.twitter.com/srwkYQAe5Z

— Satish Nanda (Son of Odisha) (@TPWWO_BECT_YHR) May 8, 2023
The video is viral on Facebook.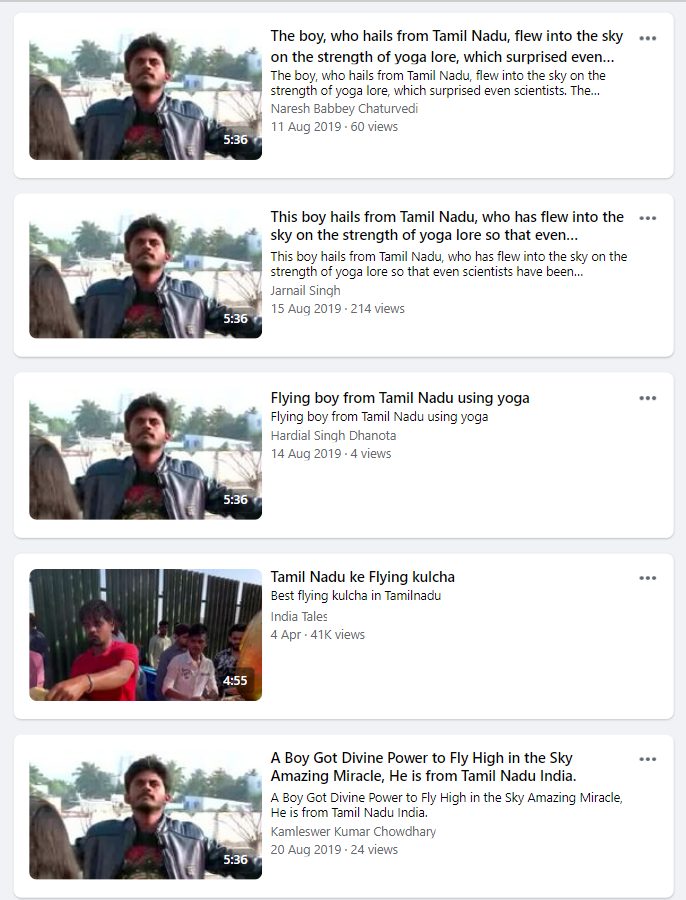 Fact Check
First, we broke down the video into key-frames using Invid software and then reverse-searched one of them on Google. This led us to the original video on YouTube. It was shared on a channel named 'Vignesh Prabhu'. As per the description on the YouTube page, Prabhu is a 'magician, mentalist and illusionist'.
The original video is titled 'FLYING MAN OF INDIA at 160 FEET | Magician Vignesh prabhu | Exclusive flying magic | Jai hind'.
According to the video description, the performance is only for 'entertainment performances' and that the magician did not use any visual effects, cranes or ropes for the trick. We found several other videos of the same magic trick on YouTube. A YouTube channel by the name of 'Magic Secrets Revealed', which has over 1.6 million followers, revealed the trick which can be performed using cranes and extremely thin air-craft cables which lift the magician off the ground. The video reveals shows the magic performance from different angles, similar to Prabhu's viral video.
At 3:55 mark, the magician reveals that these tricks are usually performed in broad daylight and how the thin cables are sometimes invisible to the human eye since the cables reflect the sunlight and that magicians also employ VFX effects and editing software to remove the cables that might be visible in the video.
We also found the 'flying' video on Facebook shared by a digital creator named Raghav Rao. The caption of the video says 'Magician Vignesh Prabhu … Excellent magic show.'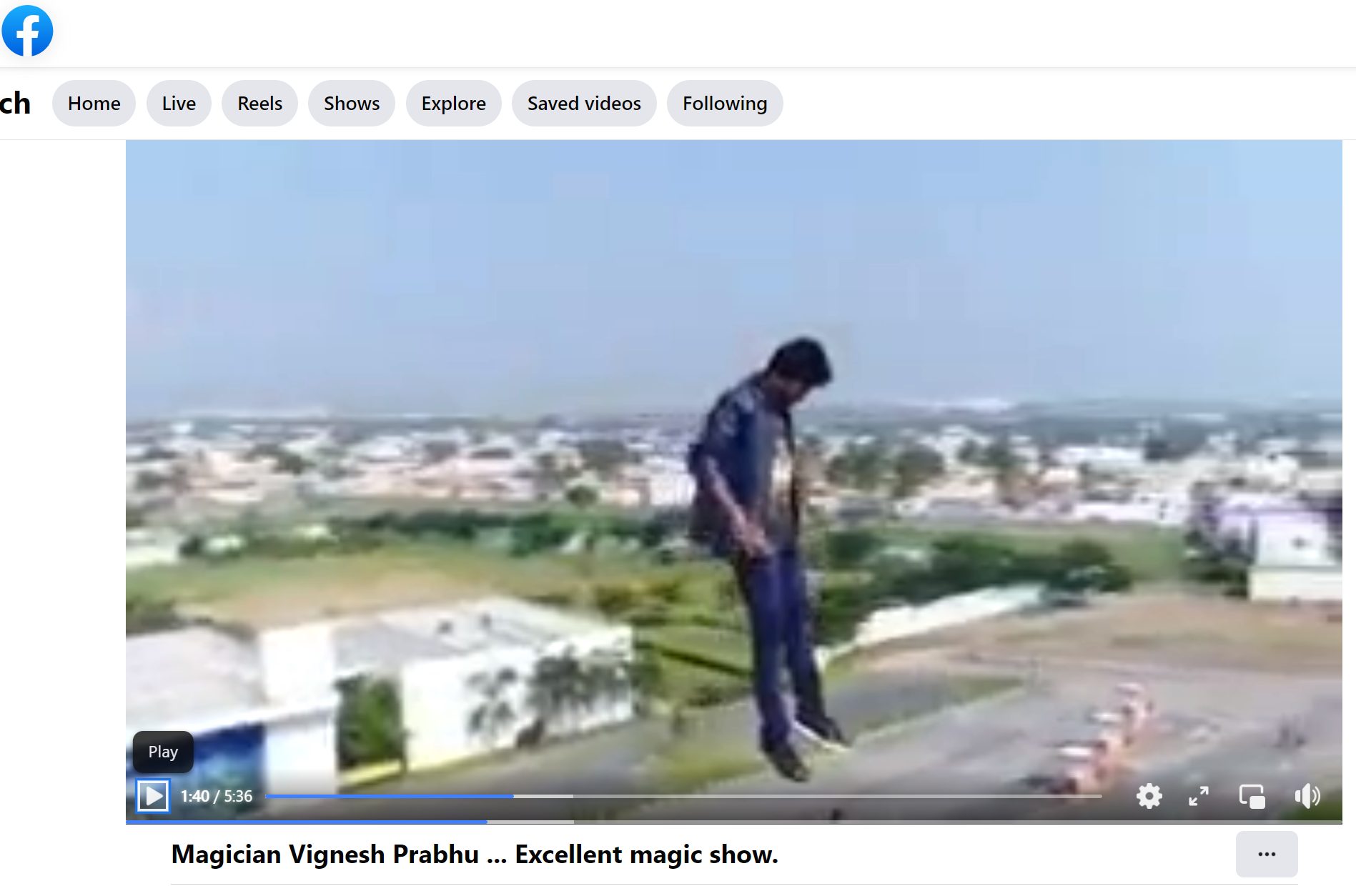 Hence, it is clear that Prabhu, a magician, performed the flying stunt with his usual magic tricks, and not by 'yogic powers', as claimed by several users on social media.
Abira Das is an intern at Alt News.
Donate to Alt News!
Independent journalism that speaks truth to power and is free of corporate and political control is possible only when people start contributing towards the same. Please consider donating towards this endeavour to fight fake news and misinformation.