Recently, a video surfaced on the internet that shows students of a school throwing dupattas (scarves) from the windows of the classrooms. Ashok Swain, a professor of peace and conflict studies at Uppsala University shared this video and wrote: "Girls studying in a school for tribals (indigenous people) in Tamil Nadu are throwing away their dupattas (scarves) in protest against school uniforms that they think North Indian and patriarchal!"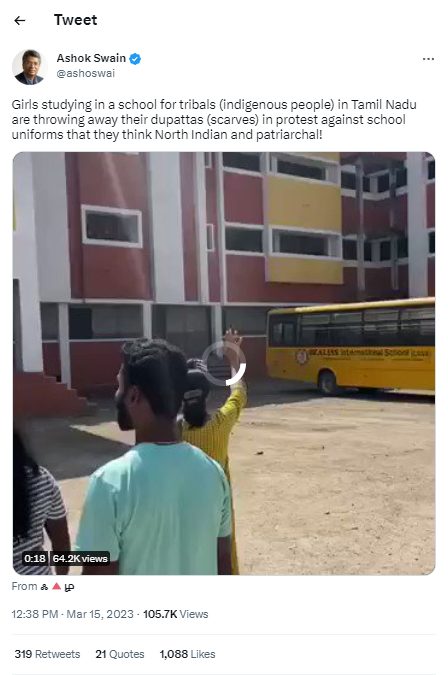 The tweet has received more than 1.2 lakh views and has gone viral.
The video was also shared on Facebook.
Girls studying in a school for tribals (indigenous people) in #Tamil Nadu are throwing away their dupattas (scarves) in protest against school uniforms that they think North Indian and patriarchal! #india

Posted by Business Universe on Wednesday, 15 March 2023
Fact Check
By reverse searching one of the key-frames of the viral video, Alt News came across an Instagram post by Aware India, an NGO that works on women's empowerment. The caption of the video, written in Tamil, mentions a boarding school of the Kalvarayan tribe in Tamil Nadu and the name of writer Geetha Ilangovan.
View this post on Instagram
Geetha Ilangovan is the author of the book 'Dupatta Podunga Thozhi' (Put on a Scarf, My Friend), a collection of 30 essays. When Alt News reached out to her, she told us about a campaign undertaken by Aware India to reach out to rural tribal young girls and women of Tamil Nadu and educate them about feminism and body positivity. She added that child marriage was prevalent in Tamil Nadu and the state government, along with various NGOs, was trying to educate girls about the ills of it.
"Recently, several books of contemporary Tamil feminist literature were distributed among students in schools across Tamil Nadu. My book was one of them. When I arrived at this specific school in Kallakurichi of Tamil Nadu, the children were excited to welcome me. They did so by discarding their dupattas out of the windows, as a symbolic gesture of fighting sexism," Geetha said, adding, "this had nothing to do with any sort of protest against North Indian attire or anything like that."
The author also informed us that a three-day camp was being held at the school and she visited it on the second day. On Day 1, author Nivedita Louis had interacted with the students and it was there that the idea of welcoming Geetha by flinging the dupattas originated.
"When Nivedita asked them what books they had read, they mentioned my book, Dupatta Podunga Thozhi. They said they had could related to it because they also found that their family and people around them would force them to wear a dupatta. Then Nivedita suggested that when I would there the following day, they could throw down their scarves to welcome me. It was discussed in a lighthearted manner, but the girls fancied the idea and actually did it," Geetha told Alt News.
We noticed that The Quint posted the video on its YouTube channel and and said that the students had thrown their scarves away to greet the author. The author (clad in yellow) can be seen waving at the students expressing her amusement at the gesture.

In an article titled 'Off With the Dupattas: Why TN Tribal Students Discarded Scarves To Beat Sexism', The Quint said, "On 13 March, a school in Kallakurichi of Tamil Nadu witnessed an unusual event, visuals of which have now gone viral – girl students of eight schools discarded their dupattas from atop a three-storied building to greet a woman author, Geeta Ilangovan." It adds, "The author… was surprised to see scarves of different hues being flung down from the building as the students mouthed a collective greeting – 'Hi'. The gesture harboured both cultural and gender connotations, Ilangovan said."
Therefore, the claim by Ashok Swain about young girls in Tamil Nadu protesting against 'North Indian and patriarchal' school uniform by throwing scarves out of their classrooms is false. They were actually greeting author Geetha Ilangovan at their school.
Vansh Shah is an intern with Alt News.
Donate to Alt News!
Independent journalism that speaks truth to power and is free of corporate and political control is possible only when people start contributing towards the same. Please consider donating towards this endeavour to fight fake news and misinformation.