Two videos have been linked to the ongoing farmers' protest and shared on social media. The first video shows some people emptying liquor bottles into a drum and the second video shows people distributing liquor to a large crowd. One Facebook user shared these videos and claimed that they show protesting farmers. His post was shared more than 43,000 times.
BJP supporter Rishi Bagree tweeted both videos and mocked farmers.
लो भाई आप भी देखो किसानों पर मोदीजी कितना जुल्म कर रहे हैं : और किसान भाई लोग कितने तकलीफ में रह रहे हैंpic.twitter.com/PANIqLfY8J

— Rishi Bagree (@rishibagree) September 14, 2021
Twitter user Renee Lynn posted a merged video of both clips and wrote, "I'm ashamed that such addicts are a part of the farmers' movement. Farmers' protest has turned into a hub of intoxication and prostitution. People from the country and abroad are funding them. But they are getting exposed gradually." (Archived link)
थूकता हूँ ऐसे नशेड़ियों के किसान आंदोलन पर ।। किसान आंदोलन केवल नशा और रंडीबाजी का अड्डा बनकर रह गया है ।। इसमे शामिल हैं देशद्रोही और अलगाववादी तत्व ।। जिनकी देश और विदेशों में बैठे आका लोग फंडिंग कर रहे हैं ।। धीरे धीरे सब एक्सपोज़ हो रहे हैं ।।।। pic.twitter.com/SKol3Zu2Sg

— Renee Lynn (@Voice_For_India) September 14, 2021
Several other Twitter users @sdtiwari, @NagarJitendra, @br_sharma6, @Pradeep54242413 shared the video claiming the same.
This slideshow requires JavaScript.
The video has also been shared by many people on Facebook. Alt News has received lots of requests on its official WhatsApp number (+91 76000 11160) and mobile application.
This slideshow requires JavaScript.
Fact check
Alt News was unable to spot any flags of farmer unions or posters of farmer organisations in the clips which acted as the first hint that the clips may not be related to the ongoing protests.
First video
Using Punjabi keywords, with the help of independent journalist Sandeep Singh, we found a Facebook post captioned, "ਸ਼ਰਾਬ ਦਾ ਲੰਗਰ। ਡੇਰਾ ਬਾਬਾ ਰੋਡੂ ਸ਼ਾਹ" that translates to "Liquor langar. Baba Rodu Shah". This post has been created by merging multiple videos and the first viral video is also visible in the post at 20 seconds.
We further located a video posted by Daily News Punjab on Facebook titled, "Jagraon kaunke kalan ਮੇਲਾ ਬਾਬਾ ਰੋਡੂ ਸ਼ਾਹ ਜੀ ਦੇ ਠਾਠਾਂ ਮਾਰਦਾ ਇੱਕਠ" that translates to "Huge gathering at Baba Rodu Shahji's mela." Kaunke Kalan is a village in Ludhiana.The practice of offering liquor to Baba Rodu Shah is a village custom, followed for years. Devotees first bring alcohol and offer it to Baba Rodu Shah, then they distribute it among devotees as prasad.
We reached out to Daily News Punjab and the outlet confirmed that the viral video is from Baba Rodu Shah. It also added that the practice of offering liquor has been going on for years.
Furthermore, a Facebook Live recorded at the place of worship and uploaded on September 6 shows a purple-coloured tent. A tent of the same colour is visible in the first viral video and the video of Daily News Punjab.
We reached out to Gurmeet Singh, Secretary of the Dargah Committee, and he informed us, "This video is from here, and all the boys who are seen in the video work at the dargah. I know them personally." Alt News also found a YouTube video titled 'Mela Baba Rodu ji mela Kaunke kalan Jagraon (Ldh)' where a person in an orange kurta is also seen in the first viral video.
Second video
Independent journalist Sandeep Singh visited the dargah and captured some visual clues that match the location seen in the second viral video.
A collage of the visual similarities has been added below.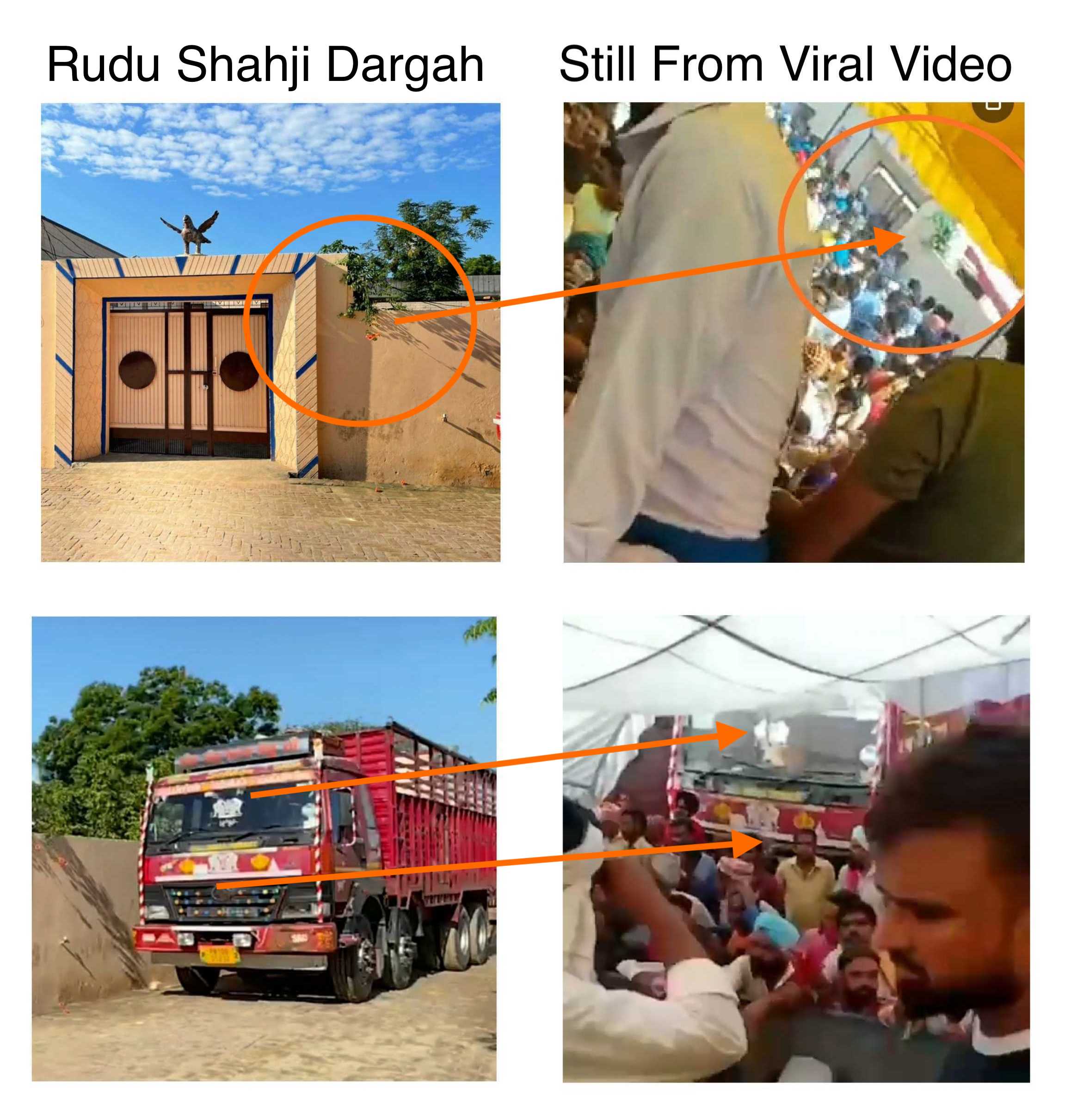 Therefore, videos shot at Baba Rodu Shah in Ludhiana went viral on social media in the name of the farmers' protest. The practice of offering liquor at the place of worship is an old custom and has nothing to do with the farmers' movement.