Trigger Warning: Descriptions of violence
Two violent videos are circulating on social media as visuals from Sonipat, Haryana where individuals are mercilessly being attacked and tortured. It is alleged that members of Right Wing political outfit Bajrang Dal are carrying out these brutal attacks.
Alt News will only provide screengrabs of frames from the viral clips due to their graphic nature.
VIDEO #1: Three individuals mercilessly beat a man with rods
In this clip, an individual holds the victim firmly while the others hit the victim with rods. They mostly hit the men on his arms and the lower part of his body. At the end of the clip, a woman can be heard asking why they're attacking him.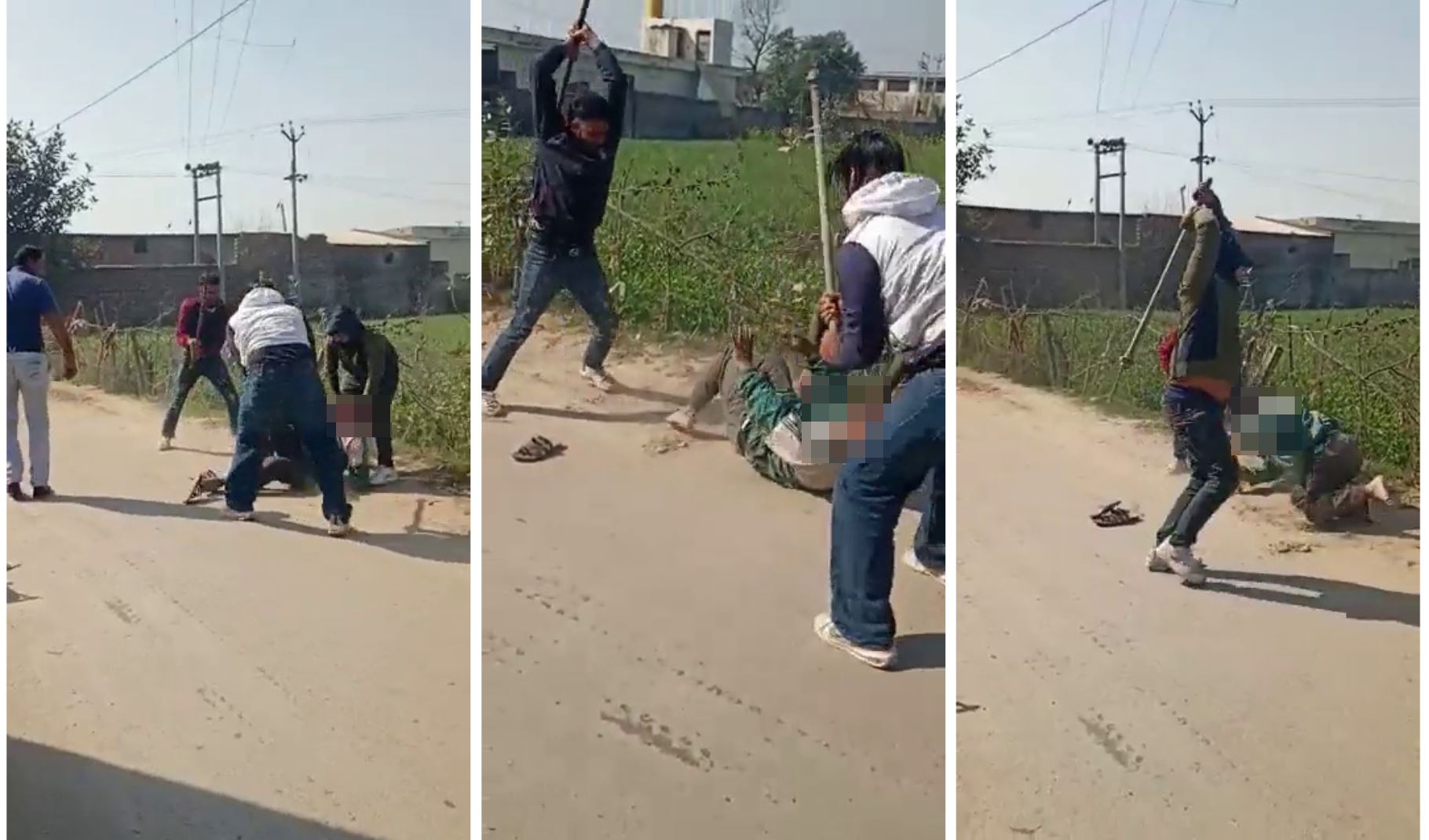 Sharing this clip on Twitter, user Anuma Acharya wrote in Hindi, "This video is said to be shot near Sonipat and the killers are being told to be Bajrang Dal members. It's a gruesome scene. Why doesn't someone catch and take action? At least verify the location." (Archive.)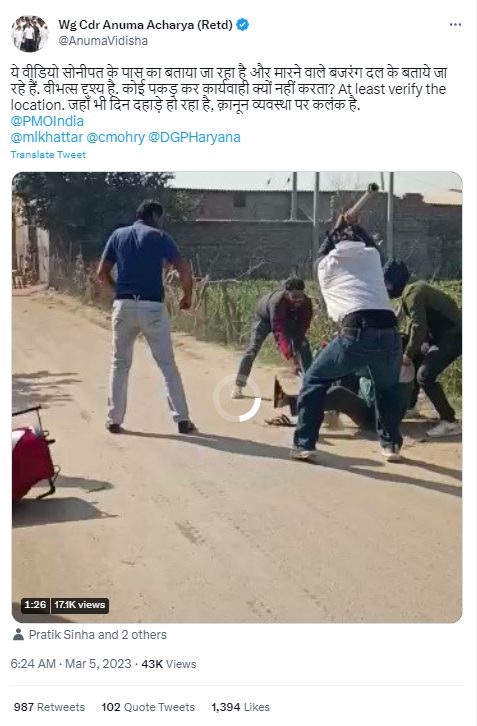 The user tagged the co-founders of Alt News on her tweet.
Fact Check
We found an article from Punjab Kesari shared by a Twitter user in the replies. As per the report, the incident is from Sunam, Punjab, where a man was attacked because of personal enmity. The victim is identified as Sonu Kumar.
Alt News also found a report by The Indian Express published on February 21, 2023. According to this report, both the legs of the victim, Sonu Kumar, were fractured. The report adds that Sonu was travelling on his motorcycle along with his son, Buta Singh, 18, to bring a geyser from his father Gurcharan Singh's house. They were attacked when they reached Bajigar Basti, where the mother of one of the accused gathered people and told them to attack Sonu.

Alt News accessed a copy of the FIR which carried more details. According to the FIR, when police reached the spot, they found a gathering of people and were informed that the victim, Sonu Kumar, a resident of Jagatpura Basti, had been taken to the local hospital by his relatives. Sonu's statement was recorded in hospital.
Six people, Mani Singh son of Bhura Singh, Kuldeep Singh alias Bari son of Amrik Singh, Lavi Singh son of Mahinderpal Singh, Malkit Kaur wife of Bhura Singh, Gopal Singh son of Namalum resident of Jagatpura and Amrik Singh son of Amarnath resident of Kharyal, were booked under various sections of the IPC.
Additionally, Alt News reached out with senior superintendent of police (Sangrur) Surinder Lamba on WhatsApp. He wrote, "In this incident, an FIR 29 dated 15/02/23 under 307, 323, 324, 325, 506, 148, 149 IPC had been registered against 6 accused in PS City Sunam, Sangrur Police. In this 3 accused have been arrested and 2 are absconding. Teams of crime branch and police stations have been deputed to arrest absconding accused and they will be arrested earliest to face the law."
Hence, a video from Sunam, Sangrur district, Punjab was falsely viral as visuals from Sonipat, Haryana claiming Bajrang Dal members had attacked an individual. In reality, this was a case of personal enmity and three people have already been arrested.
VIDEO #2: Fingers chopped using sharp weapons
In this clip, two-person hold the victim and chop the fingers of his left hand. The fingers still remain attached so they hold it with a jacket and pull them apart. All of it is done while the victim screams in pain.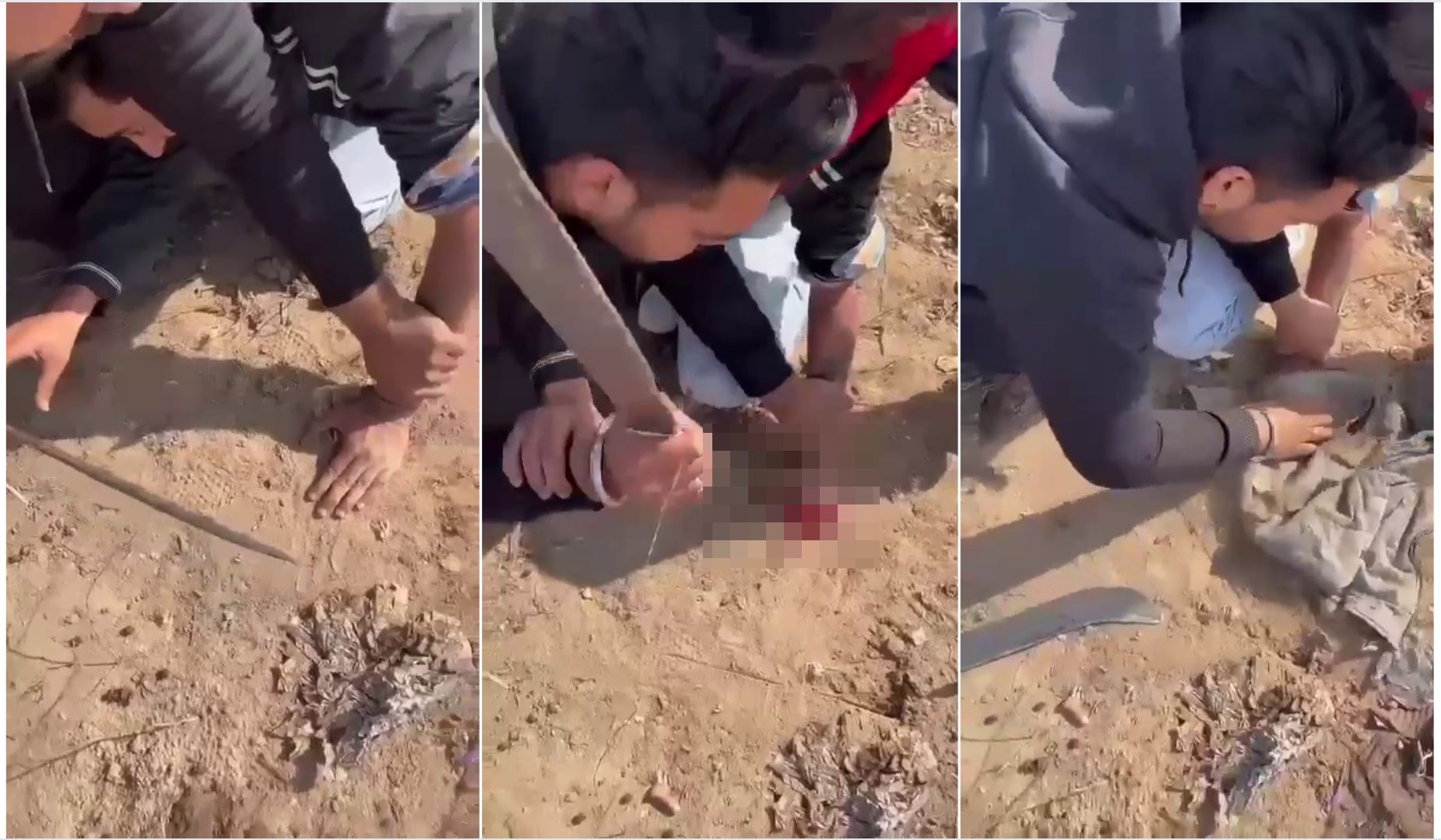 This video is being shared on WhatsApp with an accompanying audio clip that ask users to forward this as much as they can. This video is also claimed to be from Haryana where Bajrang Dal members are attacking drivers.
In the audio clip, the speaker says that drivers travelling on the Sonipat-Panipat highway should be careful as Bajrang Dal members are killing people. The speaker adds that this clip should be forwarded to all groups.
The same video is viral with another audio clip as well. In this, too, this user requests listeners to amplify this clip.
Fact check
Alt News performed a keyword search and came across a report by The Indian Express published on February 25, 2023. The details in this report matched the visuals seen in the viral clip. The incident is from Mohali, Punjab.
The report reads, "A video of a man being pinned down and his fingers being chopped off went viral on social media on Friday, with police claiming that they had already lodged an FIR in the incident and launched a probe." It also says that the incident took place on February 8 and an FIR had been registered the very next day. It was an alleged act of revenge for a murder that had taken place six months ago.
Deputy superintendent of police (city-1) Harinder Singh Mann also issued a statement via the Twitter handle of SAS Nagar Police. SP Mann says that around February 9, a few individuals mutilated the fingers of a youth after which the victim was taken to the hospital where he was being treated. He also adds that an FIR was registered and raids are being conducted to catch the absconding suspects.
FIR No.21 dated 09.02.2023 u/s 326, 365, 379 B, 34 IPC & 25 Arms Act is already registered in PS PH-1, District SAS Nagar.The victim and the accused had old enmity.
2 accused have been identified.They will nabbed soon.
All are requested to not spread rumours.#ActionAgainstCrime pic.twitter.com/HwiwABmT6C

— SAS NAGAR POLICE (@sasnagarpolice) February 24, 2023
Alt News spoke with SP Mann who told us that all the suspects have since been arrested. We noted that SSP Sandeep Garg had issued a statement in this regard as well. As per the SSP, the accused, Gaurav Sharma alias Gauri, and Tarun, were caught during a police shootout near the Shambhu border. He also mentions that the two were members of the Bhupi Rana Gang.
#UPDATE: Mohali police caught two members of Bhuppi Rana gang Gaurav Sharma alias Gauri and Tarun during an encounter at Shambhu border, 1 gangster was shot in the leg. Both are the main culprits in the finger chopping incident in Monali: Sandeep Garg, SSP Mohali https://t.co/XfjH9YpOvR pic.twitter.com/5xgyGP0ssL

— Nikhil Choudhary (@NikhilCh_) February 25, 2023
The same details were also reported by The Tribune on March 2. Below we have provided excerpts from the report.

Hence, a video of two people mutilating the fingers of a youth was falsely viral as visuals from Sonipat, Haryana where Bajrang Dal members are attacking drivers travelling through the Sonipat-Panipat highway.
To summarise, two video clips showing gruesome violence were falsely viral as members of the Bajrang Dal attacked people in Sonipat, Haryana. In reality, both clips are from Punjab and have nothing to do with Bajrang Dal.
Vansh Shah is an intern with Alt News.
Donate to Alt News!
Independent journalism that speaks truth to power and is free of corporate and political control is possible only when people start contributing towards the same. Please consider donating towards this endeavour to fight fake news and misinformation.