The release of S Shankar's '2.0', a Tamil science fiction movie starring Rajnikanth and Akshay Kumar, sparked up a discourse on the effects of electromagnetic field (EMF) radiation on birds. The film's message – birds die due to radiation – was portrayed with scenes showing them crash into cell phone towers.
While the possible impact of communication towers on birds is debatable and will be discussed later in this article, we will first look at media reports that exaggerated the story with a false claim.
"5G cellular test caused the death of hundreds of birds in The Netherlands"
On December 5, Zee News tweeted an article captioned – "The danger shown in Akshay Kumar's 2.0 proved to be true! Hundreds of birds killed in Netherland due to 5G (translated)."
In its report the news organisation claimed, "भारत में 2019 की पहली तिमाही में नई दिल्ली में 5G सेवा का ट्रायल किया जाएगा. लेकिन नीदरलैंड में 5जी सर्विस की टेस्टिंग से जुड़ी एक खबर ने सबको चौंका दिया है. पक्षियों के लिए इसकी टेस्टिंग काल बनकर आई और करीब 300 बेजुबानों की जान चली गई. ऐसे में सवाल खड़े हो रहे हैं क्या भारत भी इस रिपोर्ट से कोई सबक लेगा. (India, in the first quarter of 2019, will conduct a trial on 5G services in New Delhi. However, a 5G testing news from Netherland has shocked everyone. This testing has proved to be hell for birds and the lives of nearly 300 of these speechless animals were lost. The question remains if India will learn any lesson from this.)"
Zee News cited Californian website Galactic Connection as the source.
Fake news
The claim that birds died in The Netherlands due to 5G trials circulated globally.
American fact-checking website Snopes reported that a "medical conspiracy blog" Health Nut News by Erin Elizabeth published an article on November 5 titled – "Hundreds of birds dead during 5G experiment in The Hague, The Netherlands." Elizabeth describes herself as an 'investigative journalist' on her YouTube channel.
According to Snopes, her article was a reproduction of Facebook posts authored by one John Kuhles.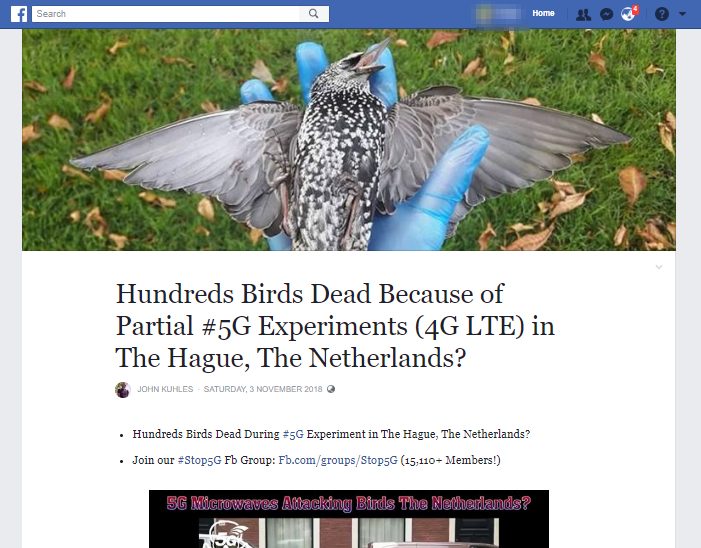 Kuhles was the same person who suggested that the November 2018 California wildfire was triggered by a direct energy weapon as an act of revenge from the "Ruling Elite" to punish the state for vetoing a "mass 5G deployment" plan.
According to Snopes, while a series of mysterious bird deaths did occur at a park in The Hague starting October 19, it could not be linked to 5G cellular network test. The Consumer Product Safety Authority was investigating possible viruses and poisoning.
The fact-checking website reported that "Kuhles tied the factual existence of unexplained bird deaths at a park (Huijgenspark) in The Hague, Netherlands, to a non-existent test of a next-generation cell phone network (5G) that he claimed (without evidence) took place simultaneous with the bird deaths."
Moreover, a 5G trial that was held in an area near Huijgenspark on June 28, 2018, was not followed by a massive falling of birds from the sky. It was a one-day event permitted by the Dutch equivalent of the US' Federal Communications Commission (FCC).
Snopes also confirmed from multiple other sources that no other such test took place in The Hague.
Misinformation circulated by several Tamil media outlets
Following the release of '2.0', which revolves around a plot depicting harmful effects of EMF radiation on birds, Indian news organisations, mostly Tamil media, published stories on the movie by adding the 'birds died in The Netherlands due to 5G' bit.
News18 Tamil Nadu, Oneindia Tamil, Puthiyathalaimurai, Samayam Tamil and Webdunia Tamil were among those that propagated the narrative. Hindi media outlet Patrika also published a similar story titled – "If 5G network comes into this world, their lives will be lost (translated)."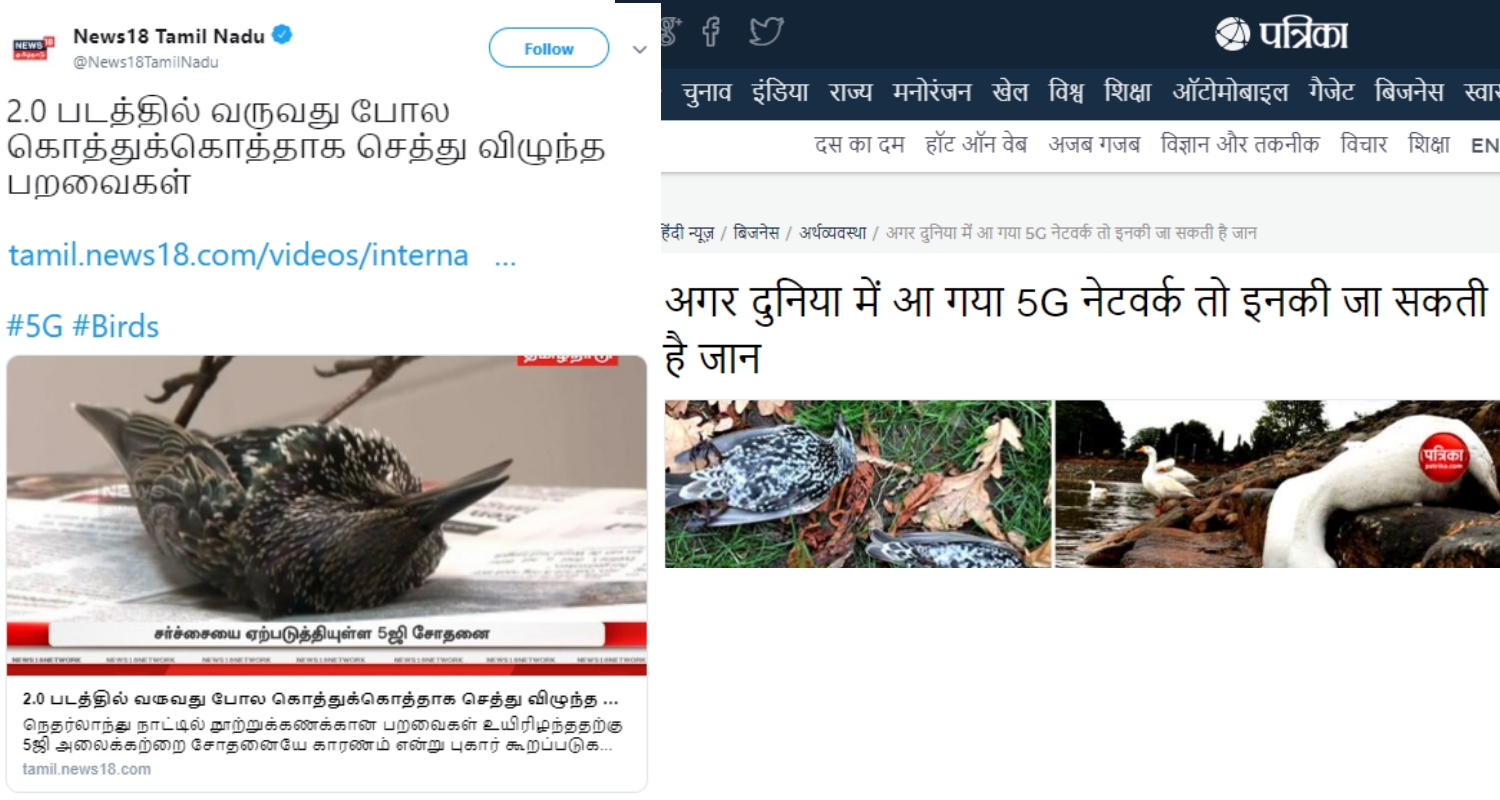 Can 5G cellular network cause the death of birds?
Mobile phones operate in the high frequency (HF) range of the electromagnetic spectrum – from 100 kHz (0.1 MHz) to 300 GHz (3 lakh MHz), per the International Commission on Non-Ionizing Radiation Protection (ICNIRP). India follows ICNIRP guidelines and has one of the most stringent standards on EMF radiations. Airtel and Vodafone currently offer 4G in the 1800MHz and 2100MHz bands, while Jio uses a lower band of 800 MHz.
The Department of Telecommunications (DoT) is in talks to open up new spectrum bands for 5G in the 3300-3600 MHz frequency range. All the above-mentioned frequency ranges are well within the permissible limit.
The only known test of 5G in The Hague, which fueled misinformation, utilized the 3.4-3.8GHz band or 3,400 to 3,800MHz, according to Snopes.
The fact-checking website spoke to Dr. Eric van Rongen, a member of the Health Council of The Netherlands and the Chairman of ICNIRP, who informed, "The only way one could imagine death of birds as a result of exposure to electromagnetic fields is with very high level exposure that results in considerable heating … But the levels that are used by mobile telecom antennas are not strong enough for this to happen. There are maybe millions of such antennas around the world and this has never been reported."
"Even if there would have been 5G exposure, it is very unlikely that that could cause the [bird] mortality," he concluded.
Therefore, media reports claiming that birds crashing into towers and dying due to EMF radiations, as shown in '2.0', is likely to happen because a similar incident occurred in The Netherlands, are not only wrong but their assertions are also unfounded.
Donate to Alt News!
Independent journalism that speaks truth to power and is free of corporate and political control is possible only when people start contributing towards the same. Please consider donating towards this endeavour to fight fake news and misinformation.