A photograph of a group of young men wearing black t-shirts with ISIS written on them, has been circulated with the claim that the picture was clicked in Wayanad, Kerala after polling, on April 23.
This is the photo after the polling in Wayanad, Kerala on 23 April. People wearing T-shirts of ISIS is clearly visible.

Voting Congress means making India an Islamic State.

Posted by Nadig G Vadiraj on Monday, April 29, 2019
The above post is by an individual user. The message and photo have also been shared in Hindi by users on Facebook.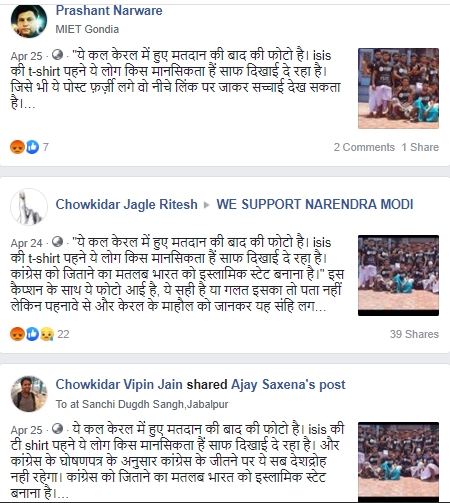 The same photo has also been shared with the identical message in Malayalam. Moreover, the message and photo have also been circulated on WhatsApp.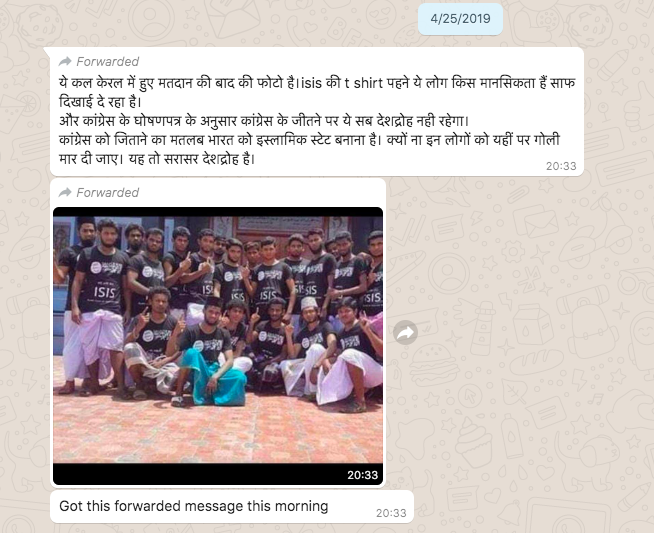 Photo is from 2014
The photograph in question was NOT clicked in Wayanad, Kerala on April 23 after polling, as claimed. It was clicked in 2014, in Tamil Nadu. The incident was reported by multiple media organisations at that time, in August 2014.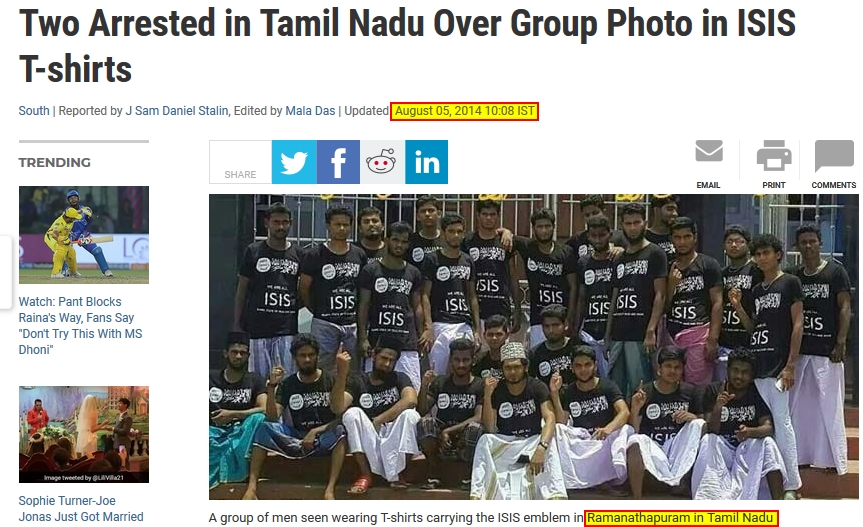 According to a report by NDTV, "Two young men have been arrested in Ramanthapuram district of Tamil Nadu after a photograph of a group of people posing in T-shirts with the emblem of the Sunni militant group ISIS went viral on social media. The two men, Abdul Rahman and Rilvan, have been charged with abetting insurgent activity and criminal conspiracy for ordering and distributing the T-shirts."
The report further stated, "But friends of the men arrested insist they have no links with the ISIS. They claimed that the T-shirts were ordered only to celebrate the safe release of 46 Indian nurses held by the ISIS in the conflict zone in Iraq last month."
In conclusion, an image from 2014 taken in Tamil Nadu was shared as a recent photo, clicked in Wayanad, Kerala on April 23 after polling. Kerala has often been in the cross-hairs of purveyors of misinformation- from false claims that school children in the state did not sing Vande Mataram, to wrongly linking the politics of the state to Pakistan.
Donate to Alt News!
Independent journalism that speaks truth to power and is free of corporate and political control is possible only when people start contributing towards the same. Please consider donating towards this endeavour to fight fake news and misinformation.