A video of a woman being dragged by a man is circulating widely on social media. The footage also shows several people, including some women, holding her by the hair and kicking, punching, and beating her with slippers and sticks. It has been claimed that the video is from Pakistan, and the victim is a Hindu.
Zee Hindustan tweeted the clip and wrote, "Atrocities on Hindus continue in Pakistan. A Hindu woman was beaten up with sticks over a trivial matter." (Archived link)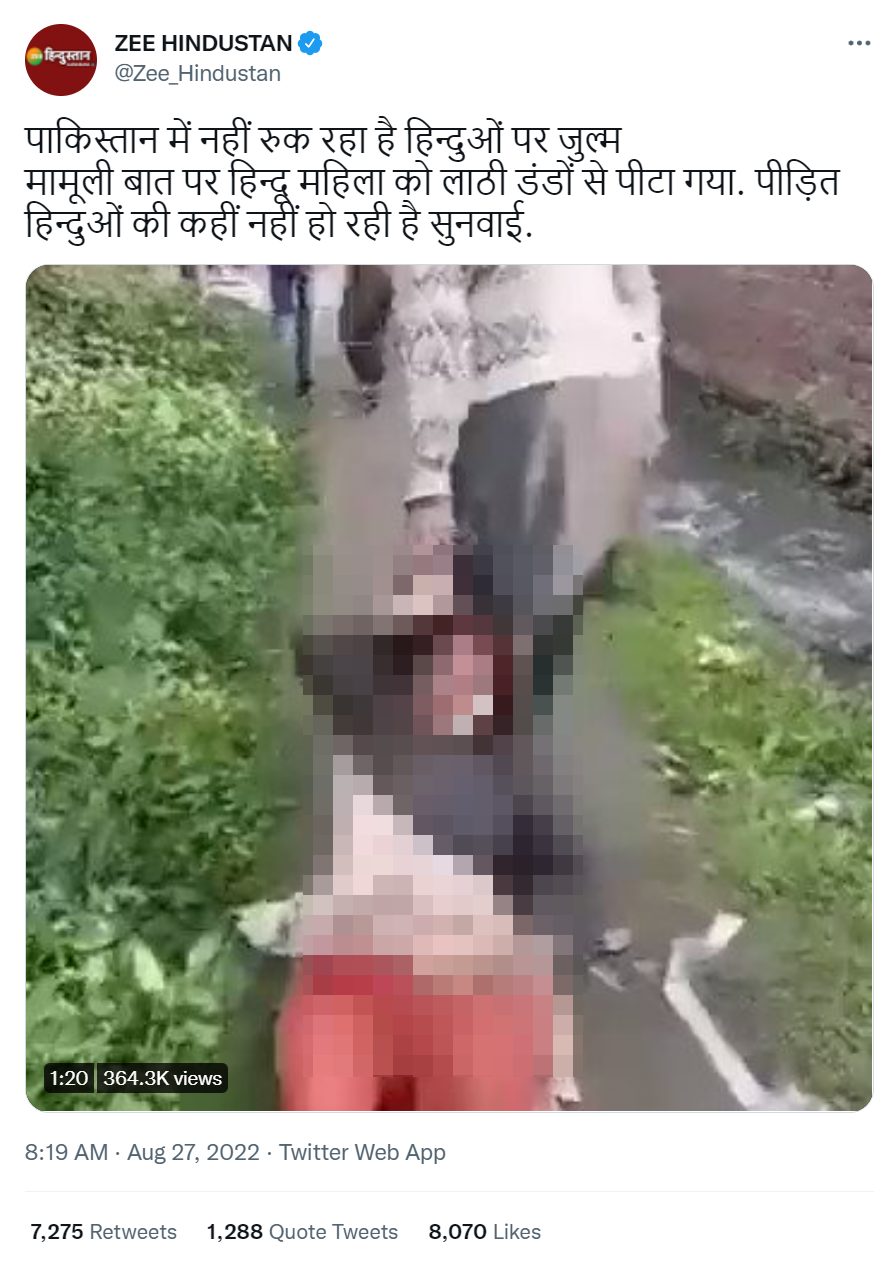 Vinod Bansal, the national spokesperson of the Vishwa Hindu Parishad, tweeted the video and wrote, "On one hand, Afghanistan banned girls from studying abroad, while Pakistan has resorted to terrible cruelty towards Hindu women. This anti-women mentality of jihadis cannot be changed." (Archived link)
एक ओर अफगानिस्तान ने बेटियों के विदेशों में भी पढ़ने को प्रतिबंधित कर दिया तो वहीं पाकिस्तान हिंदू महिलाओं के साथ दरिंदगी पर उतर आया..
जिहादियों की महिलाद्रोही मानसिकता नहीं बदल सकती!! pic.twitter.com/m36I3gLEfw

— विनोद बंसल Vinod Bansal (@vinod_bansal) August 28, 2022
Divya Kumar Soti, a columnist with pro-BJP propaganda outlet OpIndia, quote-tweeted Zee Hindustan's post, adding, "If Hindus are not taken seriously in India, then how will their condition be in Pakistan?" (Archived link)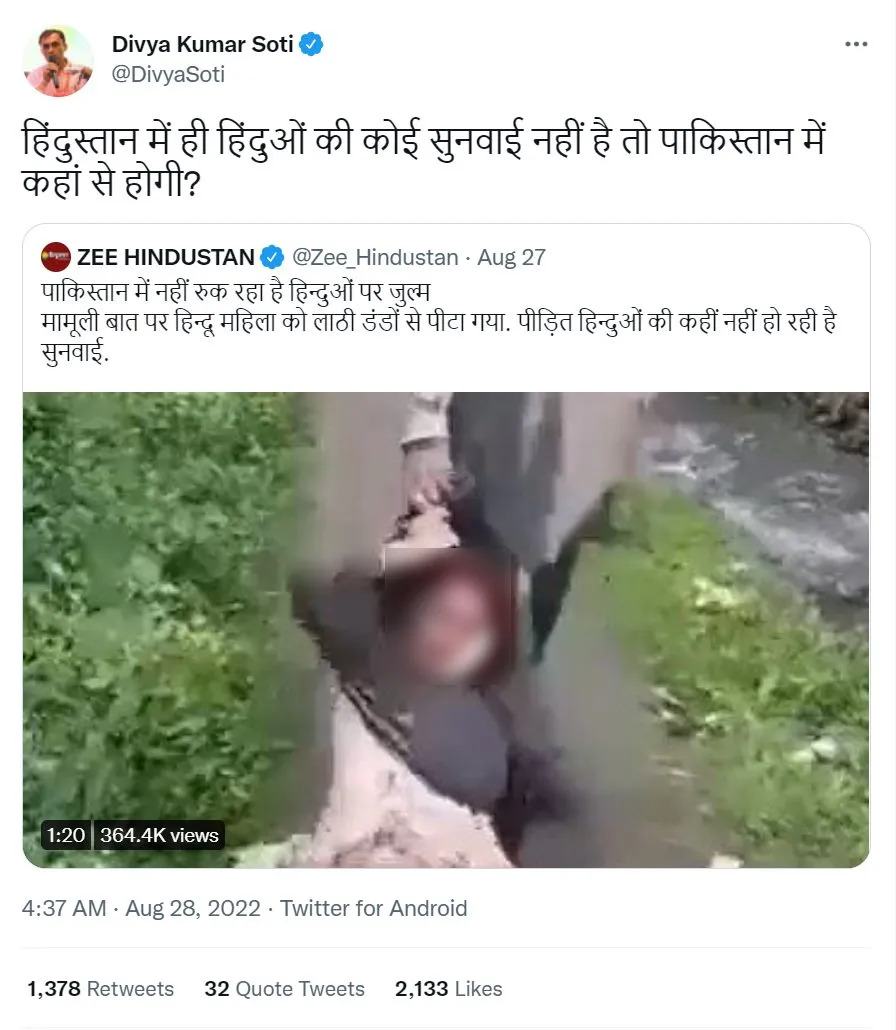 Similarly, right-wing propaganda website Kreately Media, actor Manoj Joshi, Humanitarian Aid International founder Sudhanshu Singh, and user @MrSinha_ who has a history of sharing misinformation, were some of the others who shared the video with similar claims.
This slideshow requires JavaScript.
Fact-check
Alt News performed a keyword search and found an article dated January 9, 2022, on the Pakistani web portal Geo News, according to which an elderly woman was tortured over a land dispute in Sialkot, Pakistan. After the video went viral, the Sialkot Police took action and registered a case against 15 people. Police arrested nine, out of which four were women. Speaking to Geo News, the elderly woman revealed that the incident occurred over a property dispute which has been going on for the last 13 years. The article did not mention any communal angle.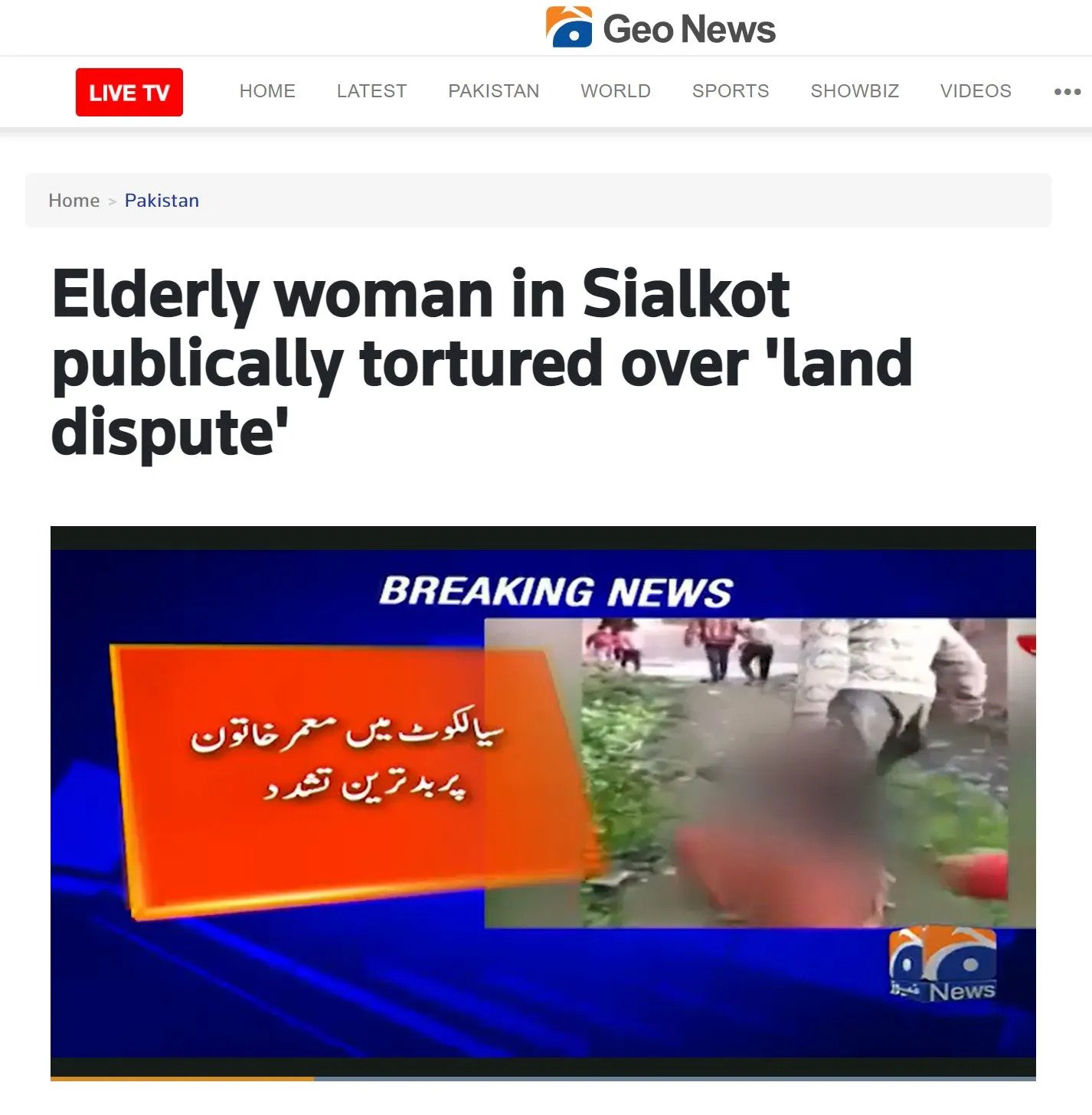 According to a report published on January 10, 2022, on the web portal of Pakistani daily Dawn, there was a dispute between two groups over a piece of land, and they had an altercation over it earlier as well. On the day of the incident, an altercation took place once again between two women, identified as Munawwar Kanwal and Nasreen Bibi. Nasreen, along with her relatives, severely tortured Munawar Kanwal. Nasreen's brothers grabbed Munawwar by the hair and dragged her to their village. There, she was slapped, punched and kicked. this report, too, does not mention a communal angle.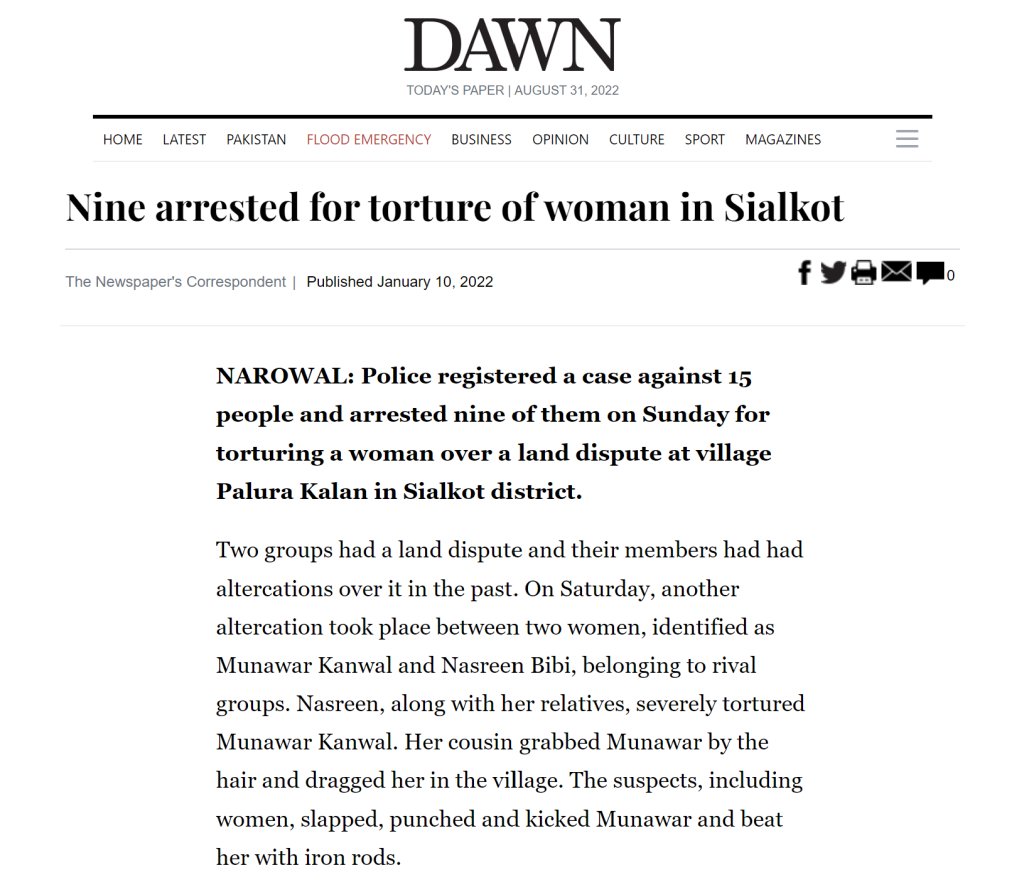 On January 9, Pakistan's Punjab Police announced on Twitter that it had arrested nine of the accused, including four women. Giving an update on the matter on January 10, they said they had arrested the tenth accused while the search for the remaining attackers was still underway.
معمر خاتون پر تشدد کے واقعہ میں ملوث ایک اور ملزم تیمور کو جھنگ موڑ سے گرفتار کیا گیا ہے،گرفتار ملزمان کی تعداد 10 ہو گئی۔باقی ملزمان کی تلاش جاری ہے تمام ملزمان کی گرفتاری تک سرچ آپریشن جاری رہے گا. https://t.co/HcQSORaqL0 pic.twitter.com/alwfRGcyqX

— Punjab Police Official (@OfficialDPRPP) January 10, 2022
Alt News performed a keyword search in Urdu, which led us to an article covering the incident by regional Pakistani news website News 360 TV. It also contains a copy of the FIR registered by the Sialkot Police. Here, the date of the incident is listed as December 31, 2021, while the date of registration of the FIR is January 7, 2022.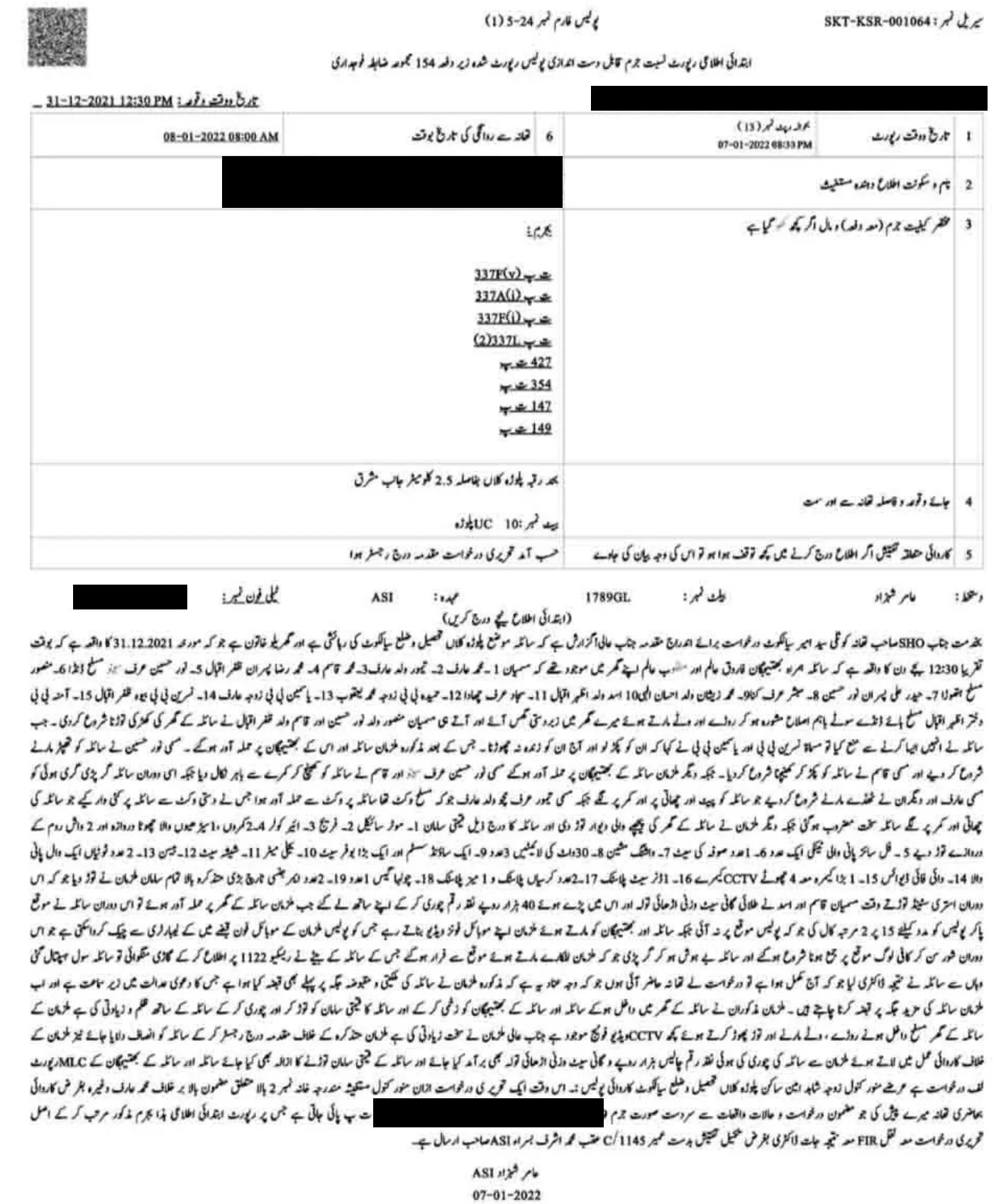 To probe further, we reached out to BBC Urdu journalist Sarah Atiq in Pakistan and shared the copy of the FIR with her. She confirmed that this was the FIR from the same incident, and moreover, the name and mobile number of the victim were also mentioned in the copy. On behalf of Alt News, Sarah spoke with the victim, Munawwar Kanwal, to look into the communal angle in this case. The victim revealed that she was a Muslim and denied any communal angle into the incident. The victim and all the accused hail from the Muslim community.
To sum it up, Alt News found that an old video of an incident of torture from Pakistan's Sialkot over a land dispute was falsely shared by many social media users including Zee Hindustan, Vishwa Hindu Parishad spokesperson Vinod Bansal and actor Manoj Joshi as atrocities on Hindus in the country. The incident took place in December 2021 and all the parties in the matter hail from the Muslim community.
Donate to Alt News!
Independent journalism that speaks truth to power and is free of corporate and political control is possible only when people start contributing towards the same. Please consider donating towards this endeavour to fight fake news and misinformation.