On June 16, Zee News posted a two-minute broadcast that showed people marching on hilly terrain. The march was carried out to create awareness for establishing a Gompa in Kargil, which has been pending since the 1960s. As per BBC, Gompa is a Tibetan institution that combines a shrine, a vihara and a meditation hall. Some contain facilities for study and learning. Collins Dictionary refers to it as a Buddhist monastery.
The channel insinuated that a "clash" took place between the "peace-loving" Buddhist community and "radical Muslims". Videos aired by Zee News show a large crowd marching, along with representational clips of monks and the Leh region. At the 50-second mark, Zee News alleged that in order to "protect" Buddhism, the monks "clashed" with radical Muslims. The channel did not report on the nature of the "clash", albeit no physical altercation can be observed in Zee News's broadcast. The video gained over 24 lakh views on YouTube.
[English transcript of the opening 50 seconds of Zee News broadcast: "An incident took place in Ladakh of which the entire nation was unaware. The news must be viewed by the nation so they know why the eternal, peace-loving Buddhists got enraged suddenly. Actually, in Ladakh, Maulvis and radicals have stopped Buddhists to build their temple due to which turmoil began. This issue is gaining momentum because of the march by the minority community of Buddhists [in Ladakh] against Maulvis and radicals. In order to protect their religion, Buddhists have clashed with Muslims. In order to protest against Maulvis and radicals, thousands of Buddhists joined the march. Let us inform you that this clash dates back decades…"]
Zee News also posted this on Facebook on June 16 and June 17. The posts gained over one lakh likes and over 12,000 shares cumulatively. The June 16 post gained over two million views.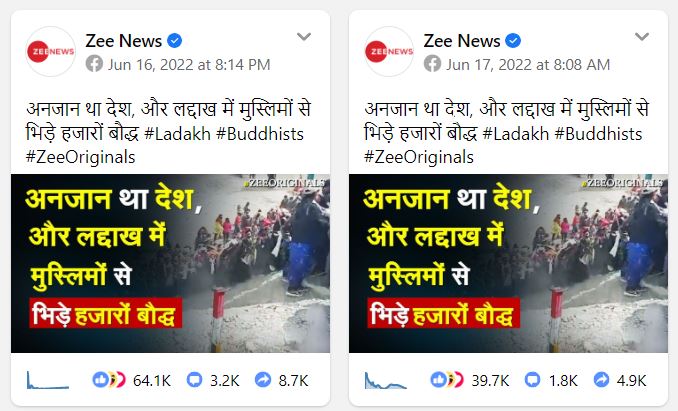 We also noticed that multiple pro-BJP and pro-Hindutva Facebook accounts shared this video. If you have access to CrowdTangle, you can view these posts here.
This slideshow requires JavaScript.
Fact-check
Zee News claimed "clashes" took place between Buddhists and Muslims in Ladakh without providing an explanation of the nature of the clashes. It must be noted that the video does not depict any violence, either verbal or physical.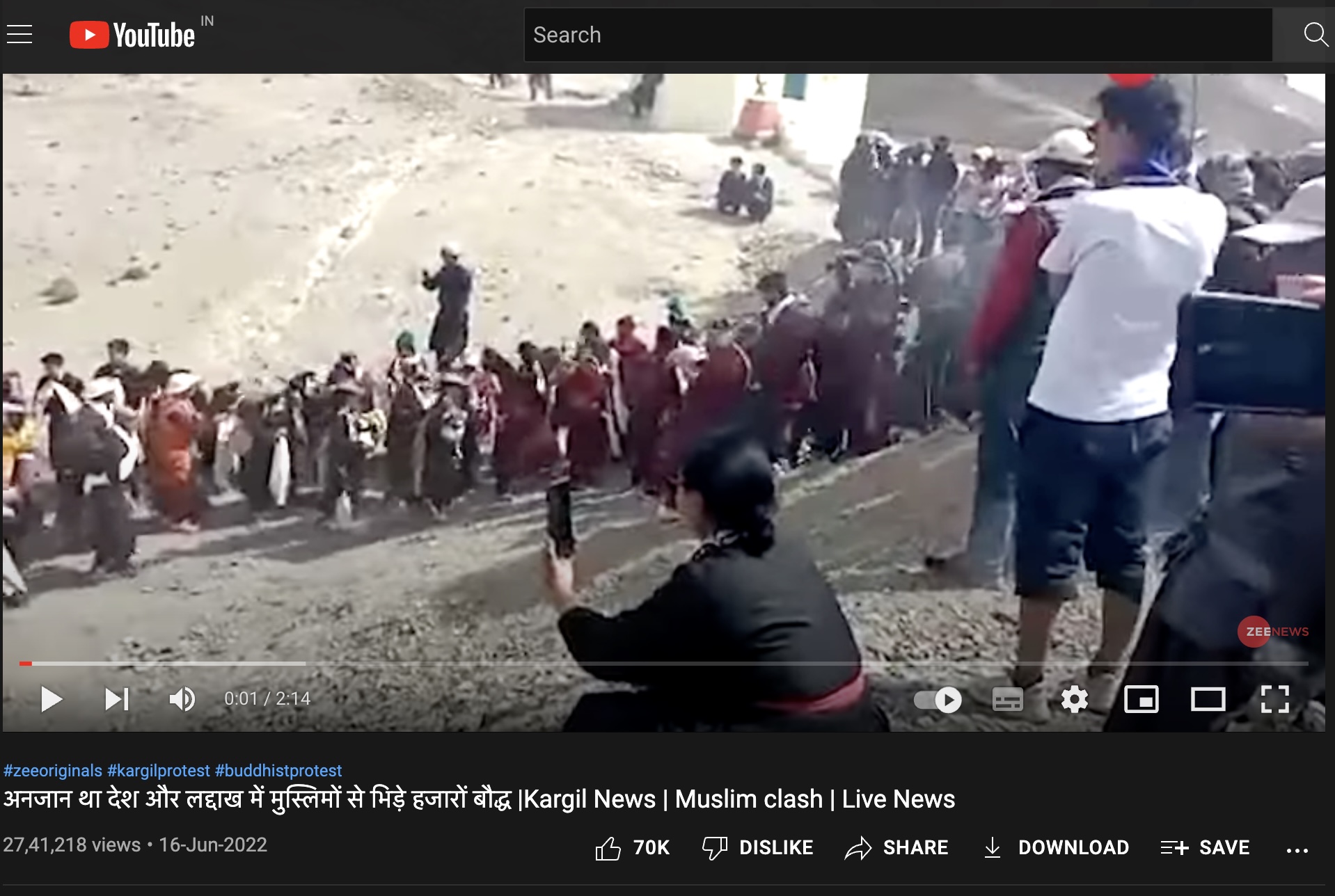 In order to understand the nature of the incident, Alt News spoke with all relevant stakeholders and rummaged through other news reports.
On June 12, Amar Ujala reported that Tibetan religious leader and the eighth Choekyong, Palga Rinpoche, led several hundred Buddhist community members on a 'padayatra'. On May 27, Rinpoche's Facebook page posted an image that listed details about the march. It took place from May 31 to June 14. As per the post, the march was organised to raise awareness about the restoration of the Kargil Gompa.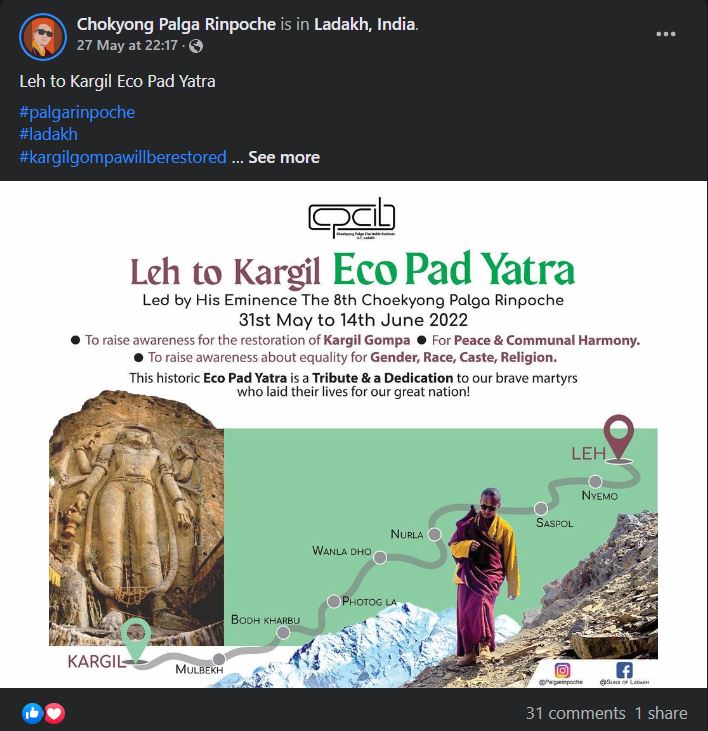 Capturing the historical context, Firstpost reported, "As per reports, 15 March, 1961, the then-Government of Jammu & Kashmir, General Department, Ladakh Affairs, sanctioned the land to Ladakh Buddhist Association (LBA) for the construction of Buddhist Temple and Sarai. It was clearly mentioned in the order that religious construction was allowed on the land. However, in 1969, the government issued another order, stating that the land allotted to LBA could only be used for the construction of residential or commercial buildings and refused to allow religious construction on the land." Thus, this is essentially a land dispute dating back to 1961.
Alt News spoke with Skarma Dadul, president of the Kargil Buddhist Association (KBA). Dadul shared the true copies of the 1961 and 1969 documents [view PDF]. He said, "I had joined the march. The aim of this march was to create awareness about the Kargil Gompa by laying the foundation. The video of people marching shown by Zee News is from June 12."
This slideshow requires JavaScript.
When we enquired if there was a "clash" during the march, he responded, "There was no clash. BJP Ladakh President and MP Jamyang Tsering Namgyal met the group of people marching near Mulbekh Monastery (view on Google Maps) and stated that Union Home Minister Amit Shah has communicated to stop this march. We stopped the march as requested." Dadul clarified, "The protest was peaceful."
YouTube user Stanzin Zingtak has uploaded a speech by BJP MP Namgyal. In the speech (from 8:27 to 8:47 minutes), Namgyal claimed that Amit Shah requested Palga Rinpoche to stop this padayatra. He said, "Yesterday when Home Minister Amit Shah called me… He didn't say it's my order to Rinpoche rather, he said my humble request to Rinpoche ji to call off the march."
Upon speaking with locals from Kargil, we found that the Muslim community feared that the padayatra, which sought to lay the foundation stone of the Kargil Gompa, was inspired by BJP co-founder late Lal Krishna Advani's rath yatra that sought to erect the Ram temple where Babri Masjid was situated. They were concerned that a march by thousands of Buddhists in Kargil could disrupt harmony.
As per regional police sources, "The construction of Gompa in Kargil is a sensitive issue in the region. The march reached the Mulbekh region on June 9. The police stopped the march because beyond this region lies the Muslim community (The Mulbekh region is about 40 kilometres from the site for Gompa in Kargil). The footage shown in Zee News is not prior to that. As per our estimate, it shows events between June 9 to June 13. However, Palga Rinpoche's remark to lay the foundation of a Gompa in Kargil steered controversy. Subsequently, AJUIAK president Sheikh Nazir Mehdi added to the controversy by stating that if the government doesn't take the measure to stop this march, they will have to do it." The police official requested anonymity because of the sensitive nature of the story.
Nazir made a remark on June 10 where he said (0:17 to 1:02), "As you are aware, the Palga Lama has started a walk in the name of peace from Leh and entered Kargil districts. The administration is well aware of the negative outcome of this yatra but they have maintained silence on the issue and haven't stopped them. Letting them enter Kargil districts is an illogical move and they [administration] have to stop it before it's too late."
A minute later, he added (2:18 to 2:48), "When Dalai Lama visited… the whole Muslim community gave him a warm welcome. Everyone gave respect to him; this is our way of dealing with people. Those who will come with respect will get respect, those who will come to talk with us, we will sit at the table and start the talk, but those who come to fight us we will fight too." He continued, "If you want to maintain peace & harmony in the region, then stop them before it's too late. If you [administration] won't stop them or don't know how to stop them, then keep it in mind we know how to stop it. When we will stop it, then you will be helpless. Therefore, send them back before it is too late."
On June 15, Rinpoche told News Nation that the land belongs to LBA. He added that LBA shall act autonomously to determine the use of the land. He also pointed out that this was the first initiative to set up Gompa after Ladakh was reconstituted as a union territory in 2019.
In 2020, Outlook reported, "The Kargil Democratic Alliance (KDA), an amalgam of different political and religious parties based in Ladakh's Kargil region, reiterated that it doesn't recognize the Union Territory status of Ladakh. The KDA has demanded complete statehood for Ladakh and the Alliance has accused the BJP government of disempowering the people of the region by taking away legislative and governing powers from them. Hitting out at the Centre's move of making Ladakh a Union Territory last year, the KDA alleged that the government has imposed autocracy in the region."
In an interview with JK24x7News Ladakh, between 5:50 to 6:45, LBA President Shri Thupstan Tsewang, said that LBA and KDA are in dialogue to resolve the issues after discussions with all socio-religious organisations. He disagreed with Rinpoche's declaration to lay down the foundation for the Gompa.
LBA President Shri Thupstan tsewang response to the allegations made by His Eminence Palga Rimpoche. #LBA #palgarimpoche #thupstantsewang #Kargilgonpa #allegations #UTLadakh .

Posted by JK24x7News Ladakh on Friday, 3 June 2022
KDA member Sajjad Kargil shared a press release that confirms the meeting between LBA and KDA over the construction of Gompa. The document has four signatures, including that of Tsewang.
This slideshow requires JavaScript.
Alt News spoke with Ghulam Mohd, Bureau Head Gulistan News Ladakh, who said, "This issue has been unresolved since the 1960s. If there was a genuine will, it would have been resolved long back. But the good news is that a dialogue has been started between LBA Leh, who originally owned the land, and Kargil's leadership and both communities must wait with patience for a positive outcome. This delay has impacted the construction and renovation of both religious groups over the years. If such issues are resolved timely, the administration and public can focus on other aspects of the State's welfare."
To sum it up, Zee News shared a misleading broadcast that claimed a "clash" took place between Buddhists and Muslims near Kargil. The broadcast referred to Muslims as "radicals" and Buddhists as "peace-loving". An issue with significant historical context was given an offhanded reportage using rousing narration. The police and the president of multiple Buddhist associations have refuted claims of a "clash". In fact, LBA President Shri Thupstan Tsewang was not in favour of Palga Rinpoche's padayatra.
Donate to Alt News!
Independent journalism that speaks truth to power and is free of corporate and political control is possible only when people start contributing towards the same. Please consider donating towards this endeavour to fight fake news and misinformation.